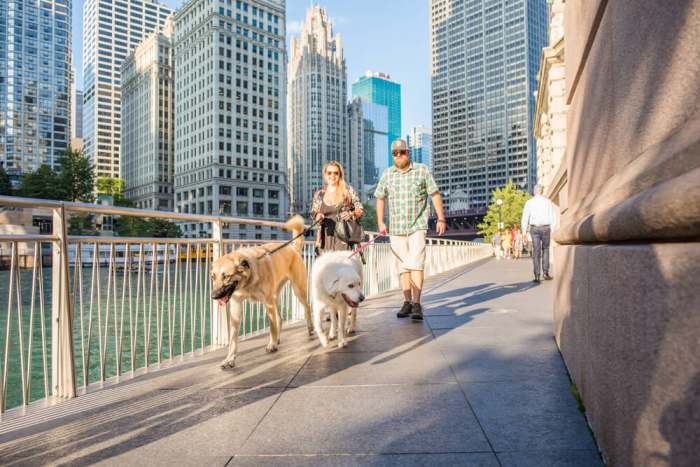 Pet owners know how important it is to live in a community and neighborhood that is pet-friendly. It helps you to keep your pet active and enhances your lifestyle knowing that where you live, pets are welcome and considered an important part of the family. In this article, we will review the results of a recent survey conducted by One Vet that explored which US cities are the best to have a pet and which ones are not.
How Did They Do It?
Well, you can't just throw darts at a map of the United States when choosing the most pet-friendly cities in the nation. The survey put together by One Vet followed strict criteria. The factors used to select the best of the cities examined for this survey included the following:
The 50 most populous cities in the US were selected from census records
The number of dog parks, hiking trails, and distance available
Walk scores, dog trainer numbers, dog walk fees
Average temperatures
Each of these factors was weighed concerning how they impact the fitness of a pup and the pup's owner. The list was then completed following each community going through the filter of the set criteria. The findings are as follows.
And…The Winners Are…
St Louis, Missouri took the top spot with a score of 39.1. The city is surrounded by walking trails, more than any other city on the list. However, the mileage of these trails wasn't as much but did put St Louis in a tie for fourth place based on that factor. Although St Louis sits on the western shore of the Mississippi River, half of the top twenty best cities for fitness pups are in Western states. The balance of the top 20 includes:
Salt Lake City, Utah (37.7)
Denver, Colorado (37.5)
Sacramento, California (37.4)
Portland, Oregon (37.2)
San Diego, California (34.3)
Phoenix, Arizona (34.0)
Los Angeles, California (33.3)
Las Vegas, Nevada (32.7)
Baltimore, Maryland (31.1)
San Francisco, California (30.5)
Orlando, Florida (30.4)
Tampa, Florida (30.0)
Chicago, Illinois (29.5)
Raleigh, North Carolina (29.3)
San Jose, California (29.1)
Seattle, Washington (29.0)
Washington, DC (28.6)
New York, New York (27.9)
Pittsburgh, Pennsylvania (27.0)
What Makes Chicago Stand Out?
Chicago has a total of 37 different dog parks and two beaches where dogs are welcome. However, if you are thinking about going out on a walk with your pup and the thought of stopping somewhere to grab a bite crosses your mind, you would be pleased to note that there are 571 pet-friendly restaurants in the city. The Montrose Dog Beach happens to be the largest dog-friendly spot in Chicago with almost 4 acres of space to fill, run around, chase, socialize, or just wander at the other end of the leash.
Other great outdoor spots in and around Chicago where dogs are welcome include Mary Bartelme Park which is home to the West Loop Dog Park, the Norwood Park Dog Park, Churchill Field Dog Park, Hamlin Dog Park, and Lakeshore East Dog Park to name a few. Although Chicago does get cold and experiences harsh winters, it does get rather hot during the summer months making the Windy City a good choice for dog owners looking for a city that welcomes pups but provides safe areas for them to exercise and play with their owners and other dogs.
Chicago is home to over 110 different hiking trails which cover a total distance of more than 4,771 miles. There are 20 dog trainers currently in operation in the city as well as 20 dog walkers. So, as you can see, there is a lot available to fitness pup owners in the Windy City that makes it a great community to live and raise a family of four-legged fur babies. Chicago is also interesting in that the way the city is laid out, there are a total of 77 distinct community areas that have been divided into over 200 different neighborhoods. Each one is unique to another.
The Bottom Ten
Although the cities listed below were at the bottom of the list of the 50 best cities for fitness pups, they each still scored well and are great places to live with a dog or two. The bottom ten include:
Memphis, Tennessee (11.8)
Jacksonville, Florida (12.7)
Nashville, Tennessee (13.4)
Oklahoma City, Oklahoma (13.8)
Virginia Beach, Virginia (14.0)
Columbus, Ohio (14.4)
Buffalo, New York (15.2)
Milwaukee, Wisconsin (15.8)
Detroit, Michigan (18.5)
Indianapolis, Indiana (18.7)
Why Were These Cities Near The Bottom Of The List?
The simple answer is that each of these communities lacked many of the items that One Vet considered to be necessary to qualify for the distinction of being one of the best US cities for Fitness Pups. For example, all of the bottom ten cities, except Nashville, had less than one dog park per 100k residents. Jacksonville had the lowest walkability score on the list with a score of 25.7 and Buffalo tied with Miami for the least combined hiking trail miles at a measly eight. You read that correctly, just eight miles of hiking trails. Although Indianapolis had the highest number of dog trainers on the entire list with 332, it lacked dog parks which pulled it down the list. With weighted scoring, that sort of thing happened frequently throughout the entire process.
Final Thoughts
Have a dog and are looking to move to a more pet-friendly city in the US? You have several options available to you. It just depends on what you are looking for. If Chicago is your top choice of cities to live in, your pet won't mind it either, even though the Windy City did not make it into the top five. It still scored respectively making Chicago a good option to consider. That is, of course, if you don't find the other cities on the top half of the list to your liking. If you plan to move to the Western part of the country, there are plenty of places that are perfect for you and your pup.