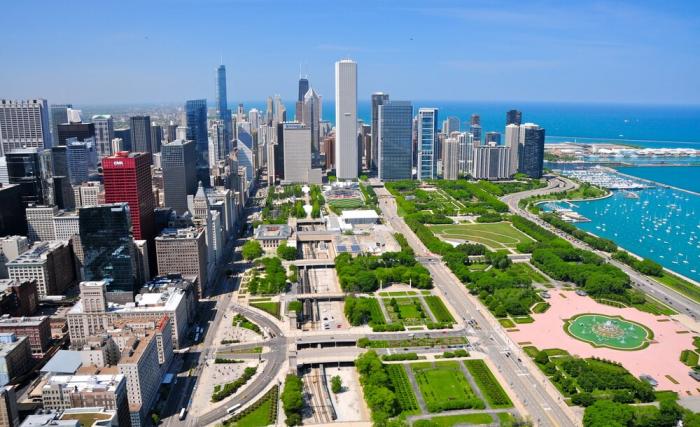 Millennium Park's Great Lawn has reopened, but with a few changes due to COVID-19 mandates. It may not seem like the free-spirited and social place Chicagoans have come to know. However, the new rules are meant to keep visitors safe.
Circle the Great Lawn at Millennium Park
The Great Lawn, the place in Chicago where people gather to take in the sun, relax and watch the entertainment at the Pritzker Pavilion, had been closed for months by city officials. But now it's open, albeit with a few coronavirus-inspired changes.
For the most part, Millennium Park has been open since mid-June. The park is open from 8 a.m.-9 p.m. daily. But, there are many restrictions in place at Chicago's famous park, ostensibly to prevent the spread of coronavirus. Parks cities like Brooklyn and San Francisco also sport painted social distancing circles.
The city of Chicago has painted white "social distancing circles" across the Great Lawn. Visitors are supposed to sit inside the circles, but go no further. This is to ensure there is at least 6 feet of space between people. Moreover, visitors out to enjoy the sunshine are required to wear masks.
Although the city has seen declining numbers of newly confirmed coronavirus cases, hospitalizations and deaths, city officials have declared that people still need to remain 6 feet apart and wear masks, even when they are outdoors.
Moreover, summer entertainment and other events at Pritzker Pavilion and Millennium Park have been canceled to help maintain social distancing.
Visitors can only enter at Michigan Avenue and Madison Street, and they must exit at Michigan Avenue and Washington Street. If the park's reduced capacity is reached, visitors will have to wait in lines, spaced 6 feet apart at the entrance. Once a space opens up, they will then be allowed to claim a circle. Groups must be limited to10 people or fewer.
Finally, there are "social distancing ambassadors" wearing bright green shirts, roaming around the park, reminding each circle to stay 6 feet apart, according to city mandates. They will also remind people that they are required to wear masks.
Millennium Park is More Than a Lawn
Millennium Park in Chicago also is home to a state-of-the-art collection of art, architecture and landscape design. Normally, the park's incredible features provides a backdrop for hundreds of free cultural programs for Chicagoans to enjoy. These including exhibitions, concerts, interactive art, and family-friendly activities.
The inspiration for the park came former Mayor Richard M. Daley; nestled within the 319 acres of Grant Park, Millennium Park is the largest public space in the city. Completed in 2004, it's now one of the best free attractions in the city, second only to Lincoln Park Zoo.
Planning for Millennium Park began in October 1997, construction began a year later, but the park didn't open until the summer of 2004, four years behind schedule. Millennium Park's three-day opening celebration was attended by around 300,000 people, something unimaginable during this "new normal."
In 2017, Millennium Park was rated as the top tourist destination not only in Chicago, but in the Midwest. The park has also been among the top ten tourist destinations in the United States. In 2017 alone, the park welcome 25 million visitors, something hard to imagine in 2020.
Unfortunately, in mid-March, the city chose to close most of the activities down, due to the coronavirus. While the Prtizker Pavilion won't host any live music this summer, the city has arranged a Millennium Park at Home Music Series, so you can watch local talent perform on the DCASE YouTube channel.
While not quite the same as sitting on the grass, enjoying live music, there will be plenty of local talent, including eclectic marching band Mucca Pazza, alt-country balladeer Jon Langford, and singer-songwriter Tasha. The shows live stream on Thursdays, from 6 to 7:30pm, from June 13 through July 30.
You Might Also Like: