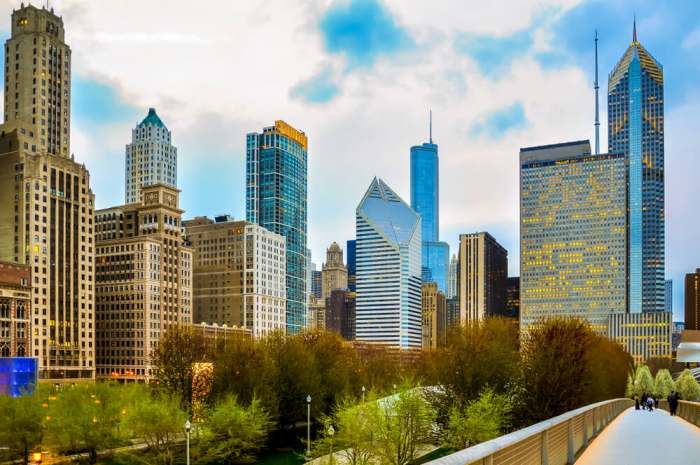 In April, when the federal government launched the $659 billion Paycheck Protection Program, supposedly, it was to help small businesses survive for a few months of COVID-19 shutdowns.
However, eight months later, the shutdowns and mandates have not stopped, and small businesses are closing permanently at an alarming rate. The biggest beneficiaries of the forgivable loans turn out to include publicly traded companies and large corporations that are tied to Wall Street, not Main Street.
According to data released recently by the federal Small Business Administration, more than one-third of the $23 billion received by Illinois businesses and nonprofits through the Paycheck Protection Program went to less than 2% of applicants.
Almost 4,000 Illinois businesses received a PPP loan of $1 million or more, or $8.67 billion, 38% of the total. Overall, the SBA approved more than 221,000 PPP loans in Illinois.
Previously, the SBA had released the names of over 650,000 businesses that received loans between $150,000 and $10 million nationwide, the maximum allowed. However, the agency did not disclose the exact amount of the loans for big borrowers or the names of businesses that had received smaller amounts. The Small Business Administration released the numbers following a federal lawsuit filed by news agencies.
The Paycheck Protection Program offered businesses with less than 500 employees forgivable loans of up to $10 million, with the stipulation that at least 60% of the funds go towards payroll. The program ended August 8 following the approval of more than 5 million loans totaling $525 billion.
Banks Give Big Companies Preference
The Paycheck Protection Program came under fire after lenders seemed to prioritized their big customers over real small businesses. In fact, the data shows that while most of the Illinois businesses received smaller loans, around 88% of the loans were for less than $150,000. However, most of the money went to the biggest borrowers.
In Illinois, 36 businesses received the $10 million maximum; that includes the Chicago-based, publicly-traded Potbelly chain of restaurants. Under public pressure, Potbelly's returned its $10 million loans in April. But once the attention of the public was elsewhere, the company reapplied for a loan in August.
Other recipients of a $10 million loan include MVP Workforce in Deerfield, Alpha Baking in Chicago, Illinois Bone and Joint Institute in Des Plaines, and the American Academy of Pediatrics in Itasca.
The list of big PPP loan recipients also includes several high-profile companies in the Chicago area, such as Jellyvision Lab, which received $8.5 million to help pay 51 employees. In Palantine, Mario Tricoci Hair Salon received a whopping $9.9 million loan for 500 employees. In North Aurora, Oberweis Dairy received a $5.7 million loan for 500 jobs.
Support Small Businesses
The SBA list of loan recipients also includes the names and addresses of 194,000 nonprofits, small businesses, and sole proprietorships in Illinois that received loans of less than $150,000.
The recipients of smaller loans include Encore Space Solutions, a garage remodeler in East Dundee that received a $149,999 loan. There are also a dozen who received just $100 or less.
In between those two extremes, the smaller PPP loans include a lot of restaurants, hairstylists, auto repair shops, lawyers, dentists, and other various businesses.
The Court Orders Disclosure of Paycheck Protection Program Loans
Last month, a federal judge in Washington ordered the Small Business Administration to release detailed information for all loan recipients, including those who received loans under $150,000. That decision was due to a lawsuit brought by news outlets under the Freedom of Information Act.
"The weighty public interest in disclosure easily overcomes the far narrower privacy interest of borrowers who collectively received billions of taxpayer dollars in loans," said U.S. District Judge James Boasberg.
The public disclosure provides more transparency for the Paycheck Protection Program, which has been the subject of controversy since it began.
In less than two weeks, the initial $349 billion in funding ran out, and there were concerns that many small businesses were shut out by big business. While Congress did authorize an additional $310 billion for the program, the demand had subsided, leaving $130 billion available when the program ended in August.
Big Business Got the Lion's Share of the Paycheck Protection Program
In October, the House coronavirus crisis subcommittee released a report concluding that the program favored bigger, companies with money in the bank, and did not prioritize small businesses, including women-owned and minority businesses.
Emilia DiMenco, the CEO and president of the nonprofit Women's Business Development Center, said there should have been more targeted outreach to help get the loans to where they were really needed.
"The traditional banks didn't have an adequate relationship with those communities," said DiMenco. "And those underserved communities didn't have a relationship with the banks."
DiMenco, formerly a commercial banker, said the paperwork was intimidating for many local small business owners, and that direct grants might have been a better approach.
The women's business center received a $569,357 PPP loan to support its 35 employees, and DiMenco said, "We had absolutely no problems."
Fraud, Waste, and Abuse
The House subcommittee on the coronavirus crisis found in September that billions of dollars in program loans were possibly funneled into "fraud, waste, and abuse" due to a lack of oversight from the Treasury Department and the SBA.
In fact, the Justice Department has indicted 88 people nationwide for alleged fraud totaling more than $250 million. That includes several with connections to Chicago, including former Chicago Bears wide receiver Josh Bellamy. He was one of 11 people arrested and charged in Florida for allegedly seeking over $24 million in fraudulent PPP loans.
There have only been two PPP loan fraud cases filed in Chicago's federal court. Those were an Elgin restaurateur who was accused of obtaining a $175,000 loan for a restaurant that had already closed, and an Evanston technology business owner charged with falsifying information on a $440,000 loan application.
Senior vice president and co-founder of PayNet, Bill Phelan, estimates that 5% of PPP loans, or around $26 billion, could ultimately prove to be fraudulent.
Skokie-based PayNet compared its huge database of small business loans against data previously published by the Small Business Administration, searching for discrepancies like more than one business at the same address, or mismatches with the number of employees, the designated industry, and annual revenue.
Phelan said analyzing the data will allow PayNet to develop an accurate projection of possible fraud; one area Paynet is focused on are loans that were just under $150,000; that's the cutoff Congress has considered for potential blanket forgiveness.
"What's curious, is that there are a whole lot of loans that are just a few dollars short of the $150,000 threshold," Phelan said.
Although the loans are SBA guaranteed, loan recipients must apply through their banks to have the full amount forgiven. The SBA has released a simplified forgiveness application for PPP loans of $50,000 or less, which included more than 70% of Illinois borrowers.
In early October, the SBA began approving loan forgiveness applications. By late November, the SBA released more than $38 billion to lenders toward forgiving more than 367,000 loans. While that seems substantial, only 7% of PPP loans have been forgiven.
By loan value, JPMorgan Chase was the biggest PPP lender, issuing over 280,000 loans worth more than $32 billion. In the state of Illinois, JPMorgan Chase issued more than 23,000 loans totaling $2.4 billion. By mid-December, all borrowers in the state will receive an email invitation to request forgiveness.
Last month, the IRS ruled that businesses cannot take common business expense deductions such as rent and payroll if those expenses are paid for with money from PPP loans rather than normal business income. The IRS has also ruled that once a PPP loan is forgiven, it counts as a tax-free grant, thus eliminating any expense deductions.