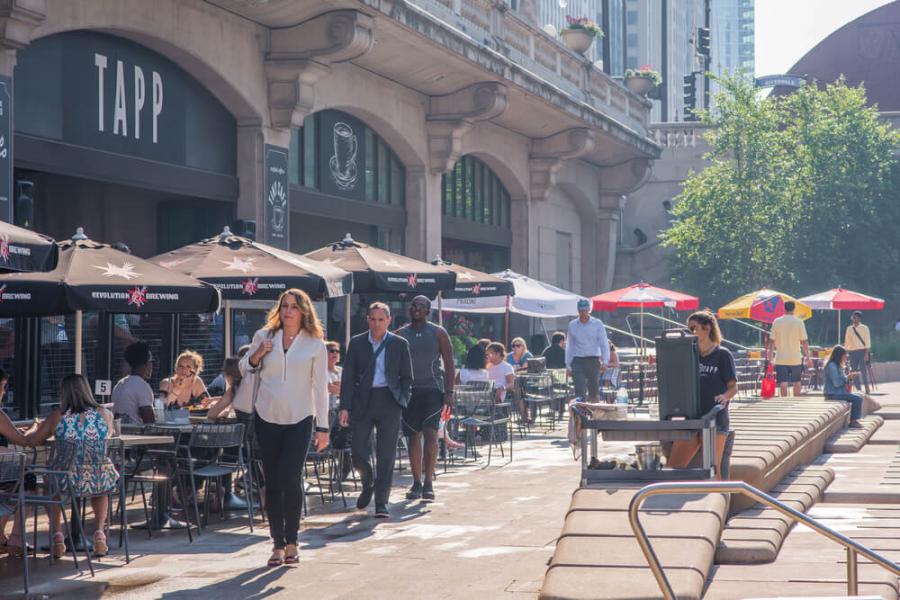 Restaurants and bars in Chicago have had a tough year and as patio season winds down it looks set to get even worse. In the wake of news that almost a quarter of the city's bars and restaurants will permanently close, many businesses are fighting to avoid following in their footsteps.
As the cold weather draws nearer, Chicago's establishments will be forced to find creative ways in which to keep their outdoor areas open. Operating at half capacity has already brought challenges and if outdoor seating is lost, we may well see further closures.
The Changing Face of The Restaurant Scene
Bars and restaurants in Chicago were heavily affected by the lockdown that was announced by Governor Pritzker in mid-March. After nearly 3 months of closure, some positive news came at the end of June when establishments were allowed to re-open. Mayor Lori Lightfoot was quick to place restrictions on the sale of alcohol indoors, which we covered here. The re-opening also saw the introduction of a 25% capacity indoor limit for bars and restaurants.
Following this came the announcement from Mayor Lightfoot of the Outdoor Dining Program, which made it easier to obtain outdoor seating permits. Initially, however, this only applied to bars and restaurants in Chicago selling food. Bar owners of businesses not selling food pushed back and it wasmsoon announced that all bars could apply for outdoor seating permits, as we reported last week.
The Need to be Creative in The Wake of the Incoming Winter
The outdoor seating permits have helped to partially revive the local economy by re-opening bars and restaurants in the city. Unfortunately, only about 6-8 weeks remain of patio season before the cold snap could hit. Establishments understand just how important that outdoor dining is and they are actively trying to find solutions to keep it going.
So great is the need that we have even seen a local contest, called the Winter Dining Challenge, offering a $5,000 prize for the solution to outdoor winter dining. Twitter has been alive with suggestions and this could certainly prove to be a great inspiration for many restaurants in Chicago.
More realistic options for bars and restaurants in Chicago include the use of outdoor heaters and free blankets for diners. Another option is the possible construction of insulated plastic domes that could be heated from within. Pop-up events in the city have featured such domes, and they might prove to be the best solution.
President and CEO of the Illinois Restaurant Association Sam Toia understands the immediate need for creatine thinking:
"We need to start thinking outside the box right now. … Because we could be in this for the next six months and we want to be ahead of the curve."
As to whether consideration of some of the wilder suggestions, such as using city buses or opening a restaurant inside the bean, remains to be seen.
Understanding the Wider Impact Restaurants in Chicago Have on The Economy
Prior to the lockdown, the bar and restaurant industry in Illinois was the single biggest private-sector employer. Almost 600,000 people worked within this industry before the pandemic hit. Now, with a quarter of those bars and restaurants closed, it is more important than ever that the remainder stays in business.
Sales figures from restaurants across the state are half or worse what they were last year. The easing of restrictions has only moderately helped the situation. Residents still have concerns about the safety of going out, and rising cases are not helping that thinking.
The impact of winter will affect businesses differently, of course, and some bars and restaurants are already geared up for this. Others, such as the Riverwalk Floating Rooftop Bar which we reviewed here, will struggle given that it is open air.
Ensuring Adherence to Rules
When discussing the importance of sticking to the new rules in place, Toia stated "We can't afford to go backwards right now". This would of course happen if more establishments were found to flout rules about distance, capacity, and mask-wearing.
This is certainly the time for creativity and businesses throughout Illinois and in Chicago need to act fast. Winter is coming, and with the important role that outdoor seating plays, restaurants and bars need immediate solutions.