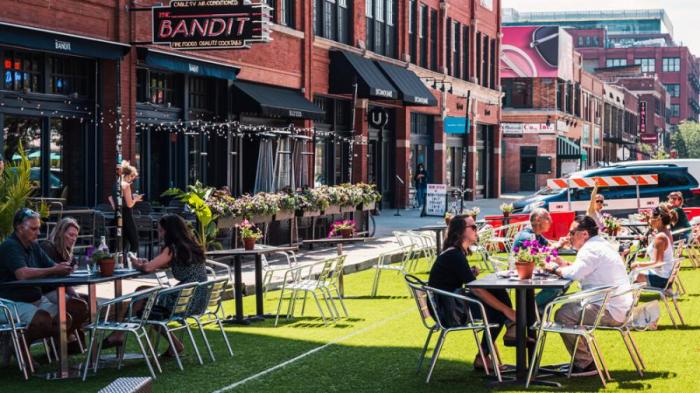 Whilst criticisms of a slow reopening process can certainly be thrown at Governor Pritzker, Chicago Mayor Lori Lightfoot has long pushed for a fast reopening.
Further proof of this can be seen with the announcement of the new Outdoor Dining Program which has given a boost to the city. The program states that any Chicago bar can apply for outdoor permits. Previously, this rule was only for bars and restaurants which served food, now it is open to all bars around the city.
In the wake of a previous announcement in which we reported that bars couldn't sell alcohol indoors, many owners were understandably worried about their future. Now, thanks to the Outdoor Dining Program, bars with and without allocated outdoor spaces can begin to reopen again.
New Measures
This announcement comes at a great time for bars who are losing out to those authorized to also sell food. New measures will still have to be enforced around distancing and venue capacity.
There was a lot of frustration from many bar owners who had outdoor space that could be used. The issue that owners had was that gaining permits from the city was next to impossible.
In the case of Ukrainian bar owner Denis Fogerty, his permit to open the parking lot up was granted but then revoked four days later.
"Every week counts," Fogarty said. "No one has a crystal ball here. I don't know how long it's gonna be. I'd like to say we're gonna reopen. It leaves our future in doubt."
Over 1,000 signed a petition for Fogerty to have his permit back. Hopefully, with the extension of the Outdoor Dining Program, this will no longer be required.
This move from Mayor Lightfoot has certainly been received well by the city's bar owners. It is important to remember that not every bar and restaurant has been lucky enough to survive the pandemic. We previously wrote about those bars and restaurants which have fallen victim in the last few months and forced to close their doors.
Making Sense
Lori Lightfoot and Gov. Pritzker haven't always seen eye to eye on how best to open up the city. However, with his recent announcement, it became clear that the Mayor is beginning to get her way:
"While we've had to implement restrictions and take hard measures to combat a recent rise COVID-19 activity, we will continue to ensure our restaurants, bars, and businesses have the supports they need to survive during these unprecedented times," said Mayor Lightfoot in a recent press conference. Following up on that the Chicago city mayor described the clear success that this program has already had on the city:
 "Our innovative Outdoor Dining Program has already helped more than 250 restaurants and bars in our communities, and now by expanding our efforts to better support our bars impacted by these new restrictions, we are providing a lifeline to hundreds of local establishments across Chicago's neighborhoods."
Need For Clarity 
Because of the large number of bars in Chicago, there has been a great deal of confusion around the regulations. From this magical rooftop bar we previously reviewed, to those dive bars like the Innertown Pub in Ukrainian Village, all have different set-ups and spaces available. Thankfully, the Outdoor Dining Program covers them all, but initially, it didn't.
Based on these differences, it is essential that the city is prepared to give special permits to certain establishments that don't necessarily fit the rules. A prime example would've been Mr. Fogerty's permit, prior to the new rule change on outdoor spaces.
There is of course no clear regulations or precedent for how to open a city, but bar owners should expect some level of consistency.
All we can hope for in the coming months is low Covid-19 case numbers, fewer restrictions, and perhaps De Niro's Nobu finally open, as we talk about here!
All joking aside, as long as we have a Mayor who perfectly understands our needs for a cold beer during these challenging times, I expect that we will do just fine.