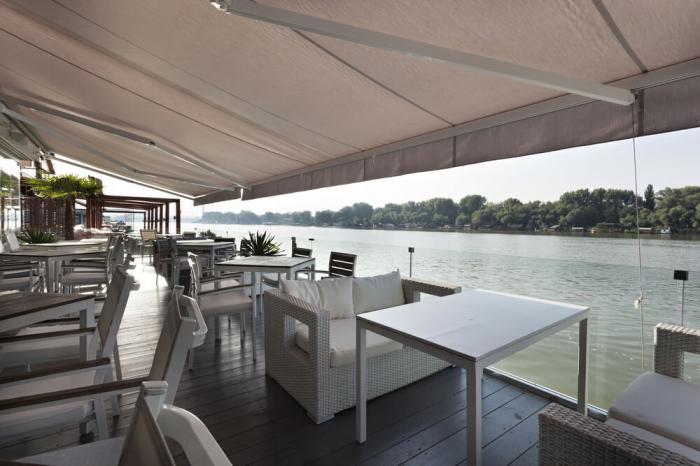 While it seems that Chicago beaches could remain closed due to the city's response to the coronavirus, that doesn't mean you can't have fun on the water. The fact is, luxury fun on the water is absolutely possible during this unprecedented time. The Riverwalk is open, and ready to welcome visitors.
For any Chicagoan hungry for a fun-filled night on the water, Chicago's First Lady Floating Rooftop is sure to satisfy an appetite for adventure. The First lady is the biggest and best floating rooftop bar on the river, and it's welcoming guests aboard all summer long.
A Perfect and Safe Vantage Point of the Chicago River
Chicago's First Lady Floating Rooftop is docked at Wacker Drive and Michigan Ave on the Chicago Riverwalk. The 'rooftop' on the First Lady's upper deck offers breathtaking views of the city, paired with a refreshing menu of wines, cocktails, beer, and other beverages.
This stretch of the river was once rambling and marshy, but as early as the 1600's it was a major trade route. The Chicago River was first engineered as a channel to support the industry that transformed the city into the major metropolis it is today. Chicago's extraordinary transformation into a world-class city is due, in large part, to its location on the Chicago River and Lake Michigan.
While the concept of a Riverwalk was included in the 1909 Plan of Chicago, it didn't begin to take shape until the 1970s. The Riverwalk reached its final stage when Mayor Rahm Emanuel signed a $100 million deal to bring the Riverwalk to its full potential.
The Chicago Riverwalk has become a great feature in the landscape of Chicago and a world-class attraction. It not only provides an uninterrupted bike and pedestrian route to the lake, but it's also a dynamic commercial space for shopping, dining, and entertainment.
Among the unique businesses along the river are nearly a dozen tour boat companies, including Chicago's fabulous First Lady, with its floating rooftop party on the weekends.
Chicago's First Lady Serves Up Classic Chicago Drinks, with a Twist
To join the party aboard the First Lady's floating rooftop, you must be at least 21 years old, wear a mask, and abide by all COVID-19 safety protocols. Best of all, no reservations are required and admission is free. Just come on down from 3-11 pm Fridays and Saturdays, and 1-9 pm on Sundays.
You can find Chicago's First Lady Floating Rooftop full drink menu here. But let's look at a few of the best cocktails this floating rooftop bar has to offer.
On the top of the list is the Chicago Mule, which has all the usual ingredients in the drink but, rather than plain vodka, this Chicago Mule uses grapefruit and rosé-infused botanical vodka to bring a burst of summer flavor to your palate.
In a shoutout to Chicago's mob history, the Prohibition Punch at this rooftop speakeasy features Myer's Dark Rum, Bacardi, Amaretto, and a delightful blend of orange, cranberry, and pineapple juice. The First Lady's Prohibition Punch makes this drink both strong and sweet.
The Heat Wave is one very unique drink you really need to try; concocted of orange vodka, ginger beer, lime, and a kick of spicy jalapeño simple syrup. It's not only refreshing, but it's also invigorating!
The cool, tropical Coconut Breeze blends Calypso coconut rum, pineapple juice, and La Marca prosecco for a relaxing mind trip to the tropics. And of course, Chicago's First Lady also serves up classics like spiked lemonade and margaritas, as well as wine, domestic and imported beer, White Claws, and non-alcoholic beverages.
Bring your friends and enjoy an afternoon and evening of gorgeous views, friendship, and good times aboard the Chicago First Lady's floating rooftop bar.
You Might Also Like: