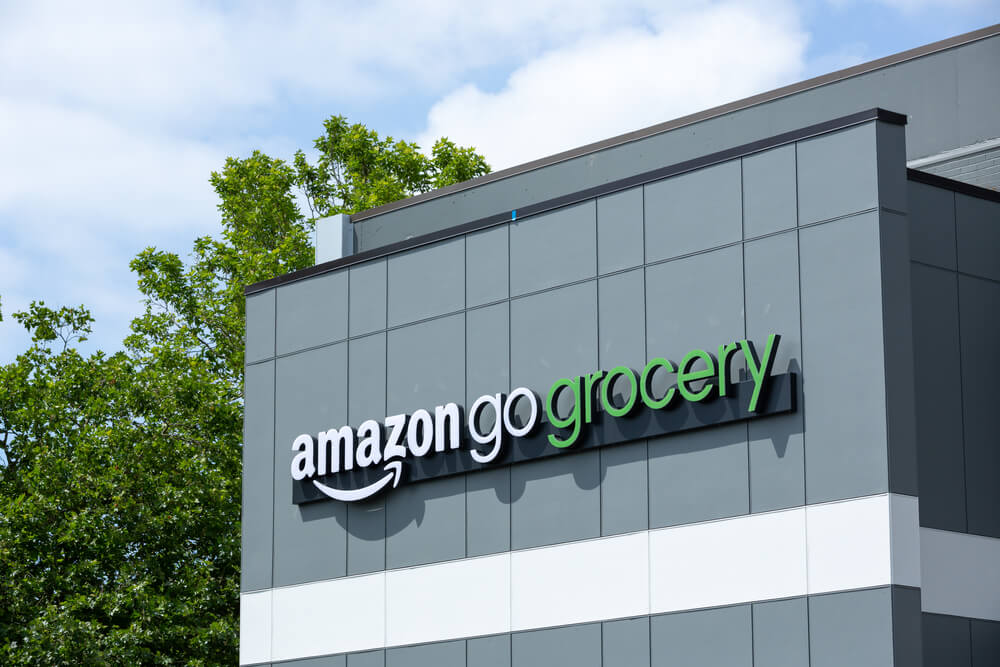 Amazon has an innovative solution for any who wants to avoid long grocery store lines, a smart shopping cart.
Amazon recently unveiled its latest invention; the "Dash Cart" uses sensors, cameras, and a scale to mechanically detect what shoppers place inside. It automatically keeps adds everything up and then charges the shopper's Amazon account as they leave the store. No checkout is necessary.
It's Amazon's latest attempt to change the way people shop, offering an alternative to long checkout lines. The online shopping behemoth recently opened a cashier-free Go Grocery store in Seattle that uses sensors and cameras in the ceiling of the store to track what shoppers pick up and charge them automatically as they leave. Currently, Amazon has around 25 cashier-free Amazon Go convenience stores with the same type of technology.
The Evolution of the Amazon Dash Cart
The high-tech Amazon Dash Cart will make its debut at a new Los Angeles grocery store Amazon plans to open later this year. The experimental store will employ cashiers, but Amazon wants to give shoppers an alternative to standing in lines.
A few startups are producing similar smart shopping carts, and these are also being tested in stores. But most of these require the shopper to scan the items before dropping them in.
However, there is no scanning necessary on the Amazon Dash Cart. A screen near the cart's handle lists what's being charged. The cart can also sense when something has been removed and deduct that from the bill. The cart also tallies your subtotal as you shop.
The smart carts also have a touch screen connected to your Alexa shopping list. There is also a way to let the Dash Cart know if you need to put your purse or coat on the cart so you don't need to carry it around.
However, the smart cart won't be able to handle big shopping trips; Amazon reports it's only able to process one or two bags of groceries.
Amazon Delves Deeper into the Grocery Business
Back in 2017, Amazon bought the upscale, Whole Foods grocery chain for $13.4 billion. That instantly transformed the online pioneer into a land-based merchant with stores in hundreds of locations across the country.
At the time, the $13.4 billion deal raised questions about whether Amazon would experiment with automation, such as cashier-free checkout technology.
"Amazon's ruthless vision for retail is one in which automation replaces good jobs," said Marc Perrone, president of the United Food and Commercial Workers International Union. "That is today's reality at Amazon, and without a doubt, that will become the reality at Whole Foods."
In the future, the company could decide to use the Dash Cart at the Whole Foods grocery chain.
In February, 2020, Amazon opened its first, full-sized, cashier-free supermarket in the Capitol Hill neighborhood of Seattle. That store encompasses 10,400 square feet and stocks nearly 5,000 items, including fresh meat, produce, and liquor.
The Seattle Times recently reported that a website listing Amazon jobs had previously listed only jobs for one LA supermarket. Now, that website lists jobs for other Los Angeles-area stores and positions in the Seattle area, the Washington, D.C., area the Chicago suburbs.
An Amazon spokesperson confirmed that Go Grocery stores are planned for Redmond, Washington, and Washington, D.C., as well as stores that employ cashiers coming soon to North Hollywood, California, and Schaumburg, Oak Lawn, and Naperville in Illinois.
While the company hasn't released an official name for the Amazon supermarket chain, paperwork the company submitted for a liquor license in Irvine, California listed the name "Amazon Fresh."
The new Amazon grocery stores will be focused on pickup and delivery, however, they will also include a section where shoppers can pick out their own fresh vegetables and meat. Finally, the Amazon grocery stores will also focus on excellent customer service.
You Might Also Like: