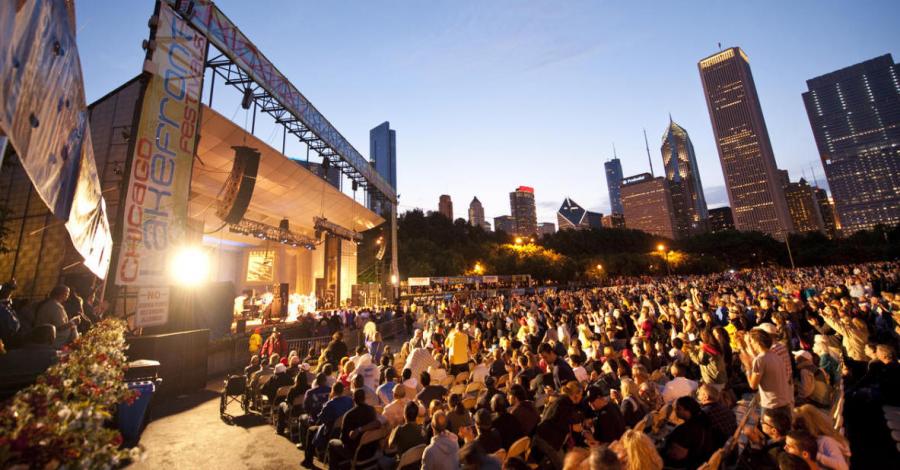 235 N Columbus Dr Chicago, IL 60603
Phone: (312) 742-4763
Website: https://www.facebook.com/pages/Petrillo-Music-Shell/126925954016792
Opened: 1978
Genre(s): Blues, Jazz, Festivals
The Petrillo Music Shell, sometimes referred to as the Petrillo Bandshell, is an outdoor atmosphere theatre in the Grand Park area of Chicago. The current structure, which was created to face the Butler Field at Monroe and Columbus after the demolishment of the original, opened in 1978.
Since then, it has been home to a number of large annual Chicago music festivals, including Chicago Blues Festival, Chicago Jazz Festival, Taste of Chicago and Lollapalooza. Up until the introduction of Pritzker Pavilion in 2004, the Petrillo Music Shell also hosted a number of smaller Chicago events, including the Grant Park Music Festival, Chicago Gospel Music Festival, and Chicago Latin Music Festival.
Consisting of an entirely outdoor experience, this music venue makes the perfect place to enjoy a picnic in the heart of Chicago summers. Alternatively, why not head down and enjoy an evening of live music while catching up with some friends? Whatever the occasion, you have to tick this venue off your list at some point.