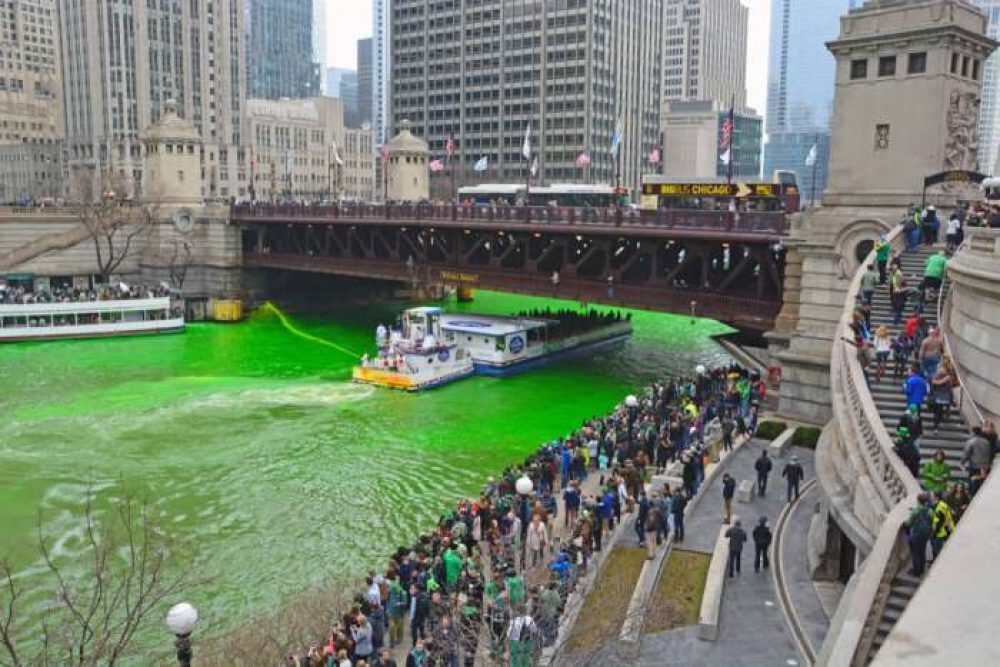 In 2022, the Saint Patrick's parade will come back to Chicago, after being absent for two years due to COVID, marking the start of outdoor activities which return to the city, once spring sets in.
Chicago, the Best City to Celebrate Irish Style
As it was the case with many other outdoor group celebrations, for the past two years the city has canceled annual St. Patrick's Day parades in the Loop, as well as Chicago's South and Northwest Side to prevent crowds from gathering during the pandemic. But, in 2022, granted COVID cases will remain low, the parade is hopefully going to return to its usual routes.
There is a rich history behind the most beloved Irish celebration, which has been adopted by non Irish as well, all over the world. Basically, now there is no town with an Irish pub which is not celebrating March 17th in some way, shape or form. 
Chicago's St. Patrick's Day parade dates back to 1858, Hundreds of thousands of spectators lined up to see the floats, dancers, and marching bands close to Lake Michigan. 
When they celebrate, Chicagoans do it in style, going all the way. In 2019, Chicago was rated the best city for St. Patrick's Day celebrations. Chicago competed against 199 other large cities in the U.S. for more than a dozen metrics including Irish population size, cost of beer, crime rate, and walkability, and parties and festivals per capita. Data used to create this ranking were collected from a wide array of sources such as the U.S. Census Bureau, Federal Bureau of Investigation, Google Ads, Eventbrite, Kayak.com, Walk Score, and more. 
If your group wants to participate in the Chicago St. Patrick's Day Parade on Saturday, March 12, 2022, you will have to complete a form. Application Deadline is Friday, February 11, 2022.  
All persons 5 and older participating either in the parade or the public must be fully vaccinated and wear masks, with participants 16 and older needing to have a valid photo ID.  
We Can't Wait to See the Chicago River Dyed Green Again
For Chicagoans, nothing is more exciting than watching the river being dyed emerald green, a tradition dating back over 50 years. The event gathers impressive crowds along the bridges and scenic riverwalk.
Patrick's Day for a second straight year, the river was dyed Kelly green early Saturday morning, March 13, 2021, ahead of St. Patrick's Day. Since 1962, the dyeing of the river has been a tradition, started by representatives of Journeymen Plumbers Local Union 130.
After several years without parades, the city's slate of St. Patrick's Day processions should serve as a test run for even larger events this summer. 
This year, Chicago's St. Patrick's celebration will kick off on March 12 with the dyeing of the Chicago River, as the Chicago Journeymen Plumbers Union use buckets of vegetal dye to turn the river green. Organizers haven't yet announced the timing for the dyeing, which started at 9:00 AM in previous years, but the spectacle is supposed to be followed by a parade in Grant Park. The procession typically marches up Columbus Drive, beginning at Balbo Drive and ending at Monroe Street.
Both the Northwest Side Irish Parade and the South Side Irish Parade will take place on March 13, with each procession stepping off at noon. The Northwest Side Irish Parade takes place in Norwood Park, beginning at the William J. Onahan School. The South Side Irish Parade marches through parts of Beverly and Morgan Park, going south from 103rd Street and Western Avenue.
The City Is Expecting Lots of Parties and Special Events in Bars, Restaurants and Pubs
All of these parades will obviously take place the weekend before St. Patrick's Day, which falls on Thursday, March 17 this year. If the COVID cases continue to drop, plenty of local restaurants, bars and businesses will organize St. Patrick's events and parties this year. And Chicago has plenty of spaces where to celebrate. The city's beer scene has experienced explosive growth in the last two decades, thanks partly to the increasingly popular craft beer. Chicago's brewing community has it all, from the biggest names in the country to tiny experimental upstarts.
Whether you want to explore the downtown beer scene or venture out to the suburbs, you're sure to find an exciting range of Chicago breweries.  With more than 200 breweries in The Windy City and its diverse neighborhoods, we selected the best Chicago breweries for you to visit, and you should check out which of them have special Saint Patrick's events planned this year. 
Until then, you can still enjoy some very cool drinks at Chicago's coldest bar. After successfully doing it last year, but on a smaller scale, Pizza, Beer & Jukebox (a.k.a. PB&J) used 40,000 pounds of ice to construct an ice bar on Peoria Street, accompanied by a pair of ice thrones (one for adults and one for kids), an ice drink luge and a beer stein made of ice. 
Open from 5PM till 10PM, the ice bar It's a bigger and better version of the "PB&J Frozen" – a bar and an igloo experience – that co-owners (and brothers) Matthew and Josh McCahill created in 2021, in front of the West Loop restaurant, using 30,000 pounds of ice. And then, as this attraction melts, it will almost be time to get ready for the Saint Patrick's celebration.