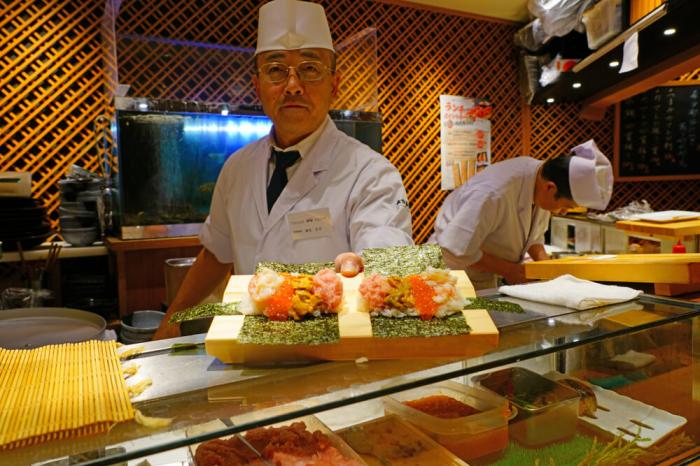 Last year, upscale omakase experiences stood out as a dining trend in Chicago. Omakase leaves the diners in the skillful hands of a chef, receiving a meal of the chef's choice which is elegant, seasonal, and artistic, made from the finest ingredients available.
Omakase typically offers ardent sushi aficionados not only a savory multi-course meal, but also a front-row seat to the food's preparation. Traditionally, the sushi chef stands behind a counter, preparing the morsels before handing each to the diners on the other side of the counter.
However, as restaurants struggle to meet the city's social distancing requirements, the personal, hands-on Omakase style just isn't feasible. The typical counter seating is out, too.
Sushi-san Reimagines Omakase
Celebrated sushi chef Kaze Chan, a who commands the kitchen at Sushi-san, has devised a clever solution to the problem of social distancing; chef Kaze Chan prepares a 14-course omakase supper, then presents it one course at a time tableside.
Rather than lining up at the counter, diners are seated around the dining room, which is only operating at 25% capacity, to comply with the city's social distancing guidelines. Chef Chan prepares each course before servers present the morsels to the diners seated in the dining room.
Chan misses the personal experience represented by standing near the guests, and the ability to interact with them. But Chan can still control the speed at which he puts together his sushi, quickly delivering bite after bite in a carefully choreographed dance.
"The goal is to translate and provide the intimate omakase experience," said Amarit Dulyapaibul, a partner of both Sushi-san and Ramen-san. "We acknowledge that in this environment, people don't want to stand 3 feet from someone handing you pieces of sushi one by one. That's for both our safety and our guests' safety right now."
Sushi-san Omakase on the Weekends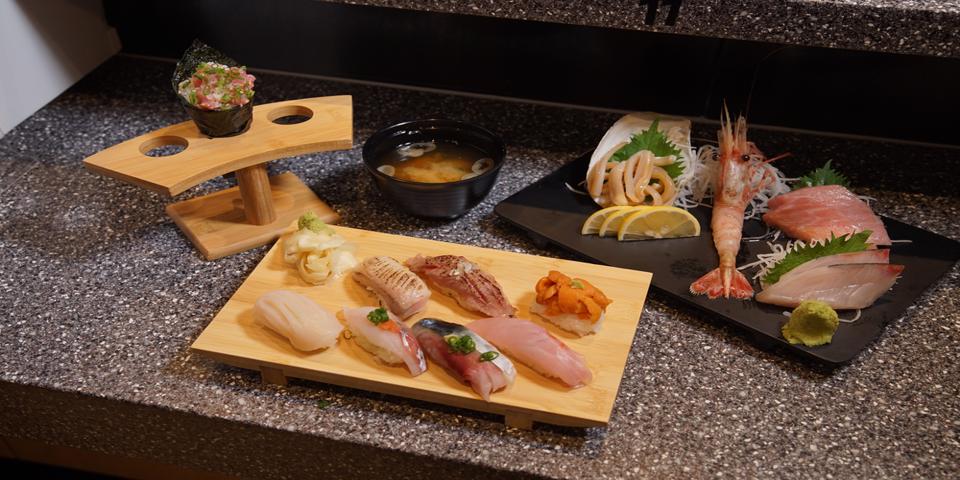 Omakase is served tableside at Sushi-san on Friday and Saturday nights. Reservations are required, and are timed to 5, 7 and 9 pm. The expansive sushi menu is $98 per person.
The 14-course sushi meal boasts a very fresh and seasonal selection of sawara, kanpachi, akami, and otoro. Diners can also choose a sake pairing for $35 to $75, as well as luxe morsels, including foie gras and tuna cheek for $20.
"Depending on the ingredients and what Chef Chan is able to get from the fishermen, he'll not only put together what the 14 courses look like but also how they'll complement each other and the sequence in which the pieces arrive at your table," Dulyapaibul said.
The Socially Distanced Omakase Experience Takes Chicago by Storm
Sushi-san isn't the only Japanese restaurant in Chicago changing the way omakase is served; Kyōten in Logan Square just introduced a private dining experience, allowing a single table of two to four people to reserve the entire restaurant for an evening.
The price for this exclusive, private experience at Kyōten will cost $500 to $600, with the menu tailored to the dining party's preferences. Chef-owner of Kyōten, Otto Phan, says that the price increase is only temporary; he added that will be "reassessed in a couple of months, and hopefully our prices can decrease as the Chicago environment becomes more stable and restaurants reopen."
The West Loop's Omakase Takeya is boxing up $29 sushi boxes filled with five pieces of sushi as well as crab futomaki and unagi.
Also in the West Loop, Omakase Yume plans its reopening for July 23. Once reopened, it will be with reservation-only, with seating spaced out to meet the city's social-distancing guidelines.
Due to the lingering COVID-19 mandates, omakase experiences throughout Chicago will continue to be affected. But Dulyapaibul is confident that they'll be able to come up with unique solutions for sushi-loving Chicagoans.
"Throughout this entire crisis, we've been challenged to reinterpret hospitality," Dulyapaibul said. "Chef Chan has been great. He loves to take care of each guest personally. He's still able to have that personal connection albeit from 6 feet away."
You Might Also Like: