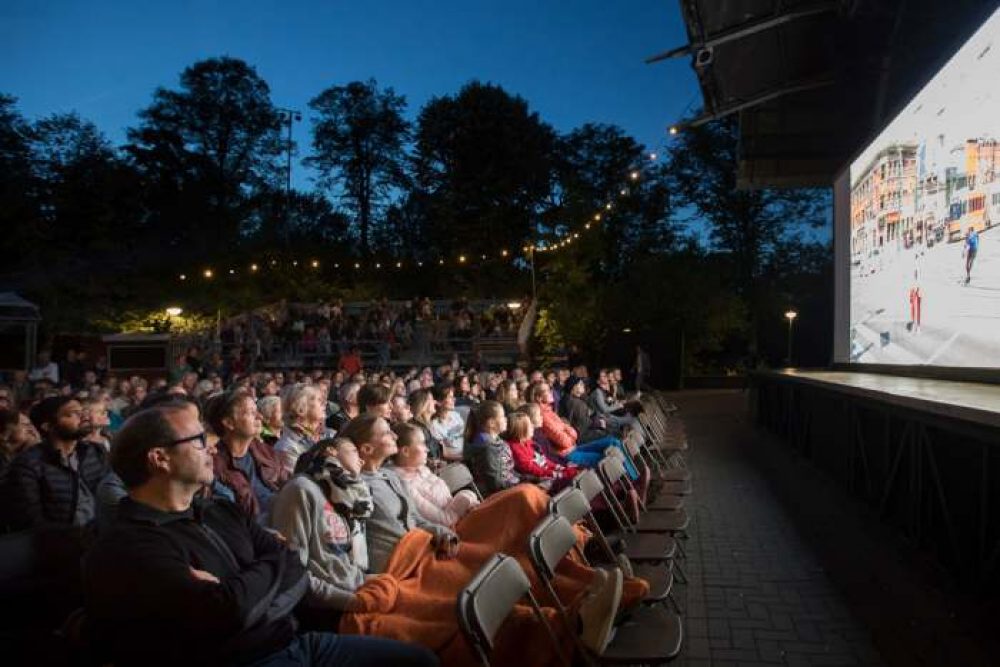 The 38th Chicago Latino Film Festival starts April 21st with a really rich offer of 86 films — some of which have significant local connections and we love to talk about all of them.
Two World, five North American and ten U.S. and Midwest Premieres this year
As the countdown for the 38th Chicago Latino Film Festival, presented by Corona Extra, began, organizers unveiled the list of films that will receive their World, North American, U.S. and Midwest Premieres at the Festival.
Led by the locally produced Bye Bye Chicago, the Festival this year will feature two World Premieres, five North American Premieres, ten U.S. Premieres and ten Midwest Premieres.
The Festival will offer 50 features and 36 shorts from all over Latin America, Spain, Portugal and the United States, available to be seen between April 21st and May 1st. The Festival will once again have  a hybrid format this year. There will be in-person screenings at the Landmark Century Center, 2828 N. Clark St., several Drive-In presentations at ChiTown Movies, 2343 S. Throop St., and virtual screenings via Eventive for the residents of Illinois, as well as the Midwest states of Minnesota, Iowa, Wisconsin, Michigan and Indiana.
Bye, bye Chicago, the deeply moving story of an intergenerational friendship
The Chicago-based Mexican playwright and director Roma Díaz (founder of the Tecolote Theater Company) makes his fiction feature debut alongside Enrique Gaona, Jr. with Bye Bye Chicago, the compassionate, deeply moving story about the friendship between an aging, dying Mexican immigrant and a young Colombian college student. 
Miguel left Mexico at a young age, giving up his passion for music and singing. Now he is alone, without family, friends or money. Dalia, the college student, and neighbor, lends more than a sympathetic ear to his anecdotes and reflections; she encourages him to reconnect with friends and family as he faces death. 
Bye Bye Chicago will have an in-person screening at the Landmark Century Center, Sunday May 1st at 3:45 p.m. and will be available for streaming April 27th-May 1st.
CLFF remains a non-competitive festival. However, since 1993, the public has had the opportunity to vote for their favorite film in several categories and award them with the Audience Choice Award. The winner will be announced on May 4.
One of the festival's most diverse line-ups, Alejandro Riera says
Asked to give details about this year's line-up, festival rep and longtime arts journalist Alejandro Riera told Axios "it's one of our most thematically diverse", with "a strong selection of features and shorts and films made by and about Latin America's and Spain's LGBTQ community."
Three examples: Sundance-winning Dos Estaciones, Nudo Mixteco, and Candela, based on the novel by Chicago-based playwright Rey Andújar.
His top picks are highlighting two features from Puerto Rico, "Perfume de Gardenias, about the very Puerto Rican tradition among women of a certain age attending every single funeral in their community", and "La última gira, a fictionalized account of legendary bolero singer Daniel Santos". Riera is also looking forward to Eva Longoria's debut feature, La Guerra Civil, about the rivalry between Julio César Chávez and Oscar de la Hoya.
When it comes to choosing which movie to go see in person, which one to watch at the drive in and, finally, what to pick at home, to see online, Riera says: "Start with your favorite genre. Love horror? We have three really gory, really suspenseful, really scary films. Documentaries? Comedies? Thrillers? We got plenty."
And, of course, seek reviews, "since a good number of our films have played in other festivals", Riera says. 
Tickets for screenings at theaters, drive-ins, or online are available through May 1.
It is very good to have Chicago's film festivals back, post pandemic style
Chicago is extremely happy to have its film festivals back, after the pandemic, even if the format is now mixed. 
When the 57th Chicago International Film Festival opened last year, despite the lingering pandemic, people rejoiced. Unlike 2020, the 2021 film festival felt more like the "old normal" rather than the "new normal". The film festival is the longest-running, competitive film festival in the country, and Chicagoans were glad to have it back. 
In 2020, the festival was restricted to the AMC River East 21 multiplex downtown. That was convenient since festival attendees could easily hop from one film to the next without leaving the building.
But in 2021, while the AMC River East Complex remained central, other theaters also screened festival films, including The Music Box, ChiTown Movie drive-in, the Pilsen drive-in, Parkway Ballroom in Bronzeville, and the Gene Siskel Film Center. In all, there were 100 films from around the world.
Pre-pandemic, festival organizers could predict the days when advanced ticket sales would be heavy. But now, many in the city have adjusted to the new normal, and prefer to watch movies online. Despite that, the festival was more or less back to normal, with in-person screenings. The good news was, many Chicagoans still wanted the shared experience of the film festival. They preferred to talk about the films face-to-face with other Chicago art lovers. And the Chicago Latino Film Festival is only the most recent opportunity to do just that.