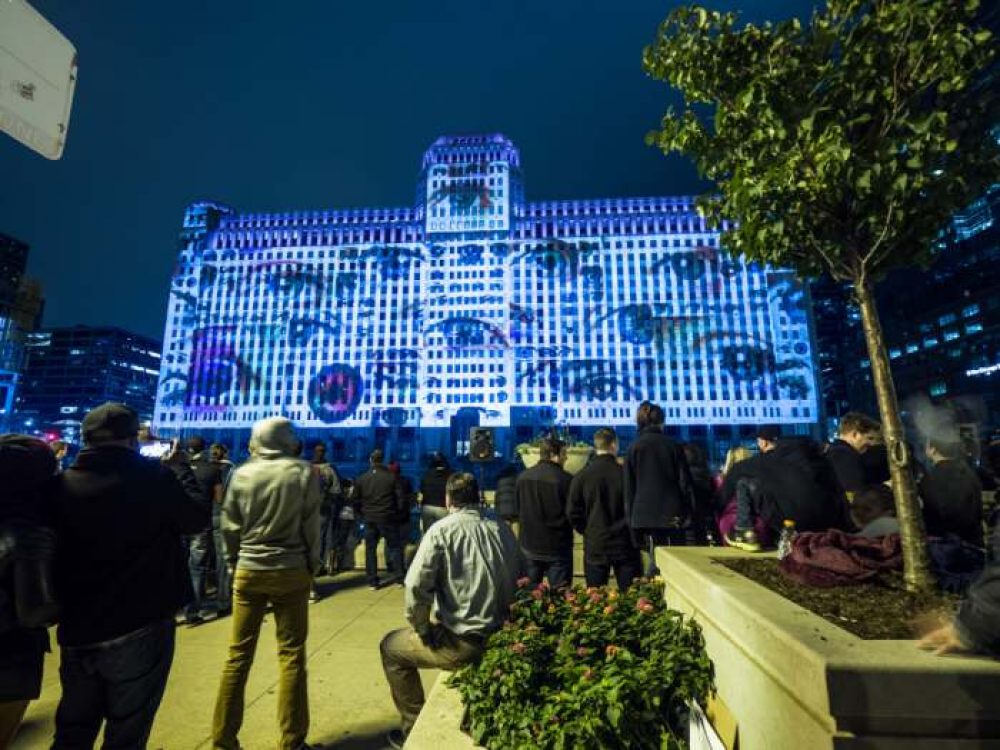 A lot of beloved destinations are coming back to Chicago this spring. Among these, Art on TheMART, the massive, lively rotating art projection exhibition on the side of the Merchandise Mart building overlooking the Riverwalk in the Loop. This year, the creations presented aim to attract attention to the climate change issue. 
Merchandise Mart Surroundings Are Going to Change Soon
It might be a good idea to go see the exhibit this year, since the surroundings of the Merchandise Mart are going to change soon. New York-based developer Vornado Realty Trust is planning a new residential tower at 527 W. Kinzie St in Fulton River District, near Merchandise Mart. In an email to constituents sent January 21st, Alderman Brendan Reilly said Vornado Realty Trust plans a 26-story building with 288 units. Located at the southwest corner of W. Kinzie St and N. Canal St, the project would replace an existing surface parking lot, the new construction was designed by Pappageorge Haymes Partners, and it will be an exclusively residential, 290-foot-tall structure containing 288 residential units. The unit mix will consist of 35 studios, 35 convertibles, 108 1-beds, 38 2-beds, and 12 3-bedroom configurations, so construction should take a while. 
The Largest Permanent Digital Art Projection in the World
Following its launch in 2018, Art on TheMART has become the largest permanent digital art projection in the world, and a favorite of tourists and locals seeking something fun and free to do downtown.
This April, we welcomed EXPO CHICAGO back at Navy Pier  for the first time since 2019, making its in-person return with new dates and an exciting new offer of exhibitors, programs, installations, and more, welcoming more than 140 leading galleries from 25 countries worldwide.
Now, art lovers in the city have this new opportunity to admire, for free, some beautiful and unique creations. Presented in partnership with Shedd Aquarium, this new program features the premiere of two climate change-themed projections. The 2022 Spring Program will run twice nightly at 8:30 and 9 p.m. through June 29.
For contemporary art enthusiasts, here are some details about the beautiful artistic endeavors you will be able to admire on the Merchandise Mart.
Floe, Carrie Hanson, The Seldoms (April 9 – June 29, 2022)
Floe—the first of Art on theMART's Year of Chicago Dance projections that will be unveiled throughout 2022—was created by choreographer and Chicago native Carrie Hanson with her dance company, The Seldoms. Derived from an earlier onstage work, Floe spotlights climate change, extreme weather, vanishing ice, bodies of water and, ultimately, the human body. Floe invites viewers to approach climate change, mitigation and adaptation efforts with clear eyes and resolve. The performance uses movement to spotlight different elements of the climate emergency, including melting polar ice, extreme weather and forced migration. 
Hanson has teamed with many long-time collaborators, including a stellar team of visual artists. Bob Faust, Liviu Pasare and Andrew Glatt have built a dynamic, emotional projection weaving dance, word and image; and Mikhail Fiksel crafted a soundscape that includes field recordings of icebergs, water and rain. Floe is performed by Dee Alaba, Sarah Gonsiorowski, Damon Green and Maggie Vannucci.
Choral, localStyle – Marlena Novak and Jay Alan Yim – (April 9 – June 29, 2022)
Choral is a projection by localStyle, a collaborative founded in Amsterdam by artist Marlena Novak and composer Jay Alan Yim. Since 2000, Novak and Yim have addressed environmental concerns through a wide range of media, deploying tactics that trigger multiple senses so that audience members can experience and consequently re-examine our climate's most pressing issues. In Novak and Yim's audio visual installation, human impacts on the natural world are revealed through a diverse array of coral species while an otherworldly electronic choir drones in the background. These fragile coral ecosystems are in a state of crisis, and Novak and Yim hope that by witnessing the beauty and charisma of these marvelous creatures, audiences will have a greater appreciation for ocean conservation efforts.
Ba Boom Boom Pa Pop Pop, Nick Cave (May 5 – September 7, 2022)
Acclaimed American artist Nick Cave's video work, made specifically for Art on theMART, is a remix of Cave's original film Drive-By (2011) with new footage. Bridging dance, performance, film and public art, Cave's new projection features his iconic Soundsuits in motion. Brightly colored figures will dance across theMART's iconic riverside façade, transporting the viewer to a kaleidoscopic other world on the river's edge. Amidst the flurry of movement, a figure adorned with a stop-sign emerges, reminding viewers of the underlying sense of urgency despite the jubilant expression of freedom.
Cave's projection will coincide with his first career-spanning retrospective, Forothermore, at the Museum of Contemporary Art Chicago, on view from May 14 through October 22, 2022.