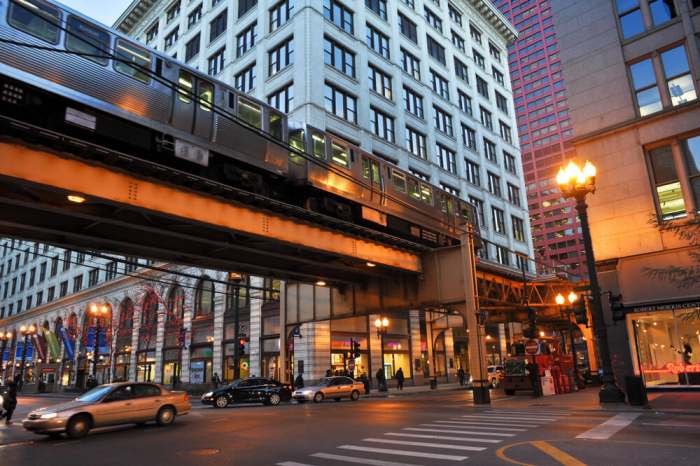 Good news for Chicago's real estate market, as well as for its historical architecture. The Ravenswood Sears building has acquired a new life, its $40 million redevelopments is finished, transforming the former department store into retail and apartments. 
An architectural landmark of the brand that revolutionized shopping in America
The transformation of the former Sears department store, 1900 W. Lawrence Ave., was announced in 2017 by developer Springbank Capital Advisor, who said it will be turned into retail space and apartments. Architecture firm Gillespie Design Group designed the project, which was built by Summit Design + Build, a company specialized in adaptive reuse of older buildings. 
The building is one of seven original Sears stores built in the 1920s. Before Amazon, all America shopped at Sears. Founded in Chicago in 1892, the company changed shopping, and discount pricing, introducing their mail-order catalogs. Over the next decades, Sears built 3,500 department stores across the country and established major brands such as Kenmore, Craftsman, and DieHard. They also founded Allstate Insurance Company, making it possible to even buy insurance at Sears. Recent history has sadly not been as good to the old brand, the store now transformed permanently closed in 2016. 
Construction on the retail segment of the project was completed last November, and the residential component this January, according to Summit project executive Andy van Waardenburg.
For-profit college DeVry University leased about 17,500 square feet on the ground floor in 2018 and have since moved in.
COVID-19 pandemic influenced home sales in and around Chicago
Since it had a serious impact on the overall economy, the coronavirus pandemic also influenced the real estate market, but Chicago and the surrounding areas saw a different outcome, depending on the changes in customer behavior. 
COVID-19 has a positive impact on real estate in suburban Chicago, since in the past year young professionals and families have left the city, needing more space, and especially outdoor space, to spend time during the lockdown. Since urban dwellings can be rather cramped, making physical distancing a real challenge at times, escaping to the outskirts of the city where there is a lot more elbow room made perfect sense. As a result, home sales in the suburbs jumped 40-percent. 
City sales, however, dropped almost 7-percent in 2020. As impressive as part of that may sound, the 2020 total home sales number was 1,204 units. 
During the coronavirus pandemic, real estate agents have carefully monitored the state of the market as the national economy suffered profound changes. However, the Illinois Realtors Association recently issued an optimistic report, showcasing a 4.7% year-over-year increase in statewide home sales for March. The Chicago metro area had a similar spike, however, home sales within the city limits did not sell so well.
Of course, there have been numerous reasons why people did not buy as many houses within the city. Hosting an open house was banned in Illinois, and showings were limited to four due to social distancing measures, which must have discouraged some home sales, especially since many municipalities have also restricted home inspections, making the selling process even longer.
Legalizing marijuana has impacted the real estate market
Some good news for the real estate market, besides the new apartments in the Sears building, came along with the 2020 legalization law, whose impact the reals estate agents are already starting to see. 
A report from the National Association of Realtors®(NAR®) surveyed around 3,600 members who sell commercial and residential real estate about the impact of legalizing marijuana on the housing market.
It reads: "The legalization of marijuana has started to impact the real estate industry. If marijuana is legal within a state, the product is grown, harvested, stored, sold, and consumed within state lines. As such, commercial practitioners are finding increased demand for land, warehouses, and storefronts for marijuana."
The data speaks for itself. States, where marijuana has been legal for more than 3 years, have reported a 42% increase in demand for warehouses, 27% for storefronts, and 21% for land.
The first occupants of the new apartment should move in this month
So, the moment might be a good one for the new flats in the Sears building to come on the market. 
Now, almost half of its 50 apartments are already rented, according to a leasing agent, and people can start moving in as early as April.
"With less and less real estate available, more developers are looking at taking an existing albatross like the Sears building and turning it into something that is vibrant and full of life again," van Waardenburg said. "To me, personally, there's nothing more fulfilling than to take something old, like the Sears building, which was built like a concrete bomb shelter, and make it a welcome addition to the neighborhood again."
The property is managed by CA Ventures, Springbank's partner in the redevelopment. 
One-bedroom apartments at the renovated property start at $2,050 a month, two bedrooms start at $2,500 a month, three bedrooms start at $3,600 a month and a townhome-style loft, with two or three bedrooms, will cost $2,900-$3,850 per month.
According to Maggie Moffat, CA Ventures' leasing manager, the first occupants of the newly finished apartments "should be moving in by April 1".