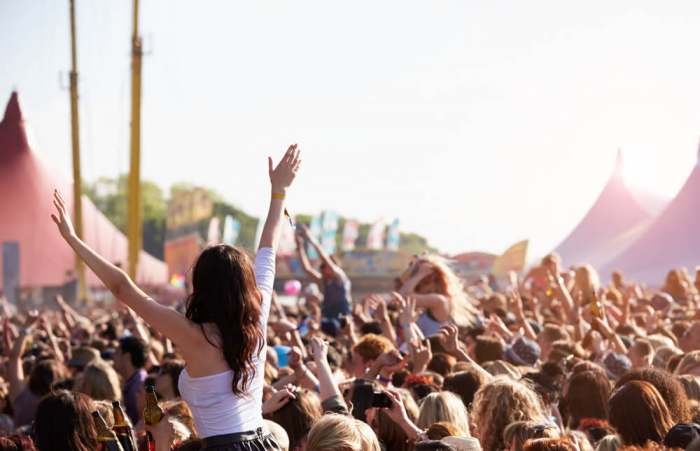 In an interview with iHeartRadio, Perry Farrell, the festival's co-founder, sounded hopeful about a 2021 edition, although the specifics would have to be adapted to the pandemic conditions.
One of the many festivals Chicago usually hosts during summer and early autumn, Lollapalooza hasn't announced potential 2021 dates or a lineup, but festival co-founder Perry Farrell said there's a distinct possibility we could enjoy the event in some capacity this summer. In a recent interview with iHeartRadio, Farrell explained, "If we can all stay on course, get vaccinated, stay socially distanced and masked up, maybe—please God, maybe—we'll get to go to Chicago in early August in one capacity or another."
Chicago has many attractions, for both locals and visitors
For those looking to spend a nice vacation  and perhaps brighten up their Instagram feed, Chicago has so many Instagrammable landmarks, views, and culinary experiences that it's hard to know what to check out first. America's 3rd-biggest city has astonishing architecture, wonderful green spaces and parks, world-class museums, stunning monuments, and amazing food. 
After movie theaters received the approval to begin reopening at reduced percent capacity back in January, as did partial indoor dining and museums, and then local cinemas, such as The Music Box Theatre, prepared to reopen and resume screenings. There was, of course, the issue of getting staff back in-house, to prepare for reopening, which includes much-needed deep cleaning after a few months of being shut down and supplementary hygiene measures necessary to keep the virus at bay. 
About 200 festivals are usually a point of attraction in summer
Besides restaurants and bars, museums, theaters and cinema houses, Chicago also  usually hosts remarkable events. Chicago organizes about 200 music festivals and other shindigs, and that's only between early spring and September. Last year has evidently been tough in that respect, but let's hope 2021 will bring some of them back, at least in fome form. Besides the usual local music lovers, such events attract many people from out of town. No matter your life event, to make it even more fun and festive, consider centering it around one of your favorite festivals or events that are scheduled for almost every other weekend. Everyone in your entourage could use it to let some steam off. Birthday parties and bachelorette bashes are great at such festivals.Many bachelorettes will fall in love with Pitchfork, Riot Fest, Lollapalooza, and other mega street parties.  
Lollapalooza could adapt to the circumstances, Farrell thinks
Considering the strict pandemic restrictions, last summer, Lollapalooza was transformed into a free four-day virtual event, featuring archived sets from the likes of Paul McCartney, Chance the Rapper, OutKast and LCD Soundsystem, in addition to pre-recorded appearances from a long list of contemporary artists. This could be the case again this year, depending on the circumstances around Covid, but also on whether organizers want it to happen on its usual dates, during the first weekend of August. With capacity restrictions and city permitting options still uncertain as vaccine distribution continues to ramp up and Covid-19 cases increase nationwide, Farrell seems open to adapting Lollapalooza to conform to the evolving circumstances. "If it's not a giant Lollapalooza, it might be a half-capacity Lollapalooza or no Lollapalooza. But I want there to be a Lollapalooza in some capacity so bad," Farrell said.
The announcement  came as a surprise since, until recently, Marc Geiger, who served as the head of music at WME (the William Morris Agency) and is one of the founders of Lollapalooza, said he was not expecting anyone to be attending any big music festivals in 2021.
Other festivals moved their dates to September
Of course, we are all facing a lot of uncertainty right now concerning the COVID pandemic evolution and whether or not the city will allow large in-person gatherings to take place this summer. Some Chicago-based festivals are still making plans though to host events in September. Riot Fest moved its planned 2020 event last June to September 17-19, 2021. Organizers of North Coast Music Festival recently announced that the EDM festival will move to SeatGeek Stadium in Bridgeview, IL during Labor Day weekend—if officials allow the event to take place at all (if not, people will get their money back). Similarly, the Chicago Tribune reported that the team behind Pitchfork Music Festival applied for a permit to hold the three-day festival in Union Park from September 10–12.
If held on its usual dates, Lollapalooza would be the first big event in the city
In case COVID cases go down and vaccinations up, Lollapalooza could take place during its usual timeframe on the first weekend of August, and if so it could be the first large in-person event to return to Chicago. The four-day event usually attracts 100,000 people per day— a gathering which is extremely hard to imagine after over a year without any large festivals and similar events. Organizers feel inclined to downsize the event, if that would give them permission to make it happen. 
"If the people are getting it right and we're flattening out and we're going away from Covid infections, there's hope [for Lollapalooza]," Farrell told iHeartRadio. "I listen to Joe Biden, when he thinks July 4th could be the first time we'll have a small celebration. I'm gonna say that my first small celebration will be in August, and I wanna have it in Chicago."