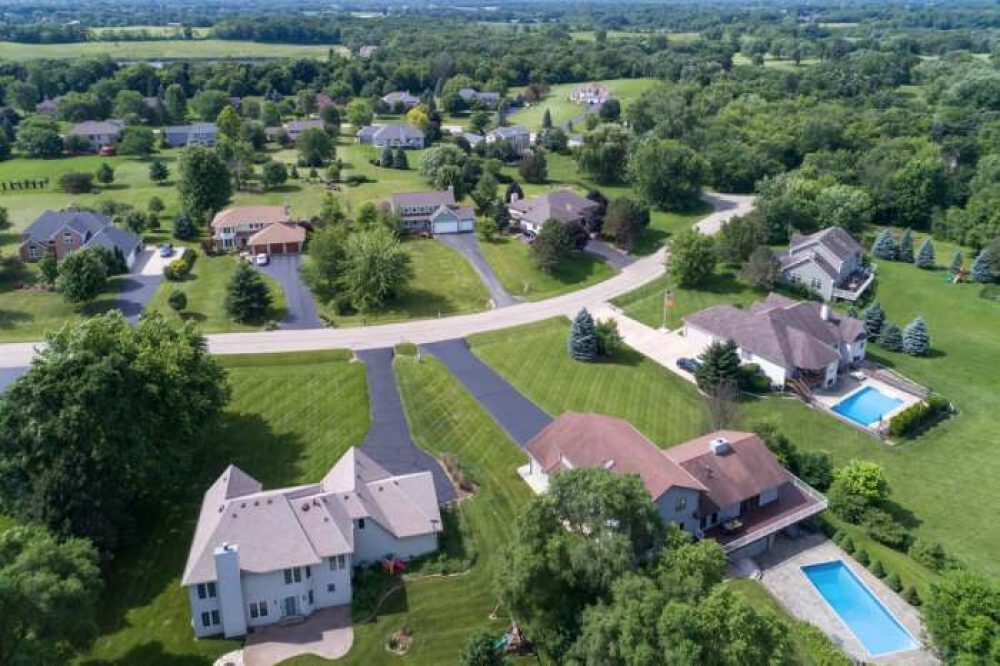 The best place in Illinois to live happens to be a tiny suburb of Chicago. Bannockburn, with a population of just more than 1,300, was not only named the "Best Place To Live In Illinois" but it ranked 8th out of 544 for "Places With The Best Public Schools In Illinois." The rankings were conducted and published by Niche.com. 
But that's not all. The north Lake County suburban community scored top points in many other categories as well. Bannockburn took an A+ grade for public schools, health and fitness, and family upbringing. It also got an A grade for crime and safety, outdoor activities, and nightlife. The "Best Place In Illinois To Live" also got an A- grade for jobs and daily commutes. 
Niche is a ranking and review site. It analyzes reviews, surveys, and other public data to assist families in locating the best places to live. The rest of the rankings for Bannockburn include a B grade for diversity, a B- for housing, a C+ for weather, and a C for the cost of living. The rest of the Top 10 list of the Best Places To Live In Illinois include:
#1 – Bannockburn
#2 – Long Grove
#3 – Clarendon Hills
#4 – Naperville
#5 – Inverness
#6 – Hinsdale
#7 – Buffalo Grove
#8 – Western Springs
#9 – Kildeer
#10 – Evanston
What You Should Know About The Chicago Suburbs
Chicago is the capital of Illinois and attracts thousands of new residents annually. Many of which prefer to settle in the suburbs surrounding the Windy City. The city covers more than 10,856 square miles and has a population of over 9.5 million in just the metropolitan area. This makes Chicago the third-largest and most populous place in the United States. 
Known collectively as Chicagoland, the suburbs that surround the city do not have clear definitions. For example, many view the suburbs as including parts of Indiana, Wisconsin, Iowa, and Michigan as part of Chicagoland. Some smaller towns and cities are located within proximity of Chicago which are great places to live.
How To Pick The Best Place To Live In Illinois
Although Niche.com has named Bannockburn as the "Best Place To Live In Illinois," there are many other good choices. It all depends on what you are looking for and which suburb meets your specific needs. Before you embark on your quest to find the perfect suburb to live in, in the Chicago area, there are a few questions you should use to help narrow down your choice.
Question #1
Are you moving to Chicago alone, as a couple, as a family, or for retirement?
Question #2
Are you moving from another state, or from somewhere else in Illinois?
Question #3
Are you moving up from an apartment to a house or from a house to an apartment?
Question #4
Do you prefer to live within proximity to schools, shopping, and other amenities?
Question #5
Do you prefer to live within proximity of where you work?
Question #6
Which would you prefer, urban or suburban living?
Question #7
Do you enjoy spending time outdoors?
Question #8
Are you a social person who likes to become friends with your neighbors?
What The Other Top Places To Live In Illinois Have To Offer
Here is a brief overview of some of the features found in the suburbs that rounded out the Top Ten Best Places to Live In Illinois list.
#1 – Bannockburn
Details noted above. 
#2 – Long Grove
Long Grove is considered one of the best suburbs of Chicago for young families. Whether you have already started your family or have plans for one, this part of the outskirts of town has a family-friendly feel to it. The pace is a little slower, and there are plenty of schools and playgrounds within the community. Neighborhoods contain more families than single people.
#3 – Clarendon Hills
With a population of nearly 9,000, Clarendon Hills is a popular destination for families. Close to 85 percent of the residents are homeowners and the majority of the residents here are families with children. The suburb is walkable and considered safe with a low crime rate. It is also home to many top-rated schools in the region making this a very desirable place for families to live.
#4 – Naperville
Located 34 miles from Chicago, Naperville has a population of close to 150,000 making it the Windy City's most populous suburb. It has an urban-suburban vibe and two-thirds of the residents are homeowners. This reduces the availability of rental units and those that do exist are not cheap. There are all the amenities you need in Naperville including work options.
#5 – Inverness
This is one of the smaller suburbs of Chicago with a population of about 7,600. The median age in Inverness is 52.6 years and the majority of homeowners have families. However, there is a vast age distribution within the community including 11.19 percent of seniors living alone. The community has grown considerably and is a popular place for families and seniors.
#6 – Hinsdale
Hinsdale is considered one of the affluent suburbs of Chicago. With a population of 17,650, the majority of residents are homeowners. Although not as affluent as Glencoe or Winnetka, Hinsdale is a good place to invest. Low crime rates have helped attract many families with children, and the historic charm of downtown combined with friendly neighborhoods make this a great place to live.
#7 – Buffalo Grove
This is another very popular suburb for families. Buffalo Grove is in the northwest part of Chicagoland and has a population of over 40,000. The main attractions here include excellent parks and green spaces, high-ranked schools everywhere, and culture. The culture you will find here comes from the many different types of festivals held throughout the year.
#8 – Western Springs
This is an affluent suburb with a population of 12,975 that is considered a great place for families. There are several parks and green spaces throughout Western Springs. It also has a remarkable history where many landmarks are still standing. There are also many top-ranked schools. Crime is low, and this makes for a family-friendly environment.
#9 – Kildeer
Located in the southwestern corner of Lake County, Kildeer has a population of 4,100. The community has an interesting, open look to it as development has been restricted to custom homes built on large lots. This has proven to be successful in preserving the natural features of the region. The rural lifestyle is what you will find here not far from the city of Chicago.
#10 – Evanston
With over 75,000 residents, Evanston is a suburb with an urban feel. Almost half of the residents here rent their homes and the age demographics show a majority of young people aged 20 to 40 with a smattering of families with children. You could call this a college town if you wanted and moving here would be a good choice if you were young and single.
Final Thoughts
There are a lot of great places to live in Illinois, Chicagoland in particular. You just have to match what you need with what is available to find the best fit.