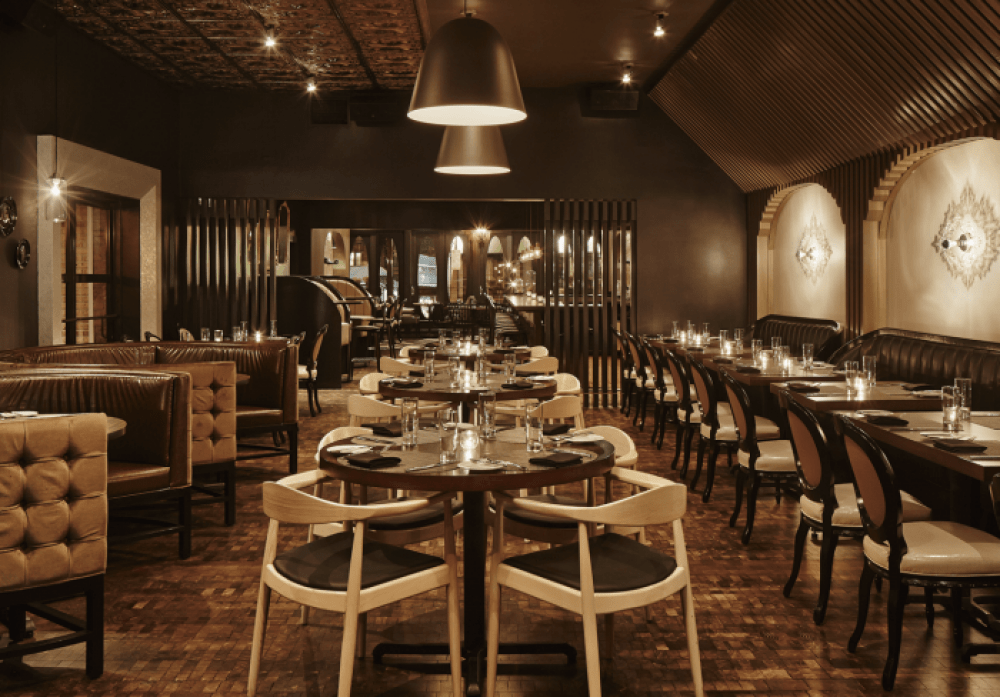 Good news for Chicago foodies and visitors to the Windy City. Boka Restaurant Group has leased the two-story, 14,000-square-foot space at 504 N. Wells St., according to Boka co-founder Rob Katz, and is planning to open a new restaurant here. 
After 16 months of closures and restrictions because of COVID-19, big plans by one of Chicago's best-known restaurant groups is a good sign for the city's restaurant scene, which needs new concepts to attract people, and get them back into eating out habits.
A new life for a space previously known for scandals and code violations
Boka's River North deal brings a respected Chicago restaurant operator into a space previously known for code violations, complaints from neighbors about rowdy patrons and legal battles with the city.
The restaurant group behind concepts such as Girl & the Goat and Boka is taking over the  space where Bottled Blonde, a bar and restaurant that disturbed the neighborhood, used to function until mid 2020. Arizona-based Bottled Blonde's run in Chicago was tumultuous from its late 2015 opening. Bottled Blonde had its business license revoked in 2017, but it was restored by a court order a day later. The business closed for good last July, and that sprawling space has now found its new purpose.
What makes Chicago food great?
The Windy City is famous for many things, including breathtaking architecture, sports life, festivals, 1920s gangsters, and Fortune 500 companies, but it's the Chicago food scene that really puts it on the map. You can't say you've tried the best dishes if you did not come to Chicago for the city's culinary experiences, offering a variety of unmistakably Chicagoan dishes as well as global eats in a wide variety of restaurants. It is really difficult to establish which are the best dishes and the must-try restaurants in Chicagoland, but we are going to help you with that. 
Why is Chicago Food great? The melting pot of cultures created another one, of its own league, the Chicago food culture. Here one can taste many signature dishes that have gained both national and international recognition. No foodie can say no to a hot slice of the gooey, cheesy, and heavenly-tasting deep-dish pizza. How about an Italian beef sandwich, Chicago-style popcorn, hot dog, or a mile-high ice cream cone?
Chicago's culinary appeal lies not only in the well known dishes but also in the places and the people who make the magic happen. Our city is home to some of the world's top chefs, groundbreaking rooftop lounges, best taquerias, and to-die-for doughnut shops, to name just a few categories. The street food in Chicago is to die for, knocking the likes of New York and San Francisco out of the park.
Chicago – more than the best street food city
Street food is only a small segment of Chicago's culinary scene that wows you with mouthwatering dishes you can only find in your grandma's kitchen. The meatpacking capital of America has bistros, food trucks, pizzerias, hot dog stands, burger shops, and steakhouses that set trends, but it also has more Michelin-starred restaurants than you can imagine.
There's also an emerging Chicago food scene that blurs the line between entertainment and dining. For this reason, Chicago is easily the foodie mecca of America. So, whether you're a seasoned food lover or a culinary rookie, there's something to delight your taste buds in the Windy City.
The Windy City has been called a foodie haven, and it was not named that in vain. Many reputable culinary publications like Bon Appétit, Conde Nast Traveler, and Food & Wine have all acclaimed Chicago's food scene, and they did so for good reasons. You can find a variety of heart-warming and sensational dishes in over 8,000 restaurants spread across the city.
Here you can find not only Chicago's deep dish pizza, but also a fenomenal thin-crust pizza,  Chicago's signature loaded hot dogs, to-die-for popcorn, Instagram-famous Italian beef sandwiches, decadent chocolate treats, scrumptious cookies, and much more.
Having so many wonderful options to choose from every day, it's easy to understand why  plenty of people consider themselves Chicago foodies, no matter the type of food they prefer. If one of your friends or family members include themselves in the food lover category, the perfect gift for them would be something food related. 
Our Chicago foodie gift guide is packed with amazing and delicious options for every type of food lover on your shopping list this year, whether that be the chocoholic, the gourmand, the health nut, the sweet tooth, the meathead, the culinary kid, or the cheese lover.
More fine restaurants planning to open this year 
This new River North space is not the only new enterprise of the group founded by Rob Katz and Kevin Boehm. Besides Swift & Sons, GT Fish & Oyster and Momotaro, in May Boka unveiled plans to open another new Chicago restaurant at 564 W. Randolph St., west of the Loop between the Chicago River and the Kennedy Expressway. That Italian restaurant, called Alla Vita, was meant to replace the Bellemore Boka concept, closed during the pandemic, and was to be led by chef Lee Wolen. 
This is not the only good news for food enthusiasts in Chicago. In June, Hell's Kitchen and Kitchen Nightmares fans found out that, for  the first time ever, celebrity chef Gordon Ramsay is expanding his restaurant empire to Chicago. The famous Michelin starred chef revealed he will open a Gordon Ramsay Burger location in the same River North Boka is now coming to, in a 5,000-square-foot space he took over at the corner of State and Ontario.