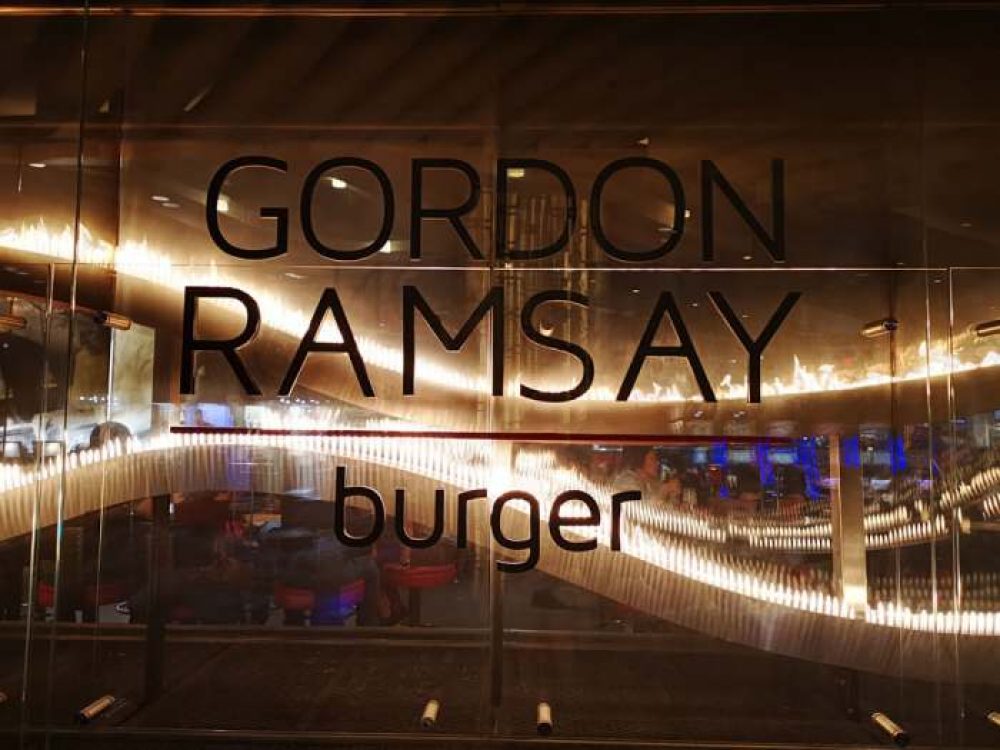 Good news for food enthusiasts and Hell's Kitchen and Kitchen Nightmares fans in Chicago: for  the first time ever, celebrity chef Gordon Ramsay is expanding his restaurant empire to Chicago. The plans were announced earlier in June, and the famous Michelin starred chef revealed he will open a Gordon Ramsay Burger location in River North, in a 5,000-square-foot space he took over at the corner of State and Ontario.
Chicago, one of the best food cities in the world, Ramsay thinks
The Chicago location, which will be equipped with an island bar and seating for 120, will be the second Gordon Ramsay Burger location in the U.S. (the other, called Flame Burger, is in Las Vegas), though he has also opened pubs and steak restaurants in other cities across the country. In a press release, the famous ornery chef praised Chicago's dining scene, calling it "one of the best food cities in the world." And, of course, we more than agree with the statement. The Windy City is famous for many things, its architecture, sports life, festivals, 1920s gangsters, and Fortune 500 companies, but the food scene is what puts Chicago on the map. It's one of the best cities for culinary experiences, offering a variety of unmistakably Chicagoan dishes as well as global eats and a wide breadth of dreamy restaurants. You can find wonderful mouthwatering dishes grandma used to cook since the meatpacking capital of America has line-inducing bistros, food trucks, pizzerias, hot dog stands, burger shops, and steakhouses. But it also has more Michelin-starred restaurants than you can imagine, so Chicago's fine dining scene is definitely something to try.
Will the bolder flavored burgers integrate Chicago's great food scene?
Chicago food culture is in its own culinary league. The city has many signature dishes, recognized both nationally and internationally. No foodie can say no to a hot slice of the gooey, cheesy, and heavenly-tasting deep-dish pizza. How about an Italian beef sandwich, Chicago-style popcorn, hot dog, or a mile-high ice cream cone?
Chicago's culinary marvels happen both in the street, where the Windy City is better than New York and San Francisco, but also in the eateries and people that make the magic happen. The City by the Lake is home to some of the world's top chefs, groundbreaking rooftop lounges, best taquerias, and to-die-for doughnut shops. 
There are plenty of celebrity burger joints out there—incidentally, Gordon Ramsay Burger is taking over space formerly occupied by Mark Wahlburg-owned Wahlburgers—but Ramsay promises an elevated experience for his new restaurant. Announcing the Chicago expansion via an Instagram video, the Michelin-starred chef incited viewers with his "delicious, butter-based burgers," which blend different cuts of beef for a bolder flavor. Specialty items include the Hell's Kitchen Burger, a signature patty dressed up with asadero cheese, roasted jalapeños, avocado, roasted tomatoes, and house-made jalapeño aioli. There will be other high-end fast food dishes to accompany the burgers, milkshakes, and fries will be on the table, but the full menu is still undisclosed. Gordon Ramsay Burger is scheduled to open in late 2021 or early 2022.
Good news for foodies,  people wanting jobs, and the city's party lovers 
Another wonderful restaurant is good news not only for those looking for a new meal destination and those looking for a job in the food industry (applications can be sent at jobs@grna.com, according to Fox32), but also for those who are already thinking about next year's parties, especially since we all hope the COVID-19 related restrictions will all be gone by then. When you live in a large city like Chicago, it can be difficult to throw an elaborate birthday party at home, especially if you live in a smaller home. The number of guests you want to invite to your birthday, after a long social distancing period, won't all fit into your small apartment or condo? No worries, the Windy City has plenty of affordable world-class restaurants to host your one-of-a-kind party.
To help make your decision easier, we've found the top Chicago birthday restaurants for you. You can host any type of party at these best-rated birthday restaurants in Chicago, without breaking the bank. 
Chicago is one of a kind city for the absolute variety of what it has to offer. But don't think for a second that the Windy City's claim to foodie fame is all about deep-dish pizza.
Not only is Chicago's thin-crust pizza equally awe-inspiring, but the city's got a ton of other flagship foods worthy of renown. These include Chicago's signature loaded hot dogs, to-die-for popcorn, Instagram-famous Italian beef sandwiches, decadent chocolate treats, scrumptious cookies, and much more.
This explains why there are so many people who think of themselves as Chicago foodies. Just in case one of your friends is one of them, or you are trying to lure them into your own lifestyle, the perfect Chicago foodie gifts might be the answer. Our Chicago foodie gift guide is packed with amazing and delicious options for every type of food lover.