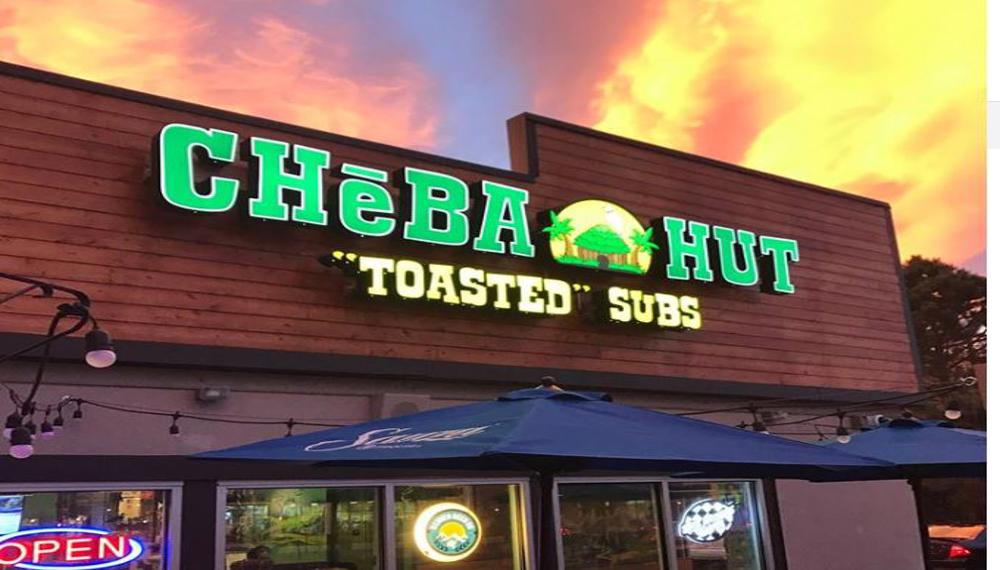 A cannabis-themed sandwich chain is planning to set up shop in Chicago.
Cheba Hut, a punny sub shop, has signed a lease in Wicker Park and is waiting to lock down another space in Wrigleyville or Lincoln Park.
The chain originally planned to open a restaurant in Bucktown last year, but the deal fell through.
Cheba Hut is hoping to capitalize on Illinois' move to legalize weed, which went into effect on January 1 of this year.
Since the legislation was signed in, Chicagoans have been going cannabis crazy, buying a range of weed products as well as non-psychoactive CBD oils, which were legalized back in 2018 when the Farm Bill was signed into action.
Cannabis tour buses can now be seen cruising through the city and CBD coffee can be found on store shelves.
Cheba Hut's well-loved subs- 4-inch "nug," 8-inch "pinner," and 12-inch "blunt"- are available in a variety of inventive flavors.
Favorites include the "White Widow," made up of grilled chicken, ranch, mushrooms, bacon, and provolone, and the "5-0," which comes with smoked ham, Genoa salami, prosciutto, pepperoni, bacon, giardiniera, and cheddar.
The "Jamaican Red" comes with spicy chicken breast, green peppers, jalapeno, black olives, and cheddar, while the "Thai Stick" is made up of grilled chicken breast, teriyaki glaze, green peppers, pineapple, and Pepper Jack.
Vegetarian options such as the Griefo are available, which contains Pepper Jack, cream cheese, guacamole, spring mix, onion, tomato, pickle, cucumber, black olives, mushrooms, and house dressing.
"Magic Mushroom" is made up of Pepper Jack, portabella, teriyaki glaze, green peppers, and pineapples.
Restaurants also offer 'munchies," including "not'chos"- nachos loaded with cheddar, red onion, jalapenos, black olives, cheese Doritos, and ranch sauce.
The menu serves up desserts, too, including "goo balls" made up of Rice Krispies, peanut butter, honey, and cocoa. Of course, Cheba Hut also serves brownies.
Both Chicago locations are expected to have a full bar, serving "Cottonmouth Cures," including iced tea, beer, and cocktails.
Chain founder Scott Jennings told Chicago Eater the company encourages its franchises to make each location their own by offering different cocktails, local beers, and decor. He said, "Each location really takes on neighborhood feel and franchisee feel."
The location of the Wicker Park spot at 1950 W. Division Street was previously the home of a Shell Gas station which operated for 40 years before its closure in 2017. Cheba Hut will share the building with Colectivo Coffee.
The company started serving subs back in 1998 when Jennings began showcasing the link between great food and what can only be described as the munchies. Other huts can be found in Arizona, Colorado, California, Oregon, New Mexico, and Wisconsin.
On its website, Cheba Hut says it prides itself on boasting "the best subs in the business." It adds, "What really sets Cheba Hut apart, though, can only be experienced in our shops. We combine homegrown food with real people in a relaxed environment. Escape the established."
No opening dates have been released for either location as of yet.