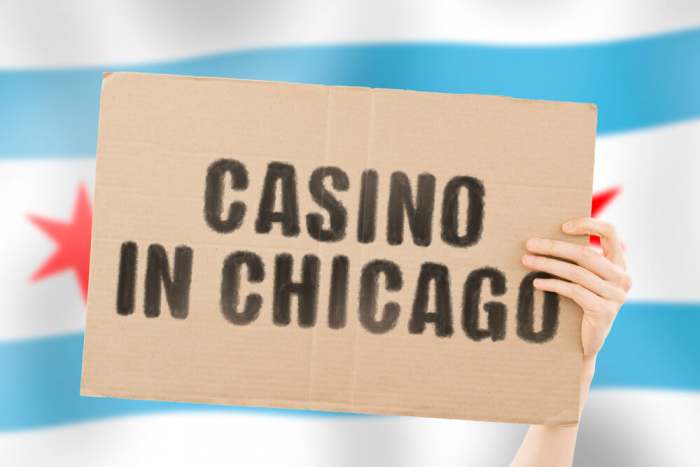 Despite recently legalizing online sports betting, Illinois is one of the few states in the US still standing firm against online gambling even though bill SB-0007 has been introduced to the state legislature to address this issue. 
However, as of 2020 both residents and travelers are forbidden from spinning the wheel at an online casino site. However, that doesn't mean that you cannot gamble in the state of Illinois.
In fact, Illinois – Chicago in particular – is one of the best places to gamble in the country, with a string of great land-based casinos around the city. Gambling in person is particularly popular with local residents. 
If you're planning your next visit to Chicago and want to check out casinos within driving distance, here's our comprehensive guide to the best casinos around Chicago.
Majestic Star Casino & Hotel
YouTuber Chico Gonzalez takes on the slots at Majestic Star Casino & Hotel.
Just 25 miles away from Chicago, along the Lake Michigan shoreline, close to the Indiana border, you can check out the Majestic Star Casino & Hotel.  Established in 1993, this casino has a great selection of games and is the ideal place to visit particularly if you're into slot games. 
There are over 2,400 slot games and video poker machines to choose from, in addition to a wide range of table games. Before visiting the Majestic Star Casino & Hotel, make sure to check the casino's schedule, as they regularly host a series of great poker tournaments.
After gambling the night away, you can retire to one of the resort's 300 hotel rooms which come at very affordable nightly rates.
Harrah's Joliet Casino & Hotel
Don't forget to check out the great scenery on your way to Harrah's Joliet Casino.
In recent years, the land-based gambling industry has come under increasing pressure from online operators. Gambling fans throughout the country are increasingly choosing to play online rather than visiting a bricks and mortar casino, especially this year. 
One of the chains that has been hit hard by this trend is Harrah's, which operates multiple casinos throughout the country. So, if you want to help out a struggling operator and have fun at the same time, make sure to visit Harrah's Joliet Casino along the banks of the Des Plaines River.
The casino floor features a great selection of slot machines and table games, all serviced by a friendly Midwestern staff. Each evening, you can also check out a number of local musicians who perform at this casino on rotation, and you can relax with a drink and enjoy some great entertainment. 
And if you leave the Joliet area, maybe to cross the border in Indiana, you may also check out a variety of online casino operators. With more games on offer and the benefit of playing anytime, anywhere, players will be spoilt for choice at sites like 888 online casino.
Blue Chip Casino Hotel Spa
Check out this eye-catching casino before you visit.
Okay so this casino isn't technically in Illinois, but it is definitely worth a visit for anyone heading to Indiana. Situated just under an hour drive from Chicago, on the banks of Lake Michigan, the Blue Chip Casino Hotel Spa is an incredible venue with plenty of casino games on offer.
This casino is owned by Boyd Gaming, the company behind the world-famous Sam's Town in Las Vegas, so you know your money is in safe hands. Boyd Gaming have leveraged their know-how in making this casino one of the best to visit outside of Nevada.
The casino features just under 2,000 slot machines, plus a great selection of table games which regularly attract players from Illinois. The main draw, however, is the on-site hotel, which is the largest in the area by far.
There are more than 480 plush rooms to choose from, plus a great on-site spa to relax in after a hard day playing cards.
If you prefer the thrills of a land-based casino, there are plenty of great venues in and around Chicago to try your luck. Plus, with many casinos tucked inside lavish hotels, you can extend your trip for a whole weekend of gambling fun.