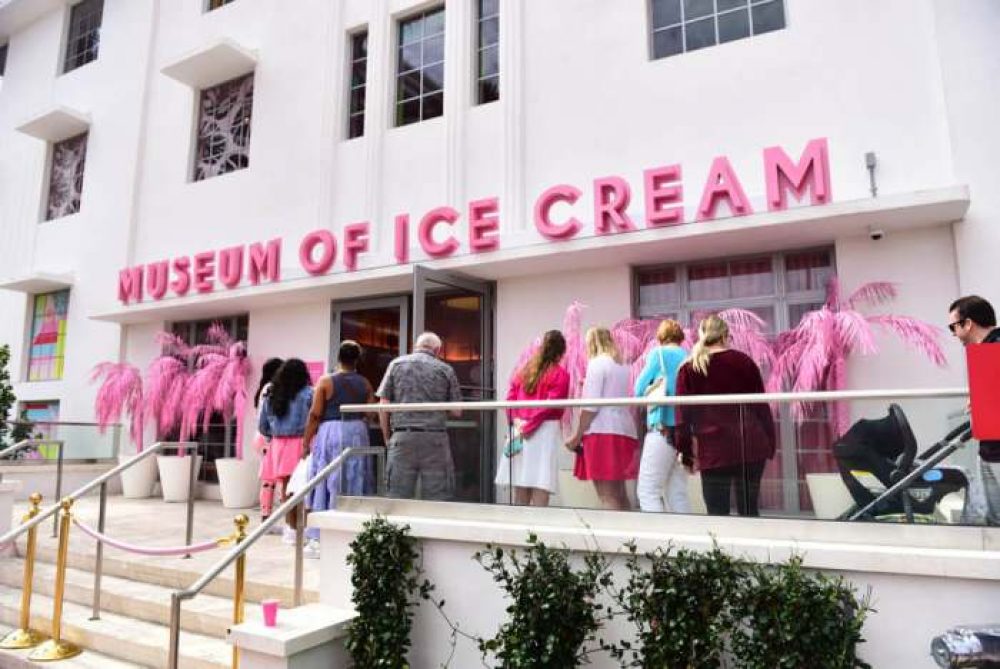 Austin, Singapore, and New York City already is home to the candy-colored homage to everyone's favorite summer treat. Soon, the Chicago Museum of Ice Cream will open at The Shops of Tribune Tower at 435 N Michigan Avenue.
Back in 2016, the tribute to all things ice cream took social media by storm, first as a temporary exhibit in New York City's Meatpacking District. The pastel tribute to the frozen treat quickly drew a mile-long line of visitors hungry to sample glorious flavors of ice cream. Another big attraction was the opportunity to snap selfies at the museum's ming-bending, candy-colored Instagram-friendly backdrop.
Now, the wildly successful Ice Cream museum is adding a fourth location, in the old home of the Chicago Tribune.
What Makes the Chicago Ice Cream Museum So Special?
Once the Ice Cream Museum is up and running in its new 13,544-square-foot space on Michigan Avenue, visitors will be treated to a kooky, Willy Wonka-like tour. Over the course of 60-90-minutes, museum-goers will experience 14, candy-colored ice cream-themed installations.
Among the museum's signature installations is the famous swimming pool filled with faux sprinkles, and an ice-cream-inspired miniature golf course. Above all, the exhibits are Instagram and TikTok friendly, providing a mind-bending, pretty, pastel backdrop.
Along the way, Chicagoans can sample unusual ice cream confections, including an exclusive "Chicago hotdog" sundae. We'll only be able to tell you how that tastes, once the museum is open.
In addition to the Chicago hotdog sundae, the Michigan Ave museum plans to showcase other Chicago-themed specialties. For instance, visitors enter through the pink "Sprink-L", inspired by the CTA's Pink Line. The Sprink-L opens to a spacious, 1920's-style Chicago "speakeasy" where visitors can buy special cocktails and other treats.
Plus, the Chicago Museum of Ice Cream will be the first to include a " Museum of Modern Ice Cream", an interactive display of historic ice cream memorabilia.
While Chicagoans can get on a waitlist for the museum's summer 2022 opening, we don't yet know how much the tickets will cost. However, in other cities, the experience isn't cheap, with tickets ranging between $38 to $49. Also, the Chicago location's speakeasy will be open to all, no ticket needed. Either way, be prepared to wait in a long line for the privilege.
Chicago: America's Candy Capital
Bet you didn't know that the Windy City is sometimes considered to be the candy capital of America. In fact, the National Hellenic Museum on East Hallstead Street has a permanent exhibition celebrating the city's sweet tooth.
Among the first waves of the 19th century, immigrants to Chicago were Greeks. By 1906, Greek immigrants had opened an astounding 925 candy and ice-cream shops in the city. By 1914, the Illinois Food Commissioner estimated that there were around 30,000 Greeks in the business of selling soda, candy, and ice cream.
The exhibition at the National Hellenic Museum is sponsored by Gayety's Ice Cream, established in 1920, right here in Chicago.
Among the Chicago-based candy featured at the museum are Milk Duds, Cracker Jacks, Dove Bar, Tootsie Roll, Frango Mints, and Cupid Candies, some of which are and still are made in Chicago.
A short documentary film, narrated by former CBS anchor Bill Kurtis, kicks off the show. Visitors can also experience interactive displays such as the Twisted Candy Challenge that tests a visitor's candy-wrapping ability. Of course, the exhibit is filled with nostalgic photos and memorabilia of Chicago's Greek candy shops of yesteryear.
The museum also hosts candy-making workshops, ice cream socials, and many more fun activities. Entrance to the National Hellenic Museum is $10 for adults.
The Made in Chicago Museum also features an exhibit dedicated to Chicago's candy-making past. Bunte Brothers Candy features prominently, as well as the Williamson Candy Company and O'Henry! The museum also displays an original box of Curtiss Baby Ruth bars, priced at just 5 cents each.
Among the Made in Chicago Museum's most unusual candy-related artifacts is a 1927 tin of The Original Flavour Chicken Bones. Ganong Chicken Bone candy, which you can get today, is bittersweet chocolate surrounded by a crunchy, pink cinnamon outer coating. But, the Original Flavour Chicken Bones of 1927 had a butterscotch outer coating with a chewy center.
Currently, the Made in Chicago Museum needs a home, but you can browse through thousands of fascinating items from hundreds of local manufacturers online.
Candyality, Voted Chicago's Best Candy Store and Museum
The retro-style corner candy store at the Water Town Place Mall not only was chosen as the city's best by Food Network Magazine, but it's also a museum. A portion of the 6,000 square-foot space is dedicated to the "Life is Sweet" museum, featuring candy-inspired art, fashion, and artifacts. Candaylity offers thousands of different rare, exclusive, and downright quirky candies from all over the globe.