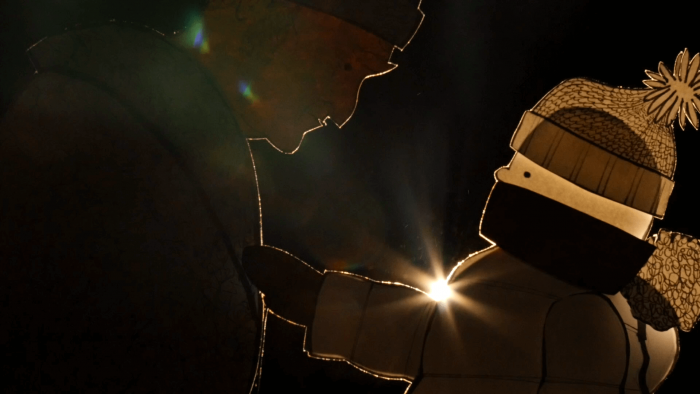 If COVID-19 is still getting you down and is the reason why your holiday season may not be as bright as it has been in the past, you won't want to miss Manual Cinema's Christmas Carol. We all know the classic Christmas story but thanks to the pandemic, this inventive Chicago-based interdisciplinary performance collective has taken the classic and given it a contemporary 2020 spin.
The "New" Version
In this COVID-influenced adaptation, the storyline is familiar but contains several updates to assist in keeping the traditional holiday program in step with today's world. The story follows a character named Aunt Trudy. Aunt Trudy is an avowed holiday skeptic who has been recruited to channel her late husband Joe's famous Christmas cheer. She does this in the self-isolation of her studio apartment where Trudy reconstructs Joe's annual Christmas Carol puppet show. She shares it with family members near and far who have to view the puppet show on Christmas Eve under lockdown in their own homes via Zoom. But something magical happens when Trudy gets more absorbed in her spin of the classic tale – the puppets take on a life of their own. The family Zoom call then transforms into a stunning cinematic retelling of the Charles Dicken classic Christmas ghost story.
How To View This Special Event
Manual Cinema will be performing each show live in their Chicago studio in a socially-distanced manner. It will also be live-streamed direct-to-home to audiences wishing to see the performance but cannot attend the live show in person due to COVID protocols. The livestream show will be available on Marquee TV. Tickets to the live-streamed performances of Manual Cinema's Christmas Carol can be purchased online at manualcinema.com. Prices are as follows: $15 for individuals, $30 for a duo or trio of viewers, and $50 for family and friends (4 or more viewers). Patrons wishing to support Manual Cinema can purchase tickets at the $100 price. Tickets are also available for those who require closed-captioning or audio-description for just $10. Tickets are on sale from December 9 through to December 20.
You May Also Want To Read: "Healing From Hate" Streaming Virtually at an Event Hosted by Collaboration in Chicago
When To Watch The Performance
Showtimes vary depending on the date which permits viewers to pick a time and date that best suits their personal schedule. The full list of showtimes is as follows (please note that all times listed are CT):
– Thursday and Friday, December 3 and 4 at 7 PM,
– Saturday, December 5 at 3 PM and 7 PM,
– Sunday, December 6 at 3 PM and 6 PM,
– Wednesday, December 9 at 10 AM,
– Thursday, December 10 at 7 PM,
– Friday, December 11 at 7 PM and 9 PM,
– Saturday, December 12 at 3 PM and 7 PM,
– Sunday, December 13 at 3 PM and 6 PM,
– Wednesday, December 16 matinee at 10 AM,
– Thursday, December 17 at 7 PM,
– Friday, December 18 at 7 PM and 9 PM,
– Saturday, September 19 at 3 PM and 7 PM,
– Sunday, December 20 at 3 PM and 6 PM.
All audience members who will be viewing the show via live stream will receive an email before each show with a private URL to access and steam the performance they have selected to watch. Following each performance, audiences will be able to use the post-show live chat "Puppet Time" program to ask Manual Cinema's artists questions live and in real-time. This will add a personal touch to watching the performance at home.
What Others Are Saying
Chris Jones of the Chicago Tribune says, "For its 60-minute holiday show, which is "touring" nationally but actually streamed live every night from the company's Chicago studio, this inventive group of artists has created, in essence, a COVID-19 Christmas Carol." He went on to add, "This is the kind of one-of-a-kind artistic response that people will remember in Chicago as emblematic of this artistic moment, long after masks and social distancing have become as removed from lived reality as Dickensian London."
The Chicago Sun-Times had this to say: "In the 177 years since it was published, "A Christmas Carol" has become a seasonal chestnut of many genres. In Chicago alone, it's been told in rap, hip-hop, and tap, as an hourlong musical aimed at children and as a lavishly produced drama aimed at all ages. What we have not had, until now, is a "Christmas Carol" that leans into tragedy and current events as thoroughly as Manual Cinema's bewitching puppet version does."
Karen Topham of ChicagoOnStage.com says, "Manual Cinema, Chicago's interdisciplinary theatre collective specializing in original adaptations performed live using paper puppets, music, etc. is without a doubt among the most inventive troupes in town. With their 2020 streaming production of A Christmas Carol, they may well have moved into "must-see" territory. This is a town that is annually more or less inundated with Carol productions (even during this COVID year). but you will never see a more creative one than this one."
More About Manual Cinema
Manual Cinema was founded in 2010 and has been turning heads around the globe. The performance group combines handmade shadow puppetry with cinematic techniques, and innovative sound and music. The result is immersive visual stories for stage and screen. This is achieved through the use of overhead projectors, multiple screens, puppets, actors, live-feed cameras, multi-channel sound design, and a live music ensemble.
Upcoming Shows
Manual Cinema has other productions they are working on in addition to A Christmas Carol. Scheduled to hit theatres in 2021 is the debut of their shadow animations in the film remake of Candyman. Also, two Mo Willems' children's books have been adapted by Manual Cinema to premiere at the Kennedy Centre in Washington, DC in Spring 2021 and will also appear at the Chicago Children's Theatre.
Summary:
Don't let lockdown get you down this holiday season. Thanks to the creative minds at Manual Cinema, you will be able to enjoy a live streaming of their version of A Christmas Carol into your home throughout the holiday season. What makes this a special event not to miss is the unique way the performance group adapted the story to include a COVID-19 theme. Tickets are available at manualcinema.com.