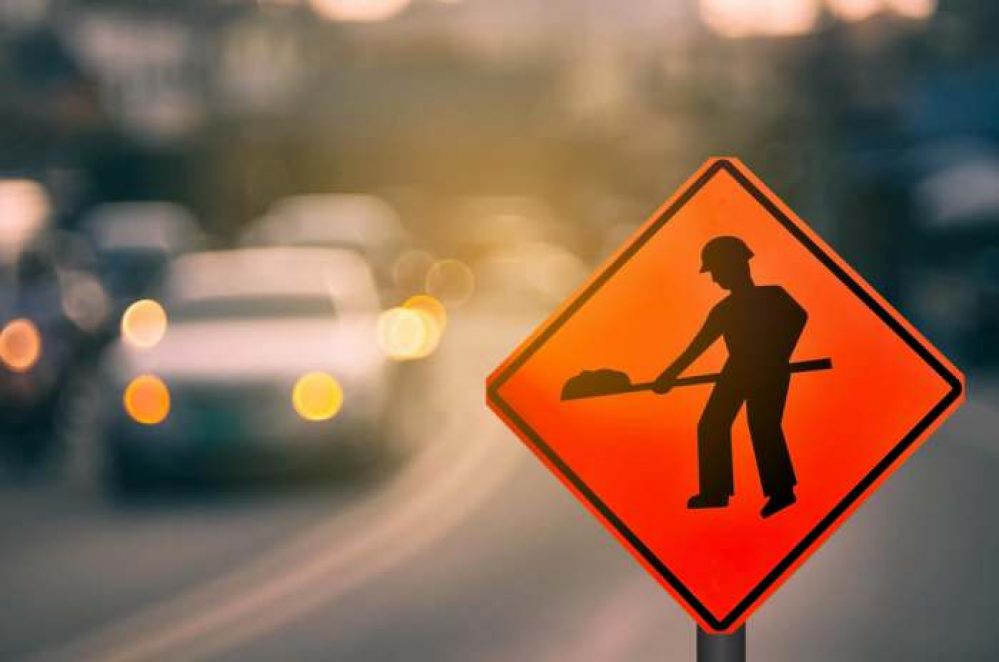 This spring, a new three-year construction project on a 7.5-mile stretch of the Kennedy Expressway begins, leading to lane closures and extensive traffic delays. The I-90/Kennedy Expressway feeds directly into O'Hare International Airport and is a core local expressway moving traffic in and around the city.
The bridges of the expressway were last repaired in 2013 and are due for rehabilitation
The Illinois Department of Transportation will be rehabilitating the Kennedy Expressway (Interstate 90/94), from the Edens Expressway (Interstate 94) junction to Ohio Street. The estimated $150 million project consists of rehabilitating 36 bridge structures and the Reversible Lane Access Control (REVLAC) system, replacing overhead sign-structures, installing new signage and modernized LED lights, pavement patching and structural painting. Additionally, Hubbard's Cave, from Grand Avenue to Wayman Street, will be painted and new LED lighting installed. The Kennedy Expressway officially opened in November 1960, with the last major rehabilitation completed in 1994. The project will improve safety, traffic flow and reliability for the more than 275,000 motorists who use the expressway each day.
The 50-year-old bridge structures along the Kennedy Expressway were last repaired in 2013 and are due for repairs. Over the next three years, the I-90/I-94 Kennedy Expressway will rehabilitate 36 bridge structures. Additional work will include pavement patching, REVLAC system rehabilitation, overhead sign structure replacements, LED lighting improvements and structural painting.Once completed, this project will reduce the cost of maintenance, increase safety, and provide improved traffic flow for I-90/I-94. 
The average daily traffic for I-90 is around 275,000 vehicles per day
The work will take place in three parts, with two inbound lanes on the Kennedy closed at a time in the first leg of the project. To alleviate some of the backup, the reversible express lanes will remain open to inbound traffic until the repairs are finished in the fall.
The average daily traffic for I-90 is around 275,000 vehicles per day, and state authorities promise to ensure that four lanes of traffic will be available for inbound and outbound travelers during construction. Each stage will only last for one construction season and work is not expected to extend into the winter, which will help to mitigate traffic impacts during winter months.  Since the CTA Blue Line won't be impacted, commuters and travelers are encouraged to look at other transportation options like the CTA and Metra during construction. But for the time being, even that isn't the perfect solution, since the Blue Line stations between the Addison and Western stops are currently closed on weekends through May for a track improvement project.
In 2024, the reversible express lanes will close from spring to fall so that the Reversible Lane Access Control (REVLAC) system can be rehabilitated. Then, two outbound lanes will close at a time in 2025, with the reversible lanes staying open to outbound traffic throughout the spring-to-fall construction.
In addition to upgrading the REVLAC system, the $150 million project will focus on fixing 36 bridge structures, patching pavements and replacing overhead signs. 
The Kennedy Expressway construction project is slated to be completed in fall 2025, but officials warn the schedule is subject to change based on weather conditions.
Chicago, a great city that keeps on changing
On Tuesday, October 7th, Chicago was named the Best Big City in the United States for an unprecedented sixth straight year. More than 240,000 people from around the country voted for our city in the Conde Nast Traveler's annual Readers' Choice Awards and we are happy to note no other city has won so many times in a row until now. There are undoubtedly many reasons why people think our city is great, with architecture being only one of those. Developers are aiming to any remaining patch of land for projects to ensure Chicago keeps on developing.
There's only one neverending season in Chicago: construction season. City planners endorsed, last October, a developer's long-term proposal to start a multi-phase building project, which consists of more than 2,200 residential units and a boutique hotel, adding considerable density to a section of West Town near the future casino site.
9.5 million people live in the metropolitan area
Chicago is the capital of Illinois and attracts thousands of new residents annually. Many of these people prefer to settle in the suburbs surrounding the Windy City. The city covers more than 10,856 square miles and has a population of over 9.5 million in just the metropolitan area. This makes Chicago the third-largest and most populated place in the United States. Known collectively as Chicagoland, the suburbs that surround the city do not have clear definitions. For example, many view the suburbs as including parts of Indiana, Wisconsin, Iowa, and Michigan as part of Chicagoland. Some smaller towns and cities are located within proximity of Chicago which are great places to live. But, of course, life in the suburbs also means a longer commute to work, and the construction on Kennedy Expressway will surely make life more difficult for the 275,000 people who transit on it daily. Let's hope the results will be worth the traffic jams.