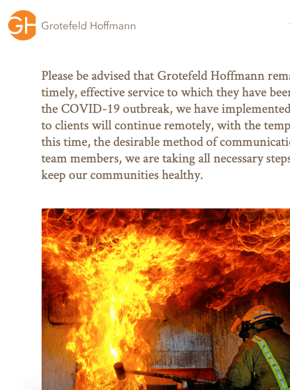 Grotefeld Hoffmann defines themselves by their intuitive thinking, well-executed approach, and top results in complex litigation across the country. The firm is particularly known in relation to claims related to arson and wildfire.
Grotefelf Hoffmann has locations in Austin, Chicago, Geneva, Los Angeles, Minneapolis, Palm Beach Gardens, Portland, and San Francisco.
The firm has established the Grotefeld Hoffmann Veterans Clinic Scholarship at the John Marshall Law School in Chicago.
All employees are encouraged to spend time in volunteer work.