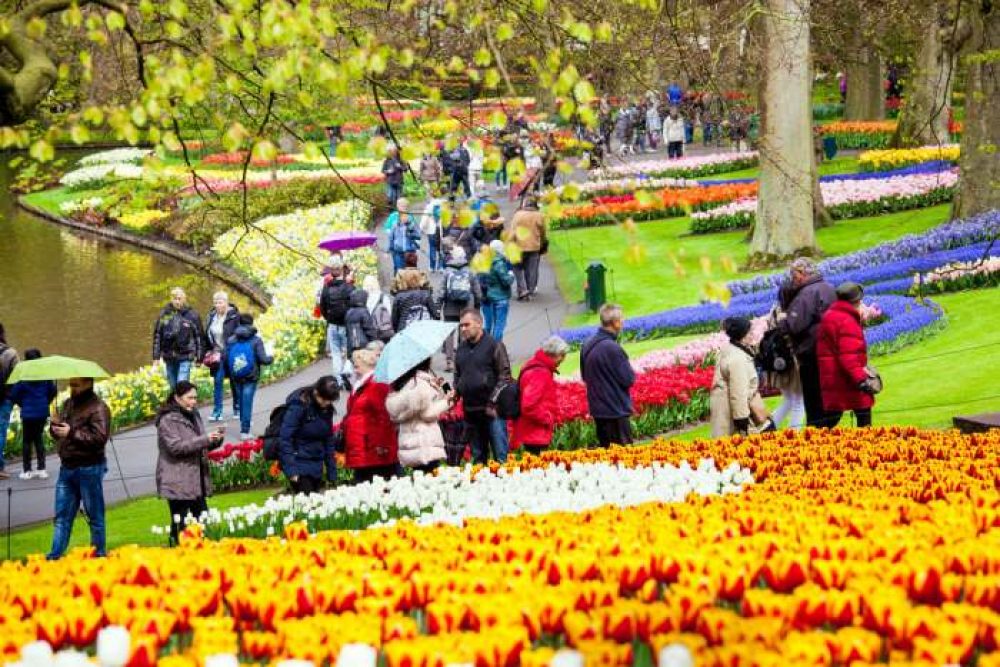 After having seen its fair share of rain this spring, Chicago is enjoying its own Richardson Farm Tulip Festival, with hundreds of thousands of tulips waiting visitors in Spring Grove.
The second annual Richardson Farm Tulip Festival was expected to begin Saturday, April 23, and continue through Mother's Day weekend. So, if you do not know how to surprise your mother this year, taking her to see the tulips might be a nice touch. Buying gifts for Mom can be hard. You want to express how much you love and appreciate her, but you don't want to break the bank. It's tough, and we know it. If she is not outdoorsy or is not in the best of shapes, to be able to walk around taking pictures in the tulip fields, you can always choose some of the very best gifts that will really impress Mom from the list we've compiled. But check to see first if she is not into the Tulip Festival, because this could be a treat for the whole family, an opportunity to make invaluable memories together.
Flowers Planted in 2020 and Last Year Are Waiting to Be the Stars of the Show
"We think we'll have a half a million tulips blooming," said George Richardson, of Richardson Farms. "We planted 300,000 bulbs in the fall of 2020 and 300,000 more in November 2021. It should really be a sight to see."
The weather determines the dates when the tulips bloom, but they were expected to be in full bloom or nearly full bloom sometime during mid-April through mid-May, which means there is still time to go and see them. The tulips were planted near a private 36 acre lake, for an absolutely beautiful setting. The gift shop on the adjacent Adventure Farm grounds is open for gifts, wine tasting, fresh donuts, popcorn, kettle corn, and indoor restrooms. It's about a ½ mile walk, or you may drive, from the tulip fields parking area.
Nearly 40,000 people visited the tulip festival in 2021. They've almost doubled the amount of tulips this year and with COVID less of a factor this year, Richardson Farms is expecting a huge turnout.
Thirty Varieties of Tulip Bulbs Are Planted, and They Promise Many Picture Opportunities
This year, thirty varieties of tulip bulbs are planted, a press release from the farm says — Apeldoorn's Elite, Border Buddies Blend, Banja Luka, Jaap Groot and Snowboard being only a few of these. 
What you can see and do: 
600,000 new bulbs planted for this year – 30 different varieties PLUS last year's bulbs are popping up!

500,000 are in colorful blocks with a central design for pictures

100,000 are mixed colors in a pick-your-own area

Beautiful, private lakefront location

Food trucks, beer and wine, and free use of picnic tables near the lakefront

Plentiful free parking

Walking trail along the lake

Free games to play – giant checkers, jenga, cornhole, etc.

Live music on Saturday and Sunday afternoons

Friendly dogs on a leash are welcome
Costs and Accessibility
Admission to the Tulip Festival costs $15 per person on weekends and $12 on weekdays. It is free for children 3 years old and younger. Reservations are not required. Admission includes one tulip of your choice. Additional flowers will be available in the pick-your-own area for $1 each. Richardson Farm has been in the family since 1840.
Wheelchair accessibility: The tulips have been planted in a hay field, so the ground is a farm field with some lumps and bumps. The walkways are mostly a grass/weed mixture, but still with lumps and bumps. If it has recently rained, the ground turns a little mushy. The parking area is rough grass. From the tulip fields, the ground slopes down to the festival area with the food trucks, picnic tables, weekend music, etc. The slopes are within ADA guidelines. Because the ground is rough, some people may need assistance getting their wheelchair back up the hill. We have made every effort to make these lumpy fields as wheelchair friendly as possible, but you must decide on the capabilities of yourself or the person you are attending.
Head east on 173 out of Rockford. Go through Harvard, Woodstock, and Hebron. Just before you get to Antioch, about 90 minutes away, you'll come across Richardson Farms, the home of this massive Tulip Fest. You are welcome to bring your dog if it is on a leash and plays well with others.
If You Miss the Tulips, You Might Always Visit the Chicago Botanic Garden
If you are a flower lover, but you won't be able to go see the tulips, you might want to try another Chicago green destination.
The Chicago Botanic Garden (1000 Lake-Cook Rd, Glencoe IL 60022) is a very beloved destination for city dwellers, but also for those living in the suburban areas. 
The Garden offers so many different attractions it is difficult not to find something you will love there and which is going to be worth the entrance fee paid starting February. From simply walking through dozens of very different landscapes, including areas devoted to aquatic flowers, fruits and veggies, roses, prairie plants and woodland vegetation, to really studying the more than 2.6 million permanent plants, planted on almost 285 acres. There is very much to do here, including admiring the Bonsai Collection, the Aquatic Garden, Evening Island and more.