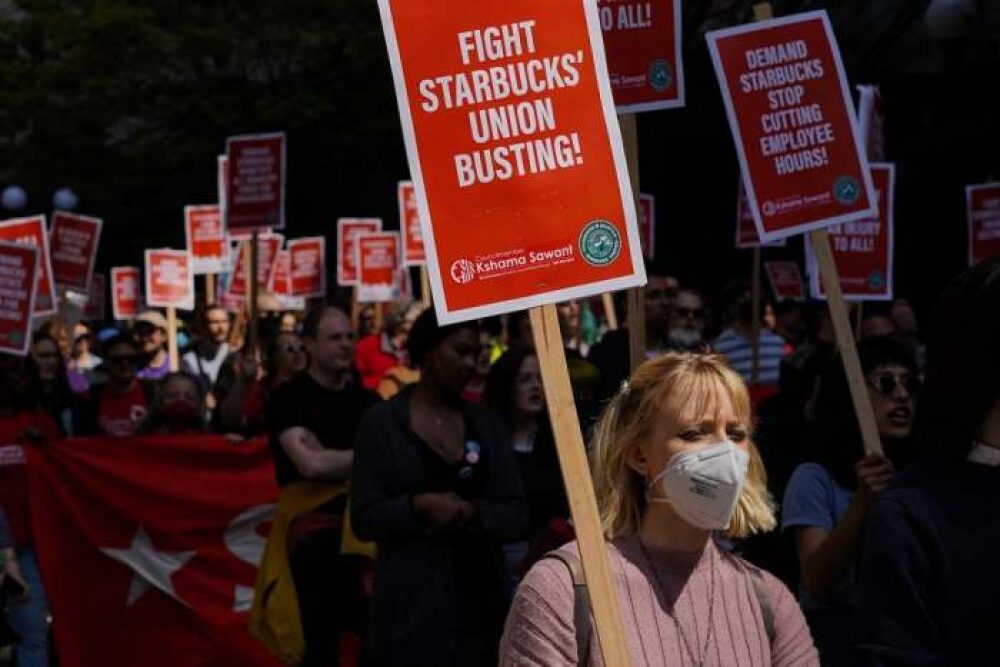 This April, Starbucks staff members in northwest suburban Cary and in Peoria are voting on whether to join a union, these being the first two Starbucks union elections in Illinois. The initiative is part of a growing national movement, with more than 200 coffee shops in the United States deciding to form unions.
The movement started last December, when a Starbucks in Buffalo, New York became the first of the company's thousands of U.S. locations to vote for unionization. Workers at Chicago's Randolph and Wabash locations decided  to join the effort only weeks later.
Starbucks has become a major tourist attraction in Chicago, which means more work
When you hear the name Starbucks, what comes to mind? You probably think about the quality of a steaming hot paper cup of Joe with a muffin and the occasional mix CD. What may not immediately enter your mind is that in Chicago, Starbucks has become a major tourist attraction. The Windy City is filled with venues that attract visitors from around the globe. But why would Starbucks become such a magnet, especially since the chain has over 31,000 locations in 79 countries? Well, the store in Chicago, which opened in November 2019, is the biggest Starbucks location to date, having over 200 employees. 
The number of Chicago-area stores that have filed for a union election went up to eight – and the company's been pushing back. In a letter earlier this month, CEO Howard Schultz wrote: "We will become the best version of Starbucks by co-creating our future directly as partners. And we will strengthen the Starbucks community by upholding each other's dreams; upholding the standards and rituals of the company; celebrating partner individuality and voice; and upholding behaviors of mutual respect and dignity."
"We are the faces of your company," Muñoz said in response to company pushback. "(Customers) come in and get their morning coffee before work, before school, before starting their day … and we want to help reflect that."
With Starbucks locations around the country awaiting election results and most of the Chicago area coffee shops still waiting on an election date, Munoz says they're excited about what the future holds for workers.
The workers accuse Starbucks of "union busting"
But forming a union is not smooth sailing, no matter if the workers have a valid point about pushing for better working conditions and a chance to really perform to high standards. Organizers say company management has been holding captive audience meetings to persuade workers not to join, and hanging anti-union literature at Starbucks locations. The workers pushing for a union accuse Starbucks of so-called "union busting," including disciplining or firing pro-union workers. And there is at least some truth to the matter, since the National Labor Relations Board has issued two complaints against the company for retaliation. 
The company's management however definitely rejects the accusations. "Any claims of anti-union activity are categorically false," a Starbucks spokesperson told WTTW News.
And since pushing a union forward is no easy task, especially with company management breathing down their necks, some of the workers might need legal advice, in order to protect not only their own interests, but also those of their colleagues. 
If one needs a lawyer in Chicago, there are so many law firms people can choose from, once they have determined what specific type of lawyer they need to take care of their legal needs. When it comes to forming a union and protecting your right as a worker, one sure needs a top-notch law firm in Chicago with a proven track record and a solid reputation to match.
While the state of Illinois is home to hundreds of thousands of practicing lawyers, selecting the right Chicago law firm can be the difference between a frustrating legal experience and a smooth one. But finding and hiring the right firm from the myriad of legal services providers in Chicago can be a challenging assignment.
To help facilitate your search, Cool Things Chicago has put together this list of the top Chicago law firms, ranked based on a variety of factors, such as reliability, experience, recommendations, ability, and quality. 
Everyone deserves a livable wage and basic rights, workers say
Starbucks workers are really determined and know exactly what's the stake in this fight. "We just want to have a seat at the table," said Starbucks employee and organizer Zero Muñoz. "Each store has a unique set of issues and things they would want to bring up with corporate. It's not a one-size-fits-all sort of deal."
One of the problems was that higher management was not acknowledging how busy the downtown location gets during events and holidays, although, according to Muñoz, the store manager did. After workers filed for a union, they say management from the district and corporate level started appearing regularly.
"They suddenly wanted to act like they were always paying attention and wanting to hear us out," Muñoz said.
Workers also complain the company has been cutting back their hours, which led to the shops being overcrowded and the customer experience getting poorer, although the company still expects very high quality standards, as Logan Square Starbucks employee and organizer Logan Higgins said. "We're the ones delivering the customer experience and we don't have that extra person or two people … so these customers are getting the short end of the stick."
In CEO Schultz's letter, he writes "…while not all the partners supporting unionization are colluding with outside union forces, the critical point is that I do not believe conflict, division and dissension – which has been a focus of union organizing – benefits Starbucks or our partners."
"I really want my district manager or Howard Schultz to tell me to my face I don't deserve this livable wage, that I don't deserve these basic rights of having sick leave as soon as I'm hired," Higgins said.