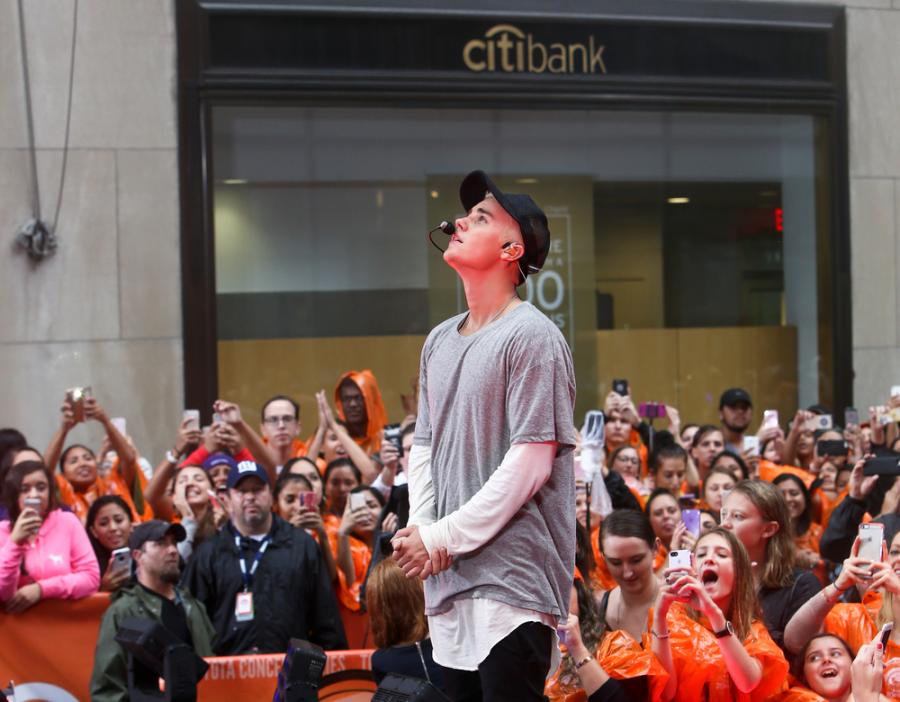 Justin Bieber has announced his return to Chicago with a brand new, nationwide tour.
The Canadian star released a YouTube video of just 90 seconds, hinting at a new docuseries and listing summer tour dates. He also revealed he will drop a new album in 2020; its first single, 'Yummy', was released on January 3.
In the video, Bieber said:
"As humans, we are imperfect. My past, my mistakes, all the things that I've been through, I believe that I'm right where I'm supposed to be and God has me right where he wants me."
2020 Album & Tour
The tour will begin on May 14 in Seattle and stop at Soldier Field in Chicago on June 19. More shows will be performed throughout the Midwest–including Minneapolis and Milwaukee–in the days after the Chicago show.
Bieber will then visit St. Louis in July and Michigan twice in August, once in Grand Rapids and again in Detroit.
The tour will conclude in East Rutherford, New Jersey, on September 26. Altogether, the singer will visit a huge 50 cities across the US.
Eager to visit some hot music venues in the meantime? Check out our list of the very best music venues in Chicago.
Speaking of his new music, Bieber said: "I feel like this is different than the previous albums just because of where I'm at in my life. I'm excited to perform it and to tour it. We all have different stories. I'm just excited to share mine. It's music that I've loved the most out of anything I've done."
It seems fair to say Bieber's fans love his music too; that YouTube video broadcasting his 2020 album and tour plans collected 1.4 million views in just a few hours–and has now been watched by over 6 million viewers.
The new album will be the singer's first since 'Purpose' was released in 2015, and he last toured the album in the following year when he played two shows at Allstate Arena in Rosemont, before going on to marry Hailey Baldwin in 2018.
In celebration of his new single, Bieber has put together packages for his fans, including limited edition signed Yummy x Drew House CDs, retro vinyls, and even audio cassettes. The 25-year-old artist has also released the official Yummy game with a Pacman-esque style; fans can play it on both their mobiles and computers in between listening to the new track!
Coming Soon (Maybe): A Bieber Baby?
Another cascade of hot news for the Biebettes came in an Instagram Live broadcast on Wednesday January 8, Bieber–alongside his wife Hailey (née Baldwin)–speaking out about their thoughts on having children.
Bieber said: "I'm gonna freaking crush this tour. You and me, traveling the world, then, after the tour, we have a baby." Baldwin appeared to say either 'potentially' or 'eventually' before adding 'a couple of years'.
Docuseries
It's thought the singer's new docuseries entitled 'Justin Bieber: Seasons' will cover his recent diagnosis with Lyme disease.
He confirmed the news on Instagram on Wednesday, writing that those judging his appearance 'failed to realize' he'd been diagnosed with Lyme disease.
He added: "These things will be explained further in a docu-series I'm putting on YouTube shortly.. you can learn all that I've been battling and OVERCOMING!!"
The series is due to be released on YouTube on January 27, covering his step away from music in March to work on 'deep-rooted issues' and his marriage to model Hailey. Back in September, Bieber opened up to fans, sharing the difficulties of rising to fame and his use of drugs to help him cope.
He was most recently seen on the charts with Dan and Shay on the track '10,000 hours', his remix of Billy Eilish's 'Bad Guy,' and dueting with Ed Sheeran on 'I Don't Care'.