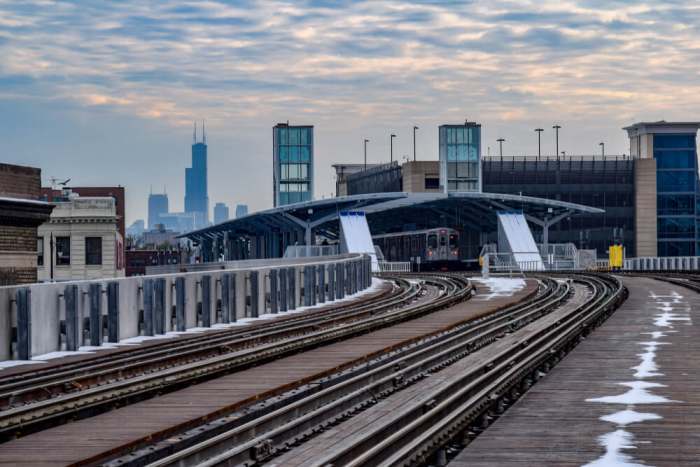 Chicago businessman and philanthropist Dr. Willie Wilson gave away $1-million in gas on Thursday, March 24. The giveaway was offered at a rate of $50 per vehicle and was available at 50 gas stations in Chicago and suburban Cook County. The giveaway ended once the $50 per vehicle contributions totaled $1-million. It wasn't his first generous offer as a total of $200,000 in free gas was given away earlier in the month within Chicago which resulted in gridlock in many places around the city. Traffic concerns at the time led several gas station owners to pass on participating in the most recent giveaway.
One Cook County city indicated that the cost of overtime to direct traffic could top $10,000 was the reason why they turned down the offer to be part of the free gas event. Wilson says his goal is to assist the tens of thousands of people who struggle to keep their vehicle fueled up and already has a third gas giveaway in mind. Essentially, a participating gas station gets involved by lowering its gas prices to permit more Chicago-area drivers to access the free gas. Each vehicle receives $50 in free gas until the $1-million mark is reached.
First Giveaway Paves The Way For More
The first gas giveaway started at 7 AM and lines of vehicles waiting to get into participating gas stations stretched for blocks before the 7 AM start time. Operators at one gas station, an Amoco located in Rogers Park, indicated that the line up there started forming at 2 AM. The popularity of the giveaway captured the imagination of many Chicago-area vehicle owners who took to the streets early to not miss their opportunity at some free gas. The response was overwhelming and inspired Wilson to repeat it, with much the same results.
What They Had To Say
Wilson explains why he pulled the stunt by saying, "We gave money to buy gasoline, they can buy gas and continue to support their family. We went that route. People don't have disposable money these days." Ricky Kimmons was amazed at the entire concept. Working as a carpenter from Evanston, he has found that the high gas prices are starting to hit his profit margin. He was sitting second in line at a Rogers Park gas station and gas to fill his Suburban now costs $147. "I was like, is this (giveaway) for real? And then I saw it on the news, so I started trying to find out the locations, and I was like, oh, there's one right by the house five minutes away. Got right up, came right over here." He adds, "It helps me tremendously, a whole lot, just don't know how much I appreciate free gas right now."
Who Is Willie Wilson?
Willie Lee Wilson, 73, is a Chicago-area businessman and politician. He has run for multiple elected offices but unsuccessfully. They include the 2015 Chicago mayoral election, 2016 US presidential campaign, 2019 Chicago mayoral election, and 2020 US Senate election in Illinois. Wilson has been the owner and operator of several different McDonald's franchises and is the owner of Omar Medical Supplies. This company imports and distributes medical and safety supplies and equipment. Wilson is also known for his production of Singsation, a gospel music television program that is in national syndication. In 2012, the program won a Chicago/Midwest Emmy Award. Wilson's family history shows he has a full understanding of the struggle to make ends meet which may be the main incentive for his gas giveaway events. He has been very successful in business and has chosen to share his good fortune in some way with others.
Traffic Congestion Draws Criticism
Depending on which participating gas station you were in line at, there were several different atmospheres. In some lineups, drivers waiting their turn took the opportunity to get out and walk their dogs. Others chose to befriend nearby drivers and in other locations, it resembled a tailgate party with music blaring and drivers socializing. However, the free gas also resulted in traffic gridlock around several of the participating gas stations which made the morning commute a tad more stressful for many drivers.
Chicago city police dispatched officers to various sites to direct traffic to ease the congestion. Many in lineups heaped praise on Wilson for his kindness but others were a lot more critical. Overall, the positives outweigh the negatives. Melvaughn Thompson, who was first in line at a gas station in Rogers Park, jumped up and down in excitement screaming, "Thank you, Willie Wilson!" She went on to say, "I am a doctoral student. I am a struggling student. I am unemployed, and I really have been struggling." She went on to say that the free gas made a difference.
The Wait In Some Line Up Was Lengthy
Pilsen resident Antonio Galarza was patiently waiting his turn with a near-empty tank. He was hoping to get to the head of the line because "I don't have to spend $50 to fill up." Nik Hammond, in line at a different gas station, states, "You're trying to provide for your family, you're trying to…raise your children in the neighborhood, and this is a good opportunity to help us get from school back home." Reginald Williams, who sat inline in another location said, "Me being frustrated? I mean if it's worth it, if you want gas, you want free gas, then stay in a line, but, if not, then find something else to do."
Final Thoughts
Free gas is a big deal, regardless of where you live in the country. Fortunately, for residents of Chicago, a local millionaire has chosen to give away gasoline. He has already done it twice and aims to add a third giveaway soon. It has most certainly generated many reactions. Most of them are favorable even if the lineups cause problems with traffic for a few hours. Chicago's Willie Wilson just wants to share some of his good fortunes and helping people at the pumps seems to be the most logical thing to do these days.