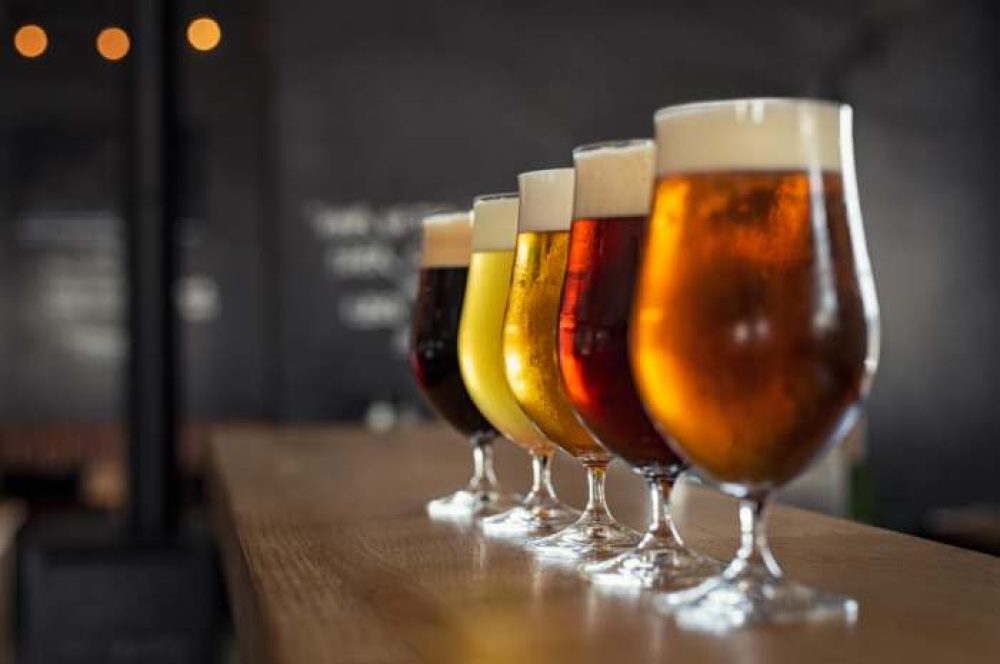 Garett Popcorn and Revolution Brewing give Chicago a new caramel beer this fall
Good news for food and beer lovers in the Windy City or those who plan to visit. One of Chicago's most famous snacks is now also available in beer form. 
Garrett Popcorn, the company that produces the popped kernels enjoyed by both locals and tourists, has worked with Revolution Brewing to produce a CaramelCrisp-flavored ale. Four-packs have already begun hitting stores in the city and a statewide release is expected by October 1.
Chicago is big on beer, and we have the breweries to prove it
Even though summer temperatures have sunk, and fall is here, the weather is still nice enough for us to think about the best things to do in Chicago this season. If you plan to spend some time with family, friends or your significant other, the activities we have hand picked for you to try are really fun and engaging, perfect even for romantic dates. From pumpkin patches and apple picking to admiring fall foliage and taking part in fun activities and events, you will find perfect ideas for both adults and kids to do in Chicago and suburbs. And, if everything else fails, you can always choose to drink some beer with your loved ones. 
The first commercial brewery in Chicago –Haas & Sulzer Brewery – was established in 1833 by German immigrants. It was bought by William Lill and Michael Diversey in 1841 and was soon renamed Lill and Diversey Brewery. Also called Chicago Brewery, it was known for making English-style porters, cream ale, and pale ale.
Lill and Diversey Brewery experienced massive success. By 1861, it had a workforce of more than 75 employees and produced around 45,000 beer barrels each year. The next brewery to enter Chicago's beer-making scene was James Carney's, which was established on a plot between Wabash Avenue and State Street in 1840.
Today, Chicago has well over 200 breweries, most of which are microbreweries and craft breweries.
The Chicago beer scene has experienced explosive growth in the last two decades, thanks partly to the rising popularity of craft beer. Chicago's brewing community has it all, from the biggest names in the country to tiny experimental upstarts.
It does not matter which beer you prefer, you will find something to your liking in Chicago's exciting range breweries.  With more than 200 breweries in The Windy City and its diverse neighborhoods, we hand-picked the best Chicago breweries to visit.
How the new flavored beer came to be
The Chicago Tribune details the trial-and-error process of how the new caramel popcorn beer came to be. Instead of adding caramel or different types of popcorn while brewing, Revolution kept it simple by only using Garrett's CaramelCrisp and a dose of brown sugar. At the very end, a pinch of salt helps further reproduce the subtle taste of popcorn. In the end, 450 pounds of caramel popcorn and 1,200 pounds of sugar were used for the new limited edition brew.
The resulting beer is described as "surprisingly dry and nuanced, rich with caramel essence and overtones, but only modest caramel-like sweetness." It might have the same degree of sweetness as salted caramel chocolates, which are sugary, but the salt subdues the initial taste.   If you love your popcorn to accompany the beer, you will be happy to know the new brew is not supposed to be a substitute for the popcorn, but will better serve as a complement for your favorite snack. 
Besides the flavor, the novelty of the product can even be seen in the packaging–the 16-ounce cans have the same design as a tin of Garrett Popcorn. This is not the first time the company has collaborated with a brewery to produce a beer, since, last year, Hop Butcher created an imperial chocolate stout with the oil used in Frango mints, a brand owned by Garrett.
Since this is a limited edition, hopheads and popcorn lovers have to hurry and get their fix, since the batch is going to last a few months. Those interested can pick up a pack at a nearby Jewel-Osco or Binny's but they'd better keep in mind the beer might go as quickly as a bag of Garrett Popcorn. 
The best gift for food enthusiasts 
This new beer comes to further color an already rich brewing culture, and to compliment the city's spirit. With laid-back awesomeness, spectacular architecture, scrumptious food, and a cultural scene like no other, Chicago is one of a kind city for the absolute variety of what it has to offer. But don't think for a second that the Windy City's claim to foodie fame is all about deep-dish pizza.
Not only is Chicago's thin-crust pizza equally awe-inspiring, but the city's got a ton of other flagship foods worthy of renown. These include Chicago's signature loaded hot dogs, to-die-for popcorn, with Garett's leading the party, Instagram-famous Italian beef sandwiches, decadent chocolate treats, scrumptious cookies, and much more.
With this sheer amount of food options in the Windy City, it's easy to understand why there are plenty of people who consider themselves Chicago foodies. And they come in all shapes, tastes, and sizes. Are you looking for the perfect Chicago foodie gifts? Our Chicago foodie gift guide is packed with amazing and delicious options for every type of food lover on your shopping list this year. Evidently, the new caramel popcorn beer could be a fabulous gift for the appreciative lucky foodie outhere.