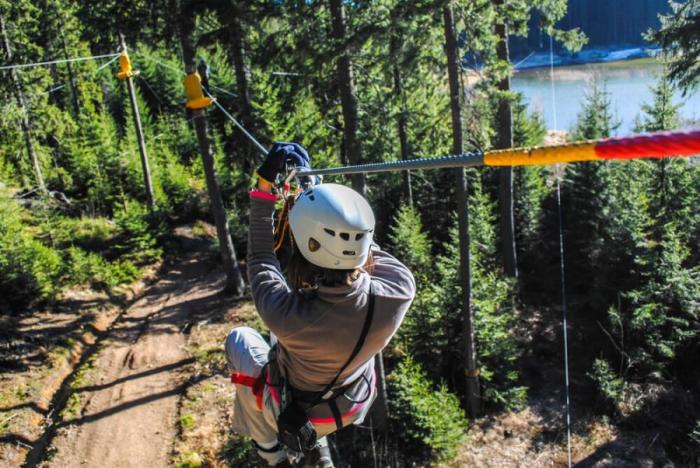 Illinois is set to open North America's largest adventure park this summer.
The Forge: Lemont Quarries Adventure Park will open its doors on May 25, 2020 adjacent to the I&M Canal.
The year-round playground for both adults and kids alike will feature activities for those of any and all abilities, according to Forbes.
It will have the largest aerial adventure course in North America, covering a huge 300 acres with three free-standing towers and a 12-story tower made to represent the iconic Sears Tower splitting. Climbers will have the chance to climb and navigate another 260 elements.
Other attractions include the tallest ropes course tower on the continent, a mountain biking skills track and pump track, an X-wall climbing wall, kayaking, canoeing, and paddle boating.
Younger children will have access to a dedicated Kid's Zone, featuring a fully-netted playground and five miles of trails for walking, running, and biking.
The park will offer an onsite restaurant and beer garden as well as an amphitheater for concerts, outdoor cinema events, and kids camps, making it just one of the reasons to look forward to summer in Chicago.
The Forge was created in partnership with the Village of Lemont and Township of Lemont in hopes of attracting an additional one million visitors to the area each year.
When complete, the park will be open year-round (except for certain holidays) between the hours of 8 am and 11 pm. It was founded by Chris Gladwin and Jeremie Bacon- software builders and all-round fitness lovers.
The pair combined their talents to create The Forge, which will supposedly be home to the tallest man-made zip line tower in North America.
By the time the first phase of the buildout is complete, Crain's reported, their company will have spent close to $10 million.
Trails on the land will be free and open daily to the public. Costs for the zip lines, biking etc will likely start at $20 for single activities or $60 for a day pass. Tickets for the kids zone will likely cost $12.
The nearest zip line to the new park is at Bemis Woods in Western Springs.  That one is operated by outdoor adventure company Go Ape. The number of customers there has almost doubled, reaching 25,000 visitors last year.
Gladwin said the pair is building multiple elements to attract a wider customer base. He said: "We're building one course with over 260 elements. It's a big grid: You can choose what you want to do next, customize it. It's a better experience, and we can fit over 600 people at once on the course."
Lemont Township supervisor Steve Rosendahl shared the idea behind the project. He said: "We got together to preserve the natural resources, but the tax dollars to develop that are nonexistent.
"The land was just going to sit there and be pretty. Having somebody willing to invest tens of millions in a one-of-a-kind park and leave the land as it is, is like having the moon, the sun and the stars all aligned."
The quarry site is close to Lemont's downtown and a Metra line giving visitors easy access. The area is currently known for being a 'sleepy area' with a steadily growing population. New bars and restaurants are now also opening in the area as Chicago gains its reputation for having one of the very best hospitality industries.
Lemont's mayor, John Egofski, is behind the project. He told Crain's: "We knew it could be really unique if you do it right. Chris and Jeremie have been successful in their businesses, so we knew they weren't going to shortchange it.
"Our strength and weakness is we're isolated. Hopefully this brings in a lot of people."
You Might Also Like: