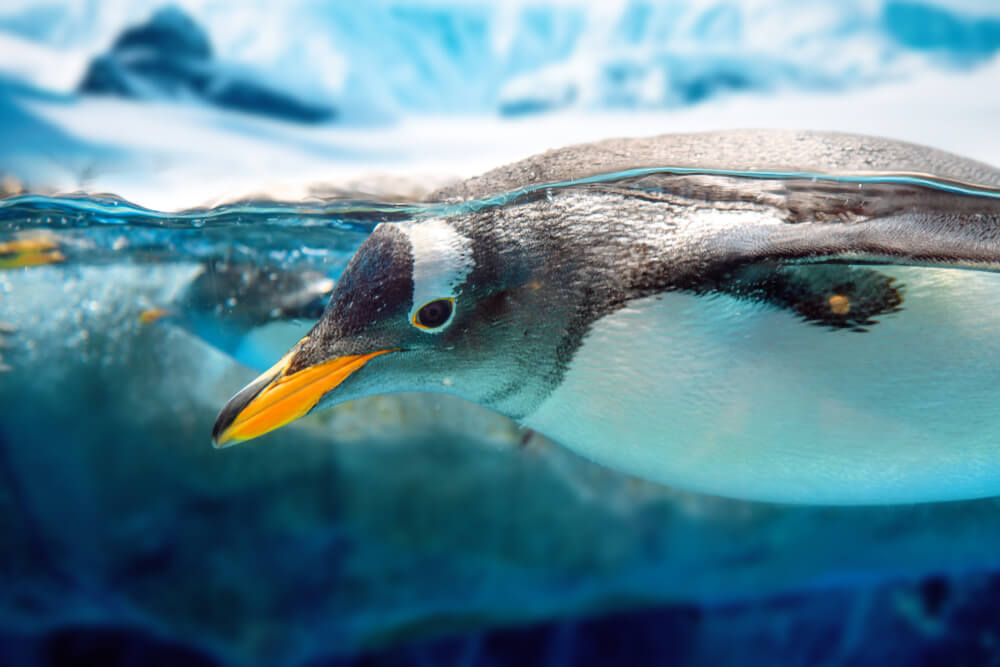 Videos of penguins waddling through Shedd Aquarium amid closures have gone viral.
The Chicago Aquarium was forced to close due to coronavirus fears last week, allowing staff to let a few residents out to explore their home.
The adorable images show three penguins checking out life from the other side of the glass.
In a statement, the aquarium said: "Without guests in the building, caretakers are getting creative in how they provide enrichment to animals.
"Introducing new experiences, activities, foods and more to keep them active, encourage them to explore, problem-solve and express natural behaviors."
One video shows a penguin named Wellington taking a trip to the Amazon Rising exhibit, which features fishes from the Amazon River basin. Wellington is 30 years of age and the oldest penguin at the aquarium, living there since it opened in 1991.
In a tweet sharing the videos, Shedd wrote: "Penguins in the Amazon?! Some of the penguins went on a field trip to meet other animals at Shedd. Wellington seemed most interested in the fishes in Amazon Rising! The black-barred silver dollars also seemed interested in their unusual visitor."
Another video shows a pair of bonded rockhopper penguins, Annie and Edward, visiting a tank of sharks and rays. Other penguins were thrown a St. Patrick's Day party on Tuesday where they were pictured sporting large, green bow ties.
The aquarium tweeted: "While we can't go out & party, the animals can! Our caretakers are committed to providing enriching activities (like edible shamrocks) for the animals with or without guests here to see it. Check in throughout the day to see more!"
Shedd's Twitter account also shared images of sea otters and sea lions joining in the celebrations.
The aquarium is known for its commitment to looking after its residents in the best ways possible, and recently hit the news when it welcomed a new beluga whale calf into the world.
It seems the animals are the only ones to benefit from the recent spread of the coronavirus, which has now been declared a pandemic by the World Health Organization.
Illinois Governor J.B. Pritzker has banned public gatherings for groups larger than 50 and all schools, bars, and restaurants have been closed down in the state; President Trump encourages 'social distancing'. It is thought movement restrictions could last months in a bid to contain COVID-19.
Many of Chicago's other popular tourist attractions have been closed, including Navy Pier and Cloud Gate Plaza, home to 'The Bean'.
While Shedd decided to share its behind the scene happenings with Twitter, other animal enclosures such as The Cincinnati Zoo & Botanical Garden have decided to live stream their animals.
The El Paso Zoo is sharing 'zoo cams' allowing people to watch meerkats, giraffes, orangutans, sea lions and more go about their day-to-day activities.
A Patagonian mara at the Fort Worth Zoo named Hector was taken on a tour of the attraction while its visitors were away.
The zoo tweeted: "Hector took a walk today and with new sights and smells, it was a very enriching experience! Otters Benji, Hudson and Makita appeared to be curious about their new visitor. It was enriching for them, too! Hector made a few stops through the Zoo and we'll share those this week."
Shedd Aquarium is set to remain closed until at least March 29 but has promised to continue updating the public on the lives of its residents. The aquarium will digitally share as Edward and Annie go into nesting season, and Wellington will make further appearances.