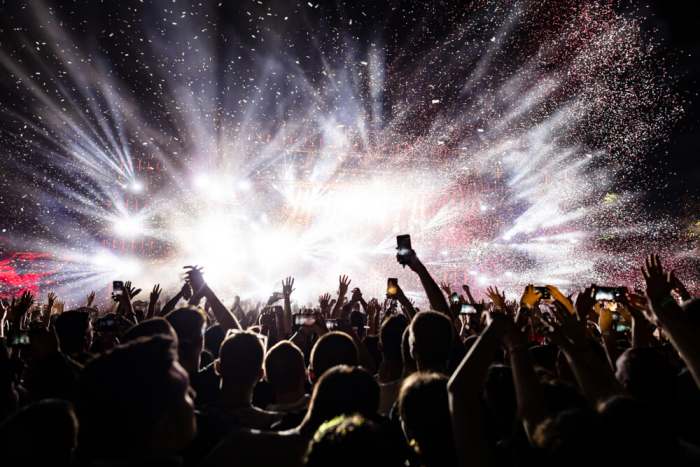 Summerfest, the well known Milwaukee music festival, has announced its lineup for the 2021 edition, which will take place over three weekends in September this year, bringing some big names to Wisconsin.
The Jonas Brothers, Dave Matthews Band, Luke Bryan, Chance the Rapper, Chris Stapleton, Miley Cyrus and Zac Brown Band are among the headliners announced Thursday.
2020 was a particular bleak year for concert enthusiasts
After a summer of 2020 when the coronavirus pandemic prohibited most outdoor gatherings, 2021 comes with some better news for music and party lovers alike.
In 2020, when asked on "The Bob Lefsetz Podcast", Marc Geiger, who served as the head of music at WME (the William Morris Agency) and is one of the founders of Lollapalooza, said he does think concerts will return, but not until late 2021, or more likely 2022. He also told Lefsetz that the big problem going forward is insurance, and it's a major reason for the long delay, although it's only one issue facing the music industry.
Luckily, there are now hopes for a 2021 edition. In an interview with iHeartRadio, Perry Farrell, the festival's co-founder, sounded hopeful about a 2021 edition of Lollapalooza, although the specifics would have to be adapted to the pandemic conditions.
Typically taking place in June, Summerfest will actually be held in autumn 2021
The pandemic still sets the tone of the tune, though, pushing dates towards the fall and imposing strict security measures to ensure more people don't get sick. 
Summerfest typically takes place in late June through early July every year but was pushed back to September this year to allow more time for COVID-19 vaccine distribution, organizers previously announced. There are three weekends in which concerts within the festivals are to be organized: Sept. 2-4, 9-11 and 16-18, with kick-off concerts on the Wednesdays before. And since this particular party is only an hour and a half away from Chicago, music lovers in the city should already be buying tickets, if they did not already do so last year. 
Luke Bryan, Dylan Scott, Jonas Brothers and Miley Cirus amongst the headliners
Headlining the first weekend at the American Family Insurance Amphitheater will be Luke Bryan with Dylan Scott on Sept. 2, then Chance the Rapper with 24KGoldn on Sept. 3. The headliners for Sept. 1 and Sept. 4 have yet to be announced.
The second weekend will start in style with the Jonas Brothers on Sept. 8, then Chris Stapleton and Sheryl Crow on Sept. 9 and Zac Brown Band with Gabby Barrett on Sept. 10. The Sept. 11 headliner has yet to be announced.
Dave Matthews Band will be the kick-off concert for the final weekend on Sept. 15, headliners for Sept. 16 and Sept. 18 are yet to be announced, but we know Miley Cyrus is taking the stage on Sept. 17.
Summerfest tries to offer options for all music lovers out there, so the performing artists at the festival come from various genres, including: Run the Jewels, Brett Eldredge, G-Eazy, Wilco, Diplo, Charlie Wilson, Pixies, ZZ Top, Rise Against, Fitz and The Tantrums, 311, Dirty Heads, Jake Owen, Bleachers, DJ Diesel, Black Pumas, Big Wild, Flo Rida, Quinn XCII, Lindsey Stirling, Goo Goo Dolls, Chris Janson, T-Pain and more.
Do you want to check and see whether your favorite artists are coming? The full lineup can be found on the Summerfest website here. Organizers want people to know that all tickets for 2020 and 2021 will be honored at this year's event, and refunds are available for those who already purchased tickets but cannot attend the new dates.Tickets are on sale now here.
Where to throw a massive party if you did not get festival tickets
Just in case you can't get tickets to Summerfest or other festivals we might get this season, there is always the possibility to enjoy a good party with family and friends. No matter the occasion, from engagements to weddings, and from kids birthdays to quinceaneras, Chicagoans know how to party. Of course, the most important ingredient for a good party is to have your loved ones close, good music, good food and fancy drinks, but these are sometimes difficult to organize at home, because so much extra space is needed. If you live in Chicago or the surrounding metro and suburban areas, and you cannot host the party you have been waiting for an entire year, organising your shindig somewhere else is the answer.
This is why we put together this awesome list of the best party venues in Chicago to get the ball rolling.  Whether it's an intimate affair or a massive 400 guests wedding banquet, here are our picks for the best party venues in Chicago.
All of the venues we found are great choices for any party, big or small. Taking your time to research your venue options—or consider what kind of party you're trying to have— could be the way to ensure your party is going to be memorable, for both you and your guests.