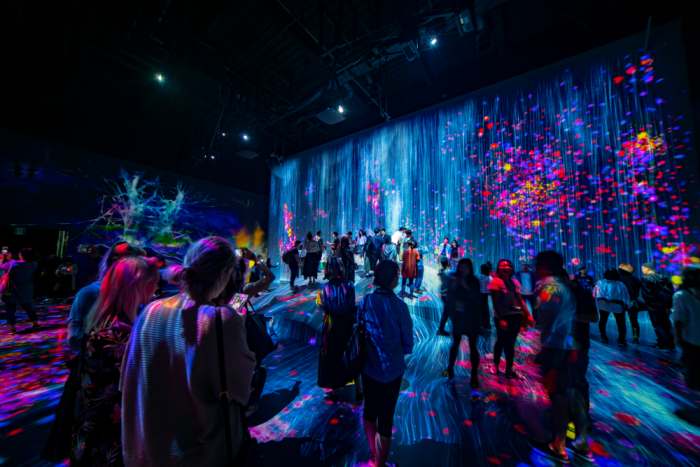 More good news for the art aficionados in Chicago and surrounding areas this spring: "The Art of Banksy", an exhibit of Banksy works is coming to Chicago in July and the tickets will be on sale starting May 6th.
Chicago residents and guests appreciate all forms of art
Chicagoans are well known to appreciate art in every shape and form. From beautiful museums and spectacular monuments, to bold and innovative exhibitions, the city has everything to offer art lovers. 
For those who love entertainment in every form, good news came also from downtown Hyde Park. Starting April 16th, the Silver Room became an opera house, where passersby are able to catch a high-energy "hip-hopera" outside its storefront at 1506 E 53rd St. This is not the only place where music lovers can appreciate the mini-operas, by using only a smart-phone to read a QR code. Promontory Point field house will be another spot, only a short walk away. On April 30, other QR codes were displayed in Lincoln Square, Wicker Park, and Uptown, and another one will be available, starting May 14th in Edgewater, Bronzeville, with more to be added as organizers obtain permissions from store managers to display them in front-windows. For those who look for a special way to propose, one of these spots could be the one where you pop the question. Another place you can take your loved one without them knowing what you have planned, is The Art Institute of Chicago, which has thousands of paintings, sculptures, and beautiful rooms for this special moment. If your loved one is an art fanatic, what better place to propose?
"The Art of Banksy" follows the successful "Immersive Van Gogh"
A special exhibit for those who like thinking outside of the box, "The Art of Banksy" will open July 1 in a yet-undisclosed location in the West Loop, according to a recent announcement from Starvox Entertainment, the same company who brought to Old Town the current and popular "Immersive Van Gogh" . 
This exhibition Chicagoans are flocking to see these days will be displayed in Indianapolis next June. But the fact it is first available in Chicago is no surprise since ours is America's 3rd-biggest city, with many attractions, such as high-flying architecture, lush green spaces, world-class museums, stunning monuments, beautiful parks, and amazing food. 
Like "Van Gogh," the Banksy show will be a walk-through attraction, taking about 60 minutes. But no more digital projections, such as those in  "Immersive Van Gogh," Starvox promises all works presented will be Banksy originals, donated by collectors.
"This is a look into a world that most people never get a chance to see," said Starvox president and CEO Corey Ross.
Around 80 pieces created between 1997 and 2008
For those not yet familiar with his work, Bansky's graffiti-influenced stencil work has a political edge to it and has become known for images like "Flower Thrower," "Rude Copper" and "Girl with Balloon." The show will present around 80 pieces,  canvasses, screen prints, sculptures and one-off pieces created between 1997 and 2008.
But wait, wasn't Bansky famous for original street art, mostly graffiti? How can Starvox put on a show of original street art in an enclosed space? The answer is actually simple:, as Banksy's work has gained attention, and value, over the years, the artist has taken to creating artwork on canvas and other mediums that have been sold to collectors; 20 of those originals are in the show. The rest will be prints duplicating what was originally painted on walls; according to Ross, who says the current value of the show is more than $35 million, those duplications will be from Banksy himself, again sold to collectors. 
"The Art of Banksy" is not a new show, and it has been seen internationally, most recently in Toronto and in similar form in Miami, but, according to Ross, its current form, curated by Michel Boersma, has been reinvented since Miami; Starvox got involved in 2018 and a simultaneous Starvox show is upcoming for London in May. 
Of course, the show has been organised without any input from Banksy himself, who would probably hate his work has become so iconic, since he wanted it to be a form of political protest. Although he admits Bansky would have probably wanted artistic control over the show if would have been involved, Ross thinks that creating something different from what Bansky would have done also has value. 
More security, COVID-19 guidelines and a gift shop
The show will  have a gift shop, since Toronto company Starvox partnered with Collectiv Presents,  after deciding to pick Chicago as its next Bansky show destination because of the success it registered with "van Gogh" and previous theatrical productions it has brought here, such as "Potted Potter."
"Everything we do in Toronto has seemed to work well in Chicago," Ross added.
Since in Toronto, before the show first opened, it was robbed and one of the taken pieces has not been recovered, for Chicago the show producer decided to amp on security.
Would Banksy think the show is too commercial? Maybe, but, as Ross replied  "that's a hard thing to say when you're standing in a room with $35 million in artwork that he's sold."
All the producer wants now is for tickets, which will be available starting 9 a.m. May 6th (starting at $39.99 for adults), to sell as good. "The Art of Banksy" will be open from July 1st to Nov. 28th, and all city and state COVID-19 guidelines will be observed. More details on anksyexhibit.com.