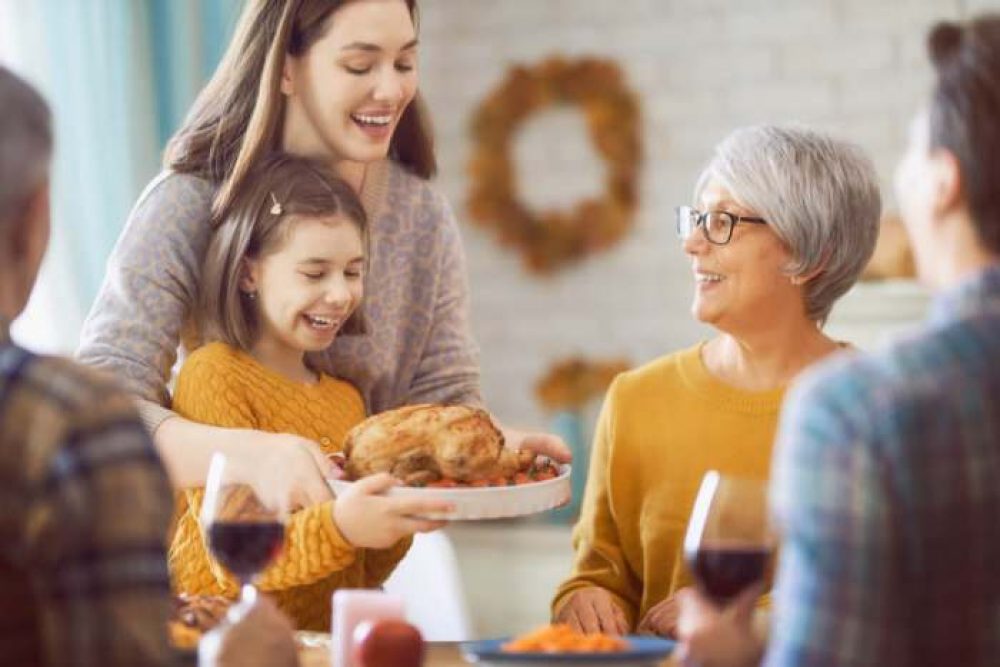 Consumers have been told to shop early to keep off the pressure from the supply chain and ensure everyone has the traditional meal on the table, come Christmas. Some are doing the same for Thanksgiving, and even pay more to have what they need. 
Even President Biden has taken note of the pressure on the store supply chain
After having to cancel big dinner parties last year, people are sure planning to feast in style this holiday season, putting some pressure, it seems, on the store supply chain, so much so that even President Biden has taken note of the situation. He shared on social networks that he had discussions, earlier in November, with CEOs from major retailers Walmart and Target — and leading freight movers FedEx and UPS, who  have assured him that shelves will be well-stocked in stores this holiday season.
As for Chicago's major stores, everybody seems to be prepared for the turkey rush. Paulina Market's owner Bill Begale said about 400 people have ordered turkeys from them — twice the number of orders the Lakeview butcher shop and specialty grocer would usually have this early in November. "We have Christmas orders already, which is rare," he said.
Paulina Market ordered more than 1,400 turkeys from a Minnesota farm in August. 
Grocery stores, too, have announced people should not panic, the toilet paper and hand sanitizer crisis from the start of the pandemic will not be repeated with Thanksgiving goodies, such as cranberries and canned pumpkin. 
This doesn't mean you should wait till the last minute to shop, industry experts say, and you should be prepared to pay more.
You should expect to pay more for this year's Thanksgiving dinner
According to Veronica Nigh, senior economist at the American Farm Bureau Federation, the cost of a typical Thanksgiving dinner will increase roughly by the 3% to 4% which the U.S. Department of Agriculture's 3% to 4% forecasted the food prices would rise for the year.
According to the Farm Bureau's annual survey, last year, the national average cost of a Thanksgiving dinner for 10 with a 16-pound turkey, sides and homemade pumpkin pie was $46.90. Although this year's estimate is not yet released, a 3.5% increase would add $1.64 to the price.
The turkey is the most expensive item on the Thanksgiving table, accounting for about 40% of the total cost last year, and it's also likely to be more expensive this year, since the wholesale price for frozen turkeys weighing between 8 and 16 pounds was roughly 13% higher last month than last year, according to the U.S. Department of Agriculture. Combined with the fact that turkey production has decreased the past couple of years, while demand has been on the rise, because the pandemic forced more people to cook at home, the rising of the prices is easily explained.  
The turkey and other meats are not the only ones to be more expensive this year. First Slice Pie Cafe, with shops in Ravenswood Manor and Andersonville, is paying more for some ingredients, such as condensed milk and pumpkin, considered a special order item, according to catering coordinator Nicole Mancha. When the usual suppliers run out, First Slice spends more sending drivers to pick up items from alternate vendors. 
The consequences are already seen; First Slice had to raise prices by about a dollar a pie, though that doesn't fully cover its cost increases, Mancha said. Large pies, serving 10 to 12 people, cost between $26 and $33.  First Slice isn't limiting the number of pumpkin pies people can order for Thanksgiving, but it won't take special requests for pies outside its Thanksgiving menu, such as banana cream.
Stores are challenged to keep the shelves stocked for consumers
Although stores are trying hard to meet demand and restock the shelves regularly, consumers should not leave shopping until the last night before Thanksgiving, because shortages could happen, experts advise. 
Although Pete's Fresh Market is working with multiple vendors, and placed orders months ago, as grocery buyer Leno Asuncion said in an email, the  suppliers have put items such as pie crusts, dinner rolls, cream cheese, cranberry sauce and canned pumpkin and pineapple on allocation, which means Pete's isn't getting as much of those items as it wants, and has been "challenged" to make sure shelves are stocked for Thanksgiving.
The same situation is to be found at Trader Joe's, where suppliers  have been "working tirelessly to keep our holiday products in stock for as long as we can, as consistently as we can," a spokesperson said in an email. Still, retailers of all kinds are facing supply chain issues and when demand for certain items increases, "product shortages are unfortunately a possibility."
Ordering early, settling for different brands or choosing to eat out might solve the problem
Some businesses are trying to solve the issue by placing orders early.  Chris Dallas, owner of HarvesTime Foods in Ravenswood, said his turkey supplier wants orders in 10 days before Thanksgiving, but ensures consumers they will each get one if they order before the deadline.
Sunset Foods, with five stores in the north suburbs, ordered its Thanksgiving turkeys several months earlier than usual, according to Dan Humphrey, the store's director of meat and seafood. A couple items they were waiting for, such as canned pumpkin and Nestle chocolate chips, have arrived, said grocery buyer Chris Hanson.
"People should not panic," said Sunset Foods spokeswoman Sarah Hanlon. "It might be a different brand or size, but everyone's going to find what they need for a traditional Thanksgiving."
And, just in case you prepare a fabulous feast at home, and are lucky enough to have already found all the main ingredients, do not forget the right spice can make or break a recipe. Any self-respecting home chef knows that spices are at their best when they are ground right before cooking and/or consumption. For that, you need a spice grinder. You haven't really tasted your favorite spice until you grind it yourself. Here are our picks for the 17 best spice grinders to have in your kitchen.
But even if you are not such a chef, and cooking a meal from scratch is not your favorite pastime, don't forget the Windy City is famous for many things, but it's the food scene that really puts it on the map. It's one of the best cities for culinary experiences, offering a variety of unmistakably Chicagoan dishes as well as global eats and a wide breadth of dreamy restaurants. So, in case you won't be cooking at home this Thanksgiving, just choose one of  the best dishes and must-try restaurants Chicago has to offer.