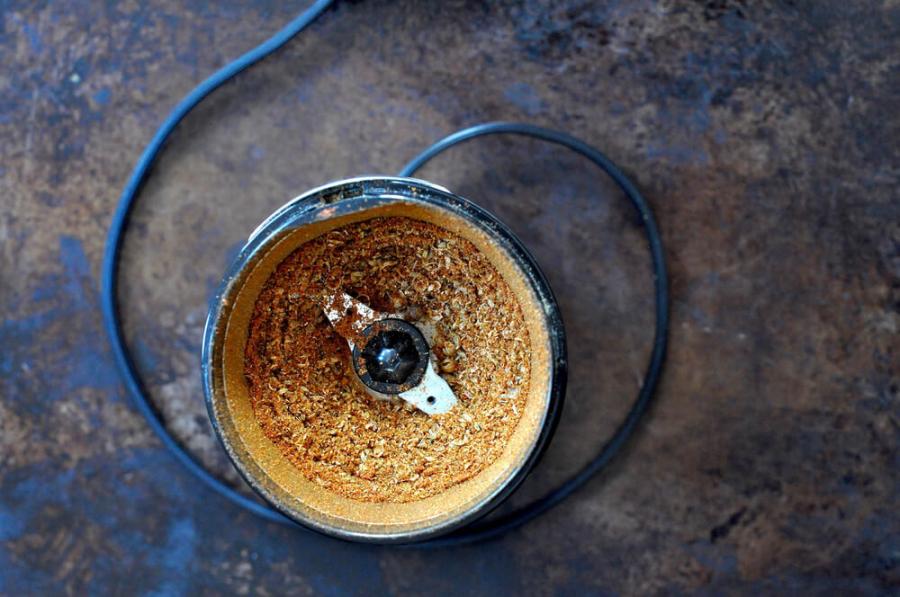 The right spice can make or break a recipe. Without spice, why even eat? While it's true that food is just fuel, spice makes food a source of pleasure, excitement, and variety. Why else do we say that variety is the "spice of life"?
Any self-respecting home chef knows that spices are at their best when they are ground right before cooking and/or consumption. For that, you need a spice grinder. Spice grinders come in different varieties, but they have a function in common—to unlock the flavors of the world's finest spices and add their flavor in its purest form to a sumptuous dish. You haven't really tasted your favorite spice until you grind it yourself.
Spice grinders can be humble mortars and pestles, like you would imagine on the table of a medieval apothecary or they can be state-of-the-art electrical appliances that look at home installed next to a world-class refrigerator or oven range. Different machines are best suited to different functions. To choose the best spice grinder, you need to understand your spice needs and tailor your purchase to that need. There's no one-size-fits-all best spice grinder. In fact, the best spice grinder may be multiple spice grinders.
Here are our picks for the 17 best spice grinders to have in your kitchen.
1- KitchenAid BCG211OB Blade Coffee and Spice Grinder
Amazon
KitchenAid is another trusted name in kitchen appliances, and the BCG211OB does not disappoint in terms of function or versatility. It features easy operation with a one-touch activator on the top of the unit. The removable bowl is marked on the inside to measure the grinding of coffee beans. More exciting to spice lovers, however, is the included spice-grinding accessory kit with a separate blade optimized to grind cumin, coriander, and other delicate spices.
The motor draws 160 watts. KitchenAid backs this unit up with a one-year hassle-free replacement guarantee. The accessory kit is also sold separately if you have the coffee grinder but not the spice grinder.
2- Microplane 48060 Manual Spice Grinder
Amazon
This handheld manual spice grinder by Microplane was designed to grind cinnamon and nutmeg for a dash of holiday cheer. It will also do well with peppercorns, coriander, and other hard spices. The upper chamber is airtight and opaque to preserve the potency of the spices against both air and UV rays. You operate it by twisting, effortlessly creating the perfect dash of spice with one twist.
Affordable and finished in matte black, the Microplane spice mill also feels great in your hands and looks fantastic on the counter of a modern kitchen.
3- Skeppshult Cast Iron Spice Grinder
Amazon
If you have a cast-iron mortar and pestle already, pairing it with this matching herb grinder adds dashing flair and impeccable functionality. A mortar and pestle is overkill for the grinding of dried herbs. The Skeppshult cast iron spice grinder is made in Sweden from iron ore and will outlive all of us.
4- SHARDOR Coffee & Spice Grinders
Amazon
Many spices, like coriander, cinnamon, and peppercorns, do great in a coffee grinder. You can use a grinder like this one by SHARDOR to produce fresh spice grounds for your recipes. Grind for a shorter time for coarse grounds, longer for fine grounds. Make sure to rinse it out before you make coffee to keep your spices from cross-contaminating the flavor of your coffee (and vice-versa!)
Further preventing cross-contamination, this 200W grinder features a two-bladed dry-grinding bowl, as well as a separate four-bladed bowl for wet-grinding and mincing of ingredients like fresh garlic. This ELT-approved device comes with a dual-function spoon/brush and a 6-month hassle-free replacement policy.
5- Coffee Grinder with Brush

Amazon
This compact grinder by LinkChef stands at only 6.6 inches tall and takes up minimal counter space. It nevertheless has the capacity to grind up to 80g of spices. The 200W motor is tough enough to make short work of coffee beans, peppercorns, nuts, and other hard, dry spices, reducing them to a fine powder in as little as 25 seconds. The activation switch includes a safety lock. The grinder comes with a 1-year limited warranty.
6- Brentwood Electric Spice/Coffee Grinder Mill
Amazon
If you are tired of inconsistency in your spice grind, the Brentwood is the spice grinder for you. It offers precision control over the coarseness of the grind so you don't accidentally overgrind or discover huge jagged shells in your fine grind. Designed in USA, Brentwood products must pass a rigorous three-step quality check—one of the reasons this grinder comes with a 100% money-back guarantee.
7- CGOLDENWALL Electric Herb Grain Spice Grinder
Amazon
If you like to stock your kitchen with Rube Goldberg contraptions of whimsy and wonder, has CGOLDENWALL ever got a spice grinder for you. With capacities ranging from 150g to 500g to 700g, the CGOLDENWALL features a stainless steel pot mounted atop a motor that looks like a distant cousin to a Saturn V rocket. The Giraffe-X is also great for people hungry for power—even the smallest CGOLDENWALL draws a whopping 850 watts of power.
This kind of power makes the CGOLDENWALL suitable to render spices, cereals, grains, and even pressed medicine pills into a fine powder or flour. The CGOLDENWALL comes with several interchangeable blades, as well as a wooden brush. Designed for dry grinding.
8- QUELLANCE Electric Coffee Grinder & Spice Grinder
Amazon
Epica adds an extra safety feature of a safety lock so you don't accidentally grind your fingers when the lid is open. It also helps you keep your counter space clean with a retractable cord that reduces cable clutter on your cooking surface. Add to that an extra-powerful motor with 250 watts of power behind it, and you have one of the safest and best spice grinders in its class.
9- Kuhn Rikon 20477 Christopher Kimball's Milk Street Ratchet Spice Grinder
Amazon
Kuhn Rikon makes one of the coolest manual spice grinders money can buy. The 20477 includes a top-mounted ratchet lever which you crank to grind your spices. It also includes a hand-twisted dial that you can use to toggle between several settings of "coarse-ground" and "fine-ground" settings. Get the perfect grind every time with this handheld device made from BPA-free materials.
The Kuhn Rikon 20477 is filled through a front-door in the chamber and includes a detachable spice jar with an included air-tight lid.
10- KINGTOP 3.0″ 4 Pieces Herb Grinder Aluminium Spice Grinder
Amazon
You may have never thought of adding this kind of spice grinder to your collection—or at least, not to your kitchen collection–but this kind of spice grinder is perfect for quickly and easily grinding dried herbs and roots.
KINGTOP makes a 3.0-inch aluminum grinder with a stainless steel mesh, ultra-sharp teeth, and a magnetic-locking lid. It's practically indestructible and easy to operate with a grip-friendly "wave" bevel around the edges. In the unlikely event that you need it, VIVOSUN offers a 1-year warranty and a satisfaction guarantee.
11- FREETOPHOME Herb Grinder
Amazon
FREETOPHOME's line of hand-held herb grinders fit easily in a kitchen drawer or backpack and charges by USB. Not only that, this herb grinder has a built-in USB-compatible external lithium-ion battery, which you can use to charge your phone or other USB-powered appliance in a pinch! This makes the FREETOPHOME Herb Grinder the best spice grinder for camping trips. Charge your devices and don't skimp on the seasoning just because you are in the backcountry.
Available in four configurations, this herb grinder can also charge from wireless battery chargers. A built-in three-color LED indicates the herb grinder's charge and operational status.
12- OMO Powder Spice Grinder Hand Mill Funnel
Amazon
This awesome manual spice grinder by OMO pulverizes spices with its heavy steel grinding surface, then allows them to drop through a sieve through a funnel-shaped enclosure and directly into an adorable spice jar, which attaches to the grinder and then seals with a separate lid. This manual spice grinder is perfect for the cook who loves to strut his or her stuff—a world-class conversation-starter.
13- Cali Crusher Spice Grinding Set
Amazon
Some cooks prefer to skip the newfangled technologies and get in touch with an older, more traditional way of doing things. For those old souls, the Cali Crusher spice grinding set is perfect. Adding rustic tones of cast-iron and wood, the CC-2-P relies on elbow grease, rather than electricity, to grind spices into a fine powder.
Cali Crusher also produces numerous sizes of mortar and pestle, one of the most beloved spice grinding tool sets—also great for muddling, as well as rendering pressed pills into powder like a medieval apothecary. Makes a great gift for the connoisseur cook on your list. They look great on a kitchen counter as well.
14- Braun
Hand Blender Attachment Coffee and Spice Grinder
Amazon
If you have a Braun hand blender, this attachment is all you need to turn your hand blender into a spice-and-coffee grinder, a convenient way to get the most out of an appliance you already have. It attaches to either the Series 5 or Series 7 blender with easy click technology and can even act as an airtight jar for your just-ground spices. Fits in a kitchen drawer along with the blender itself. Blender sold separately.
15- Shardor Stainless Steel Coffee Spice Grinder
Amazon
The Shardor stainless steel coffee/spice grinder comes with two different cups to settle into its 200-watt motor—one for dry herbs and spices, coffee, and nuts; the other for wet herbs, spices, and aromatics like garlic, basil, and thyme. Its compact design allows it to efficiently grind up to 2.5 ounces of spice at a time with easy push-down operation. The detachable cups eliminate mess and can be cleaned in the dishwasher.
16- Cordless Coffee Grinder
Amazon
This large-capacity, dishwasher-safe grinder by Brolly features patent-pending Vortex grinding technology, a fast and quiet way to break down peppercorns and other hard spices into coarse grounds or a fine powder. The GX332850 also includes the added feature of a removable bowl with a dedicated lid for mess-free operation. Based in USA, Brolly has been in the kitchen-appliance business since 1846, so they know what they're doing.
17- Hamilton Beach Fresh Electric Spice-and-Nut Grinder
Amazon
Bearing the stamp of approval of one of the most trusted names in kitchen appliances, the Hamilton Beach can make short work of up to 90 grams of spices or nuts in its machine-washable lid and bowl. Its 200-watt motor is built to North American electrical standards, the stainless steel blades designed to handle dry spices and nuts.
The Hamilton is easy to activate with its push-top trigger and comes with an 18-month limited warranty from the manufacturer.
Tips on Selecting the Spice Grinder that Best Suits Your Needs
As you can see, you have many choices when it comes to picking the best spice grinder for your needs. You may already have a spice grinder in your arsenal, but you need a different one to perform specialized functions. Do you really need more than one spice grinder? Where does it stop?
By considering how your new spice grinder will fit into the bigger picture of both your cooking skills and the environment of your kitchen, you can identify what is the best spice grinder (or spice grinders) to add to your kitchen arsenal. Here are nine questions to ask yourself when shopping for spice grinders:
1. What Spices do you Need to Grind?
Not every spice grinder is suitable for every kind of spice. Take into account the different kinds of spices that might make their way into your recipes:
Hard Spices and Aromatics. Brittle and crunchy spices like peppercorns, cinnamon, coriander, nutmeg, etc. These hard spices require a lot of power to grind, either in the form of an electronic grinder or the mechanical advantage of a mill or manual spice grinder.
Dried Herbs and Aromatics. Dried rosemary, thyme, parsley, tarragon, bay leaves, etc. A hand-operated manual spice grinder is usually plenty to break apart these herbs. An electric spice grinder is overkill.
Wet Herbs and Aromatics. Fresh ginger, garlic cloves, live spices like basil or parsley. An electronic grinder can be useful for harder wet herbs, but it should be cleaned thoroughly after each use.
2. Do You Need a Spice Grinder for the Dinner Table?
If what you need is a spice grinder for the table, a salt or pepper mill is probably the best spice grinder for you. It's important to consider that ground spices are best when they are fresh, and even the unground spices can begin to lose potency when exposed to air or light. Consider how much protection you want to offer to your spices if they are going to live on the table in a mill. If you don't care about whether your spices get exposed to air, a mortar and pestle might be a clever solution.
3. How Will You Protect your Fresh-Ground Spices?
Even if your spices won't go on the table, consider the effects of air and light on your spices. Do you want to grind spices and then keep the grounds in reserve for later use? If so, some spice grinders come with airtight jars or bottles to preserve the potency over time. If you choose a hand-operated mill, make sure the hard-spice storage tank is airtight. A transparent spice reservoir can help you keep track of how much spice you have left in reserve, but opaque reservoirs will protect your spice from UV rays more effectively.
4. Do You Need a Separate Grinder for Coffee?
Many consumer coffee grinders make ideal hard spice grinders. You might be tempted to repurpose your current coffee grinder into a grinder for your fresh cinnamon or ginger. That said, if you don't clean your coffee maker thoroughly between uses, you could end up with an unintentionally spicy cup of coffee, or extra coffee flavor in your spiced recipes. Maybe this results in a few happy coincidences of flavor, but those can be hard to replicate. And you probably don't want coffee oils in your coriander. To avoid cross-contamination, you might have to do more cleaning than is worth your while. Consider a separate grinder for your coffee and hard spices, or a grinder with separate bowls for spices and coffee.
5. Does Your Kitchen Have Enough Power?
Electric spice grinders require a lot of power to chop up hard spices, often in excess of 200 watts. Most modern kitchens can handle this, but if you live in a historic building or if the wiring is faulty, make sure you shop for an electric spice grinder that your outlet can handle or consider a manual spice grinder.
6. How Much Space Does It Take Up?
Some spice grinders are small enough to fit in a drawer; others take up a huge footprint on your counter. If the spice grinder you choose is too big to hide away in a cupboard or drawer, pay attention to whether the spice grinder will fit on the counter space you have, and/or if the spice grinder is attractive enough that you won't be embarrassed to have it out there like a bruise on your kitchen.
7. What Are the Maintenance Requirements?
Simple spice grinders like mortars and pestles require very little maintenance. But the more mechanically complex the machine gets, the more complicated it becomes too. Some manual spice grinders like spice mills can break down—they have moving parts. Durability is an important issue. When we get to the world of electronic spice grinders, most of them have motors that would need to be serviced by a professional if they break down. Some have parts that can be dishwasher safe; others are only partially dishwasher safe, others might be ruined if fed through a dishwasher. How much maintenance are you prepared to sign up for?
8. Form vs. Function
Everyone likes an attractive appliance, especially if it has to live on the kitchen counter in public view. However, the best-looking spice grinder may be ill-suited for the task you need it for. Meanwhile, the best spice grinder in terms of function may be an ugly eyesore on your counter. Some spice grinders may be too retro, others too modern, others too bland. Consider your tolerance in terms of form vs. function.
9. Is There a Guarantee or Warranty?
Many products available online come with a "satisfaction guarantee," which means you can return the product if it doesn't meet your expectations. A manufacturer warranty is a different story. Many electric spice grinders may offer a limited warranty, which only covers some parts of the spice grinder. If a part that falls outside of the limited warranty breaks, you may be out of luck in terms of getting it repaired or replaced.
You Might Also Like: