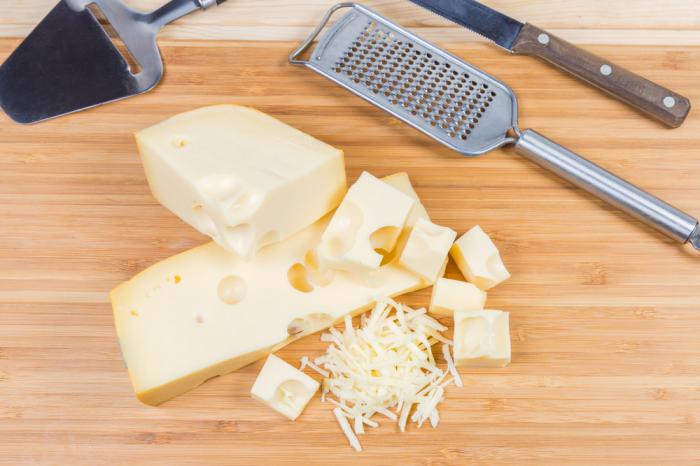 Not only are we entering the holiday season, we're entering the season of hosting and the season of eating! Whether you're the guest or the host, delightful, creamy, flavorful cheeses are an essential component of any delicious spread.
As such, we've put together this list of some of the best cheese slicers, dicers, and cutters out there. Whether you're shopping for a partner, significant other, friend, family member, husband, wife, colleague, or coworker, there's something for everyone!
1) RSVP International Marble Cheese Slicer
Amazon
Elegant, and modern, this slicer is conjoined with a gorgeous marble plate, so your cheeses don't get too warm and soft. The wire cutter cuts clean and efficiently, and gets the job done.
The set makes cutting smooth and easy, and the set comes with replacement wires. Not to mention, the cheese slicer wire is ideal for all varieties of cheese types, from soft to hard!
2) Prodyne Bamboo Cheese Slicer
Amazon
Perhaps marble isn't your thing, or doesn't go with the kitchen aesthetic of whomever you're shopping for. So the bamboo cheese slider is a great alternative, given its neutral look and feel, bound to please everyone. Plus, this bamboo set is eco-friendly, since bamboo is one of the most sustainable woods.
The two-toned design has non-slip bottom to help eliminate movement on a surface. It's light and easy to carry, with warm, wood colors that go great with many interior homes.
3) LETOOR Adjustable Thickness Cheese Slicer
Amazon
It's an undeniable fact that some cheeses are stronger, more pungent, while others are softer and more mild. There are also those who love cheese, and those who simply enjoy it in small quantities.
The beauty of this slicer is that the width can be adjusted, so you can cut a variety of cheeses in a variety of sizes. It slices clean, handles easily, and adjusts in a simple manner.
4) Westmark Special Gallant Cheese Slicer
Stainless Steel
Amazon
Strong, sturdy, durable, and efficient are all excellent attributes that describe the Westmark Slicer, with its gripped handle and strong wire. One of the best cheese slicers out there, it easily allows the user to cut uniform, even pieces in a matter of minutes.
The wheel mechanism inside the slicer allows the user to replace or tighten the wire as necessary.  It comes with a five-year warranty, so you know it will last you a while.
5) Cheese Slicer and Tray with Cracker Well
Amazon
This manual cheese slicer is perfect for the host friend of yours who likes an easy cleanup. This board cuts and displays the cheese, as well as any crackers or bites that one might want to serve with it, so there's only one dish to wash.
The set comes offered in beechwood, which is durable and easy to clean. It's stylish, smooth, and measures approximately 11×9, so you can use it to feed a handful of guests with ease.
6) Westmark Germany Multipurpose Stainless Steel Cheese Slicer
Amazon
This is more of an industrial piece, less for decor, and more for preparation.  While other slicers might be left out on the table, this is something for those who love to prepare the cheese plate early and serve!
This piece is made from stainless steel and allows you to adjust the thickness of your slices, whether you're cutting to serve on crackers or in a sandwich. It is versatile enough to be used on other foods, too.
7) Cheese Knife Heavy Duty Plane Cheese Cutter
Amazon
Sometimes, the people we know don't like all the fancy gadgets and pieces and bits that come with the modern times.  This cheese slicer is a traditional but heavy duty slicer and server.
It's heavy duty to cut through some of the firmest cheeses, with a sharp blade and an easy handle. No fuss, no muss, it's a great gift that gets the job done.
8) Stainless Steel Cheese Plane/Slicer/Server with Ergonomic Handle
Amazon
The big perk here is the gorgeous rubber handle, soft but thick so you can handle the slicer enough to cut through those particularly hard cheeses, like cheddar.  It is also easy to clean and dishwasher safe.
This gift will be loved by those who enjoy soft or hard cheeses, as it easily cuts through both. The chrome finish of the blade looks stunning and professional in any kitchen.
9) Stainless Steel Cheese Slicer with Size Scale
Amazon
Some like to eyeball it, some like to cut perfectly sliced cheeses. This slicer set is made from stainless steel and includes centimeter markings across the platform so slices can be precisely measured.
This is an ideal cheese slicer set for any partner or friend you know is a math or number lover, someone who loves being exact! It also comes with replaceable wires, so you'll be sure to get them a lasting gift.
10) Boska Holland Cheese Curler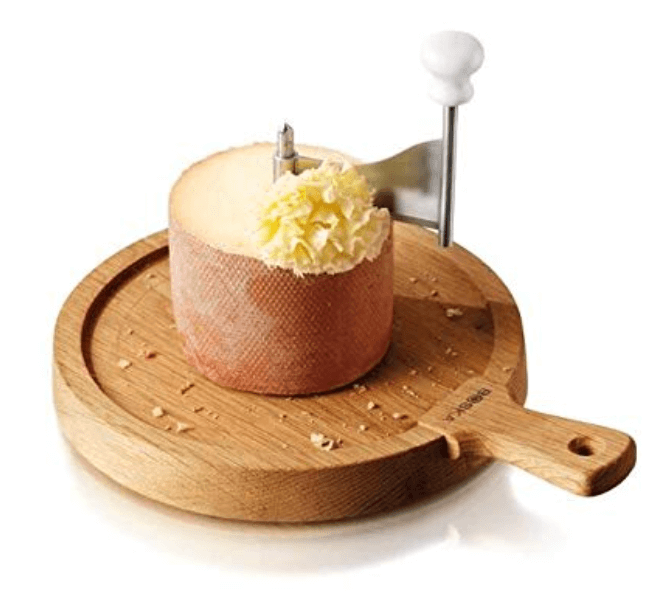 Sure, slices of cheese are great, but imagine the creativity that comes with cheese curls!  Think of that friend you have cares about presentation and style with their food creations.
With an oak wood platform, stainless steel blade, and protected handle, this little number can easily shave a block of cheese into delicate little curls that preserve flavor and look great.
Buy this Boska Holland Cheese Curler on Amazon here. 
11) Chef'n Slicester Cheese Slicer in Apricot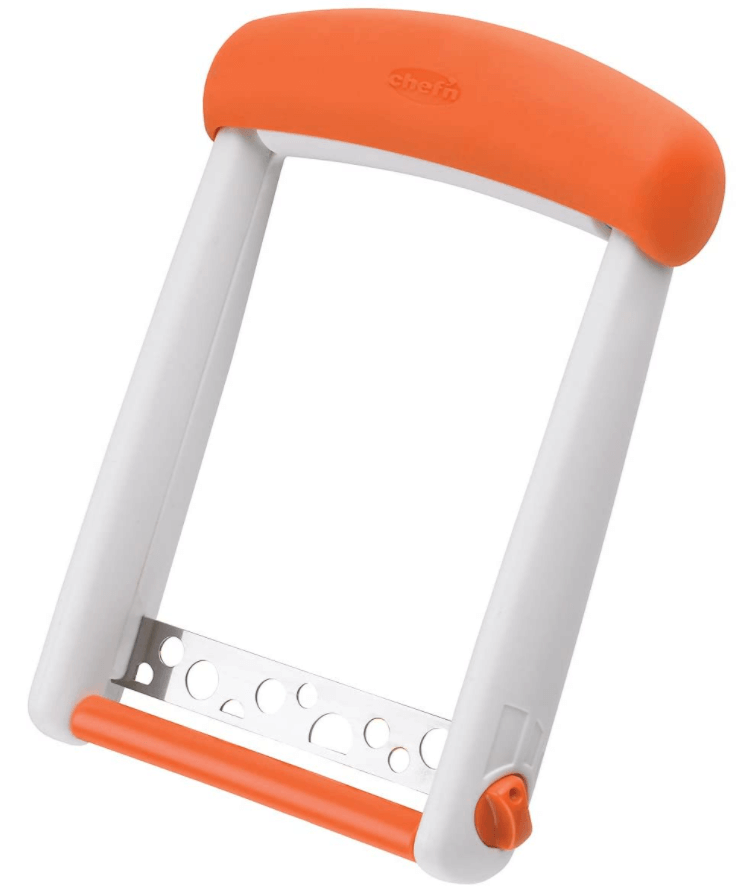 Sandwiches, paninis, grilled cheeses, burgers- these are all great foods.  But they need more than a small cheese slice to satisfy those hungry mouths. This cheese slicer cuts nice large slices of medium soft cheese.
This slicer is a great option for families and those who love to BBQ for groups of family and friends, or have hungry kids who love burgers and sandwiches! You can also adjust the thickness of the slice.
Buy this Chef'n Slicester Cheese Slicer on Amazon here. 
12) Stainless Steel Butter and Cheese Knife Spreader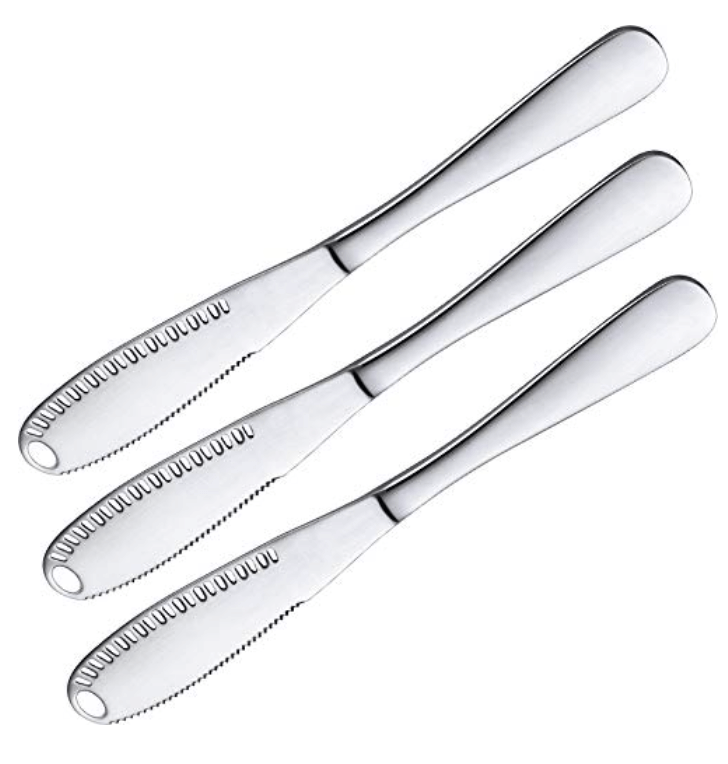 As a multi-purpose tool, this stainless steel spreader works with both butter as well as softer, spreadable cheeses. It can cut, shave, or spread cheeses, depending on what's being served.
It makes a great gift along with a nice block of decadent havarti and a fresh baguette.  It's dishwasher safe, so it's not a hassle to clean, as well.
Buy this Stainless Steel Butter and Cheese Knife Spreader on Amazon here.
13) Stainless Steel Modern Cheese Slicer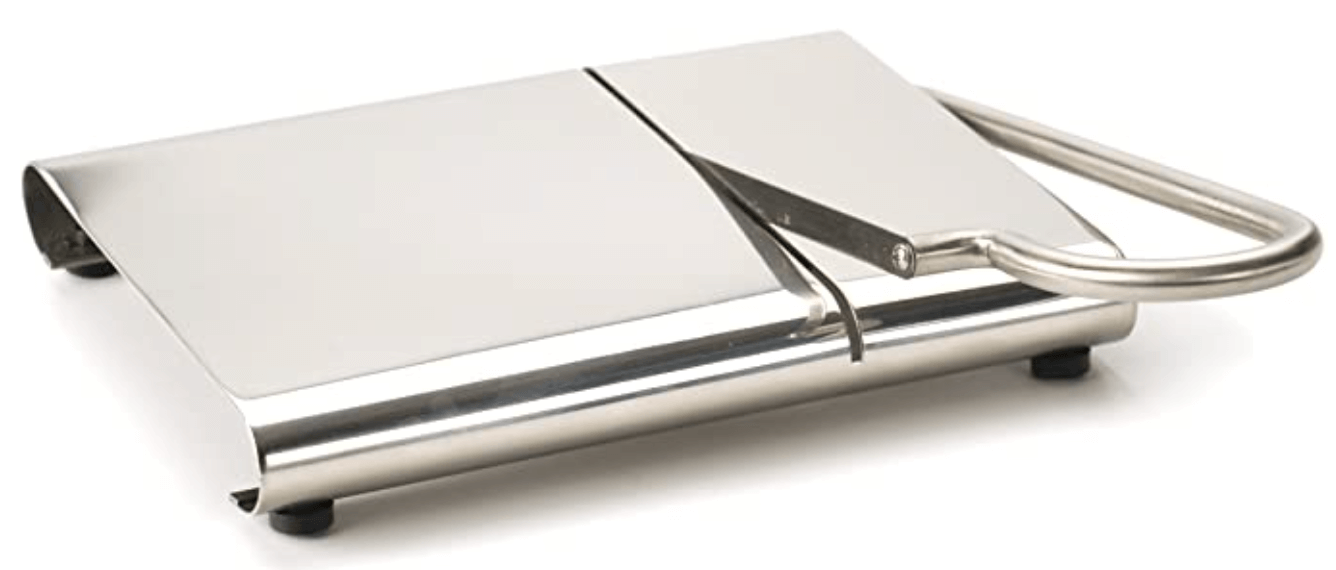 If you're looking to gift a cheese slicer but not up for any trouble that might come with the wires, this might be your best bet.  With its polished, ultra-modern aesthetic, this piece is a great gift for those with a 21st century home.
The four-inch long blade is great for meats and herbs, as well as cheeses, and looks stunning when clean and sitting on a kitchen counter.
Buy this Stainless Steel Modern Cheese Slicer on Amazon here.
14)  Stainless Steel Two Mice Cheese Serving Set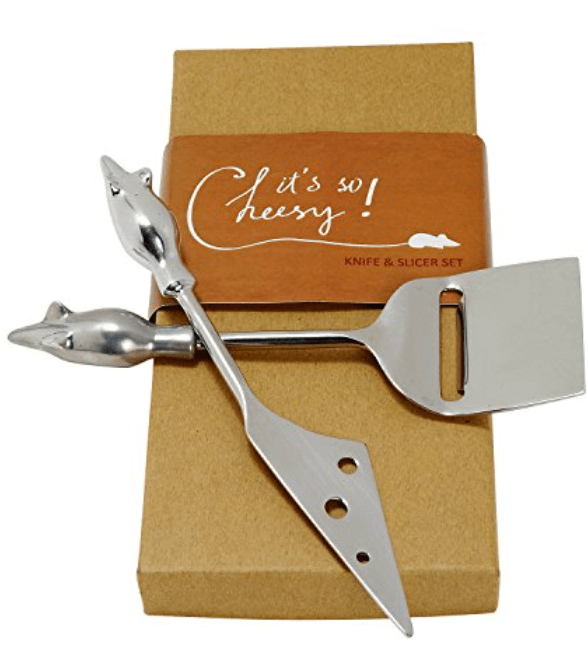 Know someone who likes mice just as much as they like cheese?  This is a perfect little gift set, made of stainless steel and tipped with handles decorated with small mice.
The blades are designed and imported from India, and are ethically sourced and delicately crafted. The set comes with a blade and a cheese slicer and plane set.
Buy this Stainless Steel Two Mice Cheese Serving Set on Amazon here.
15) Lunar Premium 6-Piece Cheese Knife Set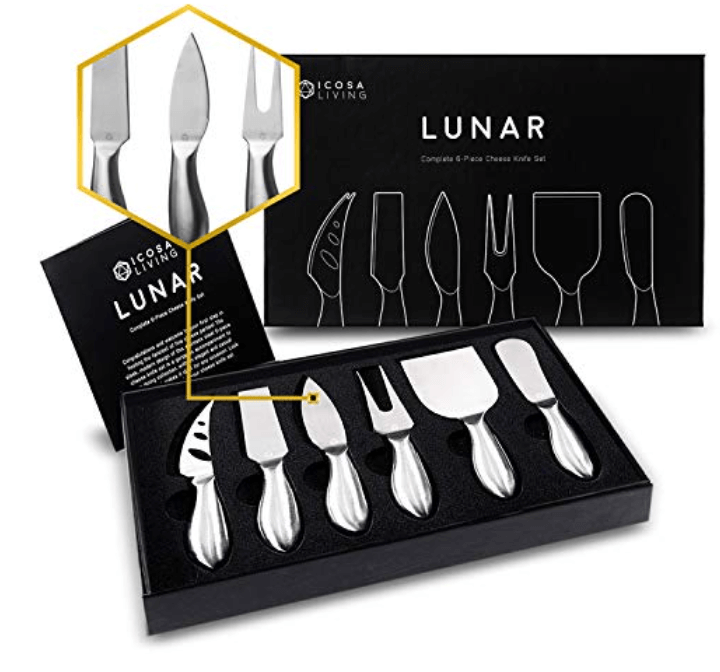 This impressive collection is just as perfect for function as it is for showing off a bit.  Give this set to a friend or family member who likes to be a bit flashy when they host and have guests over.
The set is made from stainless steel and comes with four cheese knives, a cheese fork, and a cheese spreader. It's perfect for anyone of hundreds of types of cheese!
Buy this Lunar Premium 6-Piece Cheese Knife Set on Amazon here. 
16) Boska Commander Pro+ Cheese Wire Slicer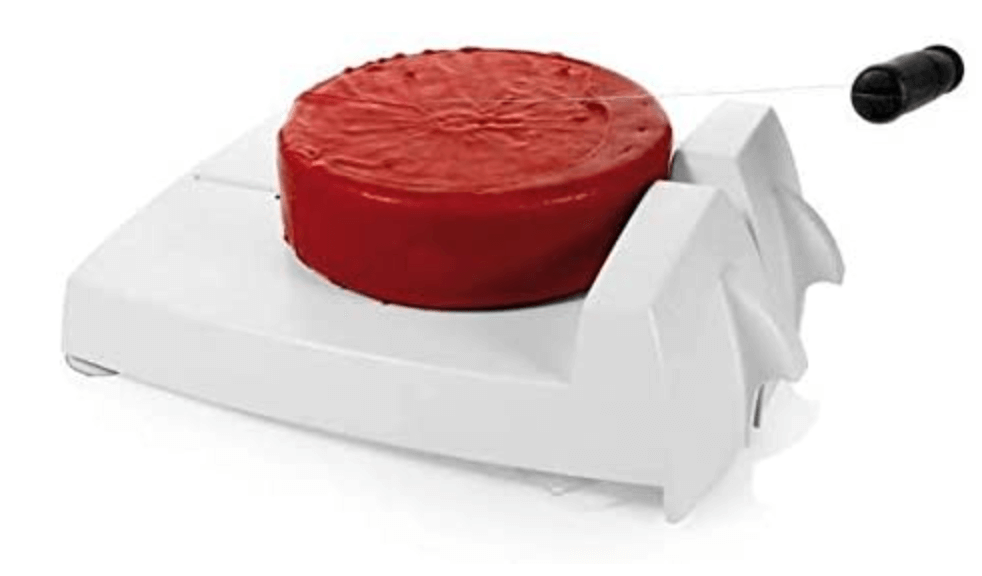 This is one of the best cheese slicers out there and is excellent for the most professional home chef you know.  It's small enough to limit counter space but powerful enough to easily slice heavy, dense cheeses.
The flexible wires are replaceable and can be bought in bundles. The sleek, elevated design looks modern and can easily allow variations of widths to be cut.
Buy this Boska Commander Pro+ Cheese Wire Slicer on Amazon here.
17) Handheld Cheese and Butter Cutter Wire Tool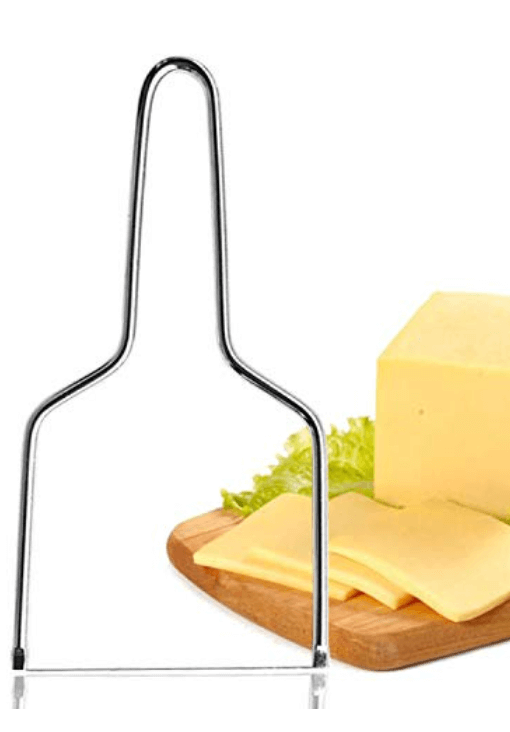 This slicer is a handheld and easy to grip slicer that allows for longer slices that need to be cut through.  With its elongated design and vertical slicing, it can slice through both hard and soft cheeses, as well as chocolates and hard butter.
Made of stainless steel, it's important to hand wash the piece and let it air dry after usage.  It fits easily into a drawer or utensil bowl and would be appreciated by any home cook.
Buy this Handheld Cheese and Butter Wire Cutter on Amazon here. 
18) Norpro Cheese Slicer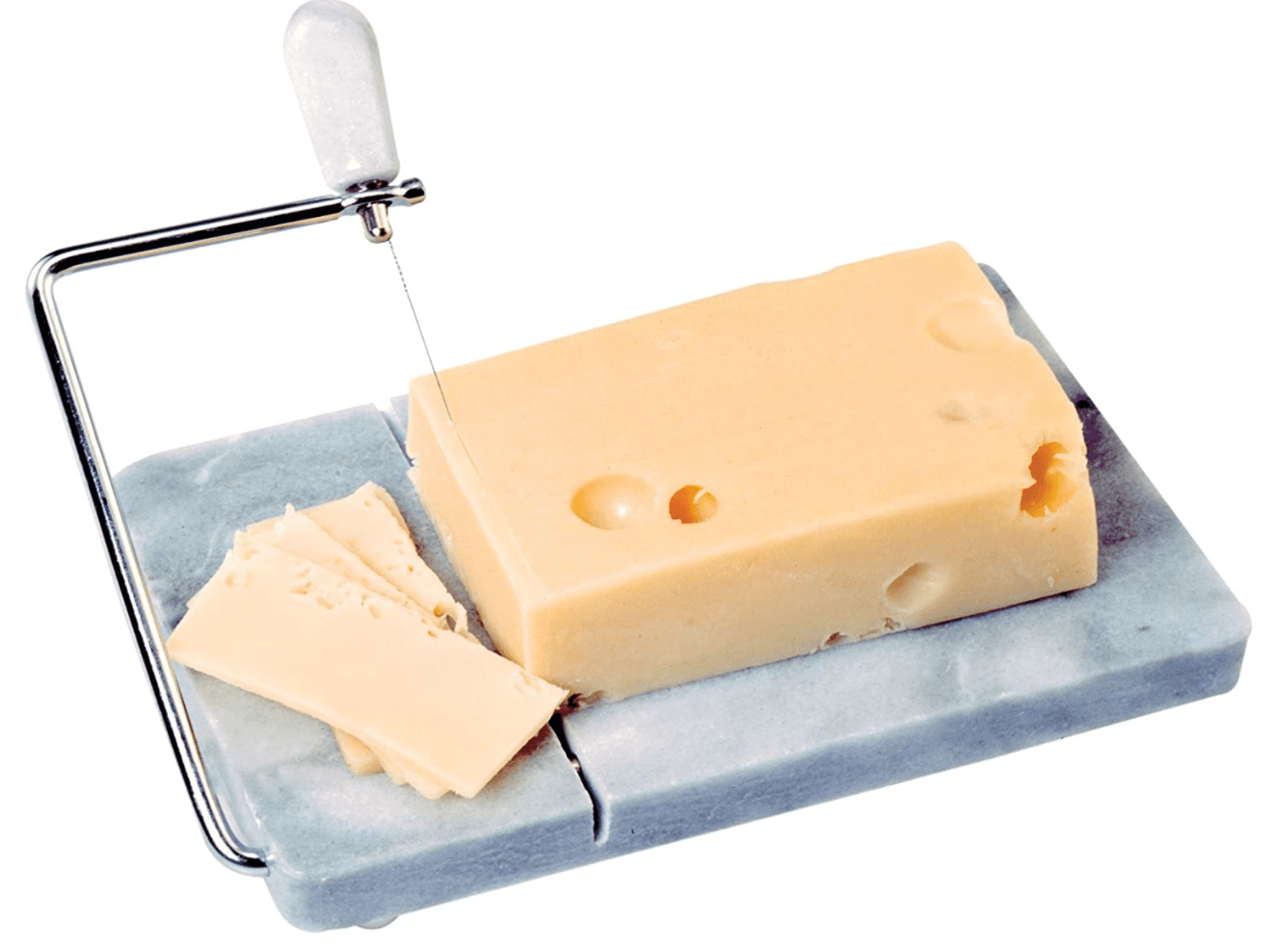 This elegant cheese slicer is made with 5×8 inch piece of Norpro, with a carved notch for the wire. It also comes with two additional wires to replace the original.
The metal handle comes with a grip-friendly knob that makes the slicing even easier. It makes for a great present in modern and updated kitchen with marble countertops and stainless steel appliances.
Buy this Norpro Cheese Slicer on Amazon here.
19) Beyork Stainless Steel Cheese Slicer/Shaver/Cutter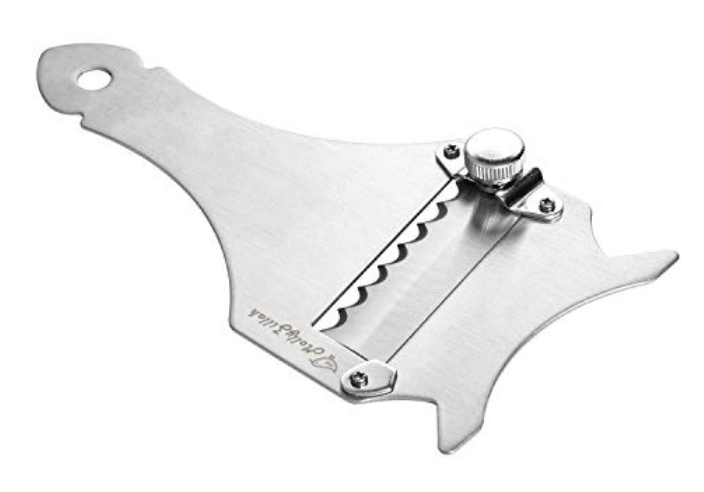 Small, simple, and effective is the way to go with this versatile cheese cutter. It's designed for a multitude of foods, whether cheese, garlic, chocolate, vegetables, or truffles.
Durable, with an anatomical design, this fits easily into any drawer space and can be whipped out for serving and preparing. It's under ten dollars, too, which makes it an easy choice.
Buy this Beyork Stainless Steel Cheese Slicer on Amazon here.
20) Joie Corn Star Corn Stripper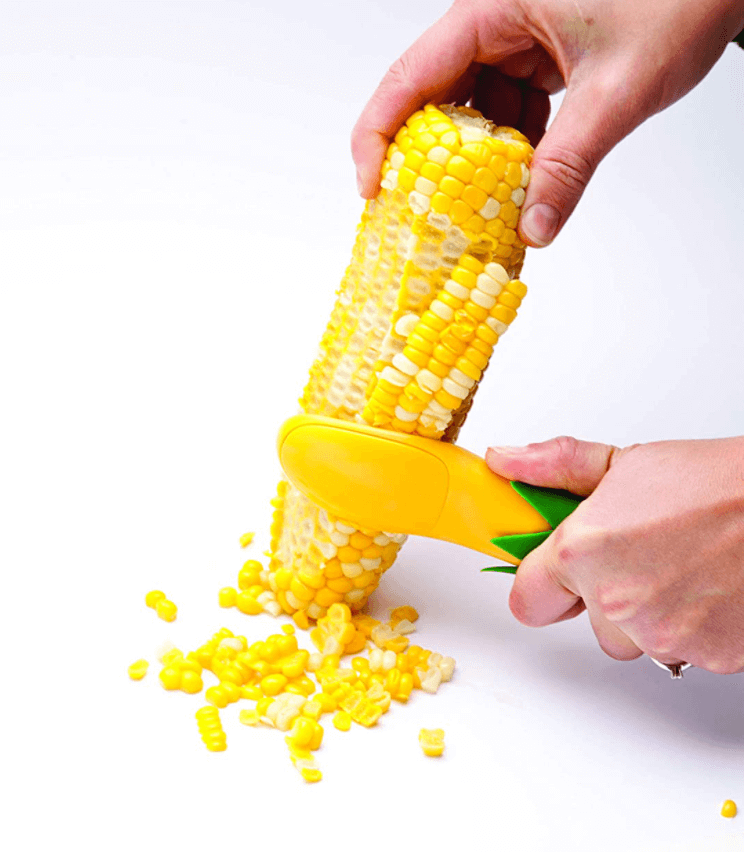 With the non-stick blade and non-slip rubber handle, this makes cutting hard cheeses easier than usual. The plane allows for serving to be just as easily done as well.
Know someone who enjoys freshly shaved parmesan atop a delicious bowl of pasta?  Or a delicious sharp cheddar grilled cheese sandwich? This is an excellent option!
Buy this Corn Star Corn Stripper on Amazon here.
21) Crystal Handled Cheese Knives Set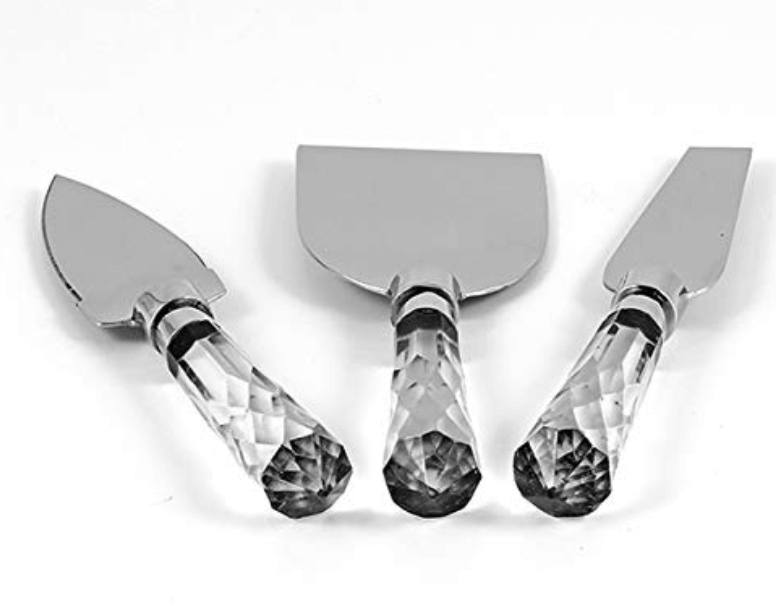 This set is an excellent conversational piece and brings a touch of glamor. Know someone who loves to be a little flashy and over the top?
This set comes with three knives, all with stainless steel blades and a quality crystal handle. The three blades work for soft as well as hard cheeses, and include a spreader.
Buy this Crystal Handled Cheese Knives Set on Amazon here.
22) Hecef Cheese Knife and Acrylic Stand Set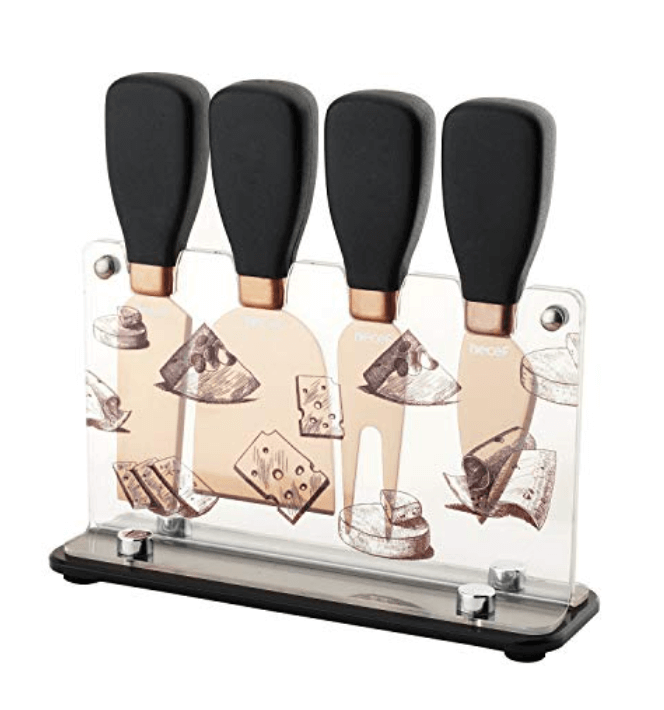 Gold blades and black handles make this unique set a stunning piece to leave out on a countertop. It's not a set to be hidden, with the acrylic stand imprinted with various cheeses.
The pieces are small and crafted to fit perfectly in one's hand.  This set comes with four pieces, a spreader knife, two slicer and serving pieces, and a pronged fork for grabbing.
Buy this Hecef Cheese Knife and Acrylic Stand Set on Amazon here.
23)
Küchenprofi

Germany Cheese Slicer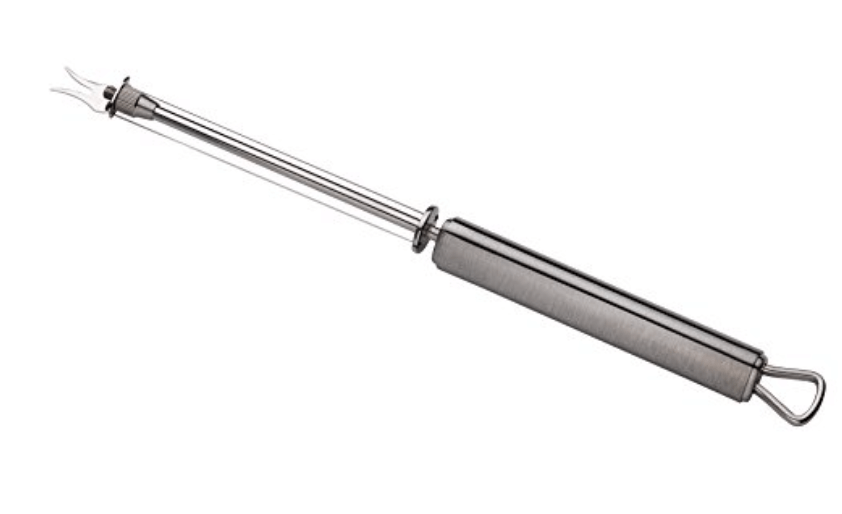 A bit different in the styles of cheese slicers, but this Kuchenprofi Germany Cheese Slicer is a long, slender piece with two wires on the end, so the receiver of your gift can cut in two different widths.
With black or bamboo handles, it looks sleek and is easy to use. The pronged end piece also makes for a great way to serve without handling the slices.
Buy this Küchenprofi Germany Cheese Slicer on Amazon here.
24) Personalized Cheese Slicer Board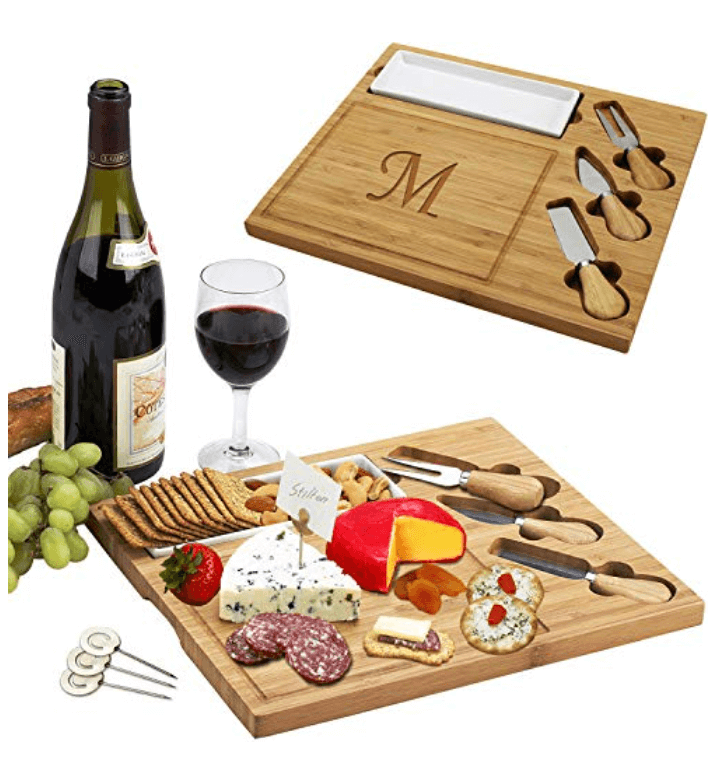 If you're really looking to spend a bit more on a gift but make it something a touch more personal, this wooden cheese board with a wire slicer can be engraved with messages or names.
It's made from sustainable bamboo wood, and comes with a satisfaction guarantee.  The 12"x6" board is the perfect size for hosting a small group of friends.
Buy this Personalized Cheese Slicer Board on Amazon here.
25) Cutlery 6-Piece Cheese Knife Set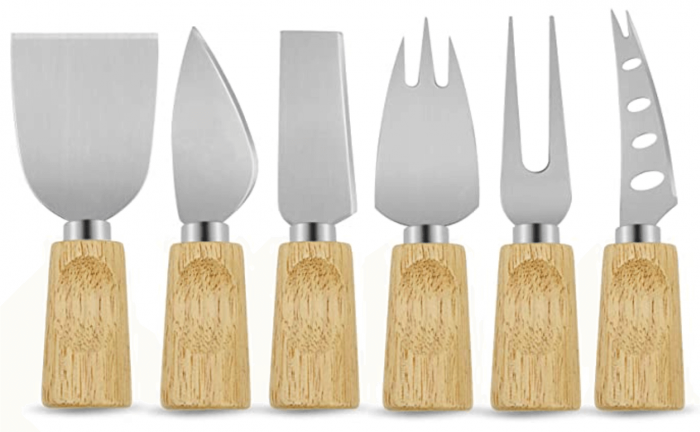 Cheeses come in all kinds of shapes, sizes, textures, and flavors. Regardless of what one might prefer, you need a set that can cut, chop, shave, or spread, and that's what this set is all about.
Anyone will love this as a gift because it gives them some versatility. They're lightweight, easy to clean, and user friendly with polished wooden handles.
Buy this cutlery 6-Piece Cheese Knife Set on Amazon here.
How to pick the perfect cheese slicer
At this point, we've made it pretty clear that shoppers have a pretty wide variety of cheese slicer varieties to choose from. The real question becomes what is the best cheese slicer option when you have so many types?
Based on the person you're shopping for, what type of cooking they do, how often they host, what their interior looks like, and so forth, you need to know the person you want to gift it to, helps make that decision a bit easier. Read through our guide below to give you a little assistance with figuring out how to gift the best choice.
Aesthetic- How's their kitchen look?
Not everyone pays particularly close attention to the style of the kitchen in their home.  But, some people do. And the people who do are the ones that are going to want to enjoy a particular look or style.
If they have one of those modern kitchens, they'll want one of the modern cheese slicers. When we say modern kitchens, think of lots of marble counters, sleek stainless steel appliances, updated countertops, while or black shelving units, and recessed lighting or hanging steel light beams.
If they have a more traditional and cozy kitchen, you might see more wooden floors, tile countertops or floors, wood-colored cabinets, and home-style lighting. The bamboo trays would be perfect for this design style.
You can also consider how they use their counter space.
If they like the convenience of keeping pieces out (coffee pots, cutting boards, toaster ovens, etc) then they might prefer to keep their kitchen ready with pieces to use.
If they keep their counter spaces clear, it might mean they prefer a smaller handheld slicer they can quickly pop in and out of a drawer instead.
If you're not sure what they're kitchen interior looks like, that's okay, too! Use one of the other approaches, like what type of cooking they do, or how often they host.
Purpose- How do you think they'll use the cheese slicer?
Some people are all about no fuss, no muss, loving any sort of item that's going to make day to day easier.
Some of the more simple, handheld pieces are great options for getting the job done.  Busy moms or dads are going to want something with a sharp blade and a great grip.
Efficient cooks and chefs who are about cooking to enjoy the food alone, might prefer to have a simple stainless steel piece. Individuals with large families might prefer one of the pieces that allows for quicker cutting at a faster pace.
Hosting is an important factor to consider when selecting a cheese slicer.
If you're shopping around for someone who loves to have family and friends over, throw Thanksgiving dinner, throw game nights on Saturday, or have everyone over for football on Sunday's they might love a piece that doubles as a serving plate.
Whether marble, bamboo, or stainless steel, a multifunctional gift could really hit the spot.
If they're into hosting, but you don't want to go out all the way with an entire platter or plate, one of the three or four-piece sets would be a great option. This allows multi-functionality, from cutting to spreading to serving. They're also minor details that can bring a party up a notch in class.
Style- What's their personal life tell you about the cheese slicer you're about to buy?
This is more looking at the personal style of the individual you're looking to gift. If they're more flashy and love their devices to be the centerpiece or conversational piece, they looks are definitely important. The crystal edged pieces or the white marble plate might be perfect.
If they're fun and free-spirited, or you're looking for a cute, simple gift, something fun like the cheese and mouse handle knives could be wonderfully appreciated.
If they're a busy parent, again, they might want something efficient over something flashy. Or perhaps this might be something with a kid-friendly handle or grip.
Food Preference- What do they love to eat?
If they're a barbecue aficionado, then getting one of the multi-food cutters is going to be great.
A slicer that can cut tomatoes, cheese, and lettuce for burgers is a great time saver. Sandwiches and paninis also have plenty of ingredients that need to be chopped more than just cheese.
For these types of foods, they might also want to be able to use some of the pieces that cut larger slices. If the individual you're shopping for is more of a cheese eater only when hosting, the smaller more delicate pieces would make an excellent gift.
Skill Level- How much do they know what they're doing?
If they are the occasional host but not big on complex dishes and meals, there is no need to drop the money on one of the more pricier professional pieces.
If they're often the host for your weekend gatherings or joint barbecues, then consider getting them one of the professional industrial pieces that will really help them step up their game.
Regardless of their skill level, food preference, personal style and purpose, there's an option for anyone and everyone.
You Might Also Like: