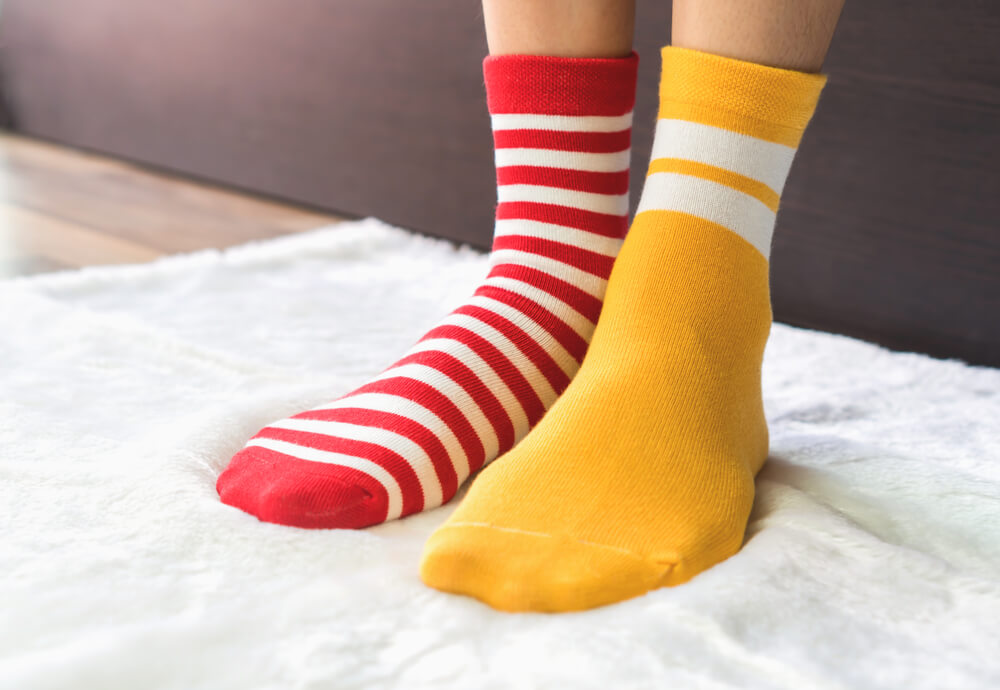 What would we do without great socks? Our feet would be boring and—worse—uncomfortable.  Or is it the other way around?
Don't underestimate the confidence that comes from having the best socks in the room or the perfect socks for every occasion. They can make you stand out in a crowd, flexing your confidence and conveying your personality.
The best hiking socks and athletic socks will keep your feet warm, dry, and limber even across miles and miles of punishment. Some socks even protect you from blood clots. In the universe of apparel products, socks are the unsung heroes.
Here are the 20 best socks you can buy in 2023.
1- No Cold Feet Groomsmen Socks
No Cold Feet is known for providing coordinated socks for groomsmen. However, there's no reason you shouldn't get these socks, some of the best socks for men, for yourself or for the well-dressed man on your gift list, even if a wedding isn't in the offing.
No Cold Feet Groomsmen Socks are made from 80% cotton and 15% polyamide with a spandex ankle band. Their goal is to loop socks into coordinated groomsmen outfits. When the suits, ties, boutonnieres, ties, pocket squares, and vests match, why should socks be left out in the cold … or worse, be nondescript?
To accommodate a variety of wedding theme colors, No Cold Feet Groomsmen Socks are available in a variety of color schemes of solid, polka-dotted, Argyle, or striped. Best of all, whether the recipient is a groomsman or not, you can order No Cold Feet Groomsmen socks with personalized packaging, making them the perfect sock gift for a man.
2- LIVEBEAR Women's Mini Print Funny Novelty Crew Socks
Amazon
A collection of LIVEBEAR novelty socks are the perfect gift socks to give to a woman or girl who loves cute, fun socks. Each package of four or eight socks comes in a variety of cheerful colors, each pair a stretchy knit of 70% cotton, 25% spandex, and 5% poly.
These feminine quarter socks are the best for lounging around the house and come in various novelty pattern selections, including: "Love You" in a heart; pixelated puppy dogs; and various adorable patterns of animals, cupcakes, and fruit.
3- Foot Traffic, Men's Sports-Themed Socks
Amazon
Foot Traffic gives a whole new meaning to "athletic socks." These three-quarter socks are actually dress socks, or at least "novelty" dress socks suitable for casual Friday or a party. Instead of being for sports, these socks feature patterns that evoke the sports themselves.
Knit from 65% cotton, 15% nylon, 15% polyester, and 5% spandex, these socks are available in the following sport-themed patterns: golf, baseball, basketball, football, ping pong, pickleball, ninjitsu, hockey, soccer, bowling, sumo wrestling, and tennis, with options for a coach and even an echocardiogram for people whose goal is cardio.
How 'bout that—you now have the best socks to get as a gift for the ninja or sumo wrestler on your list!
4- Jeasona Women's Cute Animals Socks
Amazon
These five-pack sock collections by Jeasona redefine "cute socks." You can't get much cuter than the patterns of kittens, owls, puppies, and llamas found on the different iterations of these sock collections, knit from 80% cotton, 15% acrylic, and 5% spandex. Several of the sock collections even feature "ears" for their animal inspirations. Every sock collection is themed and comes in a variety of colors.
5- Bonangel Men's Colorful Funny Novelty Crew Socks
Amazon
Most men don't have enough color in their sock collection. Bonangel's variety of ten-pack crew sock collections aims to solve that problem in one fell swoop. If any one of these collections doesn't up the recipient's sock game overnight, you gave them to a very fashionable man indeed, and he will probably love the pack anyway.
Each ten-pack features a technicolor rainbow of colors, opening the recipient up to a number of different outfit pairings. Some of the extra-collections feature colorful versions of traditional sock patterns, like stripes, checks, polka-dots, argyle, and 3D patterns. They will fly at the office, and the wearer will definitely get noticed, probably for the better since most men's socks bore.
Other Bonangel collections step up the colors and the patterns to levels of artistry that you would expect only on the most creative of feet. Some feature themes like masters of art (Mona Lisa, David, Birth of Venus etc.), rare or exotic animals, NASA space exploration, and tropical or desert patterns.
6- Hot Sox Men's Conversational Slack Crew Socks
Amazon
These crew socks are perfect for a true "man's man." This collection is available in a variety of manly patterns—race horses, cigars and brandy, motorcycles, and, for some reason, taxi cabs. There's also a "doctor" pattern for the doctors or aspiring doctors you know who need comfortable socks for surgery.
7- Darn Tough Coolmax Boot Full Cushion Sock 
Amazon
Darn Tough makes some of the best hiking socks on the market—cushioned for maximum comfort across miles on the trail, close-knit for durability, moisture-wicking, and breathable to prevent your feet from overheating, blistering, or stinking. Hiking boots' best friend. Available in gray and earth-tone.
8- JJSocks Women's Famous Cartoon Animation Character Casual Socks 
Amazon
JJSocks makes a comfy collection of novelty socks that will appeal to whimsical fangirls, with themes ranging from charming to creepy. Knitted from 75% cotton, 15% nylon, and 5% spandex, these socks are available in a variety of patterns, including Pokemon characters, Super Mario characters, and Sailor Moon characters. Each package comes with a collection of either four or five socks.
9- Harry Potter Women's Ankle-No Show Socks
Amazon
For the witch in the family, these ankle socks are a perfect choice. The collection features a variety of designs from J.K. Rowling's best-selling Harry Potter series—Platform 9¾, Luna's favorite antagonist the Nargles, and the activating and deactivating incantations of the Maurauder's Map—"I Solemnly Swear that I Am Up to No Good" and "Mischief Managed." The socks themselves are 70% cotton, 20% polyester, and 10% spandex. "Mischief managed" indeed.
10- KONY Cotton Colorful Stripe Argyle Designed Business Dress Socks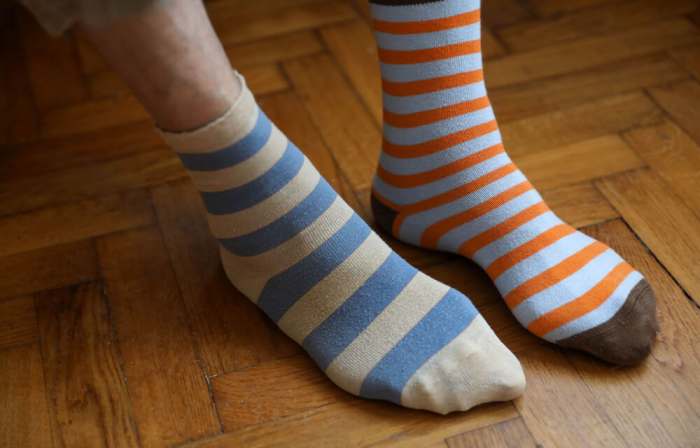 The Argyle pattern is one of the true classic sock patterns. It dates back to medieval Scotland, conceived as a complement to kilt tartans. It remains popular for practitioners of the quintessential Scottish sport—golf—but it also makes a great dress or workplace sock, a classic statement and a demonstration of great taste.
KONY makes an excellent collection of 12 Argyle socks in both black and gray, with a variety of color schemes that will fit any dressy outfit, as well as a number of clan color schemes (if you know your tartan). KONY also offers collections of striped socks, as well as a mix of stripes and Argyle. All of these crew socks are 86% cotton, 10% polyester, and 4% polyurethane and come with a 100% satisfaction guarantee.
 Buy KONY Cotton Colorful Stripe Argyle Designed Business Dress Socks on Amazon here.
11- Gold Toe Men's Printed Novelty Graphic Fashion Dress Crew Socks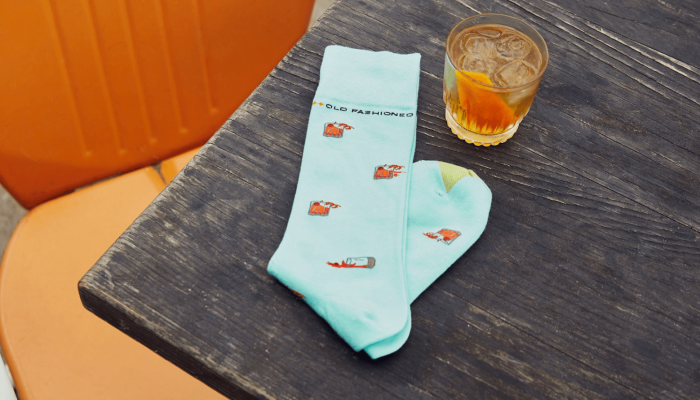 Who says dress socks have to be boring? This collection of Gold Toe novelty dress socks give you 25 opportunities to customize your sock game not only for your favorite color, but also a variety of themes, including: beach umbrellas; fish; fish skeletons; ducks; Argyle with reindeer; dogs with Santa hats; flamingos; lobsters; hula girls; pelicans; various alcoholic beverages; pineapples; surfers; toucans; and several other Christmas holiday themes. A versatile and fun sock collection, each sock is 69% cotton, 29% nylon, and 2% spandex.
 Buy Gold Toe Men's Printed Novelty Graphic Fashion Dress Crew Socks on Amazon here.
12- Urban-Peacock Men's Novelty Socks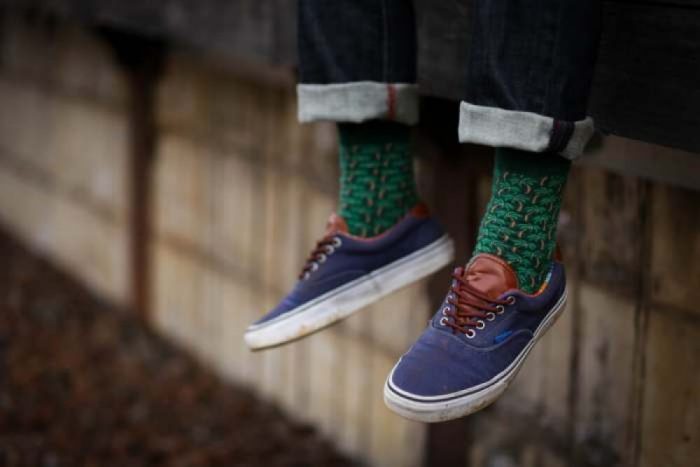 Urban-Peacock's collection of novelty socks offers multiple colors on a variety of popular and whimsical patterns—alligators, bacon and eggs, baseball, basketball, beer mugs, coffee cups, flamingos, golf, pizza, sharks, tacos, and more! If Urban-Peacock doesn't have a sock for it, the sock probably doesn't exist.
Buy Urban-Peacock Men's Novelty Socks on Amazon here.
13- Dickies Men's Dri-tech Moisture Control Crew Socks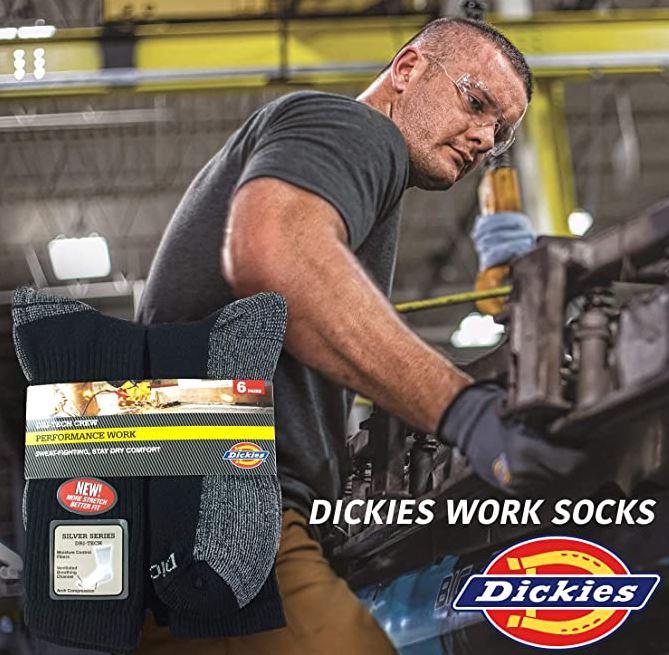 Available in black, gray, and white, Dickies Dri-tech Moisture Control Crew Socks are the best socks for men to get them through the day, whatever the day throws at them. They feature Dri-tech moisture wicking, breathable mesh ventilation, best-fit arch compression and cushioning. 74% cotton, 23% polyester and 2% spandex, they are the most comfortable all-day socks for men on the market.
Buy Dickies Men's Dri-tech Moisture Control Crew Socks on Amazon here.
14- HAPPYPOP Men's Math Formula Chemistry Socks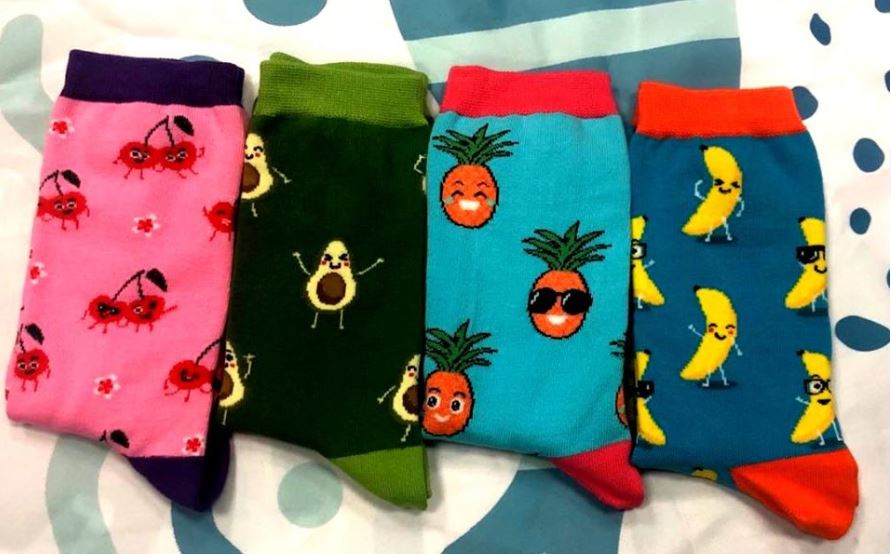 Just what you needed for the math whiz on your gift list, man or woman—math- and chemistry-themed socks! These novelty socks by HAPPYPOP are 80% cotton, 17% polyamide, and 3% elastane, available in a variety of colors and patterns of geometric shapes, equations, chemical diagrams, test tubes, protractors, and—in one case—Einstein's face.
Buy HAPPYPOP Men's Math Formula Chemistry Socks on Amazon here.
15- CelerSport Ankle Athletic Running Socks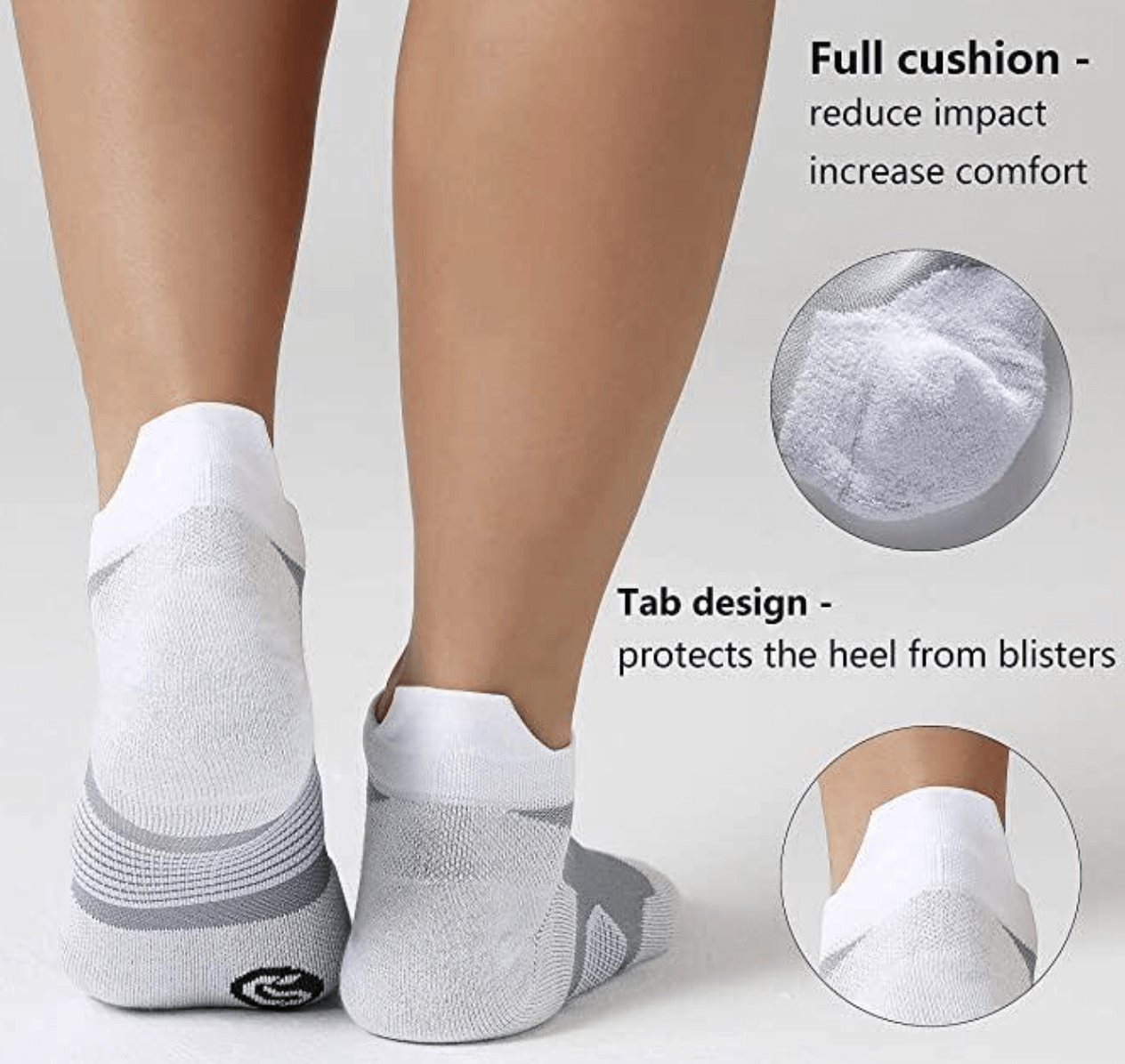 Available in six-packs of black and gray, these 88.3% combed cotton running socks are the perfect choice to wear under running shoes, rising barely to the ankle to create that "barely-there" no-sock look while still protecting your feet and keeping your shoes odor free. These cushioned socks also feature arch support and come in a variety of sizes for the most effortless fit. They're also some of the best hiking socks for warm weather.
Buy CelerSport Ankle Athletic Running Socks on Amazon here.
16- FuelMeFoot Compression Socks for Women & Men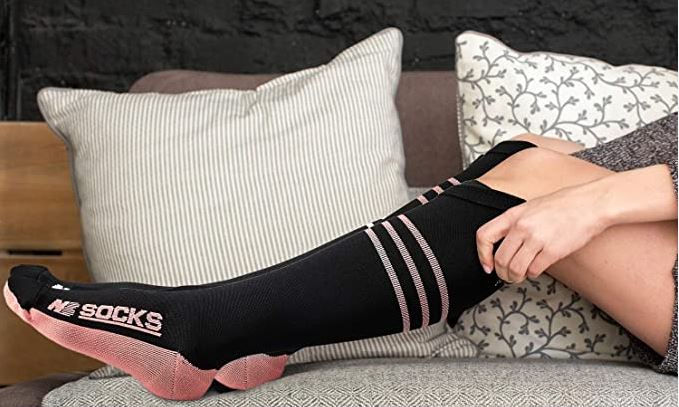 Everyone who travels needs a pair of compression socks. These knee socks prevent pain and blood clots when you wear them on flights for nine hours. For people prone to thrombosis, they aren't optional—they're a necessity. FuelMeFoot makes a series of high-quality nylon compression socks in multiple colors. Compression socks make some of the best hiking socks because of their arch support.
Buy Pvendor Compression Socks for Women & Men on Amazon here.
17- Ronnox Women's Running & Athletic Sports Performance Ankle/Quarter Socks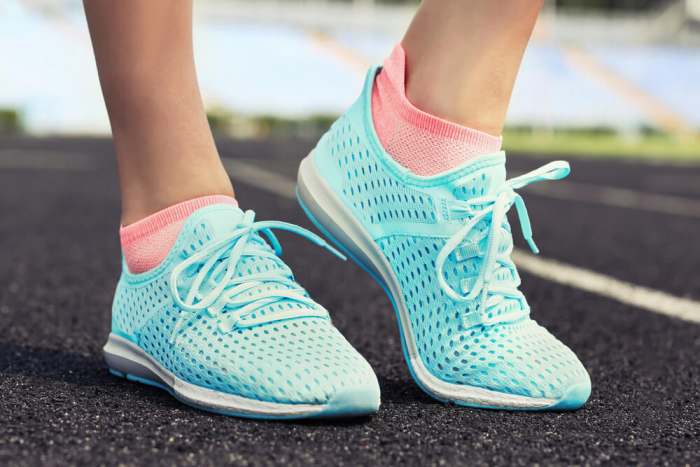 Running socks don't have to be boring. Ronnox makes a collection of womens' athletic socks that prove you can still sport cute colors and match the rest of your outfit when you're out on the train or the treadmill. These adorable slub polyester quarter socks come in 12-packs of solid and patterned multicolor decorations, and they're also some of the best hiking socks on the novelty sock market.
Buy Ronnox Women's Running & Athletic Sports Performance Ankle/Quarter Socks on Amazon here.
18- Sock It To Me, Men's Crew, Alien Socks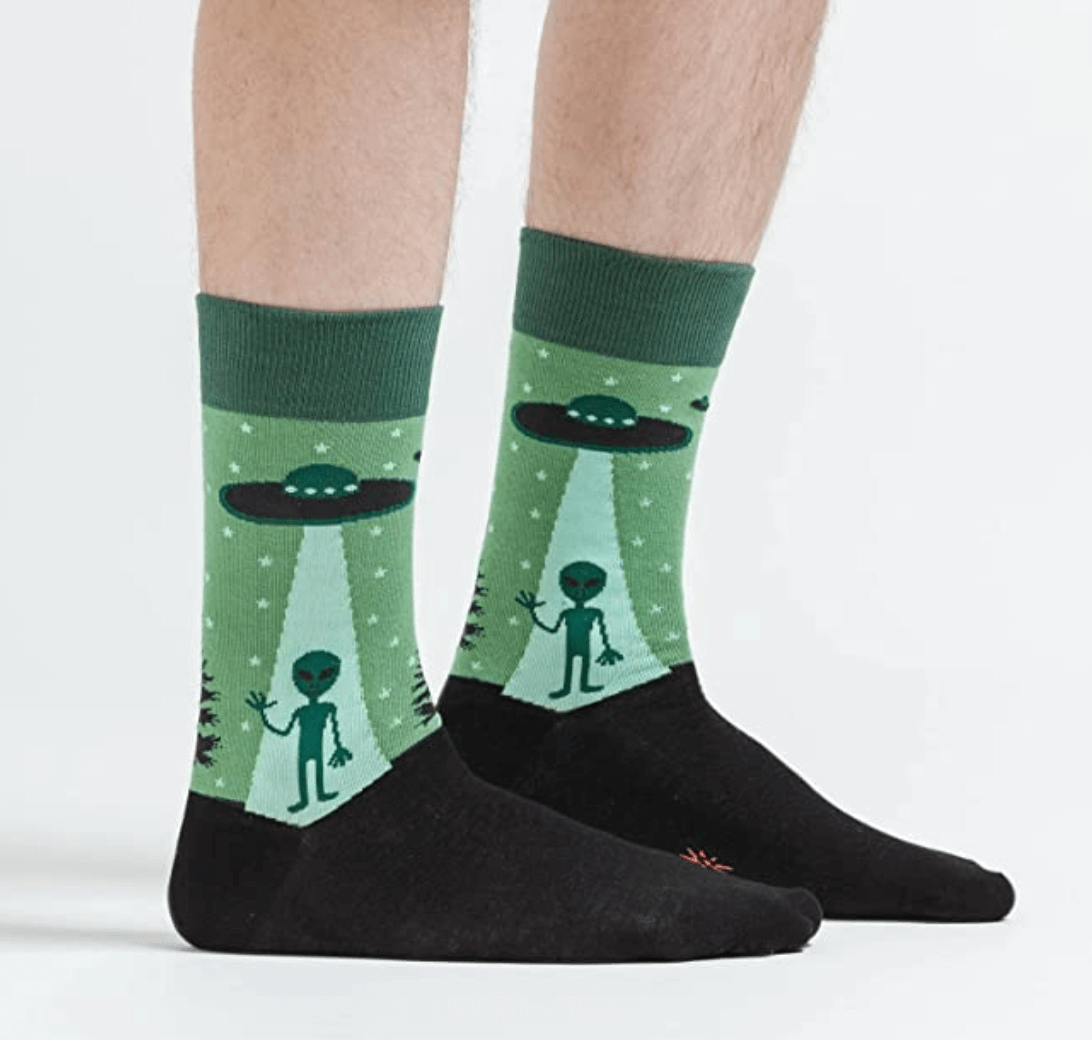 The best socks for men who love space travel and alien conspiracy theories, available in colorful patterns themed after planets, constellations, flying saucers, interstellar donuts, and (of course) little green men. These funky socks are 52% cotton, 46% polyester, and 2% spandex.
Buy Sock It To Me, Men's Crew, Alien Socks on Amazon here.
19- Bisousox Men's Fun Dress Socks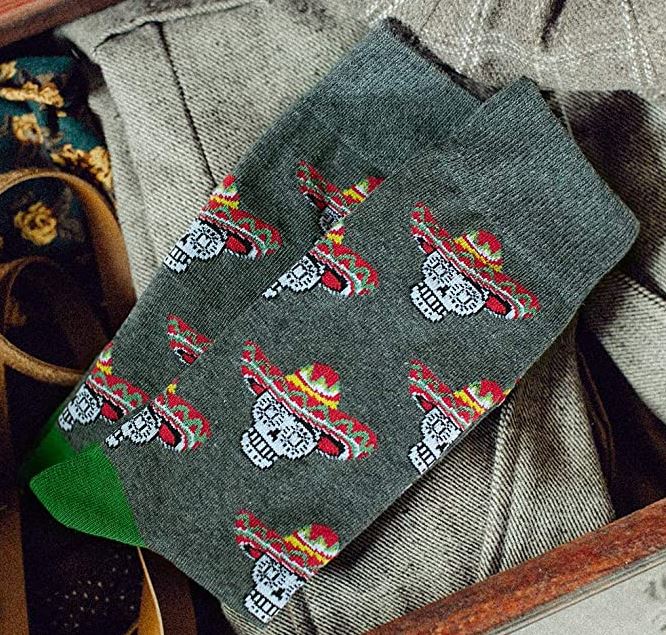 Bisousox offers one of the most whimsical collections of novelty dress socks on the market. In their various collections, in addition to multicolor Argyle and stripe, you will find Pac Man, tree sloths, penguins, Mexican sugar skulls, tigers, french fries, Rolling Stones tongue logos, koala bears, tacos, chemical compounds, mathematical symbols, NASA space flight, and more.
Buy Bisousox Men's Fun Dress Socks on Amazon here.
20- Trongle Wool Ski Socks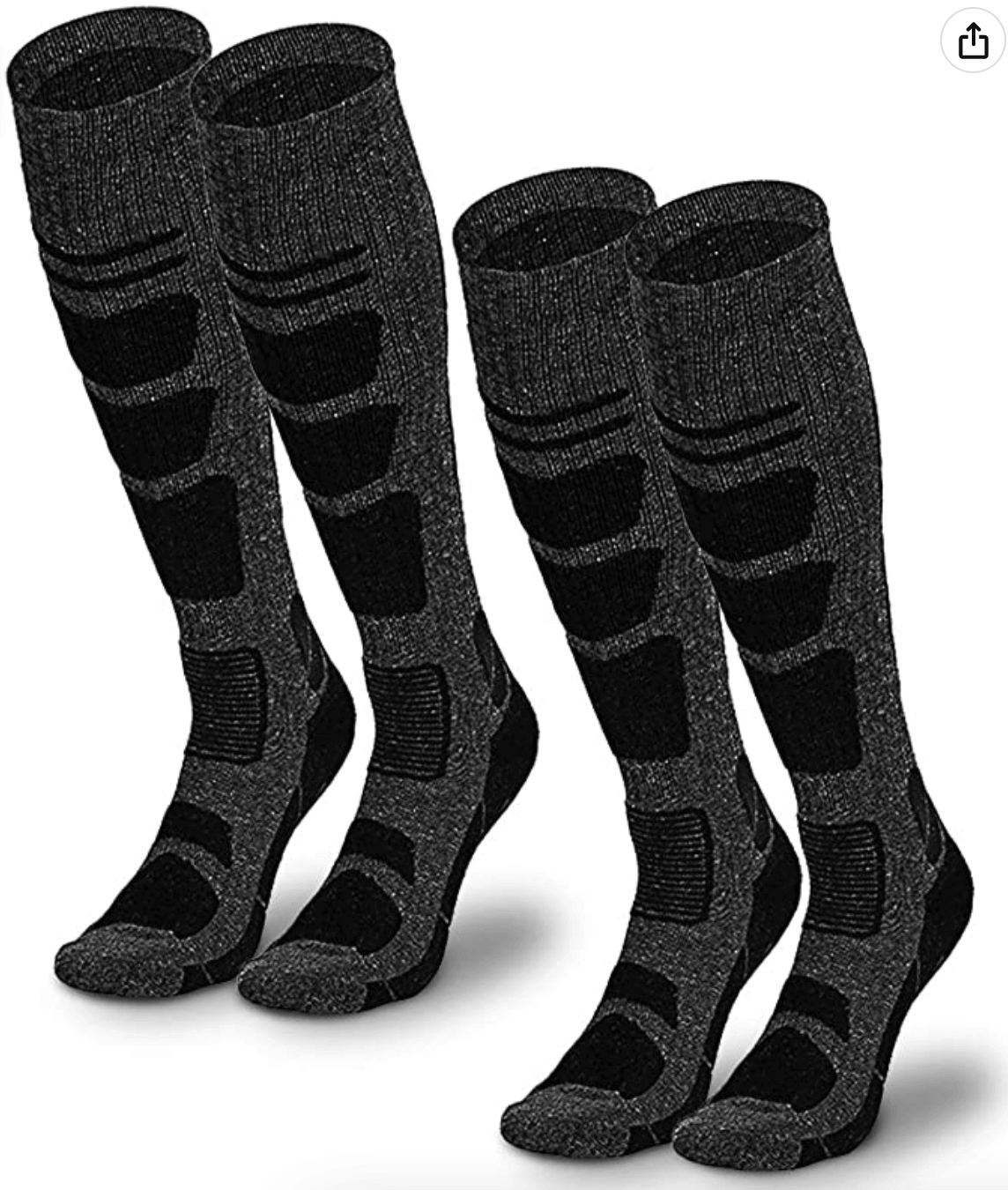 For men or women who love extreme winter sports, the right socks could not possibly be more important. Proper ski socks make the difference between a thrilling excursion and a miserable slog. If a skier's or snowboarder's feet get cold and wet, it's not just uncomfortable—it can also be dangerous, increasing the risk of hypothermia.
Trongle wool ski socks are the perfect gift for the skier or snowboarder on your list, man or woman. Available in a classy athletic pattern in red or white, they cover the entire calf and stay up even under extreme circumstances. Wool yarn keeps the feet warm and dry, and the hollow knit structure reduces impact force, making these the perfect socks to slide comfortably into a pair of ski boots. They're also some of the best hiking socks for cold weather.
Buy Trongle Wool Ski Socks on Amazon here.
Tips for Picking the Perfect Pair of Socks
Whether shopping for yourself or for a gift, picking the perfect socks is partially about knowing your feet and partially about knowing your audience. What do you subject your feet to in the course of living, and what are the right socks to get them through it? Who will notice your socks? (Yes, people notice socks.) Will they see a fashion faux-pas, or will they see the perfect sock for the occasion?
Here's what goes into picking the perfect pair of socks. Knowing what's out there, you can start plugging holes in your wardrobe with the right pair of socks. (And make sure to throw out the socks with holes in them! Why are you holding on to them?!)
Length
Different lengths of socks are appropriate for different occasions. If they are hidden beneath long pants, you may get away with the wrong length of sock, but it's better if you have the best sock for the occasion under those trousers. Here are the sock lengths to know about:
No-Show. No-show socks are the shortest sock available outside of a basic sole insert. You wear these when you want it to look like you are wearing no socks at all, which can be a snappy look with either athletic looks or dressy casual looks.
Ankle. Ankle socks can be glimpsed over the top of a sneaker or formal shoe. You usually don't want to wear these with dressy outfits, for fear that your ankle skin will be glimpsed over the top of the sock. Great for warm-weather athletics—short enough to keep from overheating your calf, but high enough to keep your shoes from chafing.
Quarter. Quarter or "short crew" socks make the best socks to wear "around the house" in warm weather. They come up over the ankle, about a quarter of the way up the calf. They can also work with casual looks, and they're the tallest sock you want to consider with shorts. Even this might be too much of a hipster look for some.
Crew. Crew socks are versatile and some of the best socks for men. They come about halfway up the calf, which will hide your skin beneath even long trousers. They also come in the best patterns and novelty designs. Don't wear these with shorts, though.
Three-Quarter. Three-quarter socks come up almost to the knee. They can work in formal settings and keep the calf warm in cold weather.
Knee. Knee socks come up to or past the knee. Really only appropriate for compression socks and athletic applications like soccer or football. However, you do get to wear them with shorts, so consider cool colors and candy stripes.
Fabric
Socks tend to be made from a small selection of fabrics. Your choices are usually:
Cotton. Low or fine quality cotton breathes and keeps your feet cool in warm weather. It's also soft and supple.
Wool. Wool socks keep your feet warm but can be scratchy if not brushed. Merino wool is the best quality, usually. Wool wicks moisture away from your feet to keep them dry even when they sweat.
Synthetic Fabrics. Polyester, polyamide, and polyethylene are soft and durable, but they don't breathe as well as cotton.
Spandex or Nylon. These synthetics are soft and stretchy, often worked into the calf band that holds the sock up.
Open-knit fabrics breathe better, while tight-knit fabrics keep the feet warmer and are more durable. Cable knits are durable, but not dressy enough for most upscale occasions.
Color
First things first—don't wear white socks outside of athletics. Ever. The trail, the gym, the game field. That's where white socks go. End of story.
With that out of the way, black, gray, and brown socks are the best socks for versatility, but socks are a place to get creative. Find socks that match your favorite shoes and outfits using this rule-of-thumb—make the socks one shade lighter than the shoes and one shade darker than the pants.
Pair warm-toned socks (reds, oranges, purples) with warm-toned outfits, and vice versa with cool-toned socks (greens, blues). However, pops of contrasting colors in patterned socks can inject confident swagger into an outfit.
Quality
Socks tend to be an afterthought in most outfits, but try to get the best socks you can afford. Compared to suits, jeans, and shoes, the cost ceiling is actually pretty low. Wearing low-quality socks, especially tacky cable knits, will undermine a dressy outfit. The best socks are knit from a fine fabric like merino wool and will last longer without wearing thin or tearing.
Pattern
Solid-colored socks are fantastic when the colors are coordinated properly, but some of the best socks for men to wear to dressy events are patterned socks. Casual events or parties might call for novelty patterns like fried eggs or flamingos, but patterns that could fly in the office or at a wedding make a great impression anywhere.
Patterns to look at include:
Stripes
Checkers
Argyle
Polka Dots
How to Pair the Right Socks With the Right Shoes
Unless you're wearing socks to keep your feet warm and clean around the house on the weekend, your socks don't exist in a vacuum. They will almost certainly be evaluated against the backdrop of your shoes. The first step of matching your socks to your outfit is to pick the right socks for the right shoes.
If the thought of having to match one piece of clothing to the other gives you heart palpitations, fear not. There are only a few rules and considerations to keep in mind when matching your socks to your shoes:
Color
The first thing to consider is how the color of your socks compares to the color of your shoes. There's a rule of thumb you can follow here—your shoes should be one shade darker than your socks. So if you wear dark blue shoes, for example, you should wear blue socks one shade lighter than those shoes.
Of course, many shoes are brown or black. If you don't want to wear brown or black socks, consider pairing a warm tone with your brown shoes, a cool tone with your black shoes. Or switch it up. When we say "rules," these are more like guidelines. Feel free to get creative, but fall back on the rule of thumb if in doubt.
When considering patterned socks, don't be afraid to introduce contrasting colors, outside of the tone or color family of the shoes or the base sock color.
Occasion
If your sartorial game is on point, you definitely pick casual shoes for your casual occasions, and dressy shoes for your dressy occasions–except when you want to make a contrasting statement. Whichever way you break, make sure you match your socks to the shoe choice.
You definitely don't want to pair a cable-knit casual house sock with dress shoes for a formal occasion like a wedding or even for the office. Instead, go with a thin dress sock.
Don't pair that dress sock with an athletic shoe, either. Athletic shoes are meant to fit with thicker socks and may be too loose if you try to wear them with dress shoes in a pinch. Thin dress socks won't protect you from blisters, wick moisture, or prevent shoe odors.
If you want to wear fun novelty socks, try not to pair them with conservative shoes like brown lace-ups or black loafers. Instead, consider more fashion-forward shoes, like double-monks, fashion sneakers, or colorful lace-ups.
Quality
In addition to the appropriateness for the occasion, it's important that your socks match the quality of your shoes.  A fine merino-wool dress sock will stick out like a sore thumb when you're wearing beat-up athletic shoes or even some chunky fashion sneakers. No-show socks might be a better option to dress up the sneaker look.
It's also jarring to see a faded, low-quality cable-knit sock with a dress shoe, even if the color is right. Wait, people can see the quality of your sock fabric? Yes they can. So the fact that they are less comfortable and less durable isn't the only thing against them, making them a bad choice.
Cushioning
As mentioned, athletic shoes are actually designed to accommodate athletic socks. These tend to be thicker socks with more cushioning, to protect your arches, wick away moisture, and keep the blood circulating easily to and from your feet.
You might buy a dress shoe and an athletic shoe of the same size, then discover that the dress shoe won't fit over an athletic sock and the athletic shoe is too big if you try to pair it with a dress sock.
Make sure to pair the right shoe with the proper thickness of sock. As an added benefit, you will have the right kind of sock on for the demands your feet will face.
How to Care for Your Socks
Many people believe a short lifespan for their socks is unavoidable. Eventually the elastic wears out, holes form, or one of the socks goes missing, leaving its partner an orphan.
It doesn't have to be this way. By learning how to properly care for your socks, you can dramatically extend their life, saving you money, comfort, nuisance, and the pain of losing the partner of an irreplaceable pair of favorite socks.
Here's how to care for your socks so they stick around in your footwear rotation:
Wash Them Separately
We know, we know–more loads of laundry means more annoying chores. But if you want your socks to last, don't put them in the same cycle as your other clothes. The lint will build up and damage the socks. If you don't want to have to do more loads, there is a solution—a mesh laundry bag, which keeps your socks and other delicates separate.
Invert Them
There's a reason generations worth of graduating college seniors learn to perform a maneuver called "inverting the sock" when they process to commencement—it's because inverting your socks is a thing you should do. When they're not on your feet, store your socks inside-out. The outsides of the socks will be less exposed to the elements, maintaining their shine and color tone longer without fading.
Wash Them on Cold Cycle
This is especially hard for white socks, which your mom may have taught you to wash on "hot." However, hot cycles are hard on delicate clothes like socks. To preserve the socks, wash them on cold cycles. This isn't bad advice to preserve all of your clothes.
Skip the Chemicals
Another good piece of advice to keep all of your clothes in better shape longer is to skip bleach and other harsh chemicals. It might make your white socks look less faded, but it breaks down the fabric more quickly. You shouldn't be wearing white socks with any outfits that aren't athletic anyway. If nothing else, hopefully this article encourages you to skip white socks altogether.
Skip the Tumble Dry
This might be harder to do, but tumble driers beat up socks. Consider a drying rack or a clothes hanger to dry your socks. It's more time consuming, but the socks will last longer.
Skip the Iron
As if you were ironing your socks anyway! But if you were in any way tempted, don't use a hot iron on your socks. Hot irons can cause synthetic fabrics in socks to melt or even catch fire. There's no need to iron your socks, ever.
Fold—Don't Roll 
Rolling socks up together with their partners is a time-honored way of storing like socks together so you don't lose one of them. However, rolling up your socks stretches them, causing the fabric to break down more quickly. A better choice is to clip your socks together with clothespins, hair clips, paper clips, or other clips. Remember to invert them to protect the outside!
How Long Should My Socks Last?
How long a sock will last really depends on a few things:
How you wear them. First and foremost, your socks will last longer if they fit properly. If they're too small, they will stretch. If they are too big, they will bunch up and abrade. Either way, the socks take a beating that they don't need to take.
Where you wear them. If you want your socks to last, keep them in shoes. The more you walk around shoeless in your socks, the faster the fabric will wear out and develop holes. If you want to wear socks around the house to keep your feet warm, consider protecting them with slippers.
How you care for them. We went into detail in the section titled "How to Care For Your Socks," but it bears repeating—the better you care for them, the longer they will last.
The quality of the sock. Finally, you get what you pay for. Inexpensive socks tend to be made of lower-quality fabrics that break down more quickly. If you don't want to have the expense and hassle of constantly replacing, consider paying extra for quality socks. And then take good care of them!
That being said, some companies promise a year's worth of life from socks that you wear on a weekly basis. Some sock sellers even offer a two-year warranty or even a lifetime guarantee.
But do you really want to spend your time mailing punctured socks back to the manufacturer? While it's great to have a favorite pair of socks and take good care of them, socks come and socks go. Learning to let go of a favorite pair of socks—and make room for the next favorite pair—is part of life.
What if I'm Buying Socks as a Gift?
Socks make a fantastic gift. People tend to be economical and utilitarian with their socks. It's an area in which they rarely treat themselves, sticking to the basics. Maybe they know themselves and know the socks will eventually get lost or wear out. Extra money and effort seems wasted.
This makes socks the perfect gift. It's something fun that the recipient wouldn't necessarily treat themselves to. They're also easy to package, easy to customize, and affordable even at the highest price range. Socks come in so many varieties that no matter what the recipient's tastes, hobbies, or proclivities dictate, you can be sure that someone made a sock perfect for them.
So how do you go about buying the perfect pair of gift socks?
Go For Quality
Again, most of us stock our sock drawers on the cheap. Twelve pairs for six bucks? Sign us up! One goes missing, one develops a hole? You have eleven others. See a beautiful pair of socks you'd love to have? There's bills to pay!
But buying socks as a gift is a chance to get those great socks. Fine merino wool, durable and long-lasting, a color or pattern that isn't appropriate everywhere but will make just the right impression at the right place–sometimes socks needn't be practical. Which is why it's awesome.
The best thing about choosing high-quality socks as a gift is that it still won't break the bank. Want to buy someone a high-end watch as a gift but you're on a budget? Good luck.
But a fine pair of socks might set you back $20-$30 at the most, well within most peoples' gift budgets. It's the rare gift item where the highest quality is still affordable. Best of all, it's a gift that will actually get used and because of the quality, it will last a long time.
Collection, or Single Pair?
Socks are also a consumer good that routinely gets bundled. Remember those twelve pairs for six bucks? You'll see plenty of socks sold this way. The price is so low that otherwise, the unit price wouldn't break a dollar.
So should you get a multi-pack of socks as a gift, or a standalone pair?
First of all, definitely don't get a package of plain socks. That just reeks of a gift that Mom gets to be "sensible." Sensible is fine 363 days out of the year, but gifts are meant to be delightful, not sensible.
The best time to go "multi-pack" is if you know that by giving the recipient one pair of cool socks, they will then own a grand total of … one pair of cool socks. If the recipient's sock collection is in desperate need of an upgrade, consider a 5-12 pair package of socks with different patterns or color schemes. You could rehabilitate an entire sock collection in one fell swoop.
On the other hand, if you want to target your gift to the recipient's personality, there's nothing like zeroing in on the one perfect pair of socks, in just the right color or theme. Narrowing the search to one pair of socks also frees you up to go for broke on quality.
Target Novelty Socks to the Recipient's Personality
When we talk about the kinds of gifts we would never treat ourselves to, is there anything more frivolous and fun than novelty socks? They're something you might never think to buy for yourself, but they will definitely get worn, and, best of all, can be tailored to the recipient's personality.
Think about who you're giving the gift to. Do they love animals? Video games? Super heroes? Pokemon? Sailor Moon? Alcoholic beverages? Space aliens? The beauty of novelty socks is that whatever hobby or proclivity might be out there in the world, you can usually find a sock to match it.
Consider the Recipient's Wardrobe Choice 
We said that a gift of socks is likely to get used, but there's a catch—the socks have to coordinate with the person's wardrobe, and the person him- or herself.
How do you know what that person likes to wear, if the wardrobe isn't something you pay attention to and you can't remember off the top of your head? Easy. Most people keep a meticulous record of what they wore every day or at least every month. It's called their Facebook or Instagram profile. Spend some time finding the outfits that make repeat appearances on the recipient's social media profile pics and posts, and you'll have a wealth of wardrobe ideas. Just pick one outfit and target your sock gift to those. Chances are, the recipient has other outfits like it.
Notice if the recipient usually chooses dressy outfits or casual outfits, warm tones or cool tones, neutral tones or vibrant colors. However, don't feel restricted by a conservative color palette. You could always inject some color into a bland wardrobe by giving them some neutral socks with an extra pop in the patter—multi-colored candy stripes, or Argyle, perhaps.
And remember–the most conservatively dressed person may secretly be longing to don some wildly patterned, wildly colored socks that only they know is on their feet. Bump up the excitement quotient of your gift recipient's sartorial choices with something unique, fun, risque, or colorful. And for those who err on the side of throwing caution and clothing choices to the wind, do the opposite. See what happens if you gift them with something a bit more staid and conservative. They may decide on their own that having an element of quiet in their otherwise flashy apparel makes their visual appeal all the more assertive and pronounced.
The best socks are about the details—socks themselves are a detail. By knowing which details to pay attention to and how to nail them, your feet will always be tricked out with the best socks for the occasion! 
You Might Also Like: