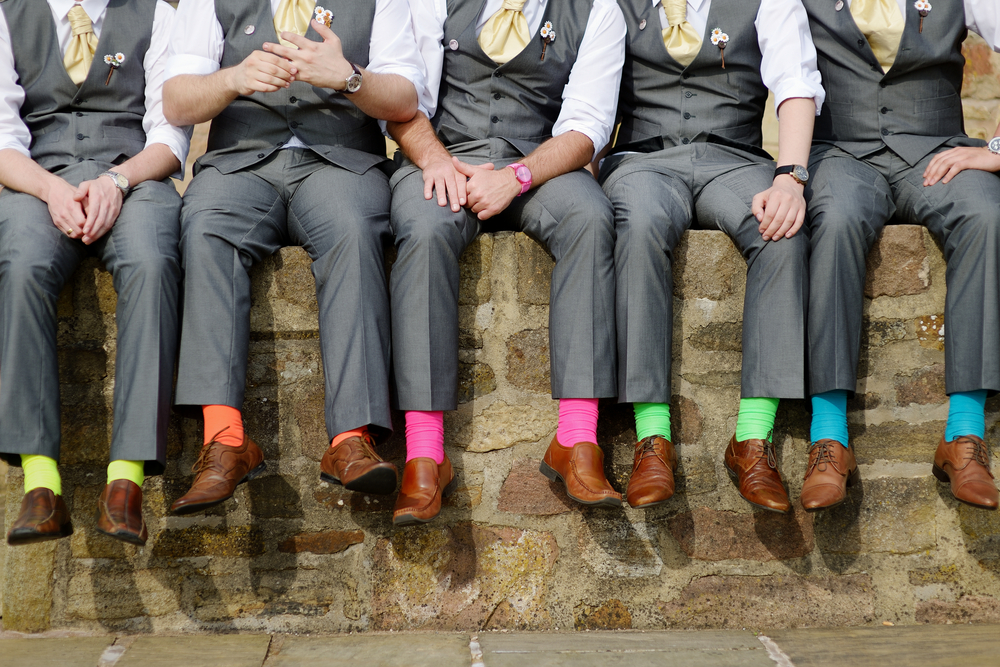 It's good to be a groomsman for many reasons. Just to name a few:
… Flirting with bridesmaids.
… The bachelor party.
… Sometimes you get a hotel suite stay and a ride in a limo.
… Bridesmaids.
… Sitting at the table of honor at the wedding.
… The groom's eternal gratitude.
… Did we mention bridesmaids?
Today, though, we're going to talk about the dope matching outfits, which turn the groom's crew into the sexiest posse at the whole wedding. You might as well be the Avengers or the Reservoir Dogs.
There's the tux, the matching ties, the coordinated vests and cummerbands, down to the shoes, cufflinks, pocket squares, and boutonniere. Let's face it, every girl (and more than one boy) is crazy for a sharp-dressed man.
Which is why we need to have a serious talk about groomsmen socks.
It's the ankles. Who cares, right? Any pair of socks will do, right?
Not so much. The groomsmen will be up on a dias, backing up the groom in case … I don't know, a fight breaks out, a rival suddenly appears, the father objects. They will be noticed head-to-toe. Plus, socks are the kind of things a bridesmaid notices.
After putting so much effort into making the rest of the outfit pop, why drop the ball on the socks of all things? Even if you just tell the groomsmen to wear "black" socks, any fashionista, or really any female human, can tell you that not all shades of black are created equally. If everyone brings their own black socks, they won't match, and it will get noticed.
On top of which, why forfeit the opportunity? Cool socks can rival the bow tie and the boutonniere in adding pop and pizzazz to an already-popping groomsman ensemble.
Here are 28 Amazing Groomsmen Socks to buy this year to make your groomsmen get-up tight.
1- No Cold Feet Socks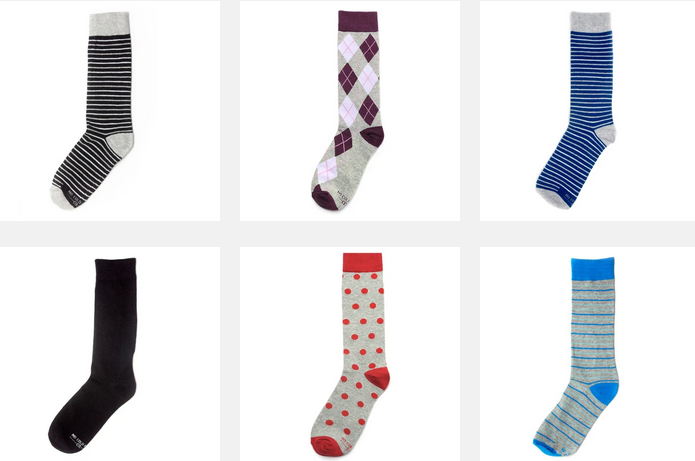 Punning on the slang for a groom or bride who has second thoughts, No Cold Feet is a market leader in socks designed specifically for groom parties.
Available in multiple colors of solid, polka dot, Argyle, or striped socks, No Cold Feet kicks it up a notch with bow-tie gift packaging and optional customization—each pair can be ordered with packaging customized to the groomsmen's name or other details.
Made from 80% cotton and 15% polyamide with spandex in the band, No Cold Feet socks make great groomsmen's gifts, perfect for coordinating your posse. Fast shipping is available in case you left this detail to the last minute.
2- Duna 5-pack Men's Ultra Thin Breathable Cotton Dress Socks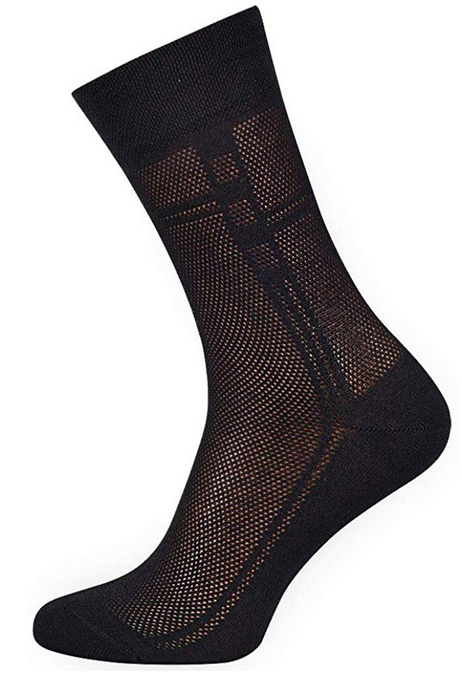 Color-coordinate and take down an entire wedding party's worth of socks with this five-pack of solid colors by Duna. Ultra-thin, highly breathable, and manufactured from 80% cotton and 20% polyamide, the Duna socks are a perfect choice to achieve a uniform black look amid the groomsmen.
The moisture-wicking technology built into each sock is perfect to keep the feet dry and comfortable during a summer wedding.
3- Dockers Men's Classics Dress Flat Knit Crew Socks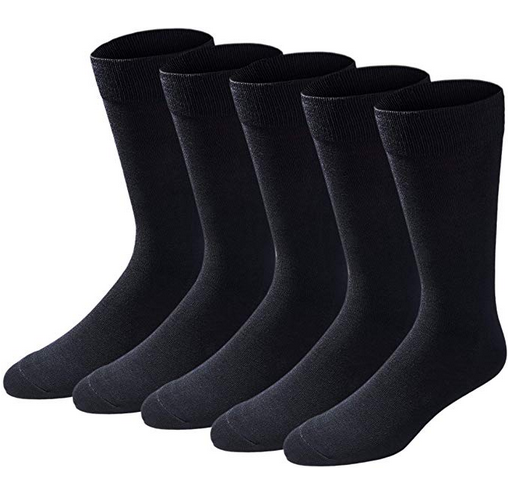 For weddings in colder climates, a thin cotton sock isn't the way to go. Keep the whole wedding party from getting actual cold feet with these robust knit dress socks from men's fashion standby Dockers.
These knit dress socks are available in several solid colors and come in five-packs—in other words, enough to outfit the entire groomsmen roster, along with the groom and best man.
4- TeeHee Wedding Cotton Crew Socks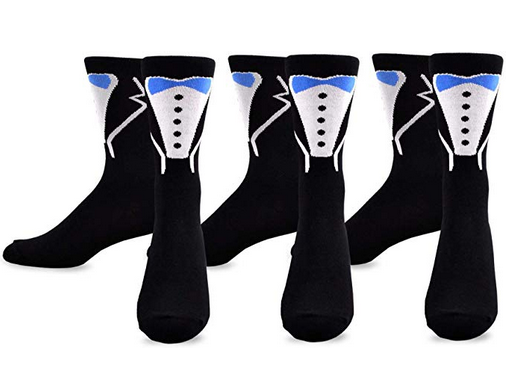 These cheeky novelty socks beg the age-old question—groomsmen get to wear tuxedos … why should their feet not have the same kind of fun?
Ok, no one is actually asking that, but seriously, how big of a hit will it be when the groomsmen lift up their trouser legs to reveal actual "tuxedo socks," with the buttons and the bow tie and the whole bit?
These medium cotton, fun groomsmen socks by TeeHee come in three-packs, so two packages will be plenty to outfit most groomsmen parties.
5- YUMILY Mens Funny Dress Socks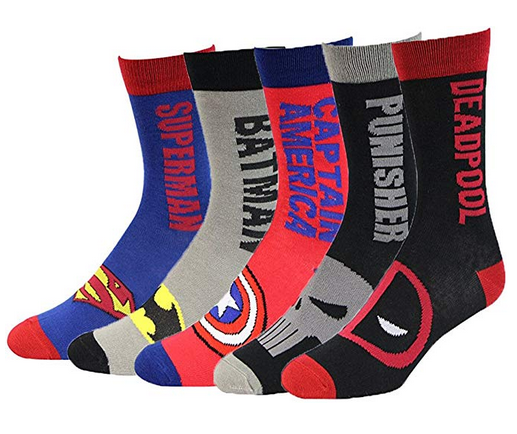 Bring down the house with this five-pack of superhero-themed licensed socks. Assign the groom, best man, and groomsmen the most appropriate superhero: Superman, Batman, Captain America, the Punisher, and Deadpool. These novelty dress socks by YUMILY go the extra mile by including the applicable superhero's logo on the toe.
For the sake of diplomacy, we recommend letting the groom be Superman—pristine champion for the forces of good and all. But hey, you know your groom best … he might be a Deadpool.
Other theme options by YUMILY include flamingos; the Avengers (classic comics, not Marvel studios); and Pokemon.
6- Mio Marino Mens Moisture Control Dress Socks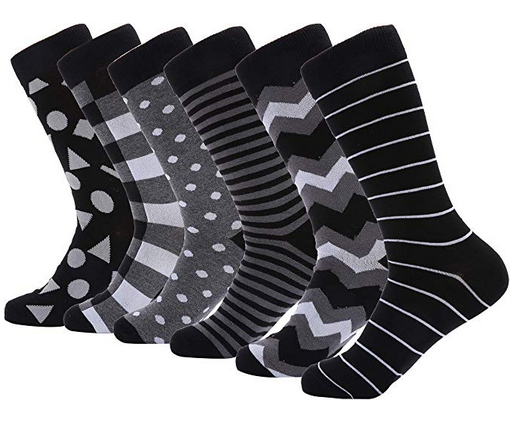 These Mio Marino six-pack collections make the perfect tool to coordinate your groomsmen without making them identical. While remaining conservative and understated, each groomsman can be assigned a "flavor" of Mio Marino sock that fits his personality the best—stripes, polka dots, geometric shapes, etc.—all while retaining the same color palate.
These durable, breathable dress socks feature moisture-control technology to keep the groomsmen's feet dry and comfortable during even the longest of ceremonies (and the most vigorous of reception dance floors).
7- Royal Classic Mens Argyle Dress Socks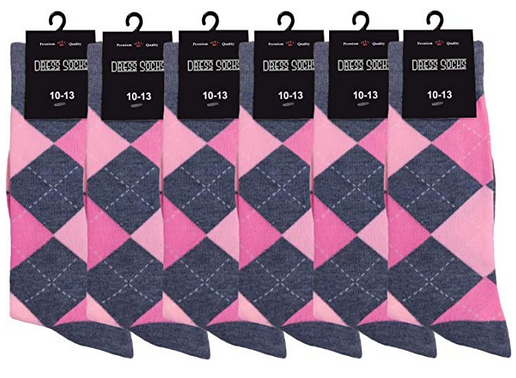 Argyle socks are a timeless look. These six-packs by Royal Classic allow you to color-coordinate the entire groom squad with matching Argyle socks in bold color choices—pink, or purple. The perfect choice if these colors match the wedding palette.
Royal Classic socks fit like a glove in delicious comfort and luxury, made from 65% cotton, 25% nylon, and 10% spandex for that delightful stretch.
8- SUTTOS Men's Dress Socks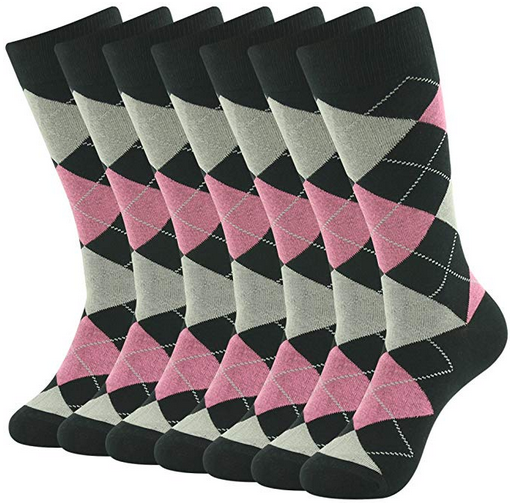 SUTTOS offers a cool selection of dress sock seven-packs that can easily be repurposed for your whole groomsman party. You can choose from several choices of Argyle, bicycles, thunderclouds, and several other patterns.
Perfect if you couldn't decide which of your bros to leave off the groomsmen party and ended up with seven groomsmen.
9- London Jae Apparel Novelty Socks & Gift Sets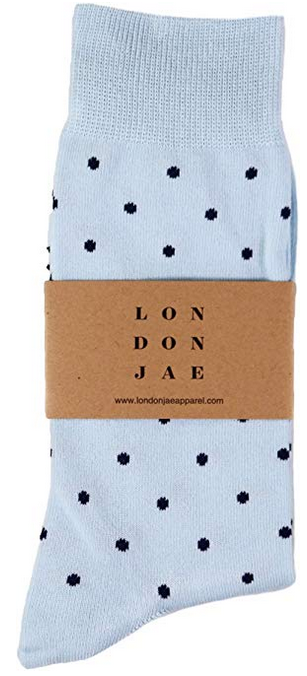 If you want your groomsmen's sock choices to make a statement, you want these novelty socks by London Jae Apparel.
This collection distinguishes itself with its selection of arresting colors and patterns, including strips, checks, polka dots, and Argyle patterns—nothing that will shock the minister, but just the right little something to make the most bored attendees clutch their pearls … which is how you know it's been a good wedding.
These stretchy, comfy dress socks are made of 80% cotton, 12% spandex, and 3% elastic.
10- BONANGEL American Flag Fun Dress Socks for Men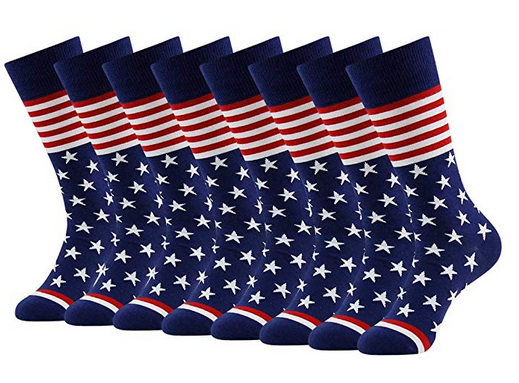 With these red, white, and blue socks from BONANGEL, the bridal party can let its patriot flag fly. What better way to show the groom's commitment to the US than by outfitting his groomsmen in one of several stars-and-stripes motifs?
Available in two-, four-, or six-packs made from 90% cotton and 10% polyester, these groomsmen socks are a perfect choice for grooms who are also vets. Make sure to thank a vet for his or her service.
11- Colorfut Men's Soft Cotton Blend Colorful Funky Gift Box Dress Socks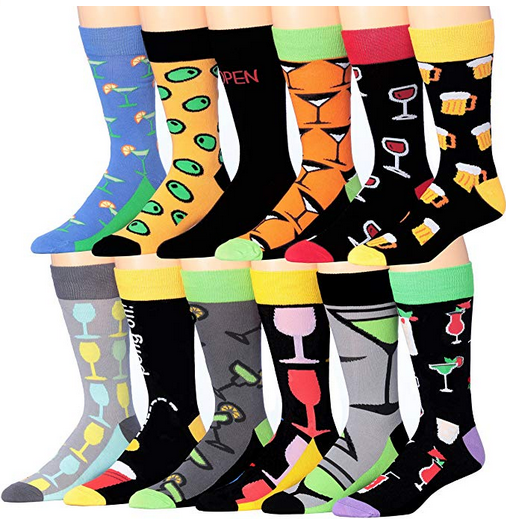 Do the groom and his posse plan to get a bit sozzled at the reception? Then why not signal their intentions with this hilarious themed novelty dress sock set patterned with beer steins, cocktail olives, martinis, wine glasses, and margaritas?
Colorfut also offers other 12-packs that groomsmen can use to flex their individuality while maintaining a distinctive style and theme—they can be boldly colorful and distinct, but still look like a team. But come on … the martinis!
12- Forum Novelties Bachelor Socks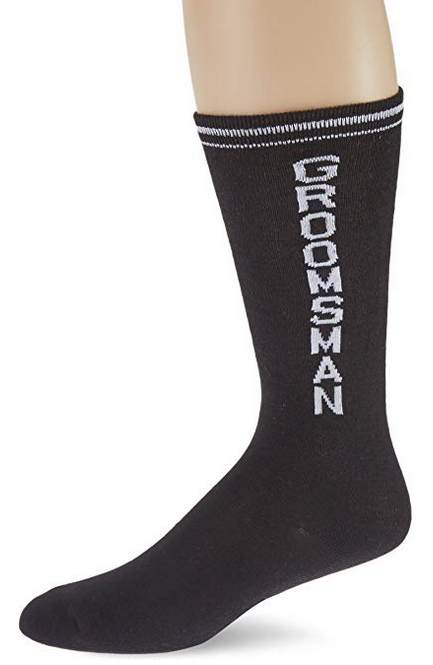 These basic cotton socks are probably more appropriate for the bachelor party than they are for a black-tie wedding. Still, if the groom and his boys plan to overindulge, it can't hurt to have a reminder printed on their socks of exactly why they are here and what they are supposed to be doing right now (i.e. giving a toast, hitting on bridesmaids, getting married, etc.)
These helpful and informative socks come in "GROOMSMAN," "BEST MAN," and "GROOM" prints. As an added bonus, the bride can look at the socks and double-check that the guy she's marrying is actually the groom.
13- Pierre-Henry Premium Over the Calf Socks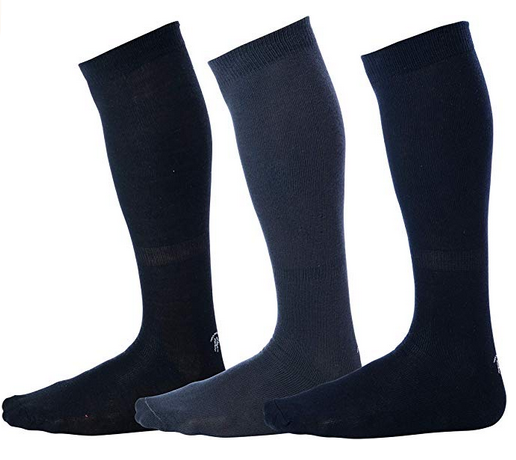 These high-quality dress socks from Pierre-Henry have just the right balance of class and sass. The vibrant colors show off the groomsmen's fun side, in a calf-link sock that effortlessly stays up. Groomsmen can choose from stripes, Argyle, or fun patterns like bicycles, shamrocks, fish, or martinis.
Pierre-Henry makes these 86%-cotton ethically in the Americas, sharing 15% of its profits with its factory workers.
14- Royal Classic Mens Argyle Groomsmen Socks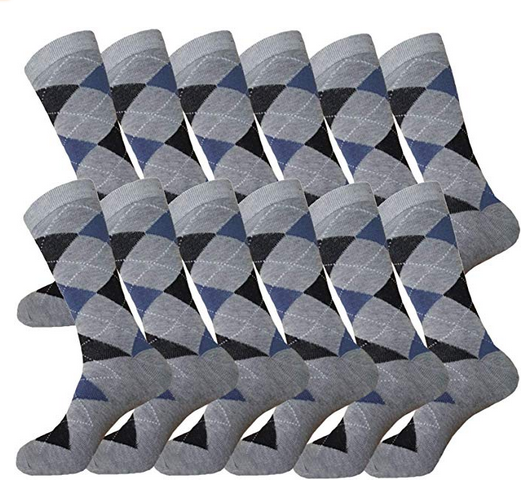 If the pink and purple Royal Classic Argyles are too fashion-forward for this particular groom's party, Royal Classic also makes a top-flight line of more traditional Argyle patterns, sporting conservative blues, grays, maroons, maybe a pop of red or yellow.
These stretchy socks still come 65% cotton with 10% spandex for that extra stretch. To top it off, Royal Classic offers a 100% satisfaction guarantee.
15- 7DayOtter Modal Odor Resistant Cotton Business Dress Men's Crew Socks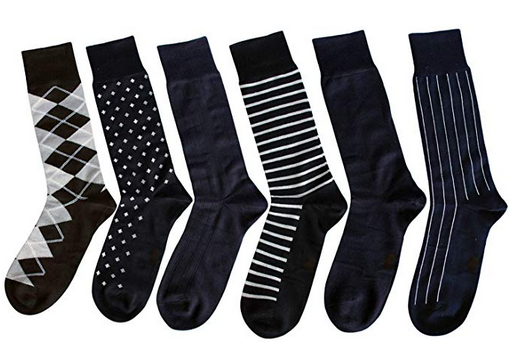 7DayOtter offers two different sets of dress socks—one monochromatic, one multicolored. Made from a combination of natural and synthetic fabrics, including modal, cotton, polyamide, polyester, spandex, and lycra, they add pizzazz to any groomsmen ensemble with vertical and horizontal stripes, polka dots, Argyle, and solid colors.
Especially good for hot-weather weddings, 7DayOtter packs these socks with world-class moisture-wicking technology, to keep the feet dry and the socks smelling inoffensive even after long periods of wearing them.
16- Gumball Poodle Wedding Day Socks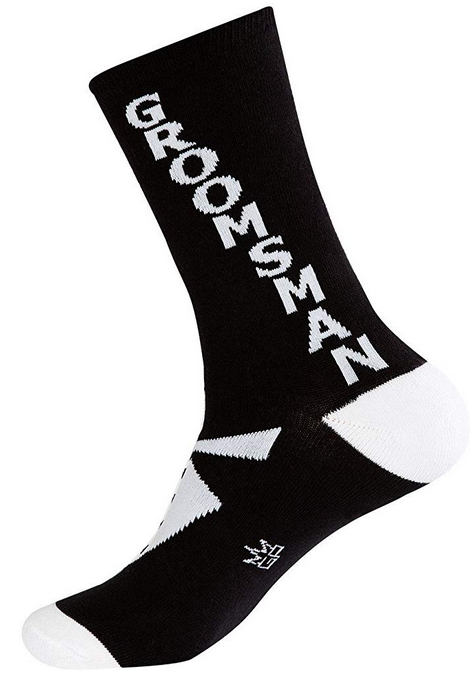 These Gumball Poodle Wedding Day Socks combine the "tuxedo print" novelty sock theme with the "what's my job again?" novelty sock motif, which together create the perfect storm of groomsmen hilarity.
Gumball Poodle even makes a set of pink bridal party socks, so the groomsmen and the bridesmaids can coordinate, leaving no question as to who is who.
17- Polo Ralph Lauren Supersoft Flat Knit Socks with Polo Player Embroidery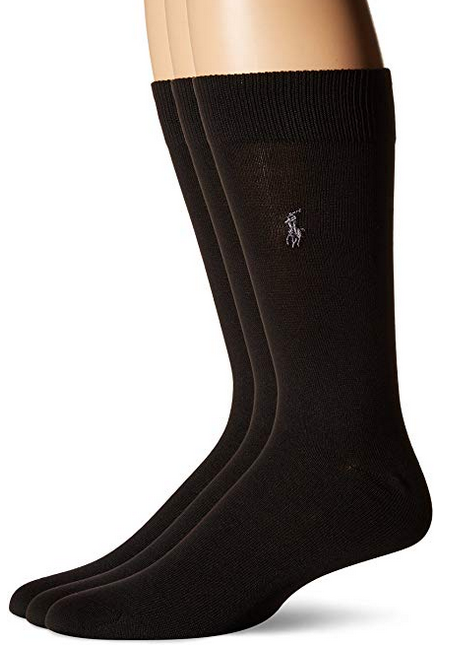 Are we having too much fun yet? It may be time to dial it back a notch and summon a classic—tuxedo black from Polo Ralph Lauren, embroidered with the signature polo player.
These durable, 90% polyester knit socks are a no-brainer. Polo Ralph Lauren has been coming through for both men and women since 1967.
18- Balanced Co. That's What She Said Dress Socks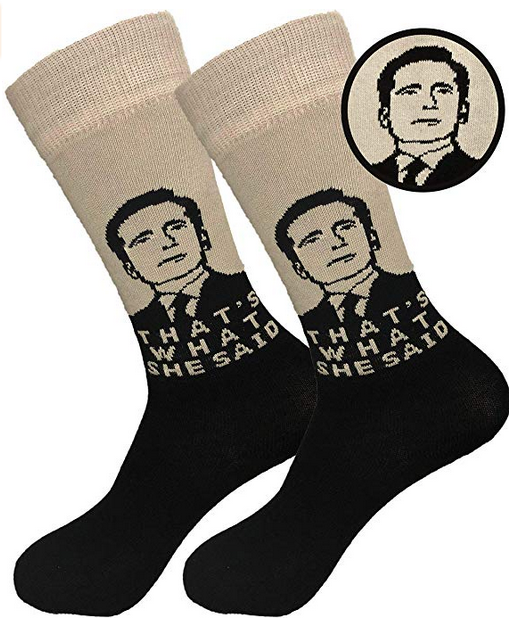 Ready to party like it's 2003? Memorialize classic TV series The Office with the face of Steve Carrell's horrible boss character Michael Scott, and his famous never-gets-old, totally-wedding-appropriate catchphrase "That's what she said," which can be applied to almost anything.
Of course, as The Office evolved, Michael Scott revealed himself to be an unlikely, hopeless romantic, inappropriate jokes and all. So why shouldn't he be with the groom's party in spirit?
19- RONDO Men's Ultra Thin Breathable Cotton Dress Socks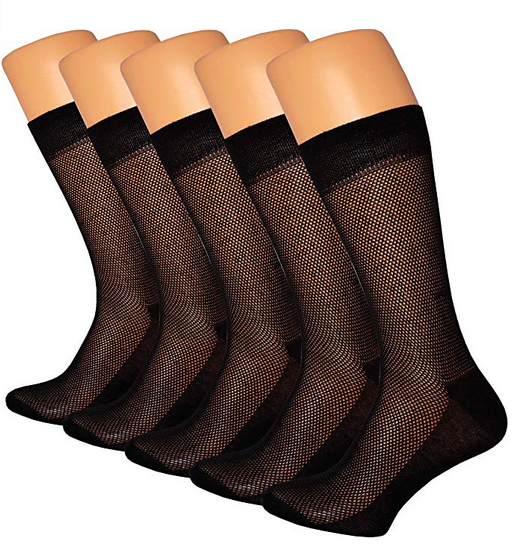 Another hot-weather champion, RONDO's ultra-thin socks feature a weave so open you can see skin. They're definitely there, though, and ready to help the groomsmen air out their feet, even during a long woodland ceremony in the summer. The package includes five pairs of 80% cotton/20% polyamide socks, perfect for the whole bridal party.
20- Bisousox Men's Fun Dress Socks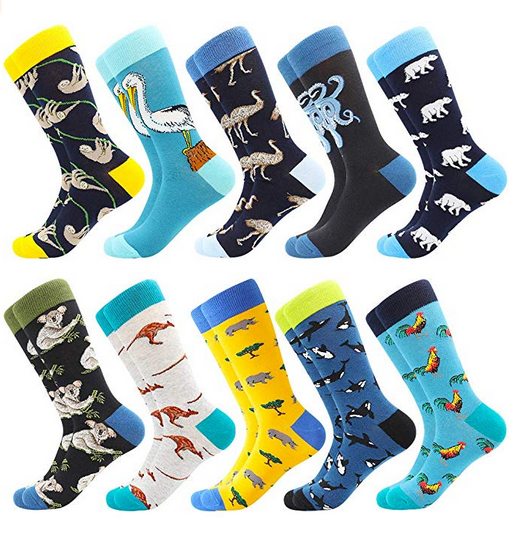 Bisousox makes a priceless collection of novelty dress socks, which can be bought in themed sets so the groomsmen match the theme but get to stand out.
There's the zoological collection, featuring koalas, monkeys, kangaroos, ostriches, and killer whales. Or there's the "masters of art" collection featuring Mona Lisa, Starry Night, The Birth of Venus, and the bust of Nefertiti. Or a tasty collection featuring sushi, ice cream, and fried eggs. The possibilities are endless.
21- BIOWORLD Super Mario Socks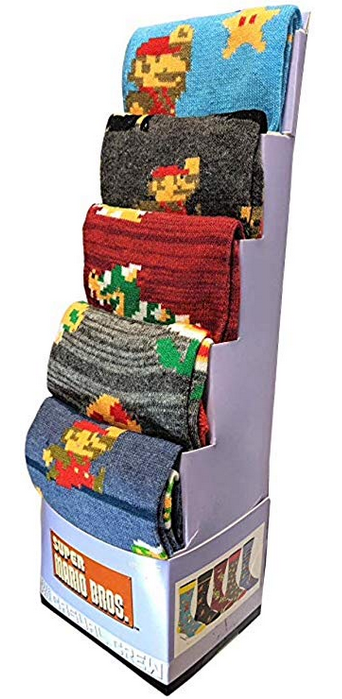 If the bride and groom happen to be fans of classic Nintendo games, have we got the groomsmen socks for you! BIOWORLD makes a five-pack of men's dress socks featuring graphics from the original 8-bit NES smash hit Super Mario Bros. The perfect backup to watch a lonely-hearted plumber finally tie the knot with his Princess Peach.
22- Zmart Funny Cool Shark Whale Narwhal Crew Socks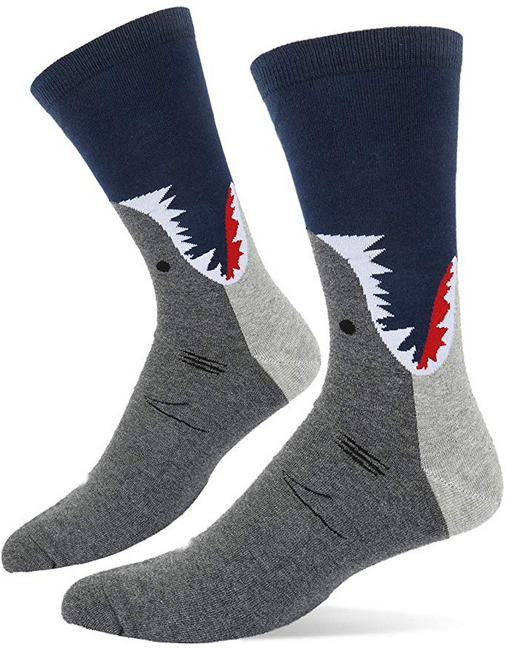 A nautical-themed wedding could do way worse than to outfit the groomsmen with these shark-and-whale themed dress socks. From narwhals to happy sperm whales, any of these socks would be a hit, but we're partial to the ones that make it look like a shark is eating your foot.
Constructed of 80% cotton, 17% polyamide, and 3% elastane, these fun groomsmen socks will slide on and stay up for the pre-ceremony party, the ceremony, the party, and the after-party.
23- Robert Shweitzer Mens Fun Funky and Colorful Patterned Dress Socks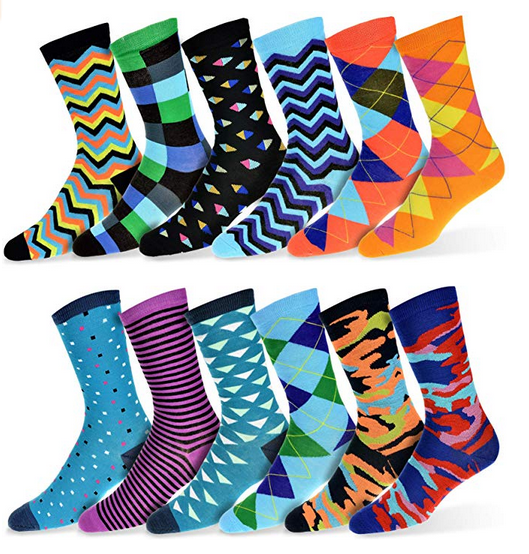 Go for broke on color with different collections of patterned men's dress socks from Robert Schweitzer. No one will be able to claim that the groom crew has no personality or sense of fun when they wear multicolored zig-zags, diamonds, and camo prints beneath their dress trousers. The bright colors make these fun groomsmen socks somehow all work together, despite the whimsical patterns and palate.
As if that weren't good enough, Robert Schweitzer's special fabric blend makes these dress socks extra-comfortable.
24- Nautica Mens' Fashion Dress Socks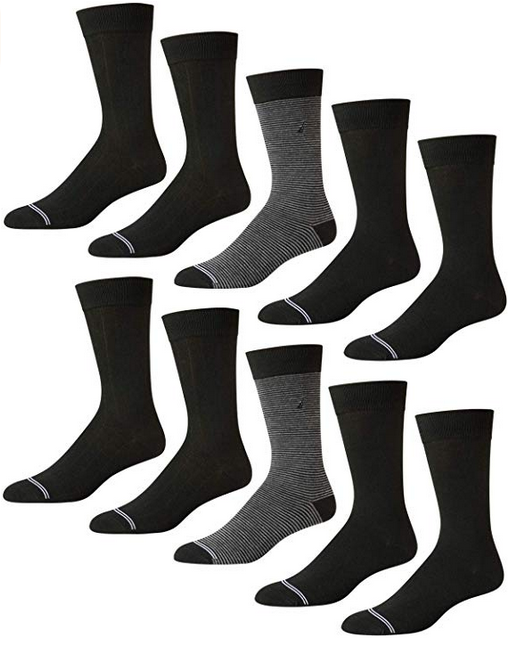 Another reputable name in men's fashion, Nautica offers several appealing ten-packs of dress socks that can be used to either outfit the groomsmen's feet in matching black, or change it up with different patterns that match color palettes.
Nautica's 95%-polyester socks feature moisture-wicking "dri-motion" technology and a "stay-up cuff."
25- Bambooven Men's Premium Bamboo Lightweight Dress and Trouser Socks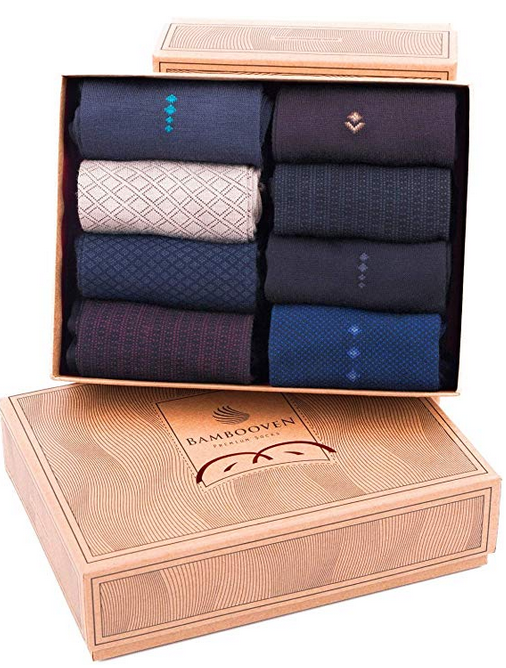 For lovers of natural fibers and non-toxic production methods, Bambooven has the socks for you. These lightweight dress socks are made of 80% natural, breathable bamboo, grown free of pesticides or chemicals and feature a 200-needle weave, the highest available for socks.
Bamboo is reputed to have 60% more moisture-wicking power than cotton, in addition to being non-irritating and hypoallergenic. Bamboo socks also resist odors, fungi, and bacteria. They even resist becoming charged with static electricity so you won't shock the bridesmaids on the dancefloor … unless you're shocking them with your dance moves.
26- YUEDGE Men's Comfort Anti-Odor Crew Socks for All-Season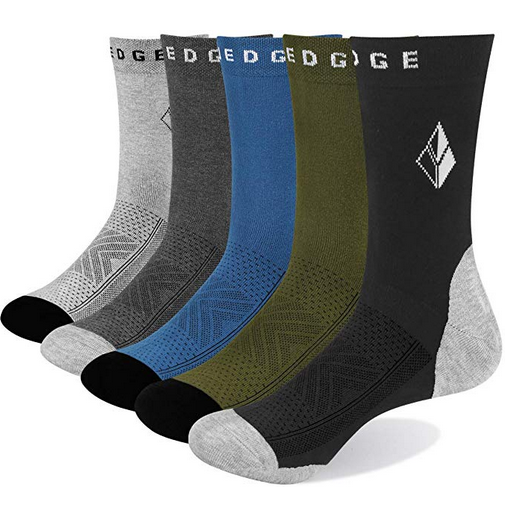 If it's a warm or tropical wedding and you're worried about a groom crew that could stun a team of oxen with their foot odors, YUEDGE may have the socks for you. Go for the all-black set to preserve the tuxedo look, while taking advantage of 80% moisture-wicking cotton and a thickened "towel bottom" to keep the feet dry and odor-free.
YUEDGE arms these socks with the kind of anti-moisture apparel tech normally reserved for athletic socks.
27- WANDER No Show Socks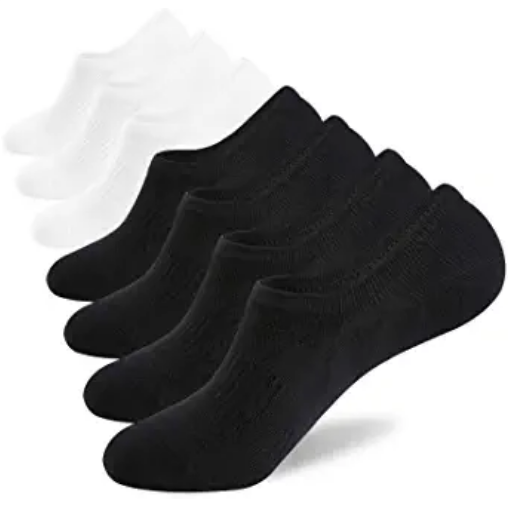 A particularly beachy wedding might call for the groom's party to be sockless … or at least to appear sockless. To keep the groomsmen from permanently stinking up their shoes, they could try talcum powder, or go for these "there-but-not-there" no-show ankle socks by WANDER.
These 85%-cotton socks are slip-resistant, with an extra breathable front mesh to let the feet air out.
28- Cityelf Men Silk Sheer Trouser Tuxedo Dress Sox

If it's a black tie wedding and you're ready to go for broke on fun tux socks, these Cityelf thin sheer socks will take the wedding cake. They may feel like silk, but they're actually 95% ultra-thin polyester. They're also woven with just a hint of Argyle pattern for a little extra sass. An affordable, extra-sexy way to do formal footwear.
In addition to bringing the whole groomsman look together, groomsmen socks make perfect additions to a groomsman gift package. Talk about a gift that will keep on giving—can you really ever have enough cool socks?
When picking a motif for groomsmen socks, there are a couple of different ways to go. Consider these classics …
Matching black. Simple, timeless, impossible to mess up. Go for quality—this is a once-in-a-lifetime event!
Matching fun colors or novelty socks. For a wedding party made of wild and crazy guys who don't let formal attire deter the crazy. Bonus points if you match the wedding colors.
Different colors, but matching motif. For example, different colors of striped, polka dot, Argyle, or novelty socks, showcasing each groomsman's unique personality.
Matching, but with a bit of pop for the groom. It's his big day, so the groom gets an extra tight pattern, while maintaining the overall aesthetic of the wedding party.
Congratulations—with socks like these, you and your groomsman bros are on their way to ruling the wedding. Watch out, bridesmaids.