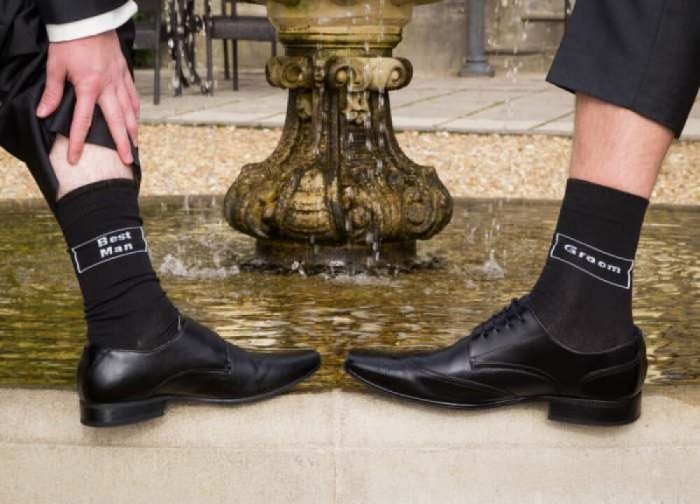 1 new from $9.99

Free shipping
Last update was on: November 22, 2023 7:29 pm
One pair of socks per package
Socks are approximately 17"
Review
Honestly, these basic dress socks are more suitable for the bachelor party and other pre-wedding events than they are appropriate for a formal wedding. Even so, if the groom and his squad of groomsmen are game for a fun-filled night, these socks will serve as a soft reminder of who they are and what they are celebrating. After all, you won't have a tough time fishing out the groom, best man, and the groomsmen out of the rowdy party.
The material construction is primarily cotton but it does contain a modest amount of synthetic performance fibers and a bit of spandex. If your body temp tends to run on the higher end, you know that heavy-set cotton socks can cause your feet to overheat and therefore sweat like crazy. Forum Novelties has got you covered, though, with their highly breathable and thermo-regulating socks.
These socks are breathable, ultra-soft, and moisture-wicking, making them perfect to wear to a warmer-weather spring or summer wedding. The cotton-rich fabric is also heavy on heel and toe reinforcement that helps prevent irritation, friction, and unnecessary blistering.
Forum Novelties' Bachelor Socks are surprisingly versatile and suitable for a variety of occasions. Because you can dress them either down or up, they work well with both casual and dressier shoes and outfits. As such, these are some of the best socks that can be worn to a wide range of parties and events that happen before, during, and after the wedding.
There's ample reinforced padding on the toe and heel for additional comfort when you stand on your feet for long. These cushioned points also help prevent bunching and slipping. They also boost the durability and wearability of the socks.
When it comes to suiting up for the big day, these rather plain socks are perfect for any tuxedo and formal wedding suit as a non-statement piece. They are still traditional and classy groomsmen socks, though. The timeless black and white pattern is ideal if you are looking for a little originality, but to also maintain some class. If you're looking to add a small splash of color, consider lacing up your dress shoes with colorful laces. These could also be color-coordinated with the bride or bridesmaid dresses for the coolest photos of the entire wedding party.
Forum Novelties' Amazon page is teeming with five-star reviews, so these socks must have struck a chord with grooms and groomsmen. Take Brittany Patterson, for instance. She couldn't hold her praise for the socks, saying: "I got these for my [groomsmen] to wear at our wedding, the socks were a hit! They all loved them, got some great pictures with them showing off their socks!"
When all's said and done, these dress socks are also ideal for weddings where this footwear won't be seen, so skip them if the groomsmen are going to wear cropped pants or shorts. These are also "house socks" that lets you choose comfort over style or luxury.
What we liked
Practical and meaningful socks for the bachelor party – they are appropriately labeled "GROOM", "BEST MAN", and "GROOMSMAN" in unquestionably visible white lettering. As an additional benefit, the bride and bridesmaid can come for their men and double-check that they are indeed the guys who will be by their side during the wedding.

Thermo-regulating constructions – Don't let the black-and-white color scheme fool you; these socks wick away both moisture and heat profusely, keeping your feet cool and dry throughout the merriments and debauchery associated with weddings and bachelor parties.

They make for great wedding or bachelor party pictures – If you and your groomsmen are a group of guys who love having a little fun and crazy, these are the best socks for you. They will surely make for the most memorable photos.
What could improve
They come in only one color pattern

They are not the most striking socks out there in terms of style, design, and even construction