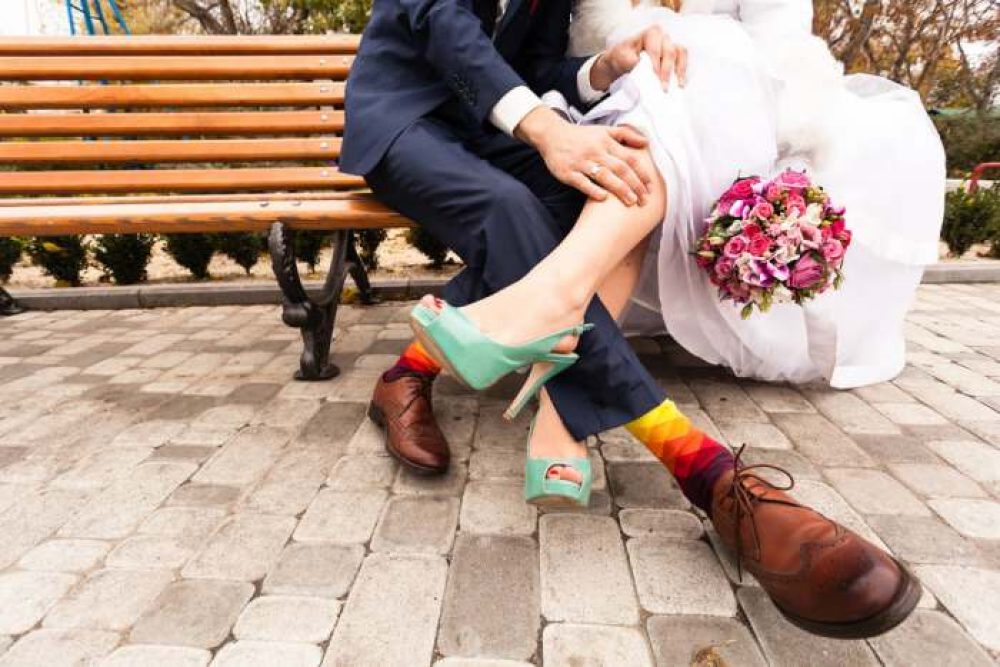 2 new from $9.99

Free shipping
Last update was on: April 9, 2021 9:31 pm
TeeHee Wedding Cotton Crew Socks for Women and Men 3-Pack. Bride, Groom Wedding Socks, Occasional Fashion Socks.
Not too thick or too thin, suitable for Spring, Autumn, Home, Office, Every Day Use.
High quality cotton provides a more stable and stretchy finish than basic weaves, breathable, absorbent, and deodorizing!
Afforable, cute socks engineered to stay soft on your feet.
Sizing Guidelines: Women's 9-11 (US Women's shoe sizes 6-9) Men's 10-13 (US Men's shoe sizes 8-11). Imported, Machine Washable.
Review
TeeHee crafts some of the best socks out there, especially when it comes to seasonal, novelty, and medical socks. That's why it comes as no big surprise that these cotton crew socks from the brand rank among the best groomsmen socks. What's even more exhilarating is that they come in an affordable pack of three high-quality socks for both men and women.
TeeHee crew socks are designed to provide a cozy, lockdown fit that won't pinch or restrict the leg. They are quite versatile, making them an ideal pair of occasional fashion socks for the bride, groom, groomsmen, or any other members of the wedding party.
These socks are more of a nod to one of the most recognized wedding attires: the tuxedo. That's right; these dress socks are available in a black base with fun tuxedo patterns imprinted on them, so you can add a fun element to your big day. Good thing, TeeHee usually has some amazing discounts and sales where you can grab a 3-pack or 6-pack of these novelty patterned socks for you and your crew.
Talking of material construction, these crew socks are 73% cotton, 24% polyester, and 3% spandex. That means these socks are engineered to stay super comfy and soft on your feet. If either your wedding is held during the warmer months or your feet tend to sweat a lot, the wick-away synthetic fibers will do their magic, wicking away moisture, so your feet can stay nice, dry, and free from sores or blisters.
This balanced combination of wick-away and soft fabrics makes the socks not only comfortable but also stunning-looking. After all, they are neither too thin nor too thick; the perfect thickness for just about any season and situation, from every day and home use to spring and autumn fashion. We think they will make fabulous socks for wedding photo ops, as well – you and your groomsmen's crew will get lots of eyeballs showing off these fun socks!
We love that soft cotton yarns are woven expertly with spandex for a stretchy and more stable finish that's generously absorbent, breathable, and gets rid of odors quickly. While some cotton-made socks are prone to falling down during intense physical activities like dancing, these ones from TeeHee promise to stay firmly at the top. Besides, their semi-ribbed cuffs are meant to offer a comfortable, secure fit that won't cinch or limit circulation, making them an excellent choice for people with diabetes and other circulation issues.
In addition to their seamless construction, the socks offer ample room in the heel and toe. This spacious fit, along with a lightly padded footbed, offers plenty of durability and comfort during walking, running, dancing, and other physical activities. Add that to their heel and toe reinforcement, and these socks are sure to last longer than most cotton crew socks.
These cotton dress socks are snazzy for your special day and beyond. The crew length look really stays put all day long, which is a massive bonus for grooms and groomsmen alike. And, if any of the guests gets a quick glimpse of these funky socks at the wedding, they are sure to be a great icebreaker or conversation starter.
What we liked
Well-made socks ideal for every weather – They're neither too thin nor too thick, making them suitable for spring & fall weddings, as well as office, home & everyday use

Fun-looking, novelty socks – They'll marry well with your tuxedo for a stunning wedding outfit. Expect these socks to make for unforgettable wedding photos.

Easy to style – TeeHee cotton crew socks are alluring and come in a multi-pack of bright and colorful pairs, giving your many options to spruce up your wedding day look

Boast luxury appeal – so they'll make for great "thank you" gifts for your groomsmen
What could improve
Some reviewers said they can be too tight at the cuffs

You may have to order one size up for a more comfortable fit