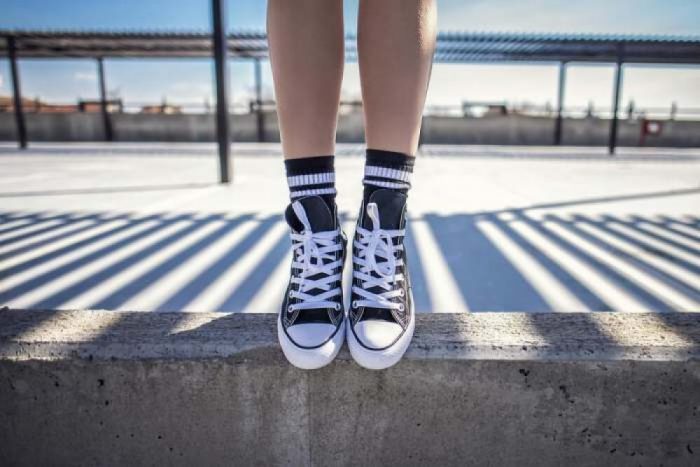 1 new from $14.00

Last update was on: November 30, 2022 9:19 am
75% Cotton, 17% Polyester, 5% Spandex, 3% Rubber.
One size fits most
Made in the USA
Machine wash cold, hang dry
Review
If you are looking for some of the best socks designed especially for groomsmen, then look no further than Gumball Poodle's wedding day socks. They blend the novelty sock motif and "tuxedo print" design, which combined produce the perfect pair of hilarious socks. The brand even offers a set of pink bridal wedding socks, so that the groom's squad can coordinate with the bridesmaid. This way, there will be no question as to who is on the wedding party roster.
These are mid-range mid-calf dress cotton socks that incorporate moisture-wicking material to keep your groomsmen's feet nice, dry, and cool. Reviewers love that these are true crew socks and that they go well with a variety of shoes, including dressier kinds, loafers, and even heeled booties.
Made right here in the USA, Gumball Poodle groomsmen dress socks are available in only one style, black, and white. They are made of high-quality cotton, polyamide, and spandex. The tone-down color pattern makes these socks easy to style and wears with formal wedding suits and tuxedos, including those in neutral tones like tan, gray, navy, and black.
The toe area of the socks sports additional reinforcements to prevent blisters and painful friction-caused sore. Furthermore, the back heel has also been reinforced with extra cushioning and a little grip to keep the sock in place and prevent it from bunching or sliding down the shoe.
What's more – these crew socks feature a thick calf, heel, and toe. The top part of the calf is a solid black and stitched with the word "Groomsman" in rich white lettering. Although invisible when worn, the sock also includes the unmistakable Gumball Poodle logo underfoot, which is something you might want to keep in mind if you are planning to take off your shoes when taking wedding photos.
Reviewers raved that these socks are easy to wear and take care of. That's because they are made of a high-quality, strong, and durable material blend that resists fading, bunching, and wrinkling wash after wash. And the best part is that they are machine washable (a cold cycle is recommended). You must of course hang to air dry them for improved longevity.
If you are shopping for the entire wedding party, you'll be glad that Gumball Poodle offers novelty socks in the same design for the Maid of Honor, Bridesmaid, Groom, and the Best Man. They are also well-priced and come in one size fits most. They can be worn during the special day, or preferably for a hen party, bachelor party, or wedding breakfast. They are definitely some of the best groomsmen socks on the market.
What we liked
Super soft and comfy – They feature lightly ribbed and stretchy cuffs to help keep them up and fit snugly all day long. These are cotton-rich socks that blend in a decent amount of synthetic wick-away materials that get rid of sweat quickly to keep your feet dry, cool, and odor-free

They are very easy to clean and care for – The material blend is strong, durable, and fade-resistant, built to withstand heavy wear. In addition to that, they are machine washable, but you have to hang them out to air dry.

Ready-made for weddings – The combination of quality, fit, and comfort means these socks can be worn during the big day, used for asking the groomsmen, or for the bachelor party.
What could improve
Some run somewhat small in size

Only available in black and white pattern