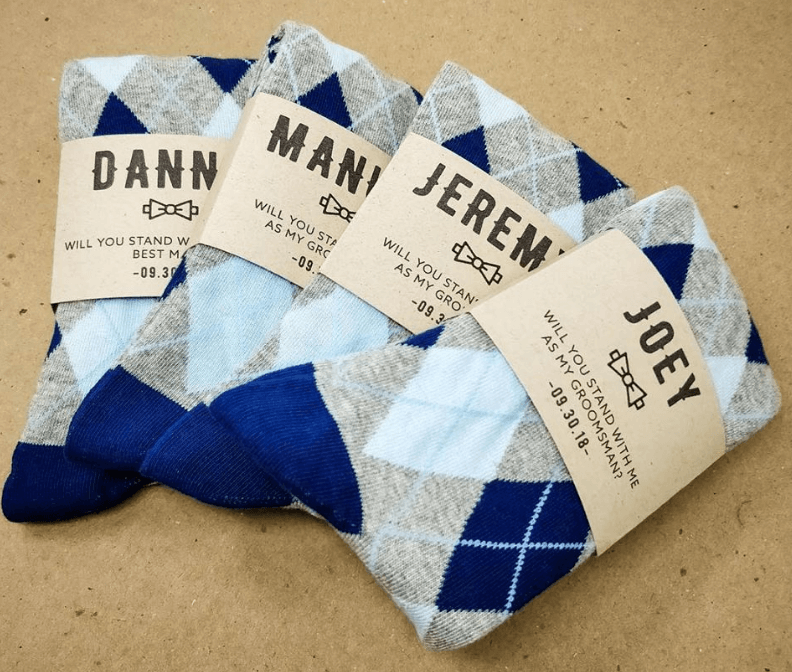 Key Features
Sock in a Gift Box with Proposal Label:

The Proposal Label is a great way to ask your groomsmen to stand by your side on your wedding day. The gift box includes one pair of socks, a mini proposal sock label, and crinkle paper wrapped with a ribbon of your choice, and a paper bowtie on top for easy, no-assembly required gift-giving.

Superb Fabric Blend:

The socks are made using a combination of 80% high-quality, combed cotton to keep your feet warm & comfortable, 15% nylon for added breathability & moisture-wicking, and 5% spandex for a little stretch and snug fit.

Great Color and Pattern Options:

No Cold Feet socks come in an array of handsome colors, from classic neutrals to bright, bold hues. With gorgeous polka dots, stripes, argyle, and other patterns, you'll be spoilt for choice. More ways to amp up your groomsmen outfit!
Review
Sizing isn't the only factor in picking a quality pair of socks. The best groomsmen socks should feel comfortable & soft to the skin, fit snugly, and keep your feet dry, cozy, and blister-free. No Cold Feet socks not only offer a perfect combination of these characteristics but will also look stunning when paired with your wedding outfit.
If you're looking for something that's way more pizzazz than those mundane black socks that come with each wedding tux rental, then you won't be disappointed here. The premier brand actually carries socks designed especially for groomsmen and wedding parties. In fact, No Cold Feet guarantees that you will be able to find high-quality, colorful, and fun socks for your special day. Whether you are shopping for grandpa, father, groomsmen, groom, or the entire wedding party, they have got you covered.
Like the vast majority of the best socks out there, their socks feature combed cotton as the base material. They actually comprise 80% cotton to keep your feet all nice, comfortable, and cozied up throughout the big day. Customers also love that this material feels ultra-soft to the touch, making these socks an ideal choice for anyone with sensitive skin.
Additionally, 15% of the sock fabric is made of the finest polyamide, a specialty nylon material that's highly breathable, sturdy, and wicks away moisture profusely. That means these socks will ensure your feet stay fresh, dry, and sweat-free from breakfast to well into the afterparty. To top it off, each sock also includes 5% spandex in the band to prevent bunching, sagging, and ensure a comfortable, lockdown fit.
The brand offers an excellent selection of groomsmen socks to choose from, and they come in a dizzying array of lovely solid colors, color blends, and patterns. From classic neutrals like black, gray, and navy to bold & bright colors like pinks, reds, purples, and yellows, it's easy to find socks that stylishly incorporate the wedding colors and theme. You can also spruce up your outfit with statement-making patterns like argyle, stripes, and polka dots, amongst others.
There are also a handful of customization options available, so you can make your gift of socks truly personal. For instance, you can incorporate an additional layer of customization with a bow-tie wrapped gift-box, plus order each pair with the groomsmen's name, initials, or other personal details on the label.
Customers said that they were impressed by the "proposal label" which is great for asking potential groomsmen to stand by your side on your big day. Or, perhaps you can use it to thank your groomsmen for being there for you on your wedding day.
Personalization also makes these socks a perfect option for grooms looking to buy a piece of the wedding outfit as a surprise present to the groomsmen. Besides, these socks will serve your pals well after the big day is over. The best part is that you can order as many pairs as you want, not to mention all orders of 5+ pairs of socks get a massive discount.
No Cold Feet is also well-known for its superior customer service. You will receive a quick proof of your order so you can peruse and ensure that each detail is correct. If there's any hiccup, you can expect a fast and friendly response.
What we liked
An excellent choice of colors and patterns, making it easy to add a pop of color to your big day by gifting your groomsmen stylish socks to wear

Friendly, responsive, and resourceful customer service

Fabulous customization options to make your groomsmen gift socks truly personal
What could improve