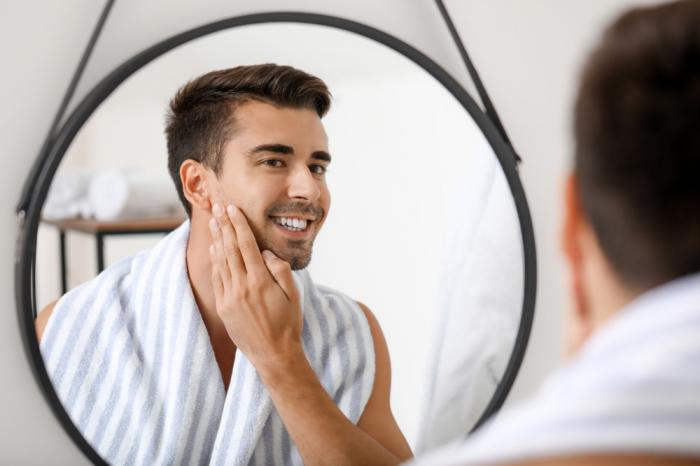 Using a mirror in the shower can help you streamline your morning routine so that you can get ready for the day faster. Using a shower mirror helps you shave, brush your teeth, tweeze your brows or comb conditioner through your hair with a wet brush.
There are lots of different options out there when it comes to shower mirrors — some with a few more bells and whistles than others. Depending on what you're using your shower mirror for, you may want to buy one with features such as a built-in light or a fogless design.
To help you decide, here are 31 of the best shower mirrors money can buy in 2020:
 1. ToiletTree Products Deluxe LED Fogless Shower Mirror
This mirror is one of the best available today. It has a new, larger design, measuring 9.5" wide and 7.5" high. It's adjustable, shatterproof, and fogless. This shower mirror is mounted using removable silicone adhesive instead of the typical suction cup, creating a sturdier, more trustworthy mount. It also comes with a built-in ledge to hold a razor.
 2. ToiletTree Products Deluxe Larger Fogless Shower Shaving Mirror
This mirror was previously the largest ToiletTree shower mirror until they came out with the mirror now listed at #1. This mirror measures 6.5" wide by 8" high. This mirror can be adjusted easily and features a full 360-degree rotation, and is also equipped with hooks to temporarily hold razors, loofahs, or sponges. It comes with a squeegee for easy cleaning.
 3. Bestaid Fogless Shower Mirror
This mirror is a great no-frills option. To prevent it from fogging, simply splash it with hot water at the beginning of your shower. It mounts with a powerful suction cup; simply twist the base clockwise to lock it into place and counterclockwise to remove and reposition it. Once mounted, it can be rotated 360 degrees so you can reposition it easily. It's small, measuring 5.75" in diameter, so is perfect for small shower stalls. It also has a small hook for razor storage, but store your razor safely afterward.
 4. HoneyBull Shower Mirror for Shaving
The HoneyBull shower mirror is another low-cost yet effective option. It is a small, circular mirror that can rotate 360 degrees and tilt forward and backward. Boasting an anti-fog coating, you don't need to run it underwater, and it won't accumulate fog. This mirror is also held in place by a lockable suction cup so you can easily move and mount the mirror wherever you want it.
 5. Deluxe Shave Well Shower Mirror
This mirror is unique because it's mounted with a simple plastic hook. You can remove the mirror from the hook to closely view different angles. Of course, the disadvantage with this one is that you can't adjust the angle and then shave hands-free. It's either on the hook in one position the entire time, or you're holding it. But, if you're using it for something easy like brushing your teeth or combing through your hair, it's a great option.
6. Asani Fogless Shower Mirror for Shaving
Despite the name, this shower mirror isn't just for men, it's a great gift for her too! She can use a shower mirror to tweeze, wash her face, remove a skincare mask, or detangle her hair when she conditions. This mirror features a plastic frame so it's also easy to bring along when you travel. Mounted and removed with a simple suction cup, it also features an anti-fog design.
 7. MGLIMZ Fogless Shower Mirror
This is a sturdier, more stable option for a small mirror. This mirror is mounted with three large suction cups on its back, but the design does not allow for any tilting or turning to reposition. The aluminum alloy frame is strong and looks better finished than the plastic options. The frame–complete with a razor hook (but bear in mind the safety mentions in earlier product details)–measures 7.5" high and 6" wide. This mirror has an anti-fog coating that activates after splashing with hot water.
 8. Mirrorvana Fogless Shower Mirror (Upgraded)
This upgraded design from Mirrorvana features a more reliable and longer-lasting method for preventing fog than a coating. Where coatings can wear off and need to be reapplied, the water reservoir on the back of this mirror is more effective. Fill the reservoir with warm or hot water and the mirror won't fog no matter how long you're in the shower. Once you're done, simply dump out the water to let it dry.
 9. Mirrorvana Fogless Shower Mirror (Original)
This original design from Mirrorvana also features the single suction cup with swivel mount. It has a sleek, white frame with curved edges, but the mirror itself is not curved or distorted in any way. It features a shatterproof design so you never have to worry about broken glass in the shower. It also sports an anti-fog coating to ensure you always have a clear view.
 10. D.F.L LLC Deluxe Large Shower Mirror
This shower mirror is one of the largest available, measuring at 12" high by 8" wide. A simple mirror that hangs on a hook or suction cup in the shower, it can easily be removed and held too. This is a great lightweight option for camping or hiking accessories. It's portable and easy to bring along wherever you travel. And, it's made from acrylic plastic, so you don't have to worry about it breaking or shattering.
 11. Blulu Shower Mirror
This shower mirror from Blulu is another lightweight option, measuring just 6.8" high and 5.2" wide. It is a simple, frameless mirror that comes with two adhesive hooks for hanging, so you can choose two handy places to adhere to the hooks in your shower. The mirror can easily be placed on and removed from the hook, and this mirror has a fogless design so you won't need to run it under water or use anti-fog spray.
 12. JiBen Fogless Shower Mirror
The JiBen mirror comes with all of the basic features that you'd expect from a quality shower mirror. It has a locking suction cup for mounting, swivels 360 degrees and tilts forward and backward, and it is fog-free. It measures 5.75" in diameter, so it's large enough to see things clearly but won't take up too much space. It also is equipped with a razor hook on the front for convenient shaving in the shower, but as before, remove your razor and store it securely afterward.
 13. Shave Well Fog-Free Shower Mirror
A large Shave Well mirror was already featured on this list, but this one is a smaller version, measuring 6" tall and 4" wide. It features the same design of a frameless mirror that can be hung on a hook in the shower. If the mirror starts to fog up while you're using it, simply remove it from the hook and hold it in the stream of water until the temperature of the mirror rise.
 14. Upper West Collection No Fog Shower Mirror
This mirror is Amazon's choice for a shower shaving mirror. It secures to the wall with a locking suction cup. Measuring 6.5" in diameter, a little larger than the other circular mirrors on this list, it also has an adjustable arm and 360-degree swivel capabilities so you can reposition it as much as you like. To keep fog off the mirror, all you have to do is splash it with hot water at the beginning of your shower.
 15. Mirrorvana Shatterproof Fogless Shower Mirror
We've talked about a couple of large, rectangular Mirrorvana mirrors on this list so far, but this is a smaller circular one for those who don't have a lot of extra shower space. This mirror features the anti-fog reservoir design that's more effective than anti-fog coatings. All you have to do is fill it with warm water at the beginning of your shower and it will remain fog-free. It also mounts with a locking suction cup, has a shatterproof design, and comes with a small tray to hang razors, sponges, and other items.
 16. Luxear Shower Mirror
This shower mirror from Luxear features a circular design and a silvered frame. Mounted via three suction cups on the back, it can't be tilted or turned for a different view once mounted, but it has an anti-fog coating to keep the mirror clear and also comes with an anti-fog spray. Once the coating starts to wear off, you can refresh it with a quick spray and a wipe.
 17. Mirror on a Rope ReflectXL Shower Mirror
This mirror features the unique design of a rope looped through a hole in the top. This mirror measures 7.6" high by 5.6" wide and is frameless. Hang the mirror with hooks or simply loop the rope over the shower curtain bar. There are no coatings or tricks to keep fog off, but the manufacturer says this is because coatings wear off anyway. However, simply hold the mirror under the shower water to warm it up, and fog won't form.
 18. Shave Well Fog Free Travel Mirror
This shower mirror is designed specifically to take with you when you travel. One of the smallest mirrors on our list, it measures 6" high and 4" wide. Mountable with a small suction cup, this product can easily be removed, dried, and packed away. There's no frame or coating to keep steam off, so just hold it under the shower water to warm it up.
 19. Canoz-FM-RM01 Fogless Shower Mirror
This shower mirror from Canoz has a luxurious, minimalistic design. The rectangular mirror pivots backward and forward and rotates 360 degrees. Measuring 8" high and 5" wide, it extends 4" from the wall. This mirror is mounted using adhesive hardware that is sturdy but it cannot be moved once placed. To activate its fog-resistant coating, just splash some hot water on it at the beginning of your shower.
 20. Markha Shower Shaving Mirror
This is another travel mirror but even more compact than the first one we talked about. This one hangs on a rope and comes with a sleeve designed to protect it while it's packed away. At only 3.5" high and 2.5" wide, this tiny mirror is perfect for camping, using in a locker room, or anywhere else where you just need something small to help you through your morning routine.
 21. MGLIMZ Metal Chain Hanging Mirror
This mirror has a very simple design, but unlike others on this list, it hangs via a chain. You can also mount the mirror with a small hook that once it's placed, cannot be moved and reattached. However, the mirror comes with two different chain lengths to hang the mirror so you can adjust the hanging height, and a separate hook is supplied to hold a razor.
 22. Sharper Image Heated Fog-Free Shower Mirror
The high-end option among shower mirrors. From the trusted brand of Sharper Image comes this heated shower mirror that attaches to any standard showerhead arm. As you shower, hot water from the showerhead flows through the frame of the mirror to prevent fog. With a flexible mirror arm, it can be bent to allow different angles and perspectives. It also features both a 1X and a 3X magnification mirror for an especially close shave.
 23. OXO Good Grips Stronghold Suction Fogless Mirror
This shower mirror from OXO is designed with a hot water reservoir in its back to prevent fog, and it mounts via a separate wall hook applied with a suction cup. This allows you to easily remove and replace the mirror wherever you like, without removing its hanging hardware. However, if you do want to change the placement of the mirror, the suction cup makes it easy. It also has built-in hooks for a razor or shower sponge.
 24. mDesign Large Shaving Mirror
The Large Shaving Mirror from mDesign is unique due to its storage capabilities. It has the typical razor hook, but also offers a tray to hold shaving cream. There's an additional razor hook if more than one person uses the mirror, or you can use that to hang sponges or washcloths. The mirror is mounted via four suction cups so you know it can handle the weight and stay securely in situ.
 25. iDesign Fog-Free Small Shower Shaving Mirror
This shower mirror is a much cheaper version of the Sharper Image shower mirror. This one also attaches to your existing showerhead and uses water straight from the shower to prevent mirror fog. It also has an on/off lever so you can let hot water into the back of the mirror and turn it off once the reservoir is full. The arm is flexible for repositioning and adjustment.
 26. TAILI Shower Mirror
This shower mirror mounts with a suction cup and hook. The mirror frame also connects to a stainless-steel stand that allows it to swivel for different angles, but you can also flatten out the stand and hang the whole mirror on the hook, or remove the mirror completely and just stand it on its own. Designed from unbreakable acrylic, there's no danger of cracking or shattering this mirror.
 27. ToiletTree Products Shower Mirror and Travel Bag
If you want a basic ToiletTree shower mirror, this is the best option. This mirror is relatively small — it measures just 5.5" high and 4.8" wide. This simple mirror mounts to the wall with suction cups, and when you get in the shower, simply fill the mirror reservoir with hot water to prevent fogging and use the built-in squeegee afterward to keep it clean. Perfect for the gym or for travel, it comes with a protective travel bag.
 28. Zadro Products Rechargeable LED Lighted Fogless Shower Shaving Mirror
This shower mirror has LED lighting built into its frame, forming a mirror border so that your face is adequately lit for a really precise shave. The light is turned on with a small button at the bottom of the frame, and it has an auto-off timer, switching off the light after five minutes if you forget to turn off manually. It also features a fog-free design and a built-in squeegee stored on the side of the mirror.
 29. PIEKO Fogless Shower Mirror
This shower mirror has a very basic design. It has everything you need from a shower mirror, but no extra frills. The mirror measures 6.4" in diameter and is framed with a simple, matte black finished plastic. The mirror is mounted via a single locking suction cup with an adjustable swivel head, and comes with a fog-free guarantee. Not satisfied? They'll buy it back.
 30. Umbra Flex Shower Mirror
This mirror's best feature is its simple design. The mirror frame can be hung via a simple, white cord that can be wrapped around a hook, a shower head, a shower curtain rod, or the molded suction cup supplied with it. This mirror is easy to hang wherever and however you want to. Even better, this mirror won't fog and it comes with a 5-year manufacturer's guarantee.
 31. Zadro Fogless LED Lighted Touch Water Mirror
This mirror is bulkier than the other options on this list, but it does have a nice design and some added features. A small strip of LED lights will help you see better for shaving, tweezing, or brushing teeth, and it also has a small tray to hold accessories like your razor. Mounted via suction cups on the back, this mirror also comes with a built-in squeegee.
Shower mirrors make your morning routine easy and fast. Cut down on clean-up time and bathroom time by shaving and brushing your teeth in the shower stall, using a shower mirror from this list. Buy one for yourself or give one to a friend or loved one who adores practical gifts. Once you have a shower mirror, you'll wonder how you ever got by without one.