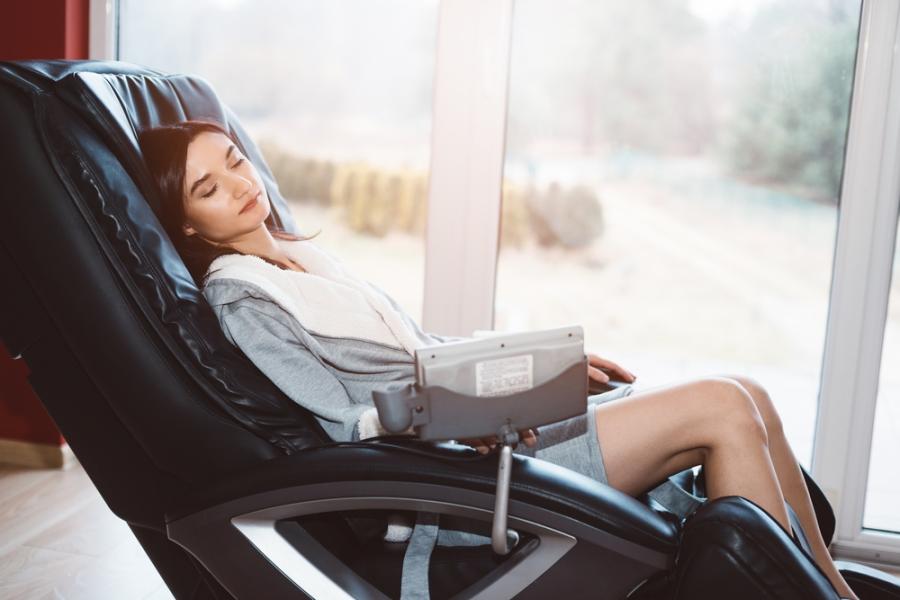 There's nothing quite like getting a feel-good, relaxing massage after a day full of life's hustle and bustle. It's not just a blissful way to indulge and get pampered; a good dose of massage may also help you stay on top of your health and well-being.
Traditionally, the best way to work on all those bothersome kinks and knots is to get a massage from an expert masseuse. Your next best bet, and one that's way more realistic and convenient, is investing in a top-notch massage chair or recliner.
When deciding which massage chair to buy, your choice will likely come down to your budget and personal preferences, including what type of massage you think will work best for you. Are you into Swedish, Shiatsu, rolling, kneading, deep massage or all of the above?
In this review article, we'll take a closer look at the 10 best massage chairs available in 2020 and beyond. We've done the legwork so you don't have to spend countless hours researching or trying out different chairs.
Whether you tend to hold stress in your feet, hamstrings, lower back, shoulders, upper back, neck or anywhere in between, you can rest assured that you'll find the best massage chair for you on this list.
1. Infinity IT-8500 X3
Amazon
The best mid-to-high-end massage chair
If you're looking for the best mid-range massage chair for your money, then don't look beyond the Infinity IT-8500X3. It's pricey for most shoppers, but it delivers high-end features at well below half their price tags. The 3D body scan tech can help zero in on all pressure points on your body and massage them accordingly.
IT-8500 X3 is quieter than comparable models and comes with thirty airbag compression points coupled with complementary rollers that provide variable depths so you can select the right intensity and kneading style for you. The S-mark rail design enables the chair to hug your natural curves and the shape of the spine. Other notable features include Bluetooth capability, zero gravity, multi-function foot massagers, heat function and state-of-the-art control.
What we liked:
Customizable weight and height settings are on point, offering greater flexibility for the user
Expect the best foot massage you'll ever get thanks to calf and foot airbags combined with three rollers
Multiple body stretch modes are available with the click of a button
Bluetooth compatible
Incorporates 4D roller technology
Downsides:
No memory slots
Lacks precise heat temperature controls
No calf heat
 2. Snailax Massage Cushion with Heat
Amazon
Even though it's not a true massage chair or recliner, the Snailax massage chair pad is hellishly compact and can work with virtually any chair or couch with a stable straight back. Priced at a sub-$150, it flaunts multiple features you'll find in mid-range and upscale models.
The sleek massage cushion looks much more contemporary than most recliners on this list. And it packs top-end features that include an adjustable neck massager, shiatsu back massage system with heat function, 3-zone spot massager, rolling back massager with variable width, 2-setting vibration seat massager, and more.
What we liked:
Great for home, in-car and office use
An amazing gift idea
15-minute auto shut-off so you can doze off without worry
Dual-direction use to relax aching shoulders, waist, back and neck
3-year replacement warranty
Downsides:
Not rechargeable, meaning you can't use it away from a power source
Ineffective or insignificant heat therapy
Very hands-on operation
 3. Real Relax 2020 Massage Chair
Amazon
Successor of the popular Real Relax 03 Plus, this upgraded model adds six auto massage programs, adjustable LED light, and Bluetooth capability. Like its predecessor, it sports zero-gravity technology, full recline, vibrations, foot massager, heat therapy function, and a timer.
For a full-body massage experience, it comes with a blend of up to eight back & neck-rollers and up to 50 airbags strategically placed across your body, including your lower back, calves, hips, arms, shoulders, neck, and feet. Priced very competitively, it's a great choice for people wanting  to tackle tight or sore muscles
What we liked:
Great for tight and sore muscles
Available in 3 beautiful colors that will fit nicely into your interior décor
Adjustable footrest
Packed with top-notch features: heat function, zero-gravity function, etc.
50 airbags spread across your body makes it a compression-heavy chair
Best massage chair priced under $1,000
Downsides:
No actual massage track, so it's not a good back massager
It could be a little gentler
4. Bellmint Folding Massage Chair with Heat Function
Amazon
Bellmint Folding Massage Chair might look like an ordinary folding chair, but this beast packs a punch in its small footprint. It's an affordable standalone chair with kneading rollers, heat function, adjustable shoulder and neck massagers, and vibration massage system. All of these powerful massaging systems work in tandem to alleviate swelling, eliminate tension and soothe stiff, aching or sore muscles in your hamstrings, thighs, lower and upper back, and neck.
A few minutes on this seat will make feel like you are in a slice of paradise.  It is definitely worth every dime you spend. Besides, it's highly portable and foldable for easy carrying and storage.
What we liked:
Armrest has a USB charger
Lightweight and folds up so you can carry or tuck it away without any fuss
Gives you lots of control over pattern, intensity and heat settings
Muscle isolation is a huge bonus
The 8 independent massage balls offer full-body coverage
Downsides:
Poor design – it's just a souped-up fold-up chair
Not exactly a great choice if portability isn't your #1 priority
5. Best Choice Products Faux Leather Electric Massage Recliner with Footrest
Amazon
If you want to spend under $250 and not a cent more, then you've just found the best massage chair your money can buy! Even though it lacks a foot massager, this super affordable gem is quite the performer with nine intensity levels, five pre-programmed massages, and 2 auto massage modes to knead your calves, thighs, lower back, and upper back.
You will appreciate the comfort level and how easy it is to set up. It's an impressive choice for anyone looking for a compact home couch recliner, footstool, and decent massager, all rolled into one well-designed product. If you're interested in deep-tissue massages, however, go with another option.
What we liked:
Wireless controller for hands-off operation
Easy to set up and clean
Multiple, high-quality massage levels, programs, and modes from which to choose
Downsides:
Might have an odd smell that will linger for a few days
Footrest cannot be hidden when not in use
6. Mecor Massage Recliner Chair
Amazon
If you prefer recliner chairs, the Mecor Massage Recliner Chair is another worthy option that will marry well with traditional furniture. It could be the perfect buy for the recreational room in your house. With such a low price, you could buy two, so you can kick back and relax with your partner.
The recliner has earned heaps of praise for its outstanding PU leather construction, heat function, 8-point massage system, and 360-degree swivel. You can also choose from among 5 massage modes, allowing you to receive a relaxing massage for your lumbar, thigh, lower back, and upper back.
What we liked:
Elegant and posh design
Armrests are padded for extra comfort
Do more while getting a massage – swivel, recline, rock or just sit
2 cup holders and 3 pockets offer additional storage
Downside:
Mid-range quality of massage at best
Footrest not well-padded
7. OOTORI Massage Chair
Amazon
Best zero gravity massage chair for value
This UL-approved massage recliner by OOTORI is a beast in its own right. A zero-gravity shiatsu chair with built-in heat function, it has up to 32 airbags designed to deliver superbly targeted massage to various body parts, including your hips, feet, calves, thighs, shoulders, and back. Equally important, these airbags will allow you to enjoy fuss-free relaxing moments with 3 auto massage modes.
Other top features include two heating pads, zero gravity technology, extendable footrest, and a space-saving function that enables you to back it up to 10 inches from the wall. It's available in rich brown or black leather with sports brandings such as New England Patriots and Arizona Cardinals.
What we liked:
UL certified for safety
With modern design appeal, it can marry well into any living space
Three auto massage settings, including refresh, relax and stretch programs
2 heating pads for maximum pain relief
Zero gravity function
Sturdy cup holder
It can accommodate a person up to 350 lbs. in weight, and up to 6'1" in height
Downsides:
No music support
Food padding may be uncomfortable to some people
8. Massage Chair by iReest SL
Amazon
Best massage chair overall
In a marketplace filled with knock-offs and astonishingly expensive imitations, iRest SL is the best massage chair, pound for pound. It's a well-designed L-track framed chair fitted with an air-cell and four-roller massage system that works amazingly well on your hips, waist, arms, and shoulders.
Thanks to its ergonomic design, this FDA-registered medical device is super quiet, surprisingly compact, and comes with a raft of high-end features, including heat therapy, 3D massage, zero gravity technology, dual foot rollers, 12 auto programs, memory function, arm airbags, and space-saving technology. It's best for SH-Chiro, yoga-stretching, and Shiatsu massage therapies.
What we liked:
Comes with 12 auto-massage modes, including yoga-stretching and full shiatsu
3D body scan
Space-saving technology means it's impressively space-conscious
Best value for money
Outstanding arm air massage
Great for seniors
Downsides:
The arm slots may be a little uncomfortable for some users
9. HoMedics Quad Shiatsu Pro Massage Cushion
Amazon
Best massage chair pad
Not everyone is willing to blow big bucks on a full massage chair. If this sounds like you, then HoMedics Quad Shiatsu Massage Cushion just might be what the doctor ordered. It's among the most sought-after massage chair pads, and deservedly so. The free-standing cushion can be set up on top of any chair, couch or any raised surface, as long it is stable and firm.
Like most good quality chairs, this pad boasts several massage settings, including kneading for deep-tissue relaxation, percussion for a quick-relief massage, and rolling for a light massage. Add heat therapy and zone control to the equation and you'll enjoy a massage session that works out all of your kinks and calms your overworked muscles.
What we liked:
A good quality, durable and capable massage chair pad for the price
Excellent integrated strap system means it works with any chair and couch
Triple treat – customize your massage with rolling, kneading and percussion massage modes
Easy to use and program control
Downsides:
There's no way to recline or lay down, which can be awkwardly limiting
Not ideal for use on soft chairs/cushions
10. BOSSCARE Massage Chair
Amazon
This magnificent faux-leather massage chair offers full-body airbag massaging so you can unwind, relax, and de-stress after a hard day's work. It's a perfect buy for any rec room, bedroom or living room because the dark upholstery will go nicely with other furniture in the space.
This massage chair is ideal for anyone suffering from neck, back or leg fatigue. With heat function, 3-stage zero gravity, 4-button control, and six massage modes, including shiatsu, air pressure, vibrating, rolling, and kneading, you can focus on aching shoulders, buttocks, calves, and arms.
What we liked:
Faux leather is super easy to clean and maintain
Rich, high-quality upholstery is elegant
Combines vibrations with heat therapy for optimal pain and muscle relief
Includes foot rollers to relieve achy, sore or tired feet
Easy-to-use remote control with a convenient storage pocket
Has both manual and auto massage modes
Downsides:
Resets with every stop which can be quite frustrating if you want to start where you left off
Needs to be assembled before use
How to Choose the Right Massage Chair for You
In a market flooded by hundreds of brands with more frequently entering the fray, it can be difficult to find a good quality massage chair among so many no-name knock-offs. Even the most popular massage chairs come in a myriad of styles, price ranges, and sizes, which can make the whole process a bit overwhelming.
No worries, though – in this section, we've surfaced important things that you need heed so you can pick the absolute best massage chair for you.
What's your budget?
Massage chairs don't come cheap, so be prepared to invest handsomely to snag a good quality product that will deliver great results. In the lower end of the market, you'll find cheap units value-priced below $1,500, but they typically offer a limited set of features and most use dated technologies.
Middle-range models will set you back anywhere between $1,500 and $6,500. Similarly, they will likely sport mid-tier features such as tri/quad rollers, airbags, among others. You may find a few gems with high-end features in this price range, though.
Expectedly, the priciest of the bunch boasts a set of high-end, robust features and loads of extras that are certain to take your massages to a whole new height. With a price tag well over $6,500, you can successfully bet you will get crème de la crème of bells and whistles.
Often, however, you selection comes down to one question: how much do you want to spend? What's the price of comfort and relaxation for you?
For instance, if you're dealing with constant muscle spasms, backaches, and neck pain, then the worth of the chair to you definitely goes high up. If you aren't sure you will ever use the chair, on the other hand, you might be better off skipping the purchase altogether.
What's your primary motivation for making the purchase?
For most people, massage chairs are just the best way to kick back, veg out, and relax after a hard day's work. So, anything goes here.
For some people, however, the purchase may be driven by a specific therapeutic need. Perhaps you're dealing with vexing symptoms related to arthritis, chronic back pain, sciatica, sports injuries, high blood pressure, and so forth. You will need a chair with specific functions to tackle these conditions.
Features
Once you have a budget and motivation pinned down, the next move is to look for features that will fit the bill. Massage chairs and recliners come with a variety of features, all of which can be placed into three categories: core, therapeutic, and convenience.
Core features include primary technologies such as massage tracks, roller adjustment method, air massages, and controls.
Therapeutic features to keep in mind include Zero-G seating (which is present in about a third of chairs), deep tissue massage, foot massage, body stretch, zone/point massage, and heat therapy.
You can think of convenience features as an added luxury.  These might include chromo-therapy (uses color therapy to induce relaxation), air ionization, hideaway Ottoman (in which the chair has a concealable foot massager), and extendable Ottoman (length can be stretched to accommodate taller people). Others may integrate MP3/VR music support, memory slots (to store guided massage routines), and more.
Talking of features, Shiatsu massage chairs focus on pressure points throughout the body through rolling, swaying and pressing movements.
Chairs that integrate Swedish massages employ light kneading and intense rubbing to heal sore or aching muscles. Zero-G chairs recline in such a way that your body has zero gravity to enhance your massage.
There is a boatload of features to choose from, but you are not likely use all of them, so it's crucial that you determine which parts of your body needs special focus. This way, you can pick a chair with functions that attend to these body parts.
Design and size: where do you plan to use and store it?
Often ignored, location does matter. The vast majority of massage chairs are bulky and you cannot easily just move them on a whim. They are likely to clash with your interior décor, so your living room may not be the best place to keep one.
In many cases, a massage chair will end up in a bedroom or home office, both of which usually have limited space. Most chairs feature foot and head recliners, making it inadvisable to place them close to walls or in a corner.
Measure your target room and calculate the amount of space you have available before you actually buy the chair. Some units are wheeled, making them easier to move. If you plan to store the chair when not in use, be sure to look for models with wheels.
Massage intensity
Most chairs use balls and rollers as the core massaging and therapeutic mechanisms.  Others add airbags and zero-gravity to cushion your body against excess vibrations.
By design, massage chairs are intense in a bracingly comfortably relaxing way. However, you don't want a chair that's too vigorous or intense for comfort. There is no point in getting a chair that will make you feel like you are being prodded with rough mason bricks.
The best massage chairs usually have versatile controls that allow you to increase or reduce the level of intensity until you hit your sweet spot.
Durability
A massage chair is a complex piece of equipment with much wiring, many digital components, and moving parts, so the chances of things going wrong are very high. Given that you are investing top dollar, there is no question that you want a durable, easy-to-repair chair.
Customer service quality and warranty
This is a huge investment worth protecting right from day 1. Before you purchase a massage chair, determine the length of the warranty and what is covered. Most warranties last between three and five years but make sure the one you buy covers at least parts and labor costs.
When things do go wrong, having responsive and helpful customer support on your side can make your ordeal less painful and stressful. Do a little digging to uncover the quality of customer service for the brand — read online reviews, ask around, and check out user testimonials.
The bottom line is that you don't need to purchase a chair beyond your means, but do buy a durable unit with the right features that you will regularly use. You can compromise a bit on the look and luxury to garner a chair for a price that's more suitable for your budget.
You Might Also Like: