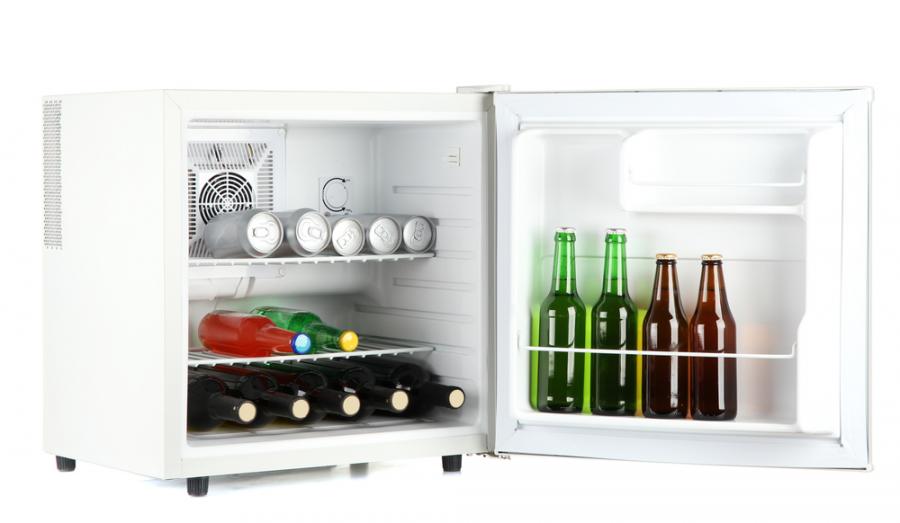 Beer is more than just a tasty, intoxicating beverage to enjoy with friends and family. It is an epicurean delight thousands of years in the making. Some of the earliest human writings were recipes for the brewing of beer.
From this early tradition, beer has evolved from a beverage quaffed at the local tavern or guzzled in front of TV sports to a hobby that can go toe-to-toe with wine any day of the week. Many beer lovers even take on the fun, affordable challenge of brewing beer at home, making their own little mark on those thousands of years of tradition.
If you love clinking a glass of suds or downing a tasty bottle with friends and family, whether over a hearty grilled dinner, around a card table at poker night, in front of the big screen TV at the Super Bowl, or to take the edge off the heat at a festive BBQ, it's high time you added a beer fridge to your collection of home appliances.
Beer has its own quirks and personality. It's at its best when stored under precise, specific conditions. It won't achieve its fullest expression when stored next to the lettuce and the milk. Furthermore, you might not have enough room in your main refrigerator to store all the beer you need for a party, especially a dinner party or BBQ where you might have already stocked up on other ingredients.
A beer fridge will answer your needs and is surprisingly affordable. However much space you have, you can usually find a beer fridge to fit it. Additionally, modern beer fridges come with an attractive collection of features, with form and function to add class to any decor scheme. Here are our picks for the 15 best beer fridges for your home bar in 2023.
1- NewAir Beverage Cooler and Refrigerator
Amazon
For a beer fridge that boasts 3.6 cubic feet of interior space, the NewAir Beverage Cooler is remarkably low-profile and fits into a surprising amount of space. It cools down to a chilly 34 degrees Fahrenheit with one of the quietest compressors on the market, measured at only 35 dB. You could easily tuck this mini beer fridge behind a home bar, but if you want to have it standing alone in plain sight or integrated into your kitchen interior design, the NewAir unit is up to the task with pleasing proportions in matte stainless steel and black.
2- Whynter BR-130SB Beverage Refrigerator
Amazon
Whynter is coming to chill your beer with this 33-inch beverage refrigerator in attractive brushed stainless steel, including a shiny and easy-to-manage door handle. With a temperature range of 30-60 degrees Fahrenheit, it can handle your chilliest of chilling needs. The Whynter BR-130SB also has the advantage of an LED lighting unit you can switch on and off by hand, making this a beer fridge you could keep in your bedroom without disturbing your sleep. It has a clear door so you quickly assess if you need to stock up.
3- Vremi Beverage Refrigerator and Cooler
Amazon
The Vremi Beverage Refrigerator comes in two sizes—3.2 cubic feet and 3.6 cubic feet, with a storage capacity of either 110 or 130 cans and compressor cooling that takes it down to a brisk 32 degrees Fahrenheit. Have confidence that you have programmed the mini beer fridge to the desired temperature with a thermometer readout on a digital display at the top of the fridge, visible through its clear display door trimmed in matte stainless steel. The Vremi beer fridge also boasts auto-defrosting technology.
4- Antarctic Star Beverage Refrigerator Cooler
Amazon
This economical, space-conscious 60-can mini-fridge by Antarctic Star is as pleasing to look at as it is to drink the beer you pull from it. Tricked out in pleasing, shiny tuxedo black, this mini beer fridge features a quiet compressor, cooling power up to 40 degrees Fahrenheit, and soft LED lighting. For an added layer of convenience, the airtight door can be mounted on either side of this compact beer fridge.
5- Kegco Black Stainless Kegerator Digital Beer Keg Cooler 
Amazon
For some beer-lovers, no capacity of cans is really enough. For some beer-lovers, only a kegerator will do. If you want the ultimate bragging rights in home-bar stewardship and some truly heroic beer-drinking and -serving needs, Kegco has you covered with this next-generation black stainless steel digital beer keg cooler. Mounted on caster wheels and sporting reflective surfaces to blend in with any decor, the Kegco kegerator can hold a full-sized keg, as well as up to two 5-gallon D-system kegs or three 5-gallon home-brew kegs with Cornelius ball locking systems. With two spouts, a drip chamber, and chrome guardrails, this kegerator will be a hit at cookouts or sports night and the best friend for home brewers.
6-
KUPPET Retro Mini
Compact Refrigerator
Amazon
If you want to add BoHo 50s or Swingin' 60s flair to your home bar, Kuppet offers a banging 3.2 cubic-feet beer fridge with retro double-chrome and groovy color selections, including red and turquoise. Featuring both a mini-fridge and a mini-freezer, the Kuppet offers temperature controls that can take your prized beverages all the way down to freezing. Perfect if you want to store beer and wine at optimal temperatures, and vodka or tequila in the freezer at sub-zero temperatures. A HIPS energy-saving appliance approved by ETL, the Kuppet compact refrigerator comes with a 30-day return policy and a 1-year worry-free service plan.
7- ROVSUN 2 Door Compact Refrigerator with Freezer
Amazon
If you love the look of a high-end stainless steel home refrigerator, ROVSUN has reproduced that class in beer fridge form with their 2-door compact refrigerator/freezer. This affordable unit can easily be repurposed as a beer fridge with 2.2 cubic feet of refrigerator space and one cubic foot of freezer space—perfect for storing vodka or frosting glasses and steins. With refrigeration power down to as low as 32 degrees Fahrenheit, this beer fridge fits just about anywhere and keeps even the chilliest beers extra-chilly.
8- Kalamera Stainless Steel Cooler
Amazon
Kalamera does make a version of their beverage cooler at a compact 1.6 cubic feet, but the star of the show is the affordable 4.4 cubic-foot bad boy that holds up to 126 cans of beer or up to 37 bottles of wine behind a reversible clear door with a digital temperature monitor. The touchpad by the monitor allows you to turn the lights on and off, as well as toggle the temperature up or down a degree at a time. The no-vibration compressor is recorded at 35 dB, making this a quiet and efficient way to keep a lot of beer cool.
9-
Beverage Refrigerator and Cooler
Amazon
For beer connoisseurs who mean business, this professional-grade wine fridge by TAVATA can easily be repurposed to store premium bottles and cans of beer, as well as the bottled products of homebrew and ingredients for beer cocktails. Classy as the day is long in matte stainless steel with clear doors to reveal wood-accent shelving, it also boasts an ETL-certified compressor that operates with 25% greater efficiency than standard compressors, making this one of the greenest beer fridges you could choose. The shelves pull out for easy perusal of the wares. The interior also features zone cooling, allowing you to store beverages in different chambers of the fridge at different temperatures. Digital temperature monitoring pairs with digital controls to make this professional unit user-friendly. Works perfectly either free-standing or as a built-in.
10- Kismile Beverage Cooler and Refrigerator
Amazon
You would never guess up to 126 cans could fit into such a small space. You can actually see the double-layer tempered glass in action as it protects your beers from harmful UV rays as well as preserves the perfect humidity level for sensitive beers. With its low noise compressor, multi-channel light, and adjustable feet, it can go anywhere you want it to go, from the garage to the parlor bar to the kitchen to the bedroom. The Joy Pebble mini beer fridge also has an easy-to-use touch-panel control system with a digital readout so you can keep careful track of the condition your precious beers are being stored under.
11- VEVOR 24" Built-in Stainless Steel Beverage Cooler
Amazon
If your beers are your babies (albeit babies who thrive at low temperatures), and you want to store them like they deserve to be stored, the VEVOR built-in is perfect for you at 5.3 cubic feet behind a heavy, rust-proof stainless steel door that flawlessly maintains temperatures as low as 34 degrees Fahrenheit. Inside a body made of heavy-duty ABS, cool air is fan-circulated by an industry-leading Embraco compressor, a far more efficient and even cooling method than cold-plate heating. The design of this pro-quality mini beer fridge is ETL-approved.
12- Joy Pebble Beverage Cooler and Refrigerator
Amazon
This compact 1.7 cubic-foot beverage cooler by Joy Pebble integrates groundbreaking water-based membrane cooling, which disburses heat quickly for fast cooling power. For connoisseurs afraid of their prized bottles and cans getting pilfered by bad actors, the Joy Pebble semiconductor refrigerator also locks with a key, protecting your beers from sticky fingers.
13- CROWNFUL 120 Can Beverage Cooler and Refrigerator
Amazon
If you want to move away from the "sleek and chic" fridge to something more obviously festive, the CROWNFUL 120 can beverage cooler has a sporty, happy look that says something along the lines of "Hey! Here's a beer fridge! Open the door!" as opposed to "Don't you wish this beer fridge were a Ferrari?" It also has a solidly low cooling floor of 34 degrees Fahrenheit in its 3.2 cubic feet of storage space in an extremely practical and compact 35-inch-high box with double-paned, UV-resistant door glass. CROWNFUL also offers a one-year quality warranty and a 100% satisfaction guarantee.
14- Edgestar Beverage Refrigerator Cooler Wine Fridge
Amazon
Edgestar offers a beer fridge for every space and capacity need with four different product sizes—1.6 cubic feet, 2.9 cubic feet, 3.2 cubic feet, and a whopping 4.5 cubic feet. All models feature double-pane glass in their transparent doors, which protects your precious beverages from UV rays. In addition to being a great beer fridge, the larger models of the Edgestar beverage refrigerator are perfect for wine storage, with variable temperature, plenty of space, and blue LED lighting to prevent damage through translucent bottles. Edgestar also offers one year of hassle-free service on their beer fridges.
15- Zephyr Beverage Refrigerator and Cooler
Amazon
Whatever your beer storage needs, Zephyr makes a beer fridge to suit them, ranging from the ultra-compact 1.6 cubic-foot beverage cooler to its beefy 4.5 cubic-foot granddaddies. All of them feature vibration-free low-noise compressors, blue lighting, clear glass doors, and cooling power down to 40 degrees Fahrenheit. The Zephyr beverage cooler features industry-leading smart-cooling technology, which automatically restores your beer fridge to your chosen temperature even if the fridge loses power. Zephyr backs up all their beer fridges with a 1-year worry-free warranty.
How to Choose the Right Beer Fridge for You
It isn't hard to find the right beer fridge for you. What may be hard is picking it from the crowd. The beer fridge market suffers, if you can put it that way, from too many options, as well as a large degree of variance in quality. A beer fridge is a fairly significant investment. It might take a while to figure out you picked the wrong one—long enough for a return policy or warranty to expire. Here are nine things to look for when trying to decide which beer fridge is right for you.
1. Temperature
You might be tempted by ultra-low minimum temperatures like 34 or 32 degrees Fahrenheit, but this is actually overkilling for a beer fridge. Remember, 32 degrees Fahrenheit is the freezing point of water, and you don't want your beer to get that cold or it could rupture the case.
Most beer never needs to get below 44 degrees Fahrenheit. 42-48 degrees is the sweet spot for most lagers, 44-52 degrees for most ales. If you keep your beer fridge between 44 and 48 degrees Fahrenheit, you should be happy with the results.
Take note of the cooling system. Compressors with fan circulation tend to cool a beer fridge more evenly than cooling plate technology.
2. Interior Space
How much beer you need to keep on hand will dictate how much interior space your beer fridge needs. If you keep beer just for yourself or small groups, a 1.6-2.0 cubic foot interior could be plenty. If you want to chill beer for medium to large parties, consider a beer fridge of 3.6 cubic feet, 4.0 cubic feet, or even larger. You usually don't need a freezer to chill beer, but a beer fridge with freezer space could be used to super-chill vodka or frost beer steins.
3. Exterior Space
Take into account where you're putting your beer fridge. If you want it between furniture, under a counter, or added to your kitchen or bar as a built-in, make sure to carefully measure the space and compare it to the product dimensions on the product listing. You can find a larger-capacity beer fridge to fit into a relatively tight space with careful measuring. If you need the door to open in a certain direction, consider a beer fridge with a reversible door.
4. Glass Door—Yea or Nay?
Many beer-lovers enjoy showing off their collection. A glass fridge door is perfect for displaying the goods, but keep in mind that beer can be damaged by UV rays. That's why it is stored in translucent bottles. Double-paned, polarized glass doors add extra protection to your beer. Alternately, you might consider a solid door to offer maximal protection to your prized beverages.
5. Noise
One thing beer-lovers tend to forget when choosing a beer fridge is noise. All refrigerator compressors make noise when they run, some more than others. At a rowdy sports night, poker night, or BBQ that may not matter, but if you intend to keep your beer fridge in your bedroom or studio apartment, keep in mind your ability to sleep with the white noise. A loud compressor may also spoil the ambiance of an event focused around silence, quiet music, spoken word, etc. If quiet is of the essence, look for a beer fridge with a vibration-free compressor and a low tested decibel level of 35 or lower.
6. Lighting
A good interior light helps you see what beer you are grabbing, whether the door is open or closed. However, white light can affect the potency of beer, so look for a beer fridge that offers a more protective blue light.
If you need the room to be dark, for sleep or film screening, or any other need, a beer fridge with a clear door and an interior light may prove to be a distraction unless you can turn the light off. Look for a beer fridge with an adjustable light and/or a solid door if you foresee ambient lighting as an issue.
7. Controls and Monitors
Today's beer fridges often come equipped with modern controls, including touchpad temperature and lighting controls, as well as digital monitors for the temperature and other parameters. More basic beer fridges may be subject to temperature adjustment by a hand-turned dial, often a less precise way of calibrating the temperature of your beer fridge. If you want a precise interior temperature, look for a beer fridge that can be calibrated to the right chill down to the degree.
8. Energy Consumption
Beer fridges are not the energy hogs that full-sized fridges are, but they are no slouches either. Your average beer fridge will draw anywhere from 50W to 150W or more, at 115V or more. Make sure you have a powerful-enough, grounded, and protected outlet to plug your beer fridge into, or else you risk blowing a circuit and allowing your beer to get warm.
If living green is one of your priorities, look for an energy-efficient beer fridge. Appliances like fridges may be given a green rating from authorities like Energy Star.
9. Guarantee or Warranty
While your beer fridge may be smaller than your kitchen fridge, the technology at work is similar. Kitchen fridges come with warranties and service contracts; you might expect their smaller beer-fridge counterparts to carry similar warranties.
Unfortunately, many beer fridges do not have the kind of full-range protection of a household refrigerator. You may have to make do with a 1-year "worry-free" service warranty. If you find a beer fridge with a longer warranty, it will probably be a more costly model. However, in some cases, you do get what you pay for. The extra cost could be justified if the beer fridge is built to last.
Many affordable beer fridges for sale online come with a 30-day satisfaction guarantee. This can offer some comfort, but it's not as good as a manufacturer's warranty, and really, who wants to mail a minifridge back to the retailer? Best to do your homework and get the perfect beer fridge right out of the gate.
You Might Also Like: