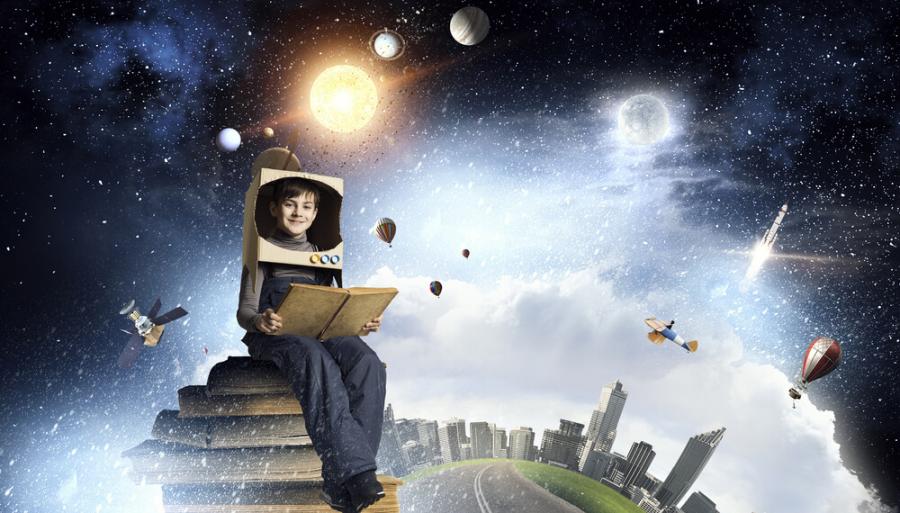 Science fiction books for kids can be much more than good literature or a diversion from video games. At their best, middle-grade and young adult sci fi books inspire a sense of wonder about the universe and the natural world. "Science" is right there in the genre description. Is there anything more practical and rewarding you can give to a kid than to nurture a love of science?
At this moment, though some specialized Science, Technology, Engineering and Math (STEM) education funding is being maintained, all education funding is in decline. And an interest in math and science is rarely encouraged at the scholastic or the peer level. Great science fiction books for kids not only impart facts about chemistry, gravity, and quantum mechanics—they can also provide children with role models of resourceful heroes that attack conflict with their brains, not just their bodies, to show them that yes, smart kids can finish first.
Great kids' sci fi books prepare future leaders in fields like engineering, tech, and medicine for the lifelong love of learning it takes to shape the world with the next generation of scientific breakthroughs. In that spirit, here are our picks for the thirty best sci fi books for kids.
1- Cats vs. Robots by Margaret Stohl and Lewis Peterson
Amazon
With a title like that, do you even need to hear more? Talk about an antidote to smartphone memory—Cats vs. Robots is like clickbait, but in book form and in the best way.
Stohl and Peterson let their imaginations run wild, envisioning an intergalactic war between space kitties and their robot nemeses. Is there any more perfect concept to get 5th and 6th graders interested in reading? Whether you like technology or snugglies, Cats vs. Robots has you covered.
The book eventually takes the cats-vs.-robots war into the vicinity of Earth, a primitive planet compared to the tech used by the cats and the robots. It eventually embroils twin siblings, Max and Min, in a reversal of gender stereotypes. Min is the analytical science fan who identifies more with the robots, while Max is the more unstructured feeler who aligns with the cats.
The book subtly includes messages about the joys of science and the fun of computer coding, encouraging tech-savvy pre-teens to nurture their hobbies into valuable skills. The first book in a series, Cats vs. Robots is one of the best science fiction books for kids and preteens.
2- York: The Shadow Cipher by Laura Ruby
Amazon
New York is one of the great U.S. cities, but wouldn't it be nice to give the whole place a technological upgrade? And a bath? Maybe solve the homeless problem while we're at it? Laura Ruby reimagines New York as a steampunk wonderland of diagonal elevators, high-tech trains, and street-washing robotic bugs. York: The Shadow Cipher indulges in the best kind of fun revisionist history.
And yet, the New York of the real world is just visible between the lines of this alternate-universe New York. Perhaps most obviously, twin teens Tess and Theo Biedermann are in danger of losing their home to development—a historic home designed by the Morningstar twins, the mysterious architects who appeared in 1798 and built New York into the wonderland of the storybook world.
Before they disappeared, the Morningstar twins also left clues to a grand mystery, laid into the very streets and buildings of New York itself. No one has ever solved this "Old York Cipher"—most don't even believe it exists. But to save their home, and for the promise of riches, Tess, Theo, and their friend Jaime set out on a thrilling city-wide search to solve the Cipher once and for all.
3- Timeless: Diego and the Rangers of the Vastlantic by Armand Baltazar
Amazon
Any kid who loved to make their dinosaur and robot toys fight will be in hog heaven with Timeless: Diego and the Rangers of the Vastlantic. This first book in the Timeless series introduces the notion of the "Time Collision," a cataclysmic event that reshuffled the continents and collided eons—from the Jurrasic to the far future and everything in between.
Things have settled down a little by the time the story opens and introduces us to Diego, a boy in New Chicago who goes to middle school with kids from every epoch. But all is not peaceful in this topsy-turvy smashup of worlds. When Diego's father is kidnapped by the mysterious Aeternum, he must connect with a power he never knew he had to protect the polyglot world he loves.
This sci-fi book for kids is written by Armand Baltazar, and vividly illustrated by Baltazar with the kind of elan you would expect from his previous career as an artist for animation powerhouse Pixar Studios.
4- Greystone Secrets #1: The Strangers by Margaret Peterson Haddix
Amazon
The first book in the Greystone Secrets series is a pleasing puzzlebox that introduces any kids with siblings to a sibling triumvirate that feels lived-in enough to be real—responsible oldest sibling Chess Greystone, bookish Emma Greystone, and free-spirited Finn Greystone.
Their adventure starts as word reaches them that three children far away have been kidnapped—siblings with the same first and middle names as the Greystone children, as well as identical birthdays. Then the Greystone siblings' mother gets whisked away on a mysterious "work trip." All is not as it seems, and the clues and dark recesses of their family home hide secrets that point to a mysterious parallel universe, which resembles their own but contains secrets and dangers of its own.
The Strangers not only introduces young readers to the stars of the Greystone Secrets series—it's also one of the best science fiction books for kids to touch on the evocative notion of extra dimensions and parallel universes.
5- Edge of Extinction #1: The Ark Plan by Laura Martin 
Amazon
Anyone have the idea that the Jurassic Park storyline could have gone really, really wrong? Like, even more, wrong than in the books or the movies?
Laura Martin's first book in her Edge of Extinction series envisions such a sequence of events—scientists successfully cloned dinosaurs, and then they proceeded to overwhelm their weaker human cohabitants and take over the world. To escape from their self-made apex predators, humans have retreated to underground shelters, where they have struggled to survive for 150 years.
The story follows Sky Mundy, an inhabitant of this underground world, whose father goes missing as part of a mysterious conspiracy that seems to have played out above-ground. Sky and her best friend Shawn devise a daring plan to rescue her dad—which morphs into a quest to save all of humanity as they follow the clues above ground into an abandoned cultural landscape that has been taken over by every kid's favorite prehistoric menace—dinosaurs. The perfect science fiction book for kids in the grips of dino-mania.
6- My Teacher Flunked the Planet by Bruce Coville
Amazon
My Teacher Flunked the Planet is actually the fourth book in a series that started with My Teacher is an Alien and continued with My Teacher Fried my Brains and My Teacher Glows in the Dark.
The first three books should really be read first, as they introduce young readers to an indelible trio—popular Susan, nerdy Peter, and bully Duncan. All three kids become embroiled in a strange series of circumstances that will ring prescient for many children, possibly even with a hint of wish-fulfillment—aliens have infiltrated their school and are posing as teachers.
But Flunked the Planet, the fourth and final entry in the series, is a gem of a book that ties its predecessors together, taking Susan, Peter, and Duncan on a spaceship-ride through the galaxy alongside the alien teachers, who turn out to be less threatening than they originally seemed.
Mixed in with the world-saving adventures and memorable extraterrestrials, however, are tear-jerking explorations of famine, war, and the darker side of humanity, opening the children's eyes—and young readers' eyes—to devastating world problems, the solving of which requires humankind to seek better teachers, alien or otherwise.
7- Last Day on Mars: Chronicle of the Dark Star by Kevin Emerson
Amazon
This is a great science fiction book for kids who can handle a little more intensity—who don't want to be coddled, but rather prefer to grapple with the cold hard facts of space, laying the foundation for a lifelong love of "hard sci fi."
You wouldn't even think that this was a book for kids, but the young heroes, Liam and Phoebe, face challenging odds and mind-blowing revelations with the flexibility and brio of children.
It's the 23rd century, but doom is in the air. The sun has become a red giant way ahead of schedule, burning Earth to a crisp and prompting humanity to seek refuge on Mars as they prepare for a longer, interstellar journey to a potential new forever-home.
Among the last humans to leave Mars, Liam and Phoebe are the children of scientists struggling to keep humanity alive as they flee the planet in the face of the ever-expanding sun. But humanity's last adventure is about to get even crazier, as Liam and Phoebe make startling discoveries about time, space, and whether humankind is alone in the universe.
8- Frank Einstein and the Antimatter Motor by Jon Scieszka and Brian Biggs
Amazon
The Frank Einstein series is the perfect science fiction book for kids—a mix of wacky humor and actual science fact, enriching and educating at the same time it entertains. Kids inspired by Frank Einstein may follow in his footsteps, tinkering with the world around them to discover how it works and perhaps discovering a lifelong love of science and technology. Just watch out for your kid turning the garage into a chop-shop for the family toaster. You have been warned.
The titular Frank Einstein works all kinds of wonders from his garage laboratory. In this first book, he animates robot assistants Klink and Klank, but the willful robots quickly become more than Frank bargained for. When the robots get kidnapped as part of rival's nefarious plan, Frank must discover an inner hero to sit alongside his inner scientist.
Kids will also learn about the science of matter alongside this lark of a tale involving robots and doomsday machines.
9- Going Wild by Lisa McMann
Amazon
Science fiction isn't just about space and aliens—it's also about the strange things that surround us in everyday life and the natural world. Going Wild is one of the best science fiction books for kids who love animals.
Seeing a kid take on cheetah-like speed or elephant-like strength may seem like superpowers or wish fulfillment, but Going Wild never lets young readers forget that these stranger-than-fiction powers are not otherworldly—they can be found right here on this planet by examining our animal cohabitants.
The story follows young Charlie through an ordeal that most children will be familiar with—moving to an unfamiliar state. Arizona is nothing like her comfort zone in Chicago, but the family move takes on a wild twist when Charlie discovers a strange bracelet that gives her animal-like abilities, powers that she discovers she has trouble controlling and that set her on a journey to discover the origin of the bracelet.
10- Monsters Unleashed by John Kloepfer
Amazon
With Monsters Unleashed, John Kloepfer finds rip-roaring fun and suspense at the intersection of two hot topics that seem to have nothing to do with each other—bullying and 3D printing. By engaging children on a relatable issue, Kloepfer takes the opportunity to immerse them in the details of a groundbreaking technology and then use that technology to create gross monsters.
With a name like "Freddie Liddle," Freddie hardly has a chance. Bullied relentlessly at school, he takes refuge in a combination of artistic expression and technology, using the school's 3D printer to create grotesque figurines based on the bullies. But then the 3D-printed monsters come to life … and start growing … and growing … and develop powers like breathing fire and controlling electricity.
Ultimately, Freddie must join forces with the bullies in order to save everyone from his demented creations. While not the most plausible science fiction book for kids, this is one of the most hilarious and enjoyable.
11- Omega City by Diana Peterfreund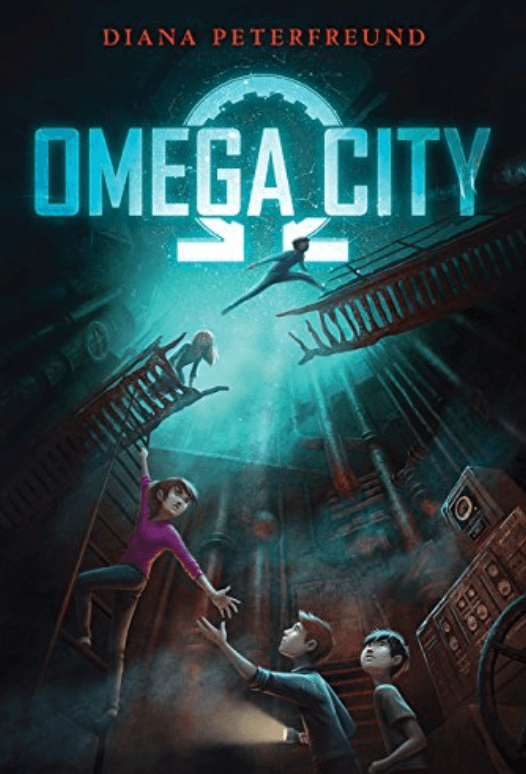 Omega—the end. That's the brink to which the Cold War brought humankind, and Peterfreund opens young eyes to this fact in Omega City, packaging the lesson in a rip-roaring adventure and mystery into the recesses of time and forgotten technology.
It all starts with Gillian's quest to prove that her father isn't crazy in his pursuit of lost technology, hidden away by Cold War-era scientist Dr. Aloysius Underberg. With the help of her brother Eric, NASA-enthusiast Howard, and best friend Savannah, Gillian follows the clues to an artifact of that troubled time—a nuclear-fallout bunker buried deep within the earth, and a gateway to Omega City, the last stand of Dr. Underberg's secret work for the good of mankind. These secrets could change everything … which is why some people would kill to keep them.
Buy "Omega City" by Diana Peterfreund on Amazon here 
12- Voyage of the Dogs by Greg Van Eekhout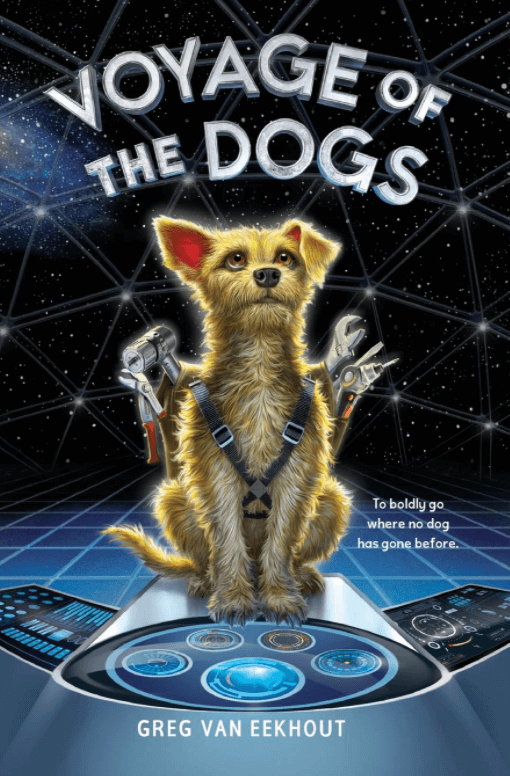 This space lark is perfect for middle-grade readers who love dogs and space travel, taking up the fanciful premise that sometime in the future, specially-trained dogs will accompany humans into space, like farm dogs or police dogs, to aid astronauts in crucial space work. The moniker for these spacefaring canines? "Barkonauts."
It's a hilarious premise, but the story of Voyage of the Dogs takes a dangerous twist when an interplanetary trip encounters disaster. The ship is damaged, and the Barkonauts wind up alone on the ship with no astronauts to save them. It's up to the faithful Barkonauts to survive the ordeal—and complete their mission.
Buy Voyage of the Dogs by Greg Van Eekhout on Amazon here.
13-  Miss Peregrine's Home for Peculiar Children by Ransom Riggs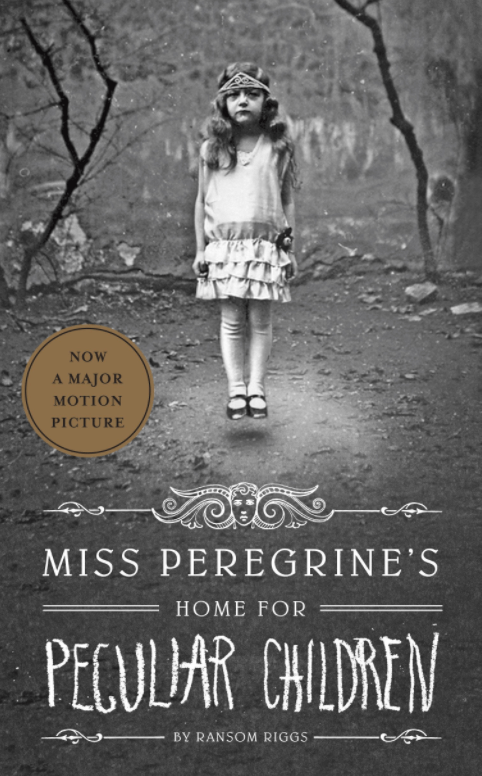 If science fiction books for kids often turn their eyes to the future, Miss Peregrine's Home for Peculiar Children turns its eyes to the past, often with devastating effect. Riggs punctuates his story of strange children with even stranger powers with found photographs that add a layer of plausibility and reality to his fanciful story. If the photos don't creep the kids out, they add an extra layer of historical punch to this drama that plays out against a backdrop of history.
It is more of a fantasy book, but it also deploys the classic science fiction trope of a time loop. Protagonist Jacob, driven by the words of a dying grandfather who survived the holocaust, travels to Wales and discovers the ruins of a house, which—history reports—was the site of a tragedy, its inhabitants killed by a Nazi bomb on September 3, 1940.
Jacob soon discovers that magical being Miss Peregrine has secreted a collection of peculiar children in the house, all caught in a time loop that repeats September 2, 1940 every day to protect the children from the bombing. The children have a range of X-Man powers—the ability to levitate, make plants grow, raise the dead, or predict the future with their dreams. But all is not roses at Miss Peregrine's home—evil forces have followed her into this world, forces that would make a meal out of her charges.
Buy Miss Peregrine's Home for Peculiar Children on Amazon here.
14- Ender's Game by Orson Scott Card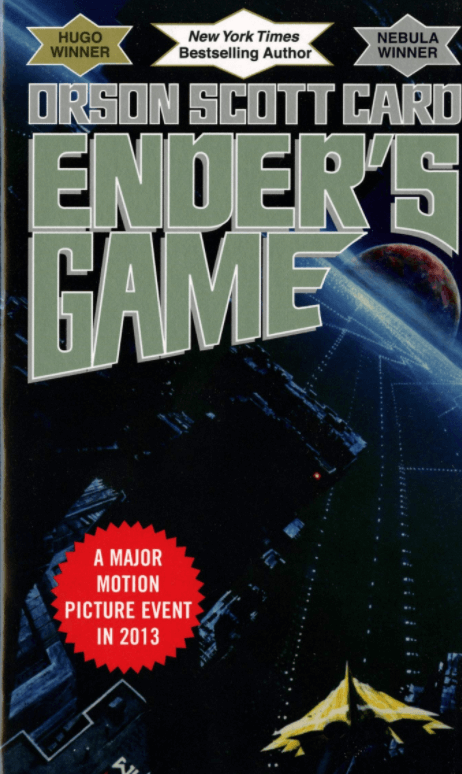 Ender's Game was written in the shadow of the Cold War. Although Card updated the book in the 90s to reflect geopolitical changes as a result of the end of the Cold War, his vision of a warlike interplanetary future still feels relevant today—perhaps even more so, in this era of drone warfare.
Space-traveling humans discover a race of insect-like Formics, or "buggers," living on a nearby asteroid and defeat them in a war, leading to the capture of their technology. Humanity assumes a permanent wartime footing, preparing for another war against the buggers without quite understanding why it is necessary.
Into this turmoil steps Ender, a rare third child born to a family of exceptional children in a society that limits child bearing to two. Ender wants to go to Battle School, but he faces continuous opposition—everyone wants him to fail. He ultimately earns his place in Battle School, however, when his retaliation against one of his schoolyard bullies leaves the bully dead.
Ender excels at the simulated war games built on bugger tech, despite the powers that be continuously opposing him. But Ender's greatest trial won't be against his fellow students or instructors, but within himself, when he discovers that the games he is participating in are far more sinister than he ever imagined, the war not what it seems.
Buy Ender's Game on Amazon here.
15- The Wonderful Flight to the Mushroom Planet by Eleanor Cameron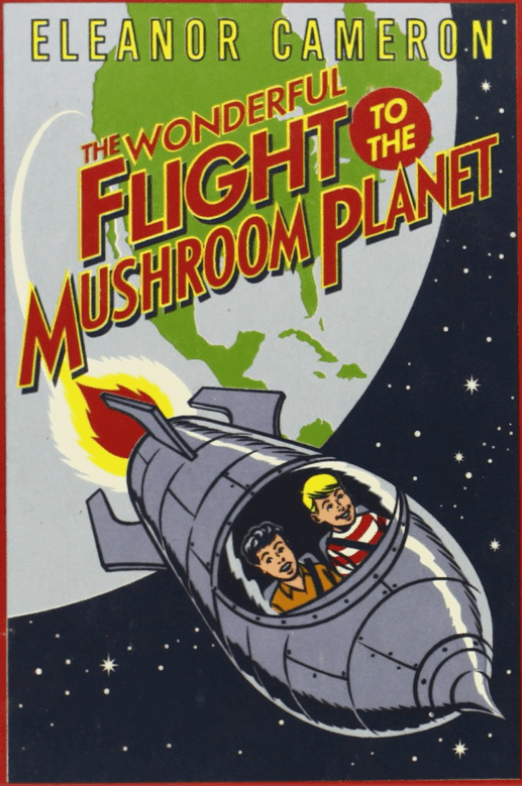 The Wonderful Flight to the Mushroom Planet was first published in 1954, coincident with humankind's first steps into outer space. Anything seemed possible—including a tiny, inhabited moon hiding in the inky black only 50,000 miles in orbit above the earth.
This is the "mushroom planet" that two boys, prompted by an ad in the paper (ah! The past!) travel to. They do so onboard a spaceship they build themselves out of scraps and spare parts, retrofitted by mysterious wealthy scientist and inventor Mr. Tyco Bass. Mr. Bass calls the fungus-flowered moon "Basidium-X," and the three of them make the trip accompanied by chicken "Mrs. Pennyfeather" as their mascot.
When he and the boys arrive, they discover a population of "little green men" dying from a mysterious illness, and it's up to the boys to represent humanity and save an entire species from extinction.
Wonderful Flight is a delightful throwback treat, a pulpy and delicious story of wish-fulfillment inspired by a time when the wonders of the cosmos seemed remarkably close at hand.
Buy The Wonderful Flight to the Mushroom Planet on Amazon here.
16- Escape to Witch Mountain by Alexander Key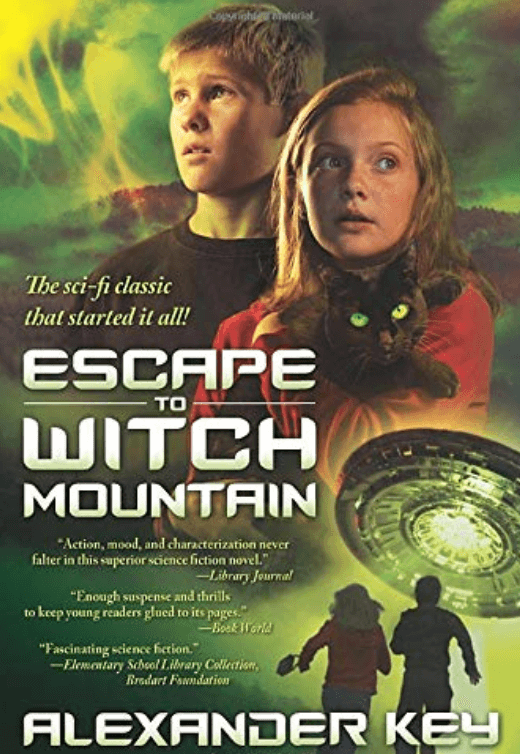 Despite the witchy title, Escape to Witch Mountain is a classic of science fiction literature for kids and young adults. It focuses on the plight of two unforgettable protagonists, brother and sister Tony and Tia, children with exceptional powers. Tony can harness psychokinetic powers when he plays his harmonica, while Tia can unlock doors and commune with animals. Tia is mute, but she and Tom can "speak" to each other through some strange ultrasonic communication.
Hidden away by a kindly foster mother, the death of their guardian results in a Dickensian  predicament, with the children remanded by social services to a squalid juvenile detention center. A series of clues directs them to a secret hiding in the Blue Ridge mountains. With the help of a kindly priest, they escape from the juvenile prison and flee from hostile forces in a desperate race to discover the truth of their parentage and their mysterious powers.
Buy Escape to Witch Mountain on Amazon here.
17- The Little Prince by Antoine de Saint-Exupéry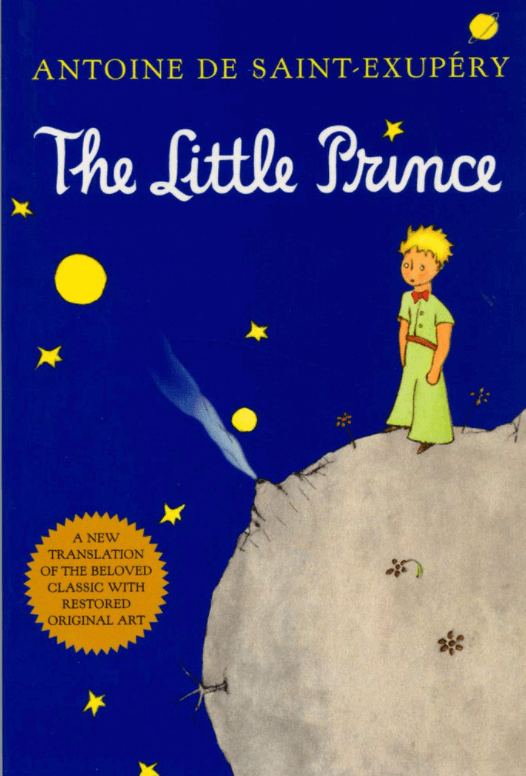 Maybe "sci fi" is a stretch for this one. Yes, the title character is an interplanetary traveller, but his voyages among the stars play out more like allegories than hard sci-fi, less concerned with the mechanics of thrust, gravity, and oxygen than they are with metaphysics, mood, and meaning.
But The Little Prince may be enough to get children interested in the myriad exoplanets that roam the universe, whether or not any of them are home to a soulful, imperious little boy and the rose who loves him.
More to the point, Antoine de Saint-Exupéry's slim novel is a treasure of a book. One of the rare children's novels that take the perspective of an adult instead of a child, it dares to speculate on what we lose in the process of growing up—a sense of curiosity, of wonder, of gratitude, of imagination.
Hard sci fi isn't the only kind of sci fi either. The Little Prince's travels to the planet of the drunkard, the light-keeper, the geographer, the businessman, and the king with no subjects play out like thought experiments, those much-loved exercises of theoretical scientists from Archimedes to Einstein. But the Little Prince performs thought experiments of the soul, which probe the depths of the human condition in unforgettable ways.
Oh, and of course, The Little Prince is a devastating tearjerker. Make sure plenty of hankies are on hand.
Buy The Little Prince on Amazon here.
18- Red Planet by Robert A. Heinlein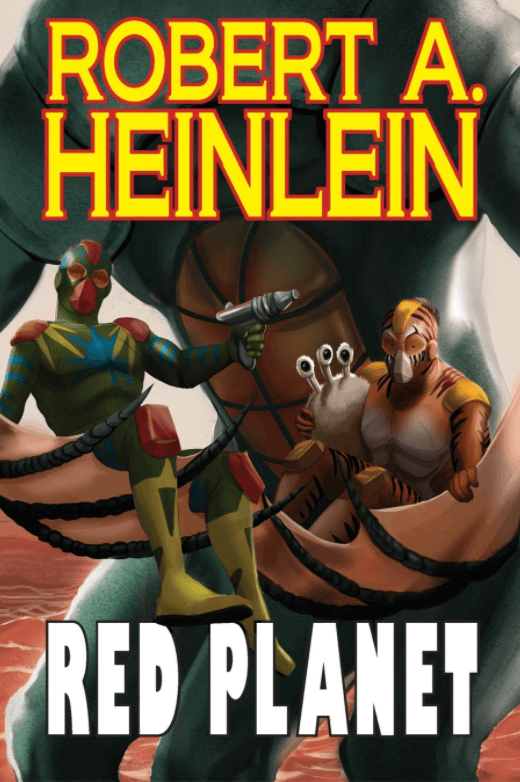 Writing in the 1940s and 1950s, sci fi giant Robert A. Heinlein was profoundly influenced by the mystery of Mars, which for a time seemed to have channels that could be filled with water. The idea that creatures, even intelligent creatures, could inhabit Mars seemed very real, and Heinlein made the most of it.
Red Planet makes a great science fiction book for kids and young adults because it centers on a boarding school for human children on a colonized future Mars. It also introduces the utopian Martian race that would figure into one of his later classics, Stranger in a Strange Land. 
Teenagers Jim and Frank head to boarding school accompanied by their pet Willis, a native Martian animal resembling an intelligent fur ball. They also form the beginnings of relations with native Martians.
When they break out of school to go skating in the Martian canals, Frank becomes sick, and the boys must accept the help of the intelligent Martian civilization. The meeting of cultures brings Frank and Jim face to face with the life-cycle of Martians, and the entanglement of their fate with the fate of the human colonists.
Buy Red Planet by Robert A. Heinlein on Amazon here.
19- The Giver by Lois Lowry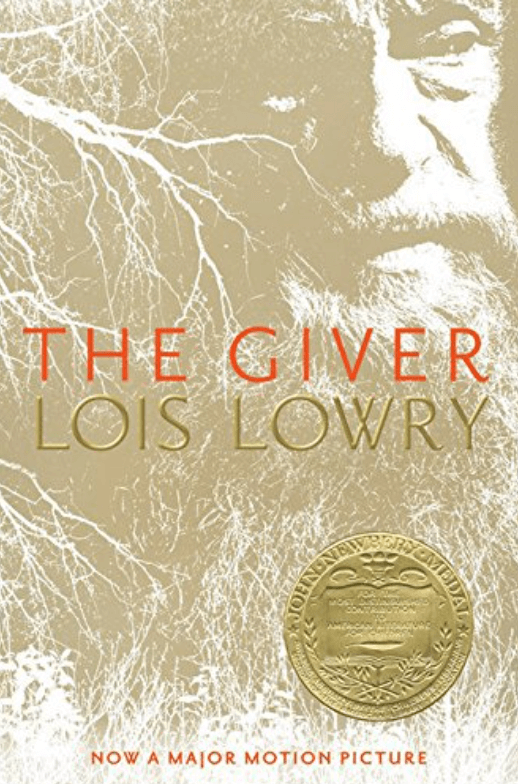 An all-time classic of kids' literature, The Giver is an ideal entree for children interested in the rich genre of "utopian" novels, and how utopias tend to fray around the edges until they dissolve into dystopian nightmares. The Giver envisions a "perfect" world, but cleverly drops hints throughout Jonas' selection as the new "Receiver of Information" that humans have given up a great deal in exchange for the "peace" in which they now exist.
Receiving the memories of earlier mankind from the old "Receiver," a troubled old man who now sees himself as the "Giver" of these memories, Jonas discovers what colors are—neat trick! You didn't realize Jonas didn't see in color until Lowery drops the news like a narrative bombshell. He also discovers forgotten sensations like pain and love.
The pain he could do without, but his discovery of the highs and lows of bygone humans leads to the even more painful discovery that his parents don't even "love" him in the same way as parents of the past loved their children. This devastating reveal will cut to the core of every child's lived experience, and get them thinking twice about the "utopia" Jonas finds himself in.
But Jonas' world has darker secrets to reveal—a ghastly lie on which the whole society is built, and which leads Jonas on a desperate mission to remind his peers what it means to be human, even if they don't want to remember. 
Buy The Giver by Lois Lowry on Amazon here.
20-
The Fourteenth Goldfish

 by Jennifer L. Holm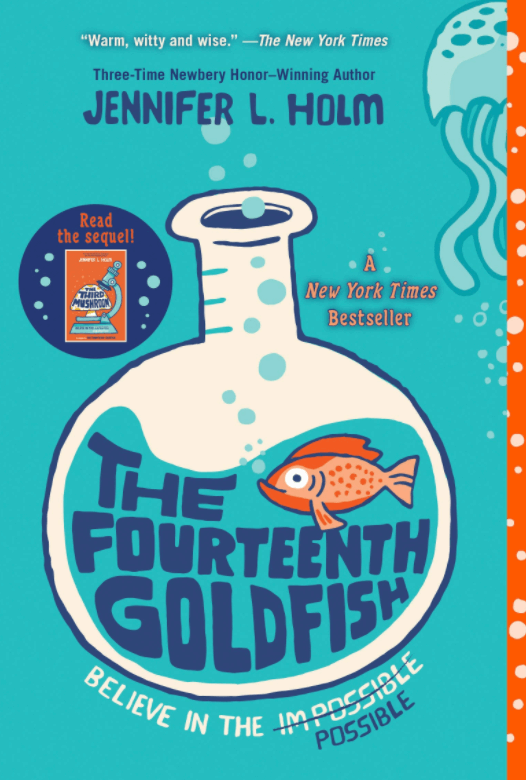 Science fiction books for kids can awaken a lifelong curiosity about science, but that doesn't mean we have to gloss over the dark side of science. The Manhattan Project and the creation of the atomic bomb ushered in a new age of dark science fiction, disabused of the notion that science was always benevolent and suffused in the knowledge that science could ultimately undo the human race as people embraced technologies capable of destroying everything.
The Fourteenth Goldfish tells the story of Ellie, struggling to cope with change and her family's move. But her life is upended when a strange teenager shows up—a teenager who weirdly resembles her Grandpa Melvin, a scientist obsessed with cheating death and living forever. Ellie's search for the truth is a lighthearted and hilarious dive into deep questions raised by science—about the human condition, the ties that bind, and our future as a species.
Buy The Fourteenth Goldfish on Amazon here.
21- A Problematic Paradox by Eliot Sappingfield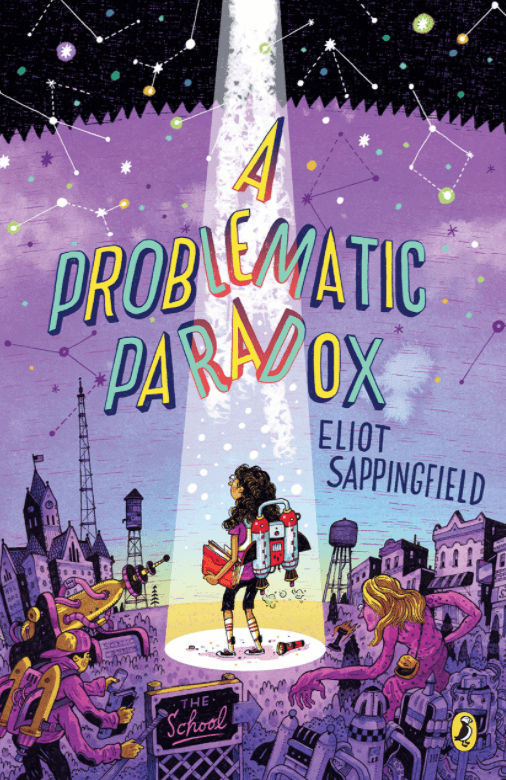 Few science fiction books for kids champion the scientifically-minded child like A Problematic Paradox, which envisions an intergalactic school for scientifically-gifted children. It would seem magical, except it's grounded in science. Any kid who felt like science class was too slow for them will relate.
Science enthusiast Nikola has a predictably hopeless time fitting in at her traditional school, especially considering her intellect runs circles around her teachers. When her father is kidnapped by aliens, her father's allies sequester her at the aforementioned school for geniuses, where teachers instruct on "Practical Quantum Theory" and students of different alien species commute to school by wormhole and sit side-by-side in class.
It seems like a dream come true, until Nikola starts exhibiting alien powers that no one understands and that carry potentially deadly consequences.
Buy A Problematic Paradox by Eliot Sappingfield on Amazon here.
22- Mrs. Frisby and the Rats of NIMH by Robert C. O'Brien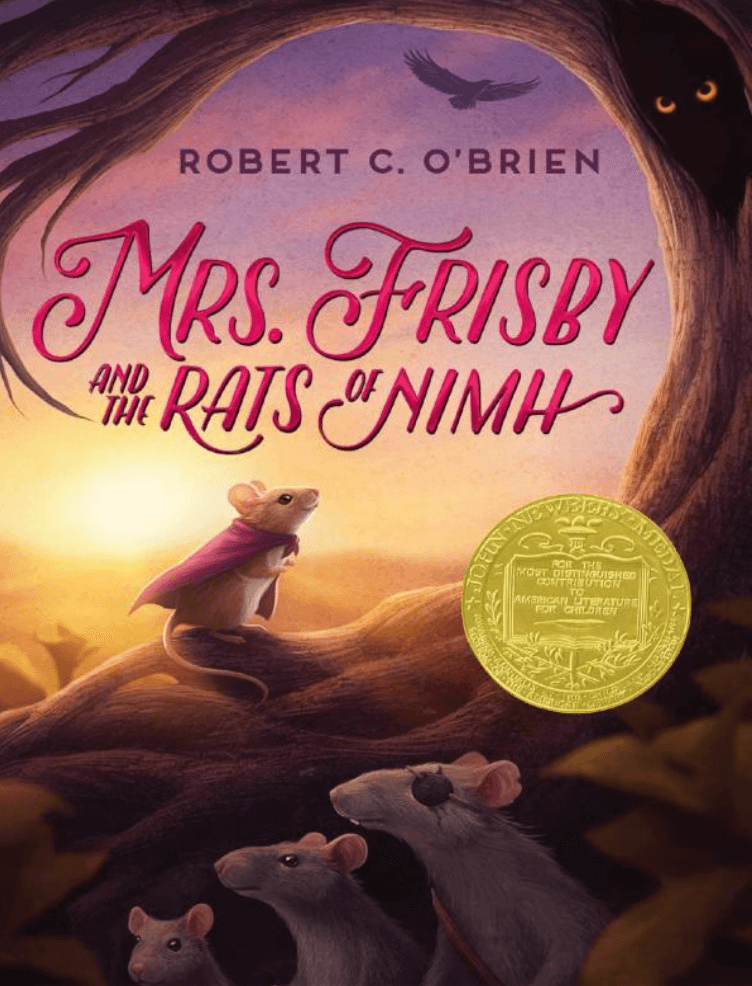 The book that forms the basis for the animated classic The Secret of NIMH, Mrs. Frisby and the Rats of NIMH is a story where field mice and rats are the main characters, like a worm-tailed Watership Down.
This doesn't seem like a promising setup for a science fiction book for children, until you realize that "NIMH" stands for "National Institute of Mental Health." Mousey matriarch Mrs. Frisby's adventure to save herself and her children from the impending plowing of their field home takes her into the lair of a colony of rats who live in a nearby rosebush.
The rats turn out to be former lab rats at NIMH … former subjects of experiments that made the rats of NIMH super-intelligent among rats. Mrs. Frisby discovers a rat metropolis, full of rats that read, use electricity, make buildings with elevators, and more.
But copying the humans hasn't made the rats better. Mrs. Frisby's efforts to save her family cause her to get swept up in the rats' master plan to abandon a world built by humans and build a rat utopia, ultimately putting her and her children in grave peril.
Buy Mrs. Frisby and the Rats of NIMH on Amazon here.
23- Felix Yz by Lisa Bunker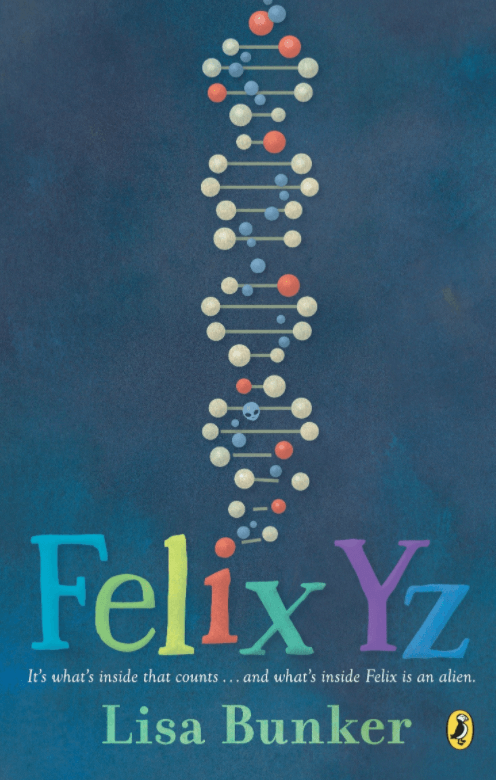 Being thirteen is difficult under the best of circumstances. Your body is changing, you're desperate to fit in … so imagine how much more difficult it would be if you have to share that changing body with a superintelligent fourth dimensional being.
Felix Yz faces this challenge thanks to one of his father's botched science experiments. The god-like parasite is benign, but Felix cannot grow into adulthood with the being still merged with him. So a risky procedure is scheduled.The inventive structure of this book uses Felix' blog as a kind of an epistolary medium, where Felix vents his frustrations about his crushes, run-ins with bullies, and an upcoming chess match with an Estonian grand master.
Looming over all of it—anxiety over the life-threatening procedure, which makes this a great science fiction book for children who have had to cope with medical challenges at an age when they are too young to fully understand what they face or even what life is all about.
Buy Felix Yz by Lisa Bunker on Amazon here.
24- A Wrinkle in Time by Madeleine L'Engle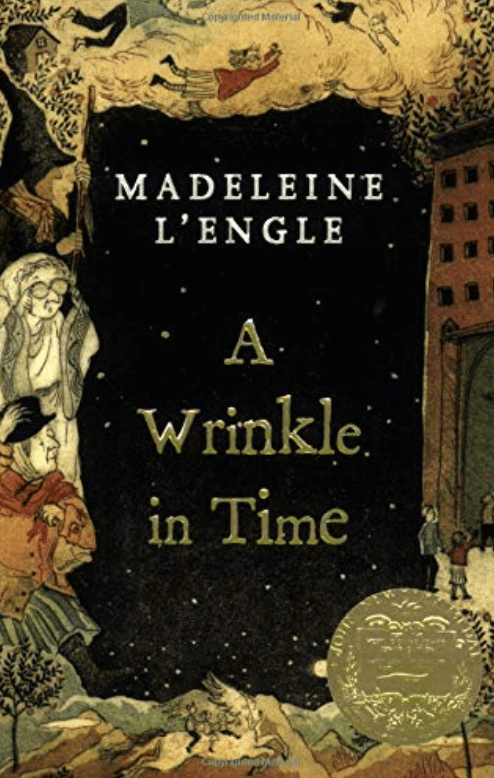 For a classic middle-grade fantasy book, A Wrinkle In Time is well-grounded in advanced physics in a way that often gets underappreciated—partially because relativity and quantum mechanics are bonkers enough to resemble middle-grade fantasy themselves, despite being governing and widely-accepted laws of nature.
Consider—the central quest is to rescue a missing father who is a spacefaring scientist, undertaken by children who are basically scientific prodigies in their own right. It's the original bid to make STEM studies cool.
The mechanism that Mrs. Which, Mrs. Whatsis, and Mrs. Who use to whisk Meg and Charles Wallace across the cosmos, the titular "wrinkle in time," is a plot device Einstein would have approved of—the folding of spacetime to make two distant spaces become suddenly close. That phenomenon has a scientific analog (albeit hypothetical)—the Einstein-Rosen Bridge, aka the "wormhole."
Populating the universe that Meg and Charles Wallace visit with majestic centaurs and blobs of pure evil is a little bit more on the fanciful side, but as any true E.T. enthusiast will tell you, it can't really be ruled out, can it?
Buy A Wrinkle in Time by Madeleine L'Engle on Amazon here.
25- Ambassador by William Alexander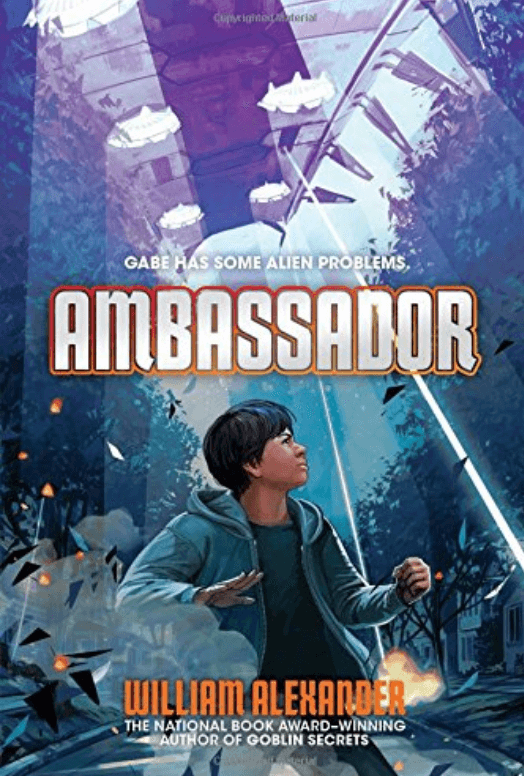 Ambassador is a heartfelt, deeply-affecting sci fi book that plays on an ingenious premise—turning the tables on the politically-charged pejorative "illegal aliens" and incorporating actual aliens.
Gabe is the child of undocumented immigrants in the U.S., living under constant threat of deportation. One night Gabe is visited, seemingly at random, by an alien creature who asks this unlikely 11-year-old, living on the margins of diplomacy and the law, to act as an ambassador for the entire human race at an intergalactic council.
Thrilled at the opportunity, Gabe is whisked away on a journey across the galaxy by a mechanism based on quantum entanglement, one of the most intriguing aspects of quantum mechanics that disturbed and haunted the great Albert Einstein—he called it "Spooky action at a distance." Aliens use it to project Gabe astrally to a mind-boggling meeting of alien minds at the center of the galaxy.
Gabe also learns that the world is in trouble—Earth is in the sights of a destructive alien force, and as an ambassador Gabe may have to advocate for the entire human race. Meanwhile, ICE closes in on his family, and Gabe discovers that he has been targeted for assassination—someone doesn't want humanity to have a voice in its own defense. A stellar science fiction book for kids that touches on a number of culturally important issues.
Buy Ambassador by William Alexander on Amazon here.
26- Fuzzy by Tom Angleberger and Paul Dellinger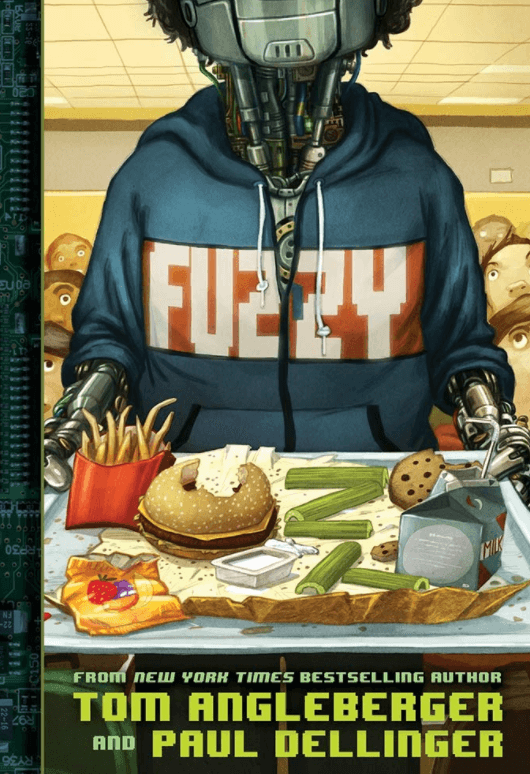 Fuzzy represents a brilliant melding of talents. Children's writer Tom Angleberger and adult sci-fi author Paul Delliger come together to make something truly unique—a middle-grade fiction book about the trials of being the new kid at school, with the added challenge of being a robot kid in a school full of human children.
In a world where humans and robots must coexist, laws attempt to integrate the two societies, including sending human and robot children to the same school. Human protagonist Maxine takes it upon herself to befriend Fuzzy, a new robot classmate, and help him try to fit in.
Things take a turn for the sinister, however, as it starts to become clear that the school's artificially intelligent student evaluation system, BARBARA, might be manipulating the robot pupils to create super-students, and Fuzzy's orientation becomes a fight for lives and souls.
In addition to being a fun science fiction book for kids, Fuzzy becomes a paean to tolerance and an exploration of abusive scholastic systems that treat students like numbers or commodities.
Buy Fuzzy by Tom Angleberger and Paul Dellinger on Amazon here .
27- Space Case by Stuart Gibbs
You have to hand it to Stuart Gibbs—setting a murder mystery on the Moon is inventive. Best of all for young sci fi enthusiasts, the protagonist is a 12-year-old boy.
The son of "Moonies," the first humans to settle on the moon, young Dash is discovering what anyone could have told him or his parents—the moon is boring. He's stuck in a moon base, placated with virtual reality games (maybe this hits a little close to home) while the grown-ups do the hard work of forging a society on the Lunar surface.
When the station's top scientist dies under mysterious circumstances, Dash is the only one who suspects murder. It looks like an accident, but partially driven by boredom, Dash sets out to investigate … and discovers that the deceased was on the verge of a discovery that could very well have put him in the crosshairs of sinister Moonies who don't want the truth to come out.
Buy Space Case by Stuart Gibbs on Amazon here.
28- The Jamie Drake Equation by Christopher Edge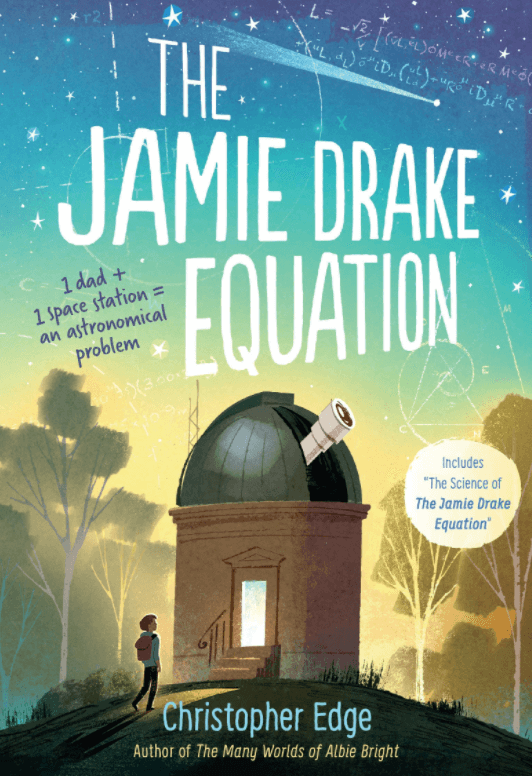 Kids want to be proud of their parents, and The Jamie Drake Equation imagines a situation where that is easy. Jamie Drake's father is an astronaut, in orbit on the space station. How cool is that? Jamie is definitely proud of his Dad but also misses his Dad. He spends his nights at the local observatory, gazing at the cosmos in solidarity with his space-travelling father.
One day Jamie's phone picks up a strange signal, seemingly of extraterrestrial origin. As Jamie investigates, it becomes clear that his father's space station mission could be in trouble. Faced with the reality of the danger of space travel, Jamie must step up and exhibit the kind of heroics he is used to attributing to his astronaut father.
Buy The Jamie Drake Equation on Amazon here.
29- Time Traveling with a Hamster by Ross Welford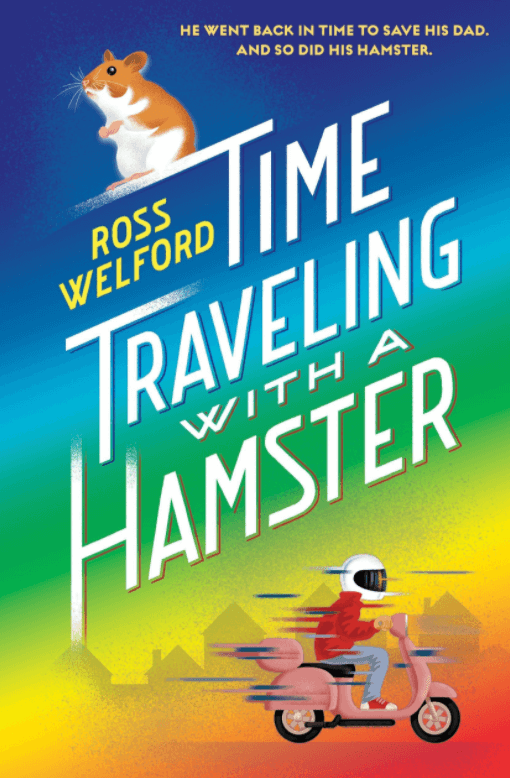 … because we were running out of things to do with a hamster, right? Why not time travel with one? This whimsically-titled novel instead drops us into the bleak world of Al Chaudhery, a twelve-year-old who misses his deceased father.
When a letter from his late dad arrives and directs him to a mysterious bunker, Al realizes that he is being led in the footsteps of a time traveller and has a chance to prevent his dad's death. In a high-stakes twist on Back to the Future, Al must travel back in time, deceive his mother, and wage a desperate gambit to change the past so he can alter the future. In the best tradition of science fiction books for kids, it balances excitement and wish fulfillment with a profound meditation on loss, acceptance, and the unbreakable ties of family.
Buy Time Traveling with a Hamster on Amazon here
30- The City of Ember by Jeanne DuPrau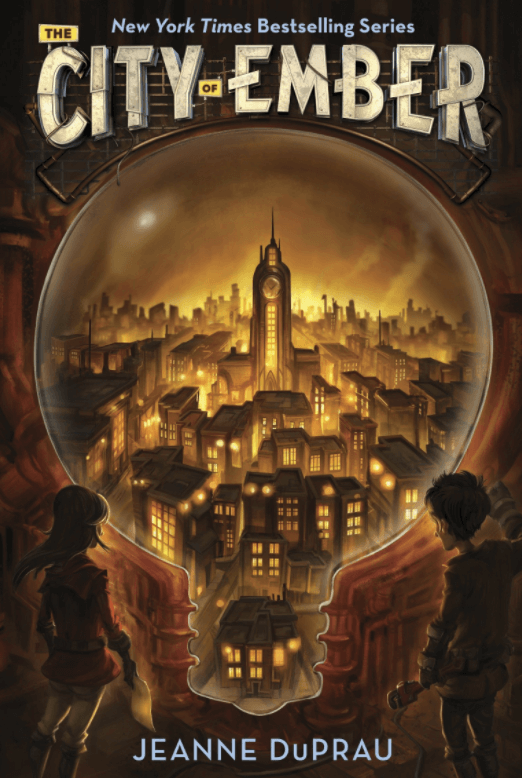 One of the most inventive and imaginative post-apocalyptic science fiction books for kids, The City of Ember is as cleverly-crafted as the puzzle box that forms its central plot device. It envisions a world where humans have fled to an underground city to escape a planet-wide armageddon event.
The city was meant to last 200 years, and the Builders enclosed in a puzzle box instructions to leave the city and rebuild the world, to be passed down from one mayor to the other until the box automatically opened after 200 years. But one irresponsible mayor tried to open it early, failed, and discarded it. Within a few short generations, the fact that the City of Ember was meant to be temporary is lost to history.
Two hundreds years come and go, and Ember is beginning to run out of food, its energy turbines to break down. As the city descends into dystopia, children like Lina are forced into the workforce by lottery. Lina discovers the discarded puzzle box among her grandmother's junk, but not before her baby sister Poppy manages to eat some of the Builders' instructions for the redemption of humankind!
The discovery casts Lina as an unlikely savior of human civilization as she pieces together the clues that could change everything. But the powers that be don't necessarily want things to change. The race is on for Lina to reveal the truth in the face of public apathy and fear—a message that lands as prescient today.
Buy The City of Ember by Jeanne DuPrau on Amazon here.
You Might Also Like: