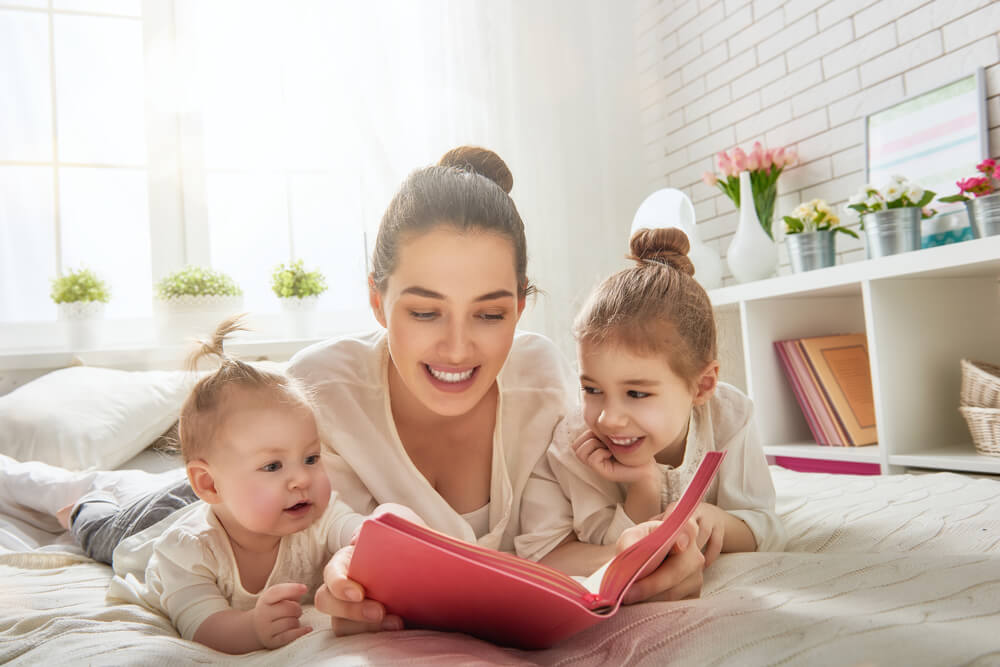 Experts say there are numerous benefits of starting early to read the best baby books to your little one. In fact, one study published in 2018 in the Journal of Pediatrics seems to suggest that reading to your baby plays a role in brain activation and may help your infant get started early on critical language skills.
It's also a fun way to promote the bond between you and your baby, as well as instill a passion for reading in your child early on. In truth, a child may not grasp every word you read but your bundle of joy will likely be exposed to your rhythm and tone, which is crucial for developing a consistent bedtime routine.
However you think about it, you will need a decent library of the best classic baby books. These are the timeless books that have been read and re-read from one generation to the next, and they are certainly going to be an instant hit with your little loved one.
Looking for the next book to read to your toddler? We've rounded up a list of the 40 best baby books to buy for the new parent in 2023, including all-time favorites and newer additions. Whether you're buying for yourself or looking for the best books for a baby shower coming up, we're sure you will find some gems here.
1: Goodnight Moon, by Margaret Wise Brown (1947)
Amazon
Hands down one of the best classic baby books of all time, Goodnight Moon is a timeless bedtime story that you and your child will love. This highly regarded book has been read, bought, checked out at libraries, and loved from generation to generation, and it has never lost its luster.
A short story of a young bunny bidding "good night" to everything in its bedroom, while watched over by a maternal bunny in a rocking chair, and illustrated by the award-winning artist Clement Hurd, the book sports instantly familiar, colorful images we are sure your little one will fall in love with.
For such a niche-defining board book, it's hard to believe that Goodnight Moon was once banned by the New York Public Library. In some way, this speaks volumes about its resilience as a masterpiece.
2: Look, Look! by Peter Linenthal (1998)
Amazon
If you're on the hunt for a classic black-and-white option with less of a narrative, check out this simple picture book by Peter Linenthal. Young infants' color vision is not well-developed and they focus on high contrasts like white and black in their early days, making  Look, Look! excellent for their developing eyes.
This is among the best books for a baby shower, as it's contrasting black and white images will invite the looks and stares of infants as well as attract young toddlers just starting to stare and learn. A beautiful book filled with cut-paper art in high-contrast black and white, it has rhythmic phrases like "stars shine," "fish swim," and "children run," helping to introduce your young child to the music of language.
3: You Are Light, by Aaron Becker (2019)
Amazon
Die-cut art has always been a huge hit with babies, and this gorgeous book by Aaron Becker will be an invaluable addition to your home library. Instead of words, this book featuring beautiful die-cut circles places more emphasis on color. It will work like a charm for the youngest babies who are fascinated with light, color, and contrast.
The simple text and illustrations in this board book are impressive on their own, but the colored die circles that become interactive when held up to the light take it up a notch. Even your older kids will flip over this innovative product.
4: The Secret of the Tattered Shoes, by Jackie Morris (2020)
Amazon
If you're looking for a fantastic baby book with a fresh telling of an old tale, look no further than Jackie Morris's The Secret of the Tattered Shoes. It's an impressive reworking of the timeless Brothers Grimm fairy tale of 12 dancing princesses who, despite being locked into their bedroom at night, have their shoes worn down by sunrise, as if they'd been dancing the night through.
It's the job of one curious young soldier to unravel their overnight exploits. In addition to its  fascinating storyline, the book is full of marionette-style collage illustrations by Ehsan Abdollahi, all of which appeal to a baby's growing curiosity. That's why it never misses in any list of the best baby books.
5: I Wish You More, by Amy Krouse Rosenthal
Amazon
There's little that can compare to parents' love for their child. In this charmingly illustrated and heartwarming book, the duo of author Amy Krouse Rosenthal and illustrator Tom Lichtenheld showcase their creativity by rounding up a laundry list of best wishes parents can make for their children.
In brief rhythmic phrases, "I Wish You More" tells your child about the most important things you wish for them: "more we than me," "more give than take," and so much more. Your young child will delight at how this board book conveys the kindest and most loving of your wishes for your child and is one of the best baby books available.
6: My First ABC, by the Metropolitan Museum of Art (2002)
Amazon
Helping your baby learn to love letters, words, and beauty is a gift that will be theirs for the rest of their life. This unique book by the Metropolitan Museum of Art will help your little one learn his or her ABCs by associating a picture with each letter of the alphabet.
But the letter illustrations inside this gem of a first book are not your ordinary Apples, Bees, and Cats. Beautifully reproduced classical works of art from diverse periods and cultures represent the letters of the alphabet, encouraging your child to develop a passion for reading while exploring the wonders of art. This is a wondrous gift for young children.
7: The Very Hungry Caterpillar, by Eric Carle (1994)
Amazon
Like Margaret Wise Brown's Goodnight Moon, The Very Hungry Caterpillar is among the best classic baby books that have transcended generations. In this artful picture book, Eric Carle creates a brightly colored blend of spacious collages to tell an enchanting story of, well, a very hungry caterpillar.
Wonderfully interactive and featuring beautiful artwork with inviting text, Carle's beloved book will charm your toddler. With The Very Hungry Caterpillar, your bedtime routine will warm, peaceful, and joyous!
8: Daytime Nighttime, by William Low (2015)
Amazon
Our love for pets and animals springs at a very tender age, and why not – they are so adorable! This cute and simple baby book introduces your very young child to the fascinating world of wildlife in a fun way. Every page you turn reveals which animals are active at night or during the day, as well as what they do at those times.
Both you and your tot will be impressed by the large, vibrant illustrations that are so realistic they will transport you into the burrows, grasslands, forests, and other environments. It also includes simple text on every page to expose your little one to sounds and keep them engaged. William Low's Daytime Nighttime is regarded as one of the best baby books for newborns to two-year-olds.
9: Good Night, Gorilla, by Peggy Rathmann (1996)
Amazon
Babies and kids of all ages love animals and adventure stories. The Good Night, Gorilla by the serial author Peggy Rathmann brings the best of those two worlds together. This fun baby book will provide you and your little one with a dose of much-needed laughter.
This happy-go-lucky story tells the tale of a naughty gorilla who isn't ready to sleep when night falls. Instead, the mischievous ape tip-toes behind the zookeeper on his night rounds and lets all the zoo animals out for a fanfare adventure in his house. One of the best baby books you can get!
10: The Fate of Fausto, by Oliver Jeffers (2019)
Amazon
Oliver Jeffers started writing children's books in the mid-2000s. More than a decade and several awards later, the Australian-born Irish author-cum-illustrator has become a household name in children's literature. The Fate of Fausto is a culmination of his genius and talent.
Another classic from the fairytale aisle, it's about Fausto who "believes he owns everything" on the Planet. Wherever he goes, mountains, trees, animals, and everything around him seem to bow to his presence. Things go terribly awry when he tries to force the sea to worship him. This powerful story unfolds beautifully thanks to a combination of elegant handset text and big, bright illustrations.
11: Brown Bear, Brown Bear, What Do You See? by Bill Martin, Jr. (1996)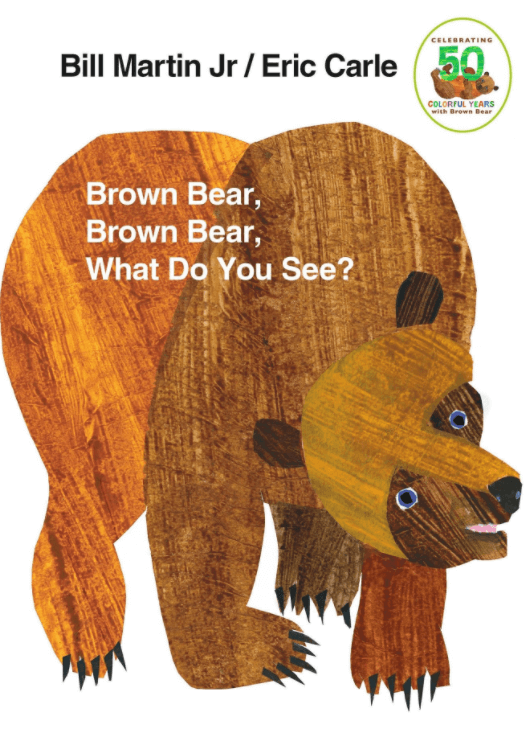 Illustrations by the brilliant Eric Carle seem to resonate with the youngest minds, and those in this picture book by Bill Martin, Jr. will certainly hit the sweet spot. From a duck and a horse to a frog and a cow, your little angel will love staring at those luminous animal illustrations in this classic book.
It's the rhythmic text and bold colors, however, that set Brown Bear, Brown Bear, What Do You See? apart from the rest. It's a must-have in your home library for bedtime and playtime and is one of the best classic baby books.
Buy Brown Bear, Brown Bear, What Do You See? on Amazon here.
12: Pick-A Who? by Nina Laden (1996)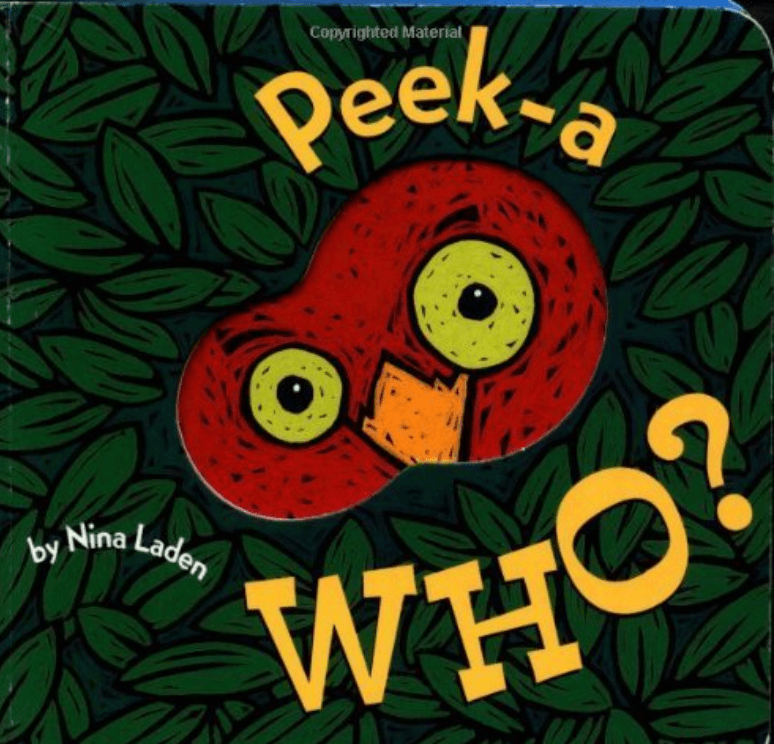 Looking for a fun, hide-and-seek book to read with your baby? With simple rhyming text paired alongside brightly-colored images, you will have plenty of fun chuckling and guessing with your tot what is hiding in the next page in this inviting book.
Die-cut windows strategically placed on each page give your child a clue of what might be peeking from the next page. The colorful illustrations and the sheer anticipation make this baby picture book as or more exciting than traditional peek-a-boo games.
Buy Pick-A Who? by Nina Laden on Amazon here.
13: ¡Fiesta! Ginger Foglesong Guy (2007)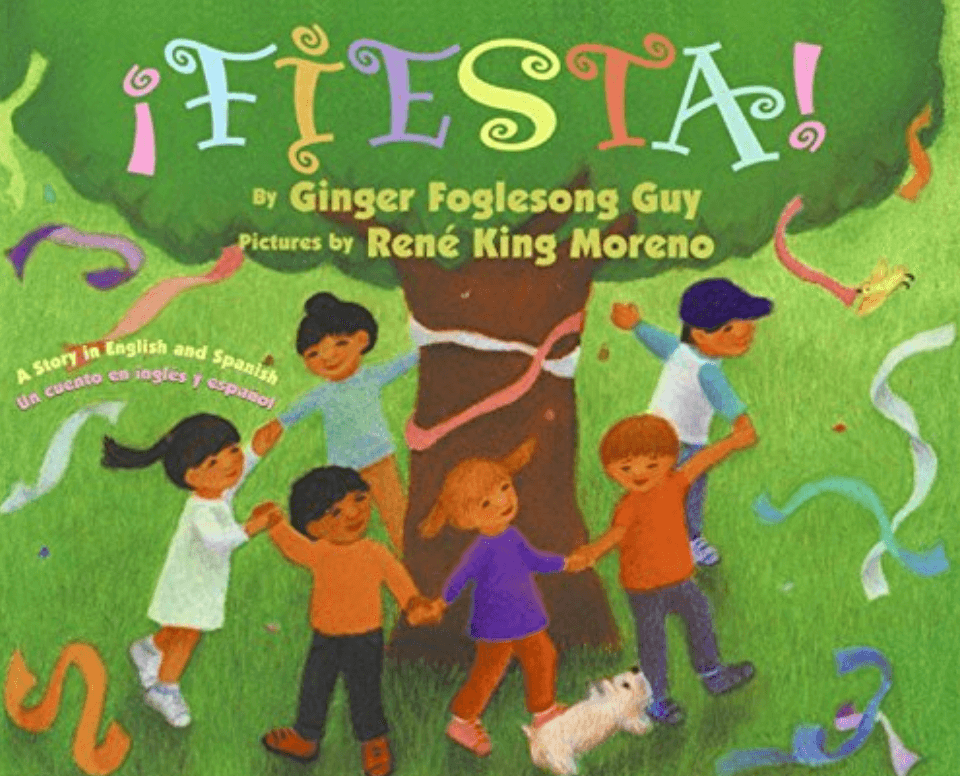 One of a growing number of bilingual baby books on the market, Ginger Foglesong Guy's ¡Fiesta! is a true gem. In this Spanish-English counting book, you and your child accompany a group of kids and tag along on their shopping spree for all the things they need for a party.
Count along as they buy rings, gum, whistles, party hats, airplanes, and more! As well as looking at attractive pictures, your child will learn in this easy-to-grasp story the beginnings of counting as well as gain exposure to one of the most popular languages in the world and add some easy, new Spanish words to their vocabulary.
Buy ¡Fiesta! Ginger Foglesong Guy on Amazon here.
14: Giraffes Can't Dance, by Giles Andreae (2012)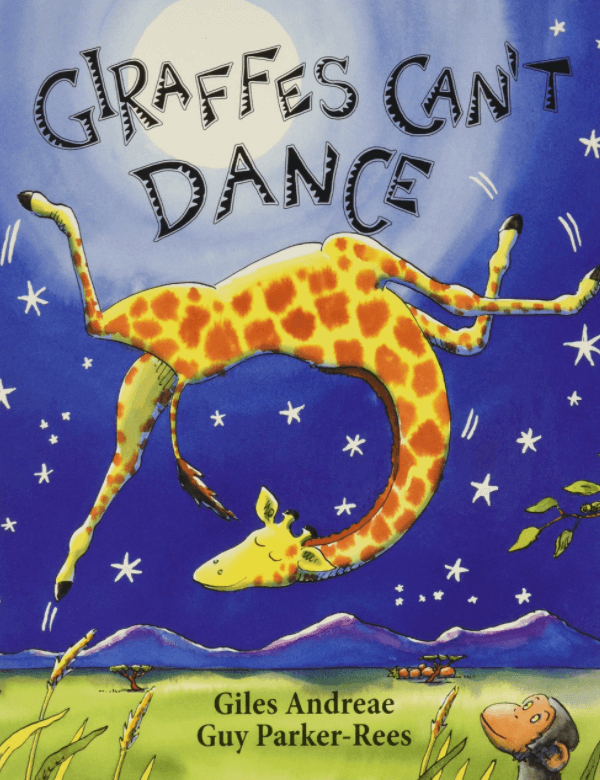 Available in hardcover, paperback, and board book, Giraffes Can't Dance is a fun, lighthearted yet moving storybook about a giraffe named Gerald who wants to learn to dance more than anything else in the world. Much to Gerald's chagrin, his knees are too crooked and his legs are too tall for him to dance properly.
Everything changes when he finds a friend who encourages him to be unique and dance to his own tune. Does Gerald eventually become a good dancer? This captivating story illustrated with beautiful pictures will inspire your little one and older kids too to value themselves as they are, not as they wish they might be.
Buy Giraffes Can't Dance, by Giles Andreae on Amazon here.
15: Baby Signs: A Baby-Sized Introduction to Speaking with Sign Language, by Joy Allen (2008)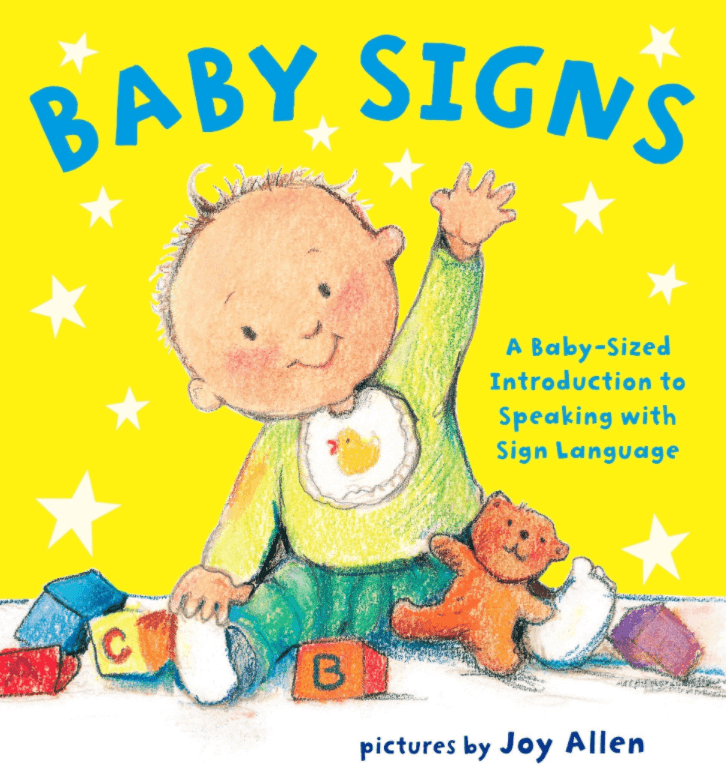 Research shows that babies who use gestures to communicate are more likely to talk early, throw fewer tantrums, and feel less frustrated. In fact, long before they learn to talk, babies use sign language to express themselves.
This cute board book by Joy Allen is another communication helper to add to your parenting toolkit. It's full of simple but essential signs that will help your toddler or baby learn how to communicate their feelings, wants, and needs via gestures. Learn to sign to your baby while saying the word for the sign; you will be amazed at how quickly your child picks up sign language and begins to use it!
Buy Baby Signs: A Baby-Sized Introduction to Speaking with Sign Language on Amazon here.
16: Jellycat Baby Touch and Feel Board Books, by Anne Wilkinson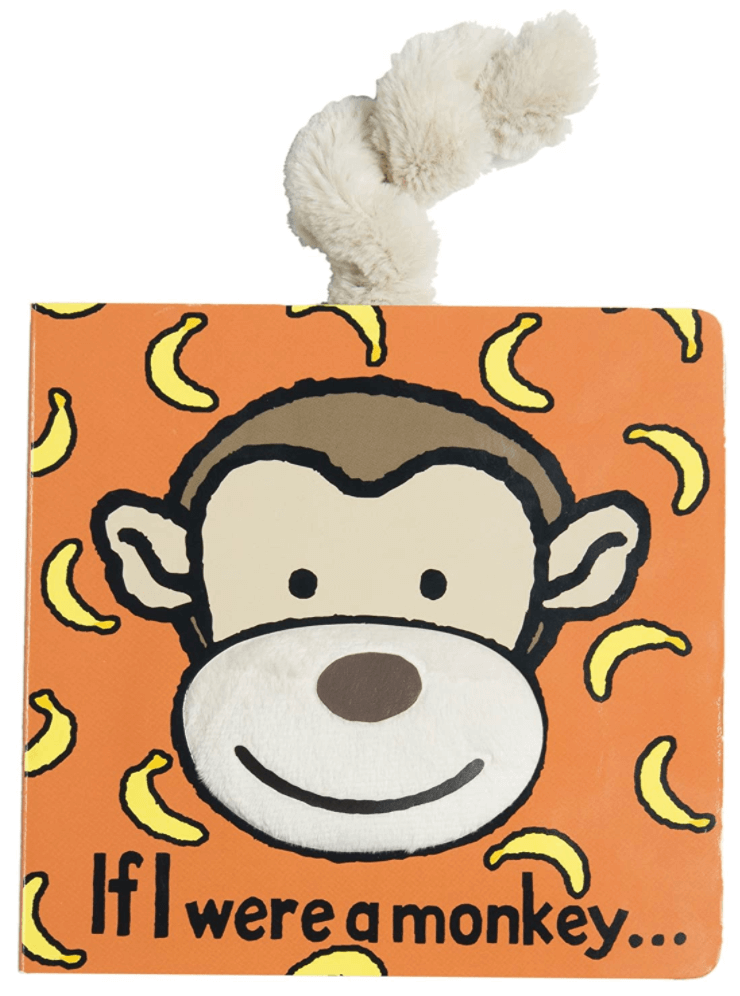 Babies and toddlers love to play make-believe games, and these touch and feel board books in the Jellycat series might be your best bet. There are 23 board books in total in this series, and they all feature real and fictional creatures, from a monkey in If I Were a Monkey to a plush unicorn illustrated in If I Were a Unicorn.
Each colorful page sports numerous textures for your child to touch and feel to learn about each animal. For babies, we think If I Were a Kitty or If I Were a Dog will do the trick.
Buy Jellycat Baby Touch and Feel Board Books on Amazon Here.
17: The Giving Tree, by Shel Silverstein (1964)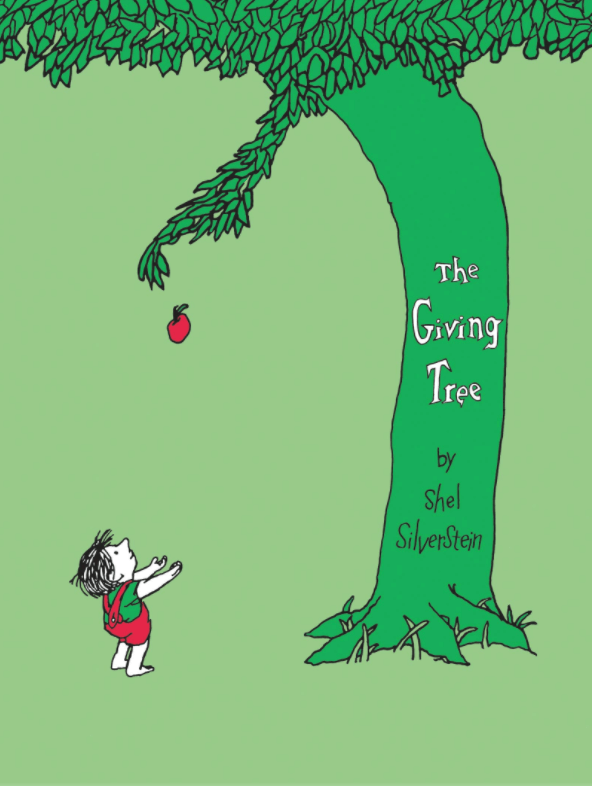 It's never too early to teach your little one the virtue of gratitude and thankfulness. The Giving Tree is one of the best classics baby books on the subject, having been actively published for more than half a century.
Superbly illustrated and written by the legendary writer Shel Silverstein, this is an extremely touching picture book about the gift of giving and the art of reciprocation. This classic has stolen the hearts of many youngsters before and will definitely be a pleasure for you and your baby to read.
Buy The Giving Tree on Amazon here.
18: Besos for Baby: A Little Book of Kisses, by Jen Arena (2014)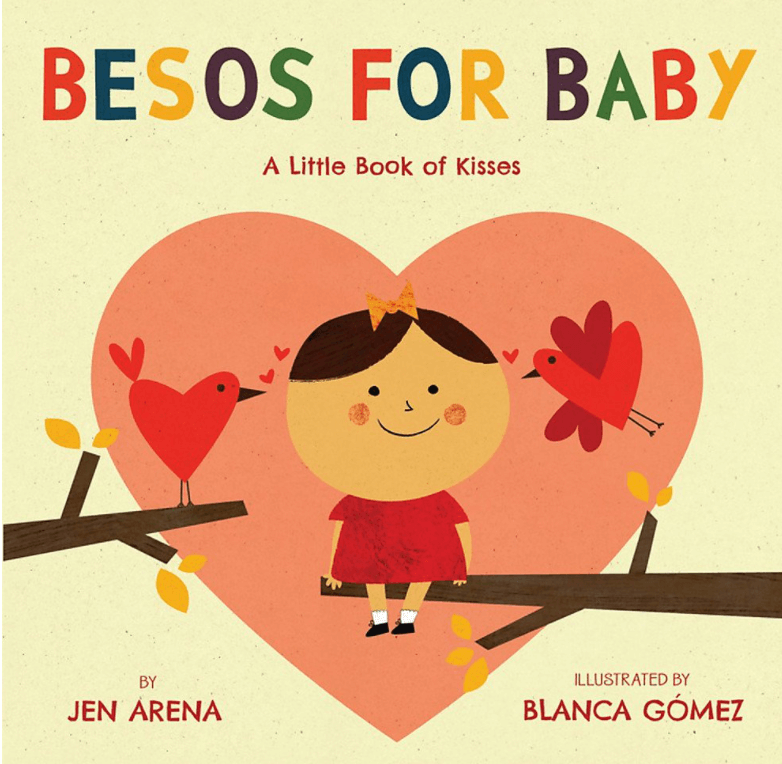 Every family member has a lot of sweet besos for the new bundle of joy, from gato and perro to Papi and Mami. Another bilingual masterpiece, Besos for Baby has rhythmic English text paired with easy-to-understand Spanish translations. As such, this is a great book to help your child get accustomed to hearing two different languages.
This charmingly simple Spanish-English book of kisses shows that the language of love is universal. It's packed with bright, photographic illustrations to accompany your kisses as you read the text and give your baby a beso or two!
Buy Besos for Baby: A Little Book of Kisses on Amazon here.
19: First 100 Words, by Roger Priddy (2011)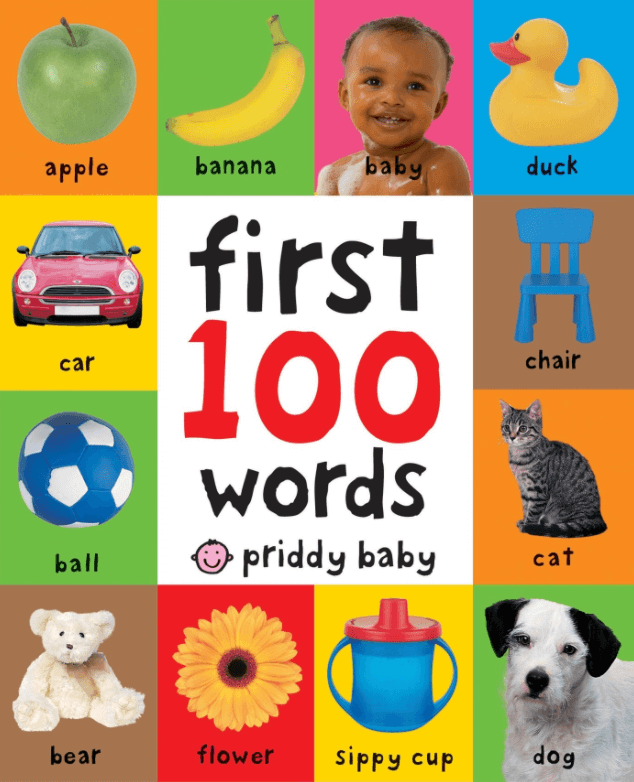 Roger Priddy's First 100 Words is a fun point-to-learn option to aid your child in learning about the world they are growing into. Note that this book has no storyline. Instead, it sports 100 familiar words, with each accompanied by a colorful image that describes it.
Expect your child to learn stuff around them like brush, potty, white rabbit, and other common animals and items. You'll probably wonder why the book has a truck and a dump truck, but that doesn't matter to a budding mind. This is a must-have book for babies, toddlers, and young  children.
Buy First 100 Words on Amazon here.
20: Baby Dance, by Ann Taylor (1998)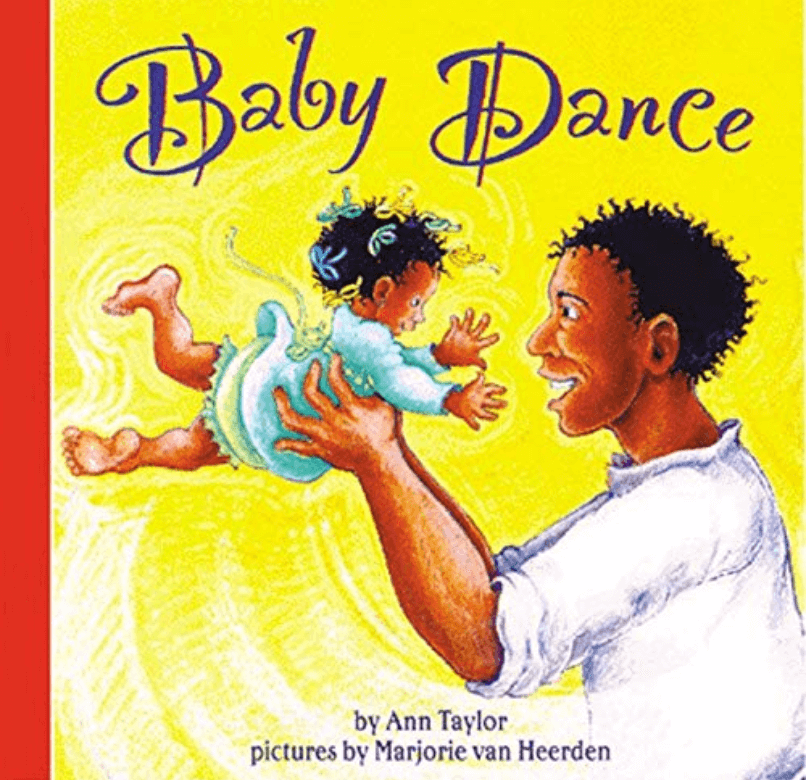 No baby can resist the charming arms of their mom, dad, or older sibling. They love to be held, twirled, lifted, swung, and cradled and danced with. As the name suggests, Baby Dance is a board book filled with poetic and rhythmic text paired with colorful illustrations that feature gentle, soft motions of dancing.
This super cute book captures a scenario in which the father has fallen asleep while his baby daughter is wide awake. The beautiful graphics are complemented by Ann Taylor's lyrics from the last century. It's rare to find books for young children that highlight the bond of a daughter and her dad, making Baby Dance a must-have for your child's library.
Buy Baby Dance on Amazon here.
21: Press Here, by Herve Tullet (2011)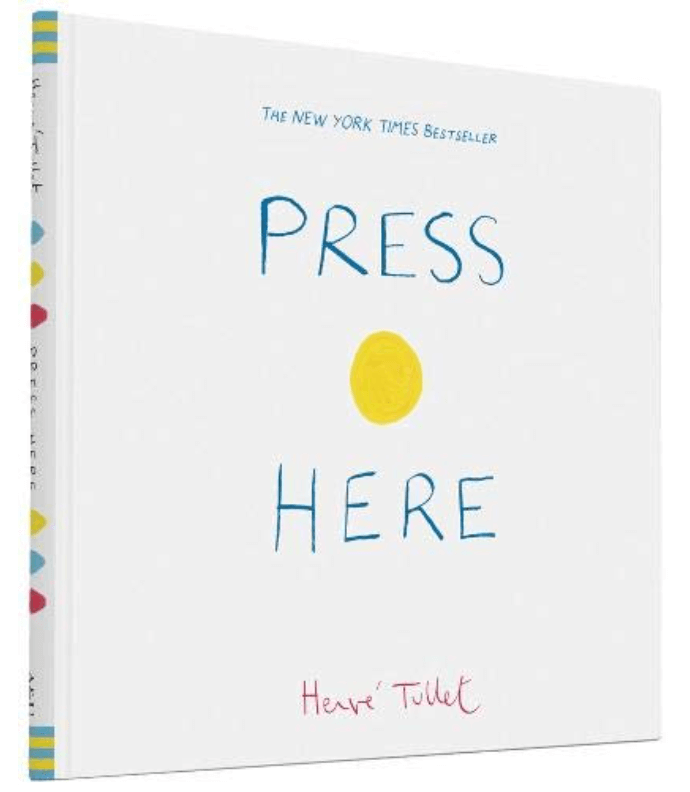 A good pick from the Prince of Preschool, a New York Times list of the best baby books, Press Here is an interactive picture book that will knock your kid's socks off. While it's meant for early readers, this book also helps your baby learn in an engaging and simple way about cause and effect.
You and your little one will be impressed by how fun and engaging this interactive book is. Every time your tot presses the yellow dot, it will scatter, multiply, or just move, a great way to harness his or her power of imagination.
Buy Press Here on Amazon here.
22: Guess How Much I Love You, by Sam McBratney (2013)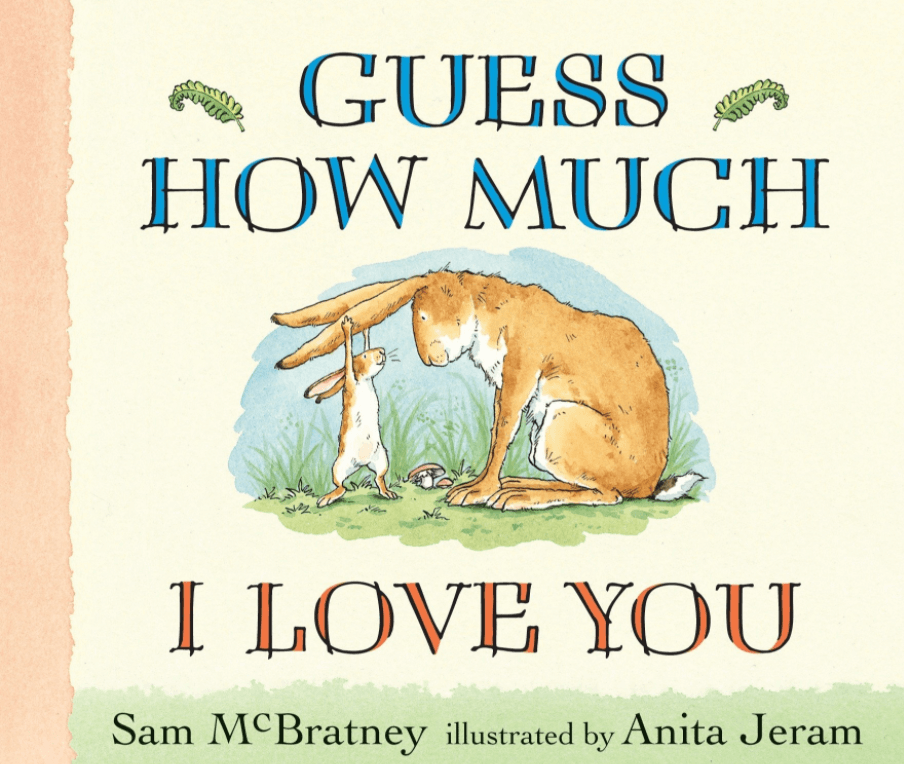 Every parent will tell you that their love for their children is immeasurable, and I bet you love your little one to the moon and back, too. There is no better book to help you express this in text and illustrations than Sam McBratney's Guess How Much I Love You.
One of the best books for a baby shower, it tells the story of Little Nutbrown Hare who attempts to measure his love for his dad in hops and reaches. However, Big Nutbrown Hare can jump much higher and reach a bit farther than the youngster. Thanks to its touching nature, this book will quickly become a mainstay of your bedtime routine.
Buy Guess How Much I Love You on Amazon here.
23: Oh No, George! Chris Haughton (2015)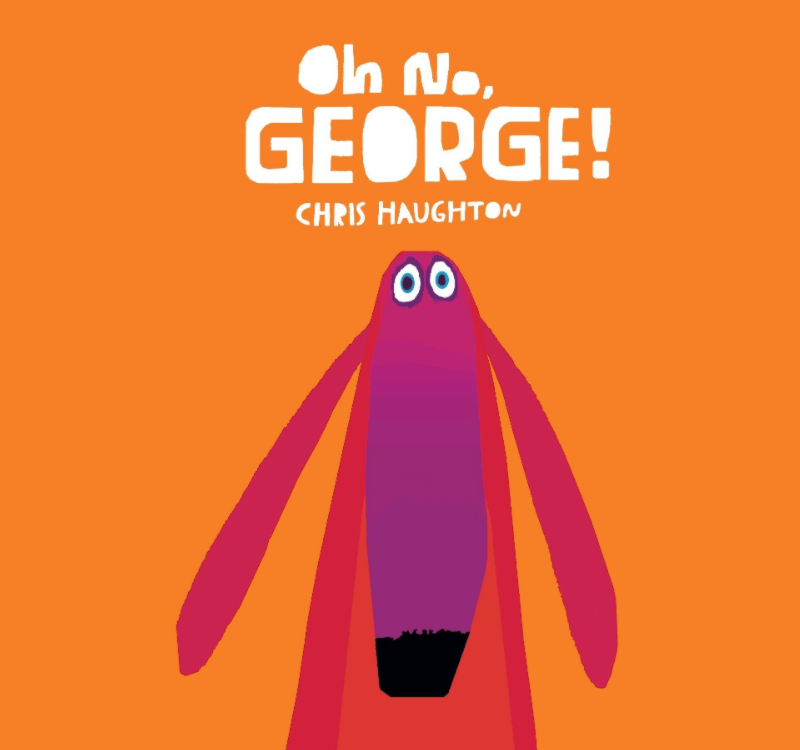 Who is a good boy? Chris Haughton's bestseller Oh No, George! highlights the virtues of restraint and self-control like no other baby book. It's a story of George, a beloved dog who is left alone for a day by his owner, Harry.
While George is trying his best to be a well-behaved dog while Harry is out, his burning desire to chase the family cat gets the best of him. The result: a messy home, and a lot to answer to his owner. Besides the central theme of teaching self-discipline, your kid will love the dog mayhem with the chorus ending "Oh no, George!"
Buy Oh No, George! on Amazon here.
24: If Animals Kissed Good Night, by Ann Whitford Paul (2014)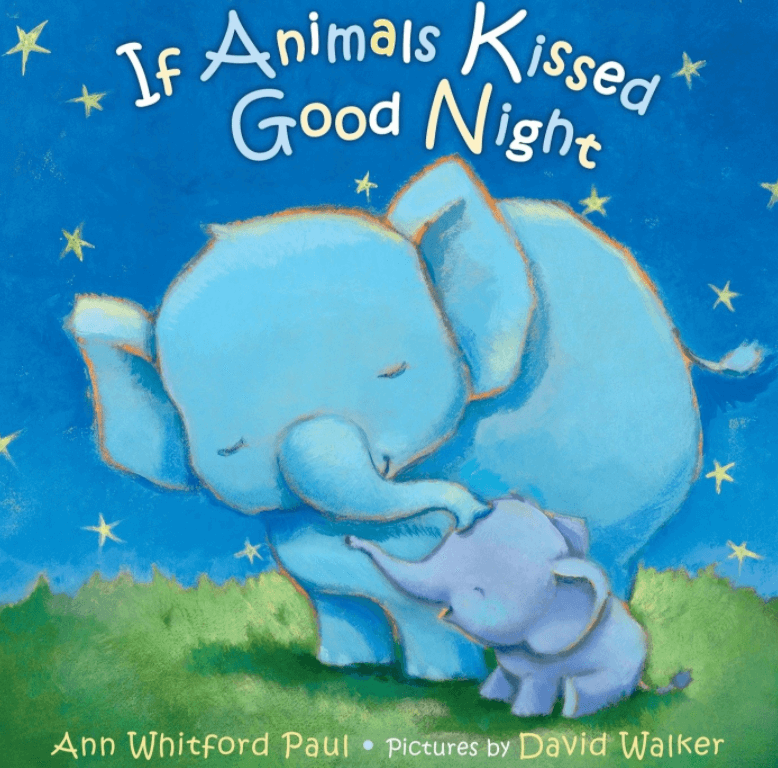 To say that If Animals Kissed Good Night is an adorable book is a complete understatement. Sweet and lovingly sentimental, this is a book that will leave both you and your child wanting more, making it one of the best baby books for bedtime reading.
The book uses an easy to follow poetic style paired with brightly colored illustrations that feature several animal babies and their moms wishing them good night. It answers one question: if animals were to kiss their babies goodnight, how would they do it? Be sure to follow up with others in the series, including If Animals Went to School, If Animals Celebrated Christmas, and If Animals Said I Love You.
Buy If Animals Kissed Good Night on Amazon here.
25: Dr. Seuss's ABC: An Amazing Alphabet Book! by Dr. Seuss (1996)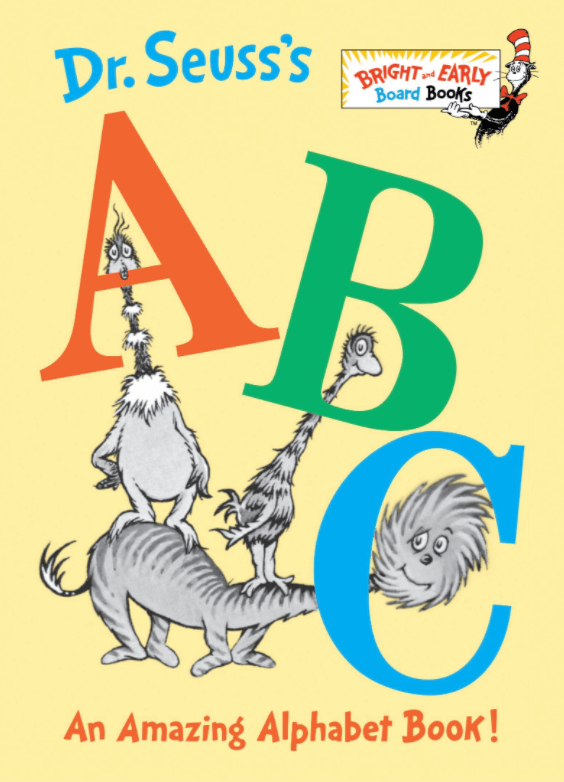 Learning their ABCs has never been this fun and easy for toddlers! If there's one person you can count on to make learning more exciting than ever, it is non other than the iconic illustrator and author Theodor Seuss Geisel (aka Dr. Seuss).
In this lovely book, he uses tantalizing characters like Queen of Quincy and David Donald Doo to make learning the alphabet such a fun activity. While the book uses simple language, it's full of surprises, spritely art, and rhythmic text that captivate your child's memory and imagination. There's no doubt this is among the best classic baby books of all time.
Buy Dr. Seuss's ABC: An Amazing Alphabet Book! on Amazon here.
26: The Rainbow Fish, by Marcus Pfister and translated by J. Alison James (1999)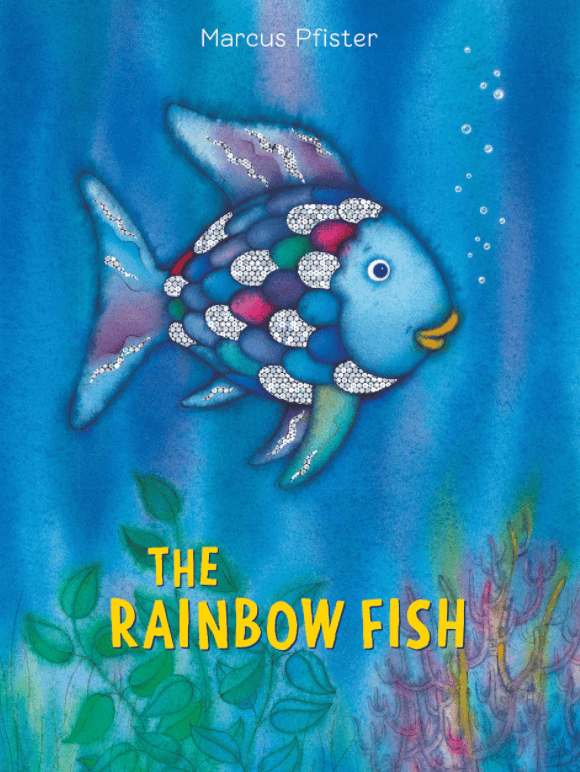 A Christopher Award Winner, Marcus Pfister's The Rainbow Fish is a modern classic with worldwide critical acclaim. Your baby will be wowed by the glitter and foil stamping that's an eye-candy on each page. However, it's the universal message of sharing and love that truly makes it one of the best classic baby books the world over.
Translated from German to English by J. Alison James, this picture book highlights the value of sharing through the eyes of a beautiful fish that learns that there's more to life than being pretty. This timeless story will help your child learn this vital lesson at a young, malleable age.
 Buy The Rainbow Fish on Amazon here.
27: The Going-to-Bed Book, by Sandra Boynton (1982)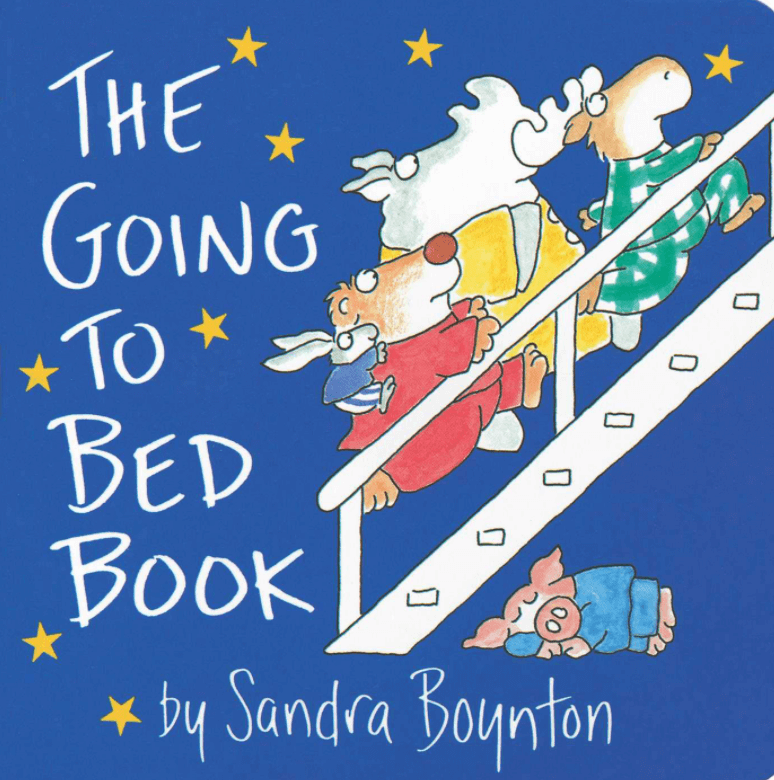 If you're after a classic bedtime staple, The Going-to-Bed Book by Sandra Boynton couldn't be more direct. As the title suggests, this is a great picture book to help lull your little one to slumber.
We've come to love Sandra Boyton's best books for a baby shower like Barnyard Dance!, Moo, Baa, La La La!, and Blue Hat, Green Hat. And you can't go wrong with this one. It uses illustrations of animals calling it a night to help you encourage your child to get some sleep, too.
Buy The Going-to-Bed Book on Amazon here.
28: Love You Forever, by Robert Munsch (2018)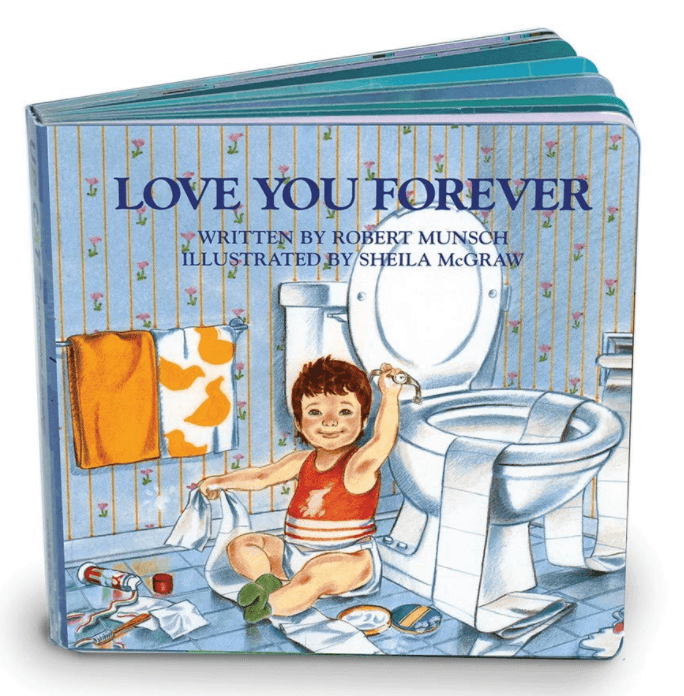 Millions of copies of Robert Munsch's Love You Forever have been bought across the globe, and you will understand why when you open up this delightful book. It was probably your grandpa's and grandma's favorite, and it will be your son's or daughter's bedtime must-read too.
The book follows the story of a mom who holds and sings to her son about how much love and affection she has for him. At the end of this book, you will find yourself tearing up in joy. Your child will enjoy the well-constructed illustrations and easy-to-follow storyline. This is one of the best books for a baby shower.
Buy Love You Forever on Amazon here.
29: Corduroy, by Don Freeman (1968)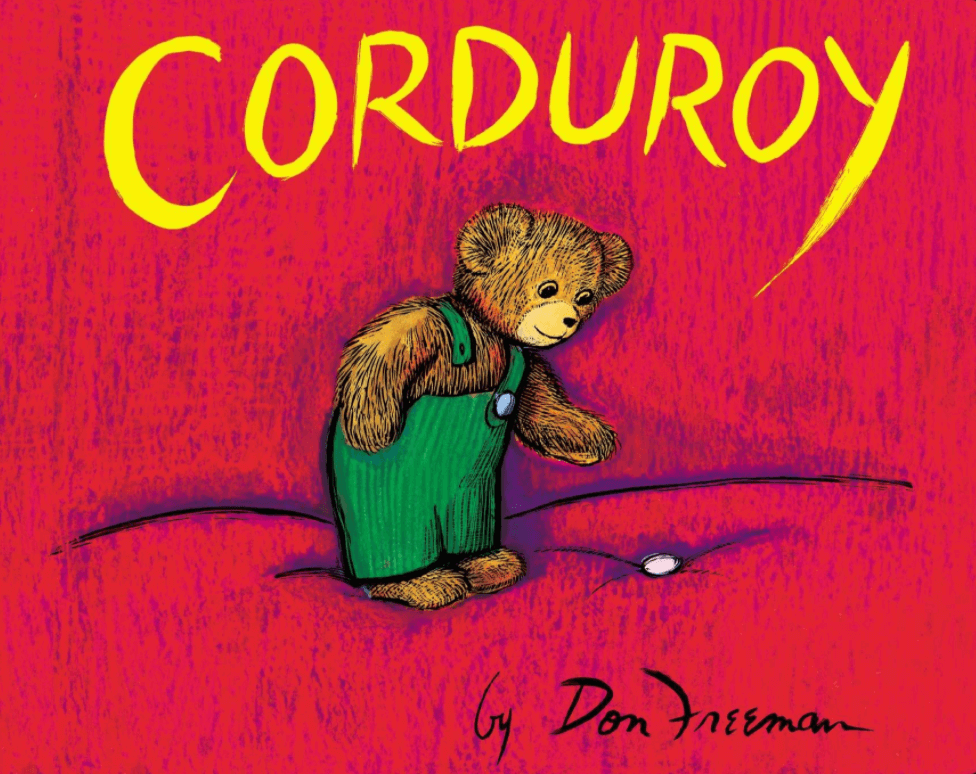 Corduroy, the beloved teddy bear, made a debut in the children's literature scene more than half a century ago, and children can't seem to get enough of his adventures. This unabridged baby book will add a classic to your home library.
In this book, Corduroy is having a great time in the department store only to realize that one of his coat buttons is not there. Thanks to the book's highly detailed illustrations and straightforward wording, you can follow the small bear on his adventure around the store in the evening looking for his precious button. Through this insightful book, your child will learn the true meaning of friendship.
30: TummyTime: Happy Baby, by Duopress Labs (2019)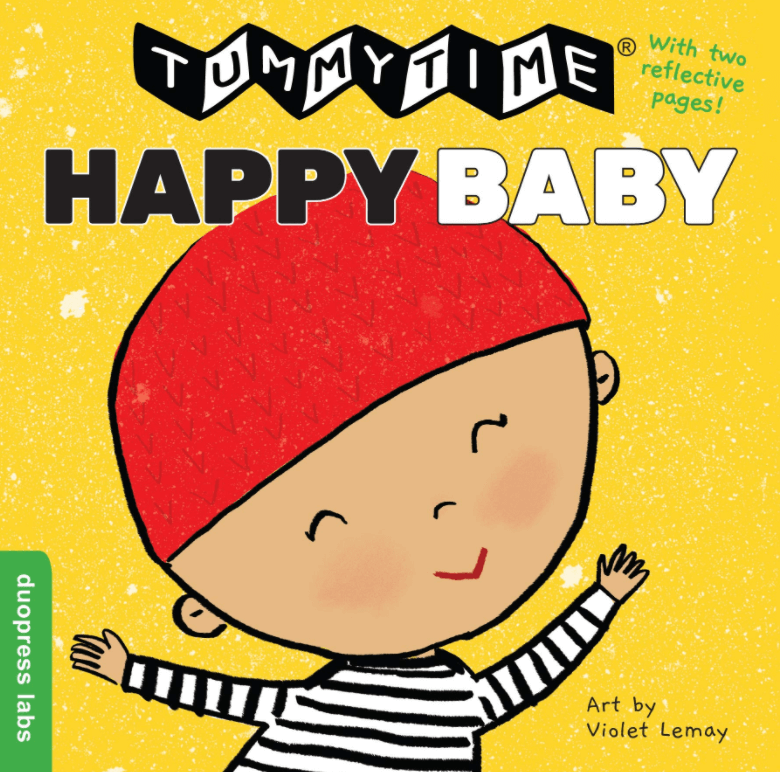 In the past few years, DuoPress has become a baby literature powerhouse, and TummyTime: Happy Baby is one of its many entertaining titles. Parents know that a baby's tummy time can be a trying moment – let this book take the pain and hassle out of the situation.
You and your little chummy will love that this book fold out in an accordion style. This unique book features a mix of pictures of smiling toddlers, high-contrast patterns in black and white, and mirrored pages so your child can catch a glimpse of himself or herself.
Buy TummyTime: Happy Baby on Amazon here.
31: Richard Scarry's Trucks, by Richard Scarry (2015)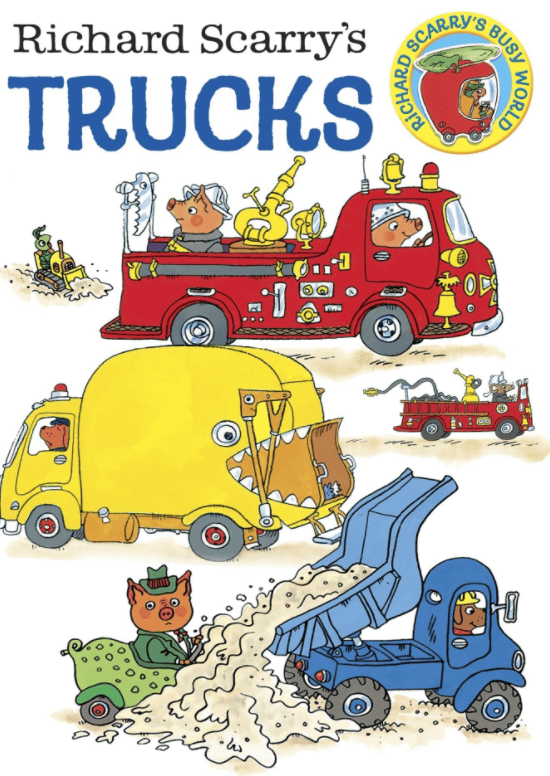 Richard Scarry's Trucks is another exceptional classic that has survived multiple generations without losing its entertaining appeal. You and your baby will make a plunge into Richard Scarry's bustling world and rev engines of his odd looking fast trucks, bulldozers, pickle tankers, fire engines, dump trucks, and more.
From page to page, this book will enchant your little darling with its detailed illustrations while it takes you on a fun trip down memory lane. With brightly luminous drawings and simple text, these silly, colorful trucks are ideal for young minds.
Buy Richard Scarry's Trucks on Amazon here.
32: The Pigeon Needs a Bath! by Mo Willems (2014)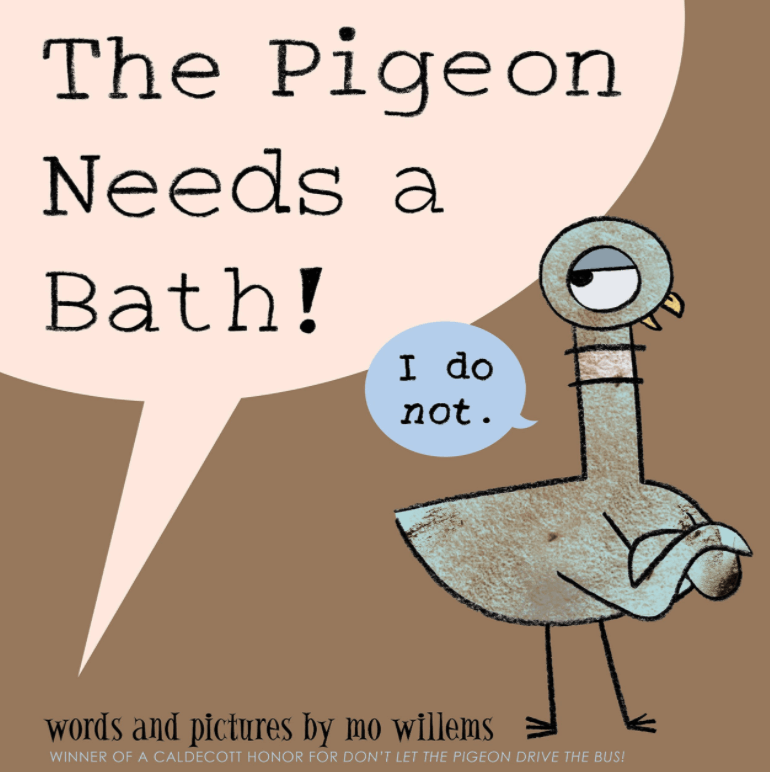 As parents, we know how challenging bath time often is. Mo Willems' Pigeon series is exactly what you need to help your toddler or baby navigate leaving playtime on the floor for bath time in the tub!
In this 9th installation in the series, Pigeon needs a serious wash, but he doesn't feel like it. After all, in his mind, he took one last month. Mo Willems uses some of the most adorable illustrations and helpful, simple text to help developing minds navigate complicated social relationships and express their feelings and emotions. Will the pigeon eventually take a bath?
Buy The Pigeon Needs a Bath! on Amazon here .
33: The Button Book, by Sally Nicholls (2019)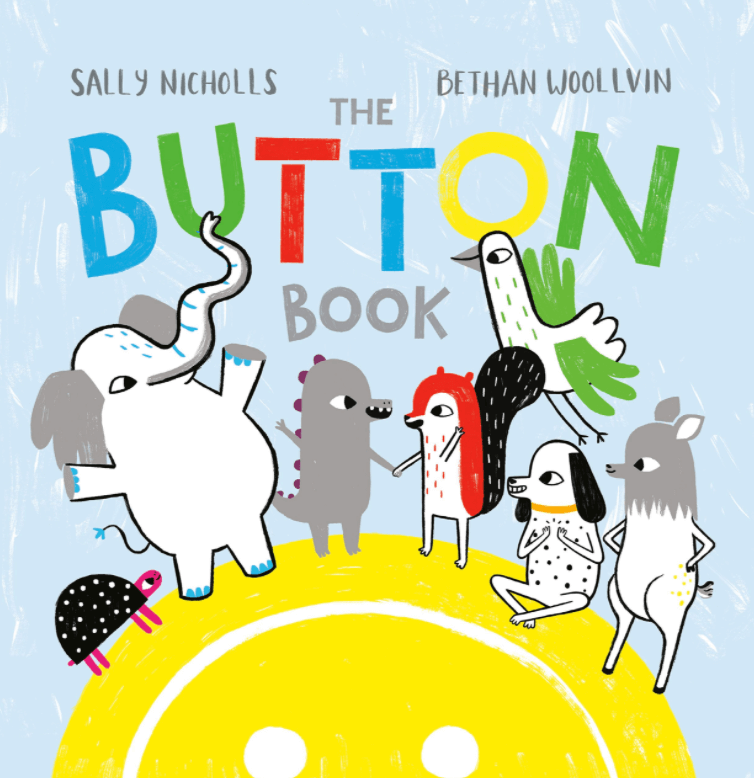 This sweet and interactive book features infectious and silly illustrations by Bethan Woollvin, so you know that it's a page-turner. Designed to introduce toddlers and babies to the world of colors through fun and clever interactive elements, this book is a good choice for both bedtime and dedicated storytime.
If you or your child loved Hervé Tullet's Press Here, there's no question you will flip over this one. The question remains: what happens when you press the button? From a purple button that tickles and a blue one that sings to a mysterious white button and one that gives hugs, pushing them all is perhaps the only way to figure out what happens next.
Buy The Button Book on Amazon here.
34: There's a Wocket in My Pocket! by Dr. Seuss (1996)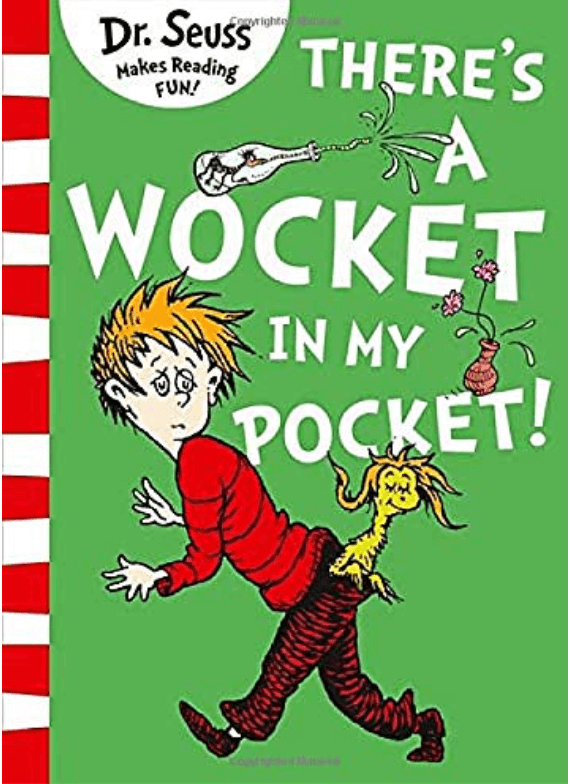 A book of ridiculous and wonderful rhymes, Dr. Seuss's There's a Wocket in My Pocket! will crack you and your little one up with laughter. Even though it's an abridged version of the 1996 book of the same name, this remains one of the best baby books when it comes to rhyming.
Colorful illustrations and delightfully rhyming text help introduce your little bunny to word associations and wordplay. Each high-contrast illustration will bring pleasure to you and instill a love of reading in your child.
Buy There's a Wocket in My Pocket! on Amazon here.
35: Chicka Chicka Boom Boom, by Bill Martin, Jr. and John Archambault (2012)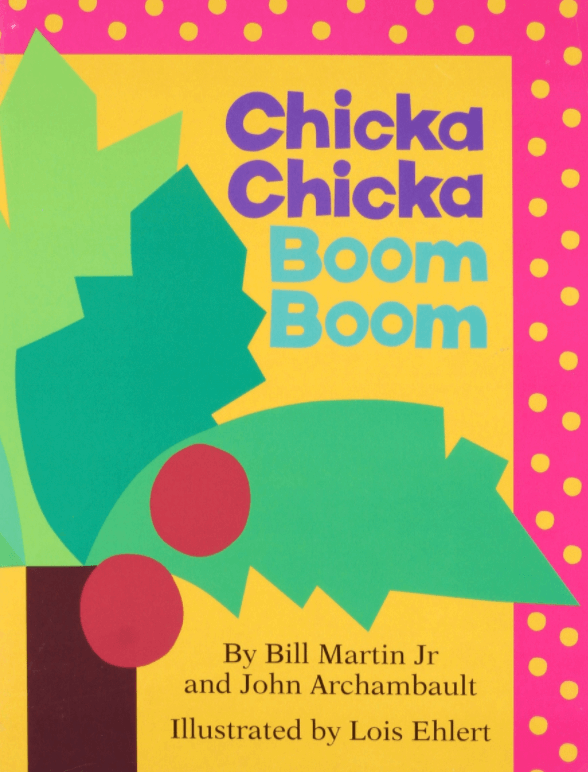 Leave it to geniuses like Bill Martin, Jr. and John Archambault to take learning the alphabet to a whole new level! This playful picture book helps narrate the story of alphabet letters through a fun, percussive chant that your little one will love to sing along to.
What happens when the entire alphabet attempts to race each other to the top of a coconut tree? Find out while reading this book to your baby so he or she can learn each letter in a fun, rhythmic way. The bright color palette will make a lasting impression on your kid, which is why it is considered one of the best books for baby shower gift ideas.
Buy Chicka Chicka Boom Boom on Amazon here.
36: Little Blue Truck, by Alice Schertle (2015)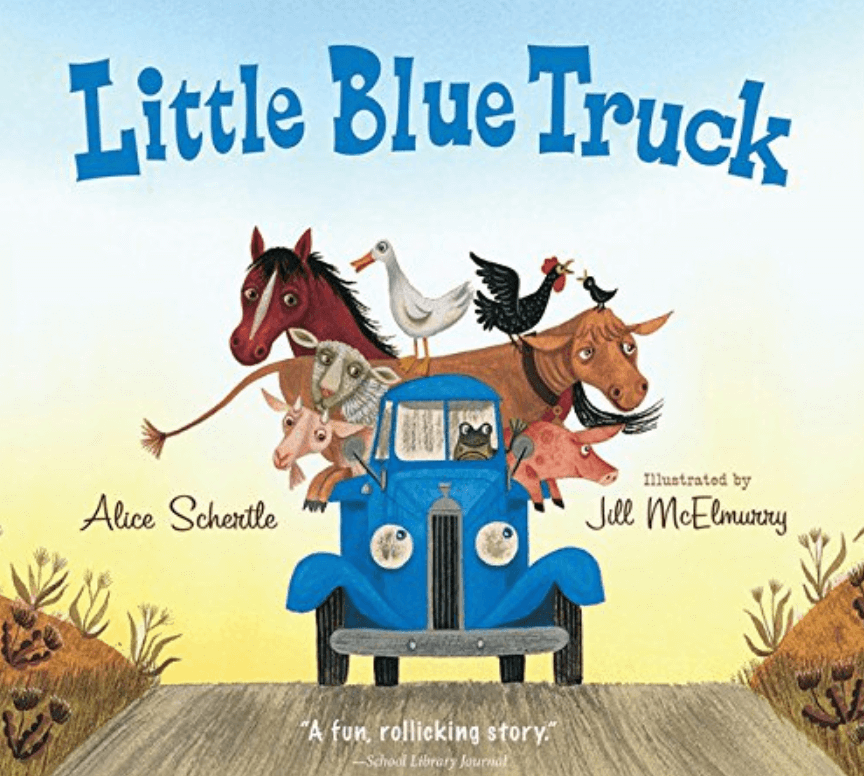 The Little Blue Truck by Alice Schertle has moved up the ranks to become a children's literature classic. You and your baby will love following the countryside stories of this small pick-up truck.
Even though this book is longer than most baby books regarding the number of words per page, young babies and toddlers will still love to listen to their parents say "beep, beep, beep" imitating the sounds of the small truck and other farm animals. You will not only recognize the central message of helping thy neighbor, but the book's brightly colored illustrations will also engage your baby.
Buy Little Blue Truck on Amazon here.
37: Pajama Time! by Sandra Boynton (2000)
Fans of Sandra Boynton's Barnyard Dance will love this sing-along, good-night book by the same author. Pajama Time! is what it sounds like – a bedtime book with fun-filled rhymes, colorful animal illustrations, irresistible language, and silly characters that will send your little one to slumberland in no time.
Once your child has put on his pajama top and bottom, pull out this clever, rhythmic book to lull him to sleep. Thankfully the book's cast of characters — an elephant with fuzzy onesie, Scottie with a plaid pajama top and bottom, a hog on a swing, and a chicken on a jump rope — will make your job even easier.
Buy Pajama Time! on Amazon here.
38: The Littlest Bunny, by Gillian Shields (2015)
If pedestrian baby books with plain pictures don't do it for your little one, then this one by Gillian Shields might do the trick. It's a beautiful, art-forward book with raised, glitter-style pictures.
At the heart of the story is a young bunny that's out to prove that the littlest beings can make a huge impact on their loved ones. This is a wonderful lesson that the youngest additions to the family may not readily understand, but you'll love this adorable story and the colorful illustrations will charm both you and your little one, making it one of the best books for a baby shower.
Buy The Littlest Bunny on Amazon here.
39: Twinkle, Twinkle, Unicorn, by Jeffrey Burton (2019)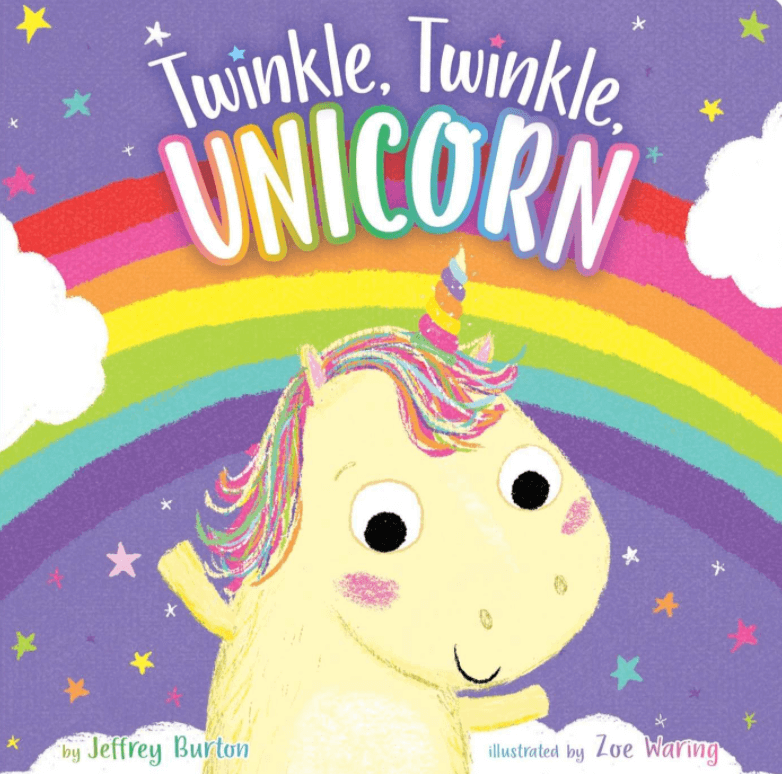 Jeffrey Burton is a master at entertaining the youngest babies (think under 1-year-olds), and his mastery clearly shows in Twinkle, Twinkle, Unicorn. This shiny baby book takes a fun and adorable twist on the classic bedtime lullaby, Twinkle, Twinkle, Little Star!
It's a glitter-filled picture book so it's sure to delight all babies, including those younger than six months. It follows the tale of a unicorn that loves spending time and playing with his friends in the woodland. Given its lullaby background, you can read or sing this simple piece to your honey to help them get some shut-eye.
Buy Twinkle, Twinkle, Unicorn on Amazon here.
40: Beautiful Oops, by Barney Saltzberg (2010)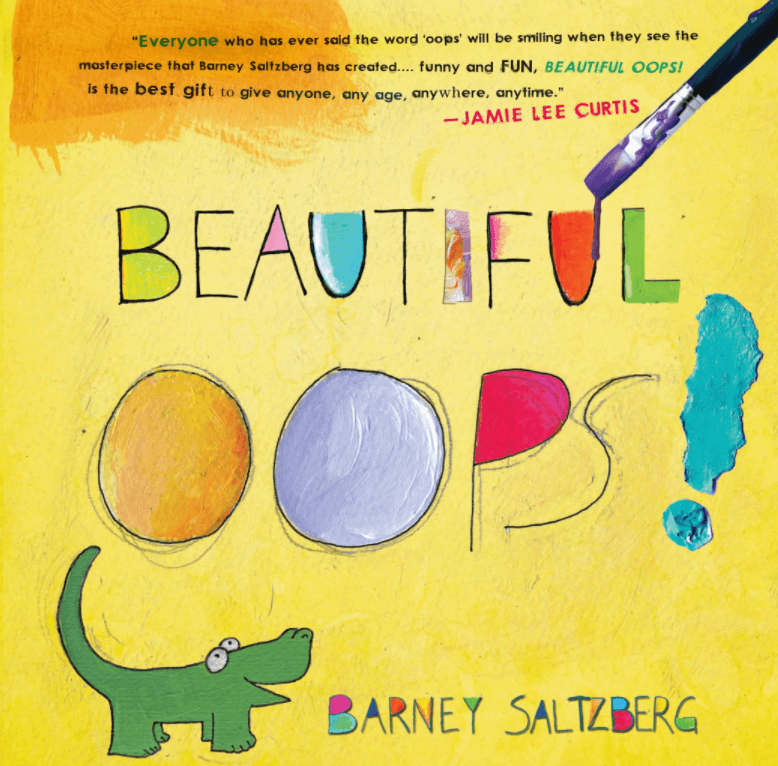 It's important for little minds to understand that mistakes happen and that they are a beautiful, natural process of the learning curve. Considered one of the most educational baby books, Beautiful Oops turns plenty of small mistakes we often make into an elegant and interactive collaged set of illustrations.
Whether it's a tear, a smudge, a spill, or a smear, all of these little mistakes are converted into a chance for learning something beautiful. Come to think of it, that's how the world rolls. We all go through the trial and error process time and time again throughout our lives. So why not let your child learn at a tender age how to make the most of these mishaps?
Buy Beautiful Oops on Amazon here.
---
You Might Also Like: