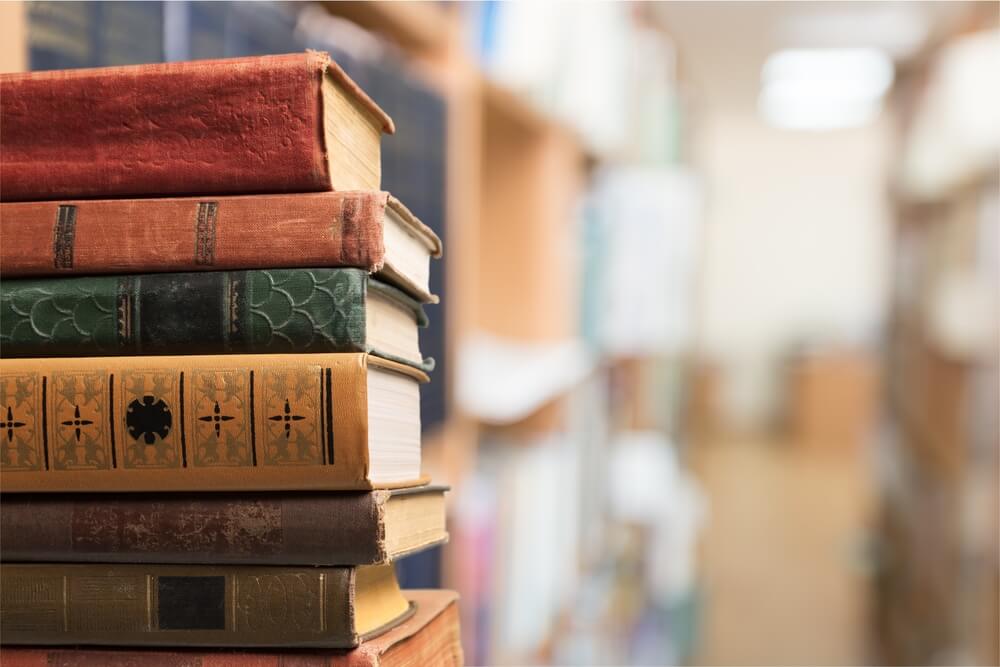 Looking for the best books on spiritual enlightenment? It's true; your spiritual life is somewhat personal, but most books that center on spirituality have one thing in common: our shared love for one another and a sense of community. Aside from bringing spiritual awakening, these books can serve as nourishment and medicine for your mind and soul.
Whether you want to incorporate new habits into your daily routine, feel more courageous, become more productive, or let go of worries, the best spiritual books have a way of unlocking your inner potential and uplifting your spirit. Plus, they'll leave you feeling happier and healthier spiritually, psychologically, and even physically.
With so many spiritual works out there, it can be tricky to find the right one. Lucky for you, we've pulled together a collection of the 23 best spiritual books to help you re-energize your mind-body connection, to find your life purpose, to nourish your soul, and to rejig your overall lifestyle.
This curated list will highlight some of the best literary works from the crème de la crème of spiritual authors, including the ranks of Dalai Lama XIV, Deepak Chopra James Redfield, Thích Nhất Hạnh, and more — we are positive you're going to find something more of your speed here.
Zen Mind, Beginner's Mind, by Shunryū Suzuki (1970)
Amazon
Anyone curious about mindfulness and zen as a spiritual way of life must read Shunryu Suzuki's Zen Mind, Beginner's Mind. This bestseller by the renowned Japanese Monk serves as the best starter guide to Buddhism and Zen life, as it expounds how Zen isn't just a lifestyle of meditation, yoga, and mindfulness; it's also in and of itself a life philosophy.
Suzuki will go the extra distance to help you master the Zen art of observation, deep breathing, and sitting in a bid to live in the present moment. Despite its depth, it remains one of the best books on spiritual enlightenment, and an instant hit with beginners.
A Simple Path, by Mother Teresa (1995)
Amazon
It's been more than two decades since Mother Teresa left us, but her passion and love for working on behalf of the sick, the vulnerable, and the poor still reverberates across the globe. Her name is still synonymous with hope in more than 123 countries, and her life has inspired many to transform their spirituality into action.
Ever wondered what made such a humble nun like Mother Teresa achieve so much and touch the lives of millions in the world? Wonder no more – A Simple Path has all the answers you're looking for. It brings to light the sacrifices, experiences, and thoughts that gave her the strength and ability to do unimaginable charitable work. Well, if you're after an inspiring book that will encourage you to put your spiritual practice and beliefs into action, this is it.
The Art of Happiness: A Handbook for Living, by Dalai Lama (2009)
Amazon
In The Art of Happiness: A Handbook for Living, His Holiness the Dalai Lama and long-time psychiatrist friend Howard Cutler have a sit-down to discuss some of the spiritual life's classic questions. Right from page one, it's an incredibly eye-opening read on all-things happiness and compassion.
Why do so many people suffer? Why is there so much sadness in the world? Get answers to these nitty-gritty questions, and more. This book will show you how to lead a happy life by practicing and studying, as well as having a disciplined mind and a philosophy of compassion.
Zen and the Art of Motorcycle Maintenance: An Inquiry into Values, by Robert Pirsig (1974)
Amazon
A classical mind like that of a mechanic knows all the nuts & bolts, specs, and other technical stuff that makes a machine like a motorcycle run. More importantly, the mechanic understands how all the bits & pieces fit together and can fix them when something goes wrong. Through Zen and the Art of Motorcycle Maintenance, Robert Pirsig examines the metaphysical and philosophical nature of the world we live in.
One of the most popular and powerful books authored in the last 50 years or so, it uses an example of a summer motorcycle trip by a son and his father to tell the story of acceptable, discovery, and spiritual growth. The book is a touching assessment and powerful meditation on how one can live better.
The Celestine Prophecy: An Adventure, by James Redfield (1997)
Amazon
Another ever-green choice for anyone looking to revamp their spiritual life, James Redfield's The Celestine Prophecy remains one of the most successful self-published books ever on the subject. Believe it or not, it graced the New York Times Bestseller list for 3 years in a row, and with good reason.
It highlights James Redfield's inspiring journey across Peru as he unravels 9 life-changing spiritual insights. This book is, therefore, part modern spiritual book and part adventure novel. Even though some people say the book's plot is a little corny, the insights therein will surely motivate you to change your perspective.
The Road Less Traveled, Timeless Edition: A New Psychology of Love, Traditional Values and Spiritual Growth, by M. Scott Peck (2003)
Amazon
Sometimes the path towards spiritual enlightenment is long and treacherous, but the fruits of persevering are sweeter than ever. In this beguiling book, M. Scott Peck reminds us that we must combine great strides in our personal development with a sheer sense of purpose and self-awareness to achieve true spiritual maturity.
Originally published in 1978, this classic borrows a big leaf from religion intertwined with science and psychotherapy to clarify the importance of love in our lives. At the same time, he prods us to review our attitude towards pain so we can work towards our true life purpose and have a clearer understanding of ourselves.
Mortality, by Christopher Hitchens (2012)
Amazon
While on a book tour in 2010, British-born literary critic, writer, and journalist Christopher Hitchens collapsed and was taken to the ER where the doctors confirmed he had esophageal cancer. Published posthumously, Mortality addresses his spirituality and grasp with the concept of death.
This book is actually an anthology of the essays he jotted before his demise in 2011. It's true that we can all be overwhelmed by the thought of death and the pain that comes before. That's why we think this book will help you tackle the question of spiritual life, death, and how to cope with the nature of pain.
The Power of Now: A Guide To Spiritual Enlightenment, by Eckhart Tolle (2004)
Amazon
Often regarded as one of the best books on spiritual enlightenment of all time, Eckhart Tolle's bestseller The Power of Now lifts the lid on the dos and don'ts of everyday spiritual living. He places particular weight on the role mindfulness plays for those who want to live in the now.
More importantly, the author shows you how to avoid self-sabotage and de-link yourself from your ego so you can enjoy a happier, more graceful spiritual life. Think of this book as your go-to guide to spiritual awakening.
The Alchemist, 25th Anniversary: A Fable About Following Your Dream, by Paulo Coelho (2015)
Amazon
Originally published in Portuguese in 1988, The Alchemist by Brazilian celebrated writer Paulo Coelho is a classic that will surely brighten up your spiritual journey. This 25th Anniversary Edition adds a new Foreword by the author and lots of insights.
Weaving together wonder, wisdom, religion, and magic into an inspirational overload of self-discovery, the book has one big lesson for you: listen to your own heart to heighten your sense of self-awareness. The simplest things, as per the author, are usually the most "extraordinary things" and it takes fierce devotion and wisdom to 'see' them.
Course in Miracles, by Helen Schucman (2006)
Amazon
Originally published in 1976, Helen Schucman's Course in Miracles is an excellent classic spiritual coursebook that comes in parts: the Manual for tutors, a Workbook for students, and the Text, which forms the theoretical basis for "metaphysical system of the Course."
The Course in Miracles is dedicated to teachings and lessons about our relationships with one another and to God, as well as who we are and the spiritual nature of our world and bodies. On its part, the Workbook comprises a total of 365 lessons you need to practice every day to help you heal your perception and train your mind. The Manual has all the teachings for God's teachers. As a whole, this book is the best spiritual self-study tool to help aid your efforts to re-train your mind and re-discover yourself.
The Seven Spiritual Laws of Success: A Pocketbook Guide to Fulfilling Your Dreams, by Deepak Chopra (2007)
Amazon
A true classic, The Seven Spiritual Laws of Success is Deepak Chopra's most successful book thus far, having sold over 2.3 million copies worldwide. It has also been translated into more than thirty languages, and it's easy to understand why.
In this book, Chopra underscores the seven forces of the universe that can help you create real success, be it happiness, strong relationship, optimal health, perfect job, or wealth. Check out these universal laws to tap into the riches of the universe.
The Seat of the Soul: An Inspiring Vision of Humanity's Spiritual Destiny, by Gary Zukav (1999)
Amazon
Our egos can sometimes derail us from accomplishing our true life purposes and spiritual goals. Gary Zukav's The Seat of the Soul encourages you to tap into your authentic power and become the pilot of your own life. He describes our pursuit of worldly power as the source of conflict in our individual lives as well as in our communities.
This insightful book will change not only your perception of the world but also the way you interact with others and look at your motivations and actions. According to Zukav, the best way to progress in your spiritual journal is to infuse meaning into your life.
Start Where You Are: A Guide to Compassionate Living, by Pema Chödrön (1994)
Amazon
Start Where You Are: A Guide to Compassionate Living is Pema Chödrön's most popular work and one of the best spiritual books you can read on your downtime. Humorous and insightful, this enlightening guide teaches you to accept the realities of your life and forge forward from 'where you are.'
By reading this book, you will find out about 59 traditional Buddhist slogans, maxims, or practices that help Tibetan nuns and monks calm down and enjoy a life of serenity. If you've wanted a handbook to help you on your path to true nirvana, your search is over. The book demonstrates how to search deep inside yourself, open up your mind & heart, and turn weaknesses into positives. The result: be a master at confronting your own fears so you can feel much happier and comfier in your own skin.
Man's Search for Meaning, by Viktor Frankl (1946)
Amazon
A timeless piece about the soul that never quits, Viktor Frankl's Man's Search for Meaning was first published in 1946, but its message is ever-green. Moving, powerful, and encouraging it tells the disturbing experiences of the psychologist and writer Viktor Frankl when he was detained and tortured in a WWII concentration camp in Auschwitz, in occupied Poland.
Besides the harrowing recollections, Man's Search for Meaning attests to how one soul survived intolerable conditions; healed from the trauma, and eventually found true purpose and meaning in life. Be prepared to shed a tear or two.
The Miracle of Mindfulness: An Introduction to the Practice of Meditation, by Thích Nhất Hạnh (1975)
Amazon
Originally written in 1975 by the famous social activist and Vietnamese monk, The Miracle of Mindfulness is a classic that enjoys a ton of popularity in the Western World. It goes to great length to explain how the Zen Buddhist practice of mindfulness can improve your spiritual, mental, and physical well-being.
Most avid Zen followers rave about the use of practical examples from our daily life. Overall, this book encourages us to get the most out of the present moment and to start appreciating the gift of life once again.
The Varieties of Religious Experience: A Study in Human Nature, by William James (2009)
Amazon
One of the best spiritual books on natural theology, The Varieties of Religious Experience is a compilation of a raft of Gifford Lectures that were delivered by William James from 1901 through 1902. It provides a deep examination of how we perceive religion, and how our approach to religion and individual spirituality can be immensely helpful to us all.
Purpose Driven Life, by Rick Warren (2002)
Amazon
Have you ever wondered why you exist? What is your true life purpose? If yes, Pastor Rick Warren's The Purpose Driven Life has the answer for you. It's the author's #1 New York Times best-selling work, and one of the best spiritual books of our time. The book is so popular it has been translated into over 70 languages and sold 34+ million copies worldwide.
Purpose Driven Life is much more than just a guidebook; it is the blueprint for your spiritual discovery and a tool for your spiritual life transformation. At the very core, the author delves into the timeless question: what's my life purpose? From providing you with daily worship routines to sharing ways to let the Holy Spirit "take over the ship", this book is an exciting roadmap for your life as a modern Christian.
Hallelujah Anyway: Rediscovering Mercy, by Anne Lamott (2017)
Amazon
It seems humanity lost the virtues of kindness and mercy somewhere along the way and it's upon spiritual authors like Anne Lamott to guide us back to where we derailed. Hallelujah Anyway attempts to reintroduce the concept of kindness and mercy.
If you are on your journey of re-discovering your spirituality, this is one of the best books on spiritual enlightenment, especially when it comes to reinforcing your values. So, if you often wished to be more merciful, this book will provide you with great insights and what you can do to bring kindness into your life. Don't waste another moment sulking and beating yourself up; let these teachings guide you on the path to reintroducing joy back into your life.
Cutting Through Spiritual Materialism, by Chogyam Trungpa (2002)
Amazon
The meditation guru Chogyam Trungpa, in Cutting Through Spiritual Materialism, sheds some spotlight on some of the most common roadblocks most people seeking spiritual enlightenment face on their journeys. The so-called spiritual materialism includes our egos that can get in the way of our spiritual growth.
Chogyam Trungpa urges you to 'see' your spiritual path as a process of personal growth and self-improvement, instead of falling prey to what your ego wants. This meditative work filled with compassion is meant to awaken us to the reality that letting go of ourselves will help open the floodgates to joy and true freedom.
Gandhi: An Autobiography – The Story of My Experiments with Truth, by Mohandas Karamchand (Mahatma) Gandhi (1927)
Amazon
Gandhi: An Autobiography – The Story of My Experiments with Truth was originally published in two volumes: the first volume came in 1927, while the second one was published two years later, in 1929. As you might have already suspected, this is the biography of one Mohandas Karamchand (Mahatma) Gandhi, one of the most iconic political and spiritual leaders in history.
Tantalizing, heart-warming, and revealing, the autobiography touches on every corner of his life, from his childhood teeming with rebellion and his early spiritual enlightenment to his political activism in present-day South African and his unwavering commitment to the Indian Independence Movement. It offers some of the best insights into his enduring quest for truth, justice, and his spiritual life philosophy.
A Guide for the Perplexed, by E. F. Schumacher (1977)
Amazon
If you enjoy E. F. Schumacher's style, theme, and tone of writing in his bestseller Small Is Beautiful (1973), then you will be enticed by this one. A Guide for the Perplexed is a classic tome that looks to answer one of our age-old questions: what's the meaning of living? This book teaches you to chart your own destiny and work towards your destined purpose in your life.
The author shares our inherent relationship to the world. If you've ever wondered what your obligation is to yourself, our planet, human advancement, and most crucially, others, this book should be right up there with the best books on spiritual enlightenment on your reading list. It turns out, according to E. F. Schumacher, that the only way to understand the true meaning of living and relish in a genius relationship with the world is to meet these obligations.
The Spiral Dance, by Starhawk (1979)
Amazon
Packed full of practical wisdom, The Spiral Dance by Starhawk attempts to argue in favor of Witchcraft being recognized as a Goddess religion, the so-called ancient religion. It also tries to clear the air of the highly popularized idea that witchcraft is satanic worship. This Neopagan text makes a case for "magic" and other acts of witchcraft to be recognized as conscious spiritual practices, and not demonic as often described Christianity.
The bestseller also provides core philosophies and practices of witchcraft and practical ways you can convert into a worshipper of the Goddess. As such, you can cultivate your inner power, enhance your sense of self-respect, and create a connection between your spirit, body, and mind.
Waiting for God, by Simone Weil (1950)
Amazon
First published in 1950, Waiting for God is a collection of essays, correspondence, and discussions Simone Weil exchanged with Reverend Father Perrin. These letters were put together by theologist Gustave Thibon and Reverend Father Perrin after her untimely demise in 1943 after working as a philosopher, social activist, and educator.
This collection reflects on her deepest meditations, particularly on the subjects of precarious human life and relationship with God. More than seven centuries later, it remains one of the most influential spiritual works for many generations in the past, today, and in the future.
YOU MIGHT ALSO LIKE: