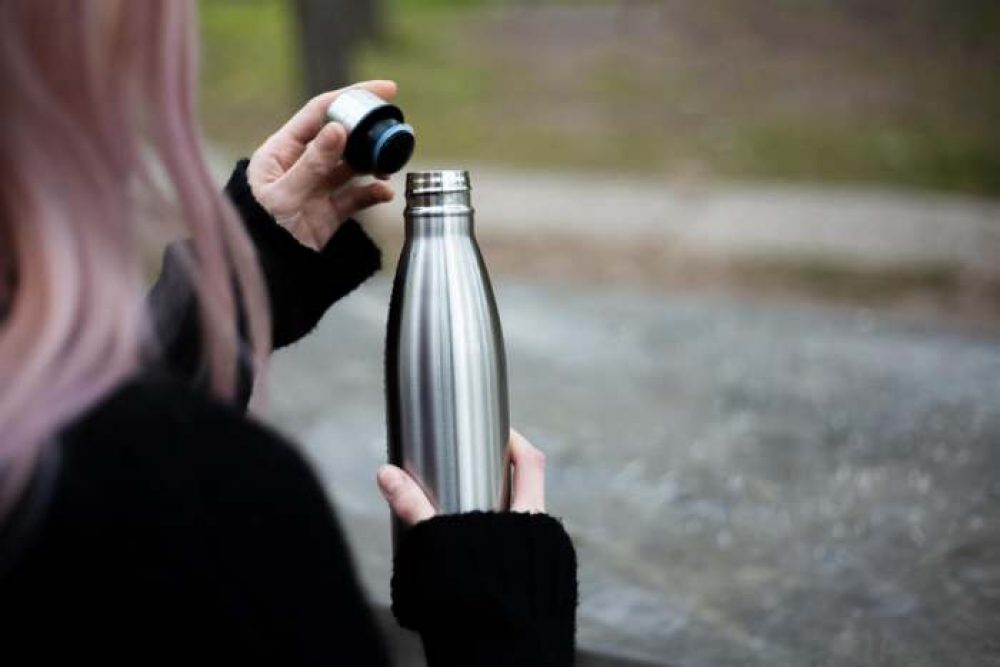 Drinking enough water every day is vital for robust digestion, proper function of metabolism, purging the body of waste, and more crucially, hydration. After all, roughly half of your body by volume is composed of fluids. However, in our ever-busy lives, drinking water regularly can prove to be easier said than done.
Enter the stainless steel water bottle, a godsend tool to help you stay on top of your hydration game. Well, if you are a fitness fanatic or lead an active lifestyle like the best of us, owning a practical, durable, and perhaps stylish stainless steel water bottle is a no-brainer, and with good reason.
The water bottle material is fashionable, easily stands up to repeated use, and isn't susceptible to breaking like the glass-made options, not to mention it's typically eco-friendly and will keep your drink cold or hot for hours on end. Otherwise, stainless steel water bottles are good for you, look even better, and are amazing for the environment, so they definitely have everything good going for them.
Today's water bottle market has become saturated, and it's no surprise that stainless steel options are a dime a dozen and among the most sought-after. The big question is, which option is right for you?
We've done the legwork for you — studied consumer feedback, combed independent reviews, and took hundreds of options for a test run — in order to pick out the very best stainless water bottles for 2023. Whether you're looking for an option for traveling, working out, work, or everyday use, we're sure you will find a good fit on this list.
If you would like to know how we arrived at our top picks or learn more about stainless steel water bottles, in general, please keep on reading this buying guide.
Our Top Picks
Best Overall: Kool8 Stainless Steel Water Bottle
It's sleek, eco-friendly, perfect for on-the-go hydration, comes in stylish colors, and keeps drinks cold for 12+ hours
Best Overall, Runner-Up: S'well Stainless Steel Water Bottle 
Sports vibrant colors, sleek designs, and designed for durability; definitely a go-to accessory for hydration.
Best for Working Out: Takeya Actives Insulated Water Bottle
The bottle is kitted out with a wide loop, well-insulated, and equipped with a leak-proof spout lid for easy, spill-free hydration at the gym or yoga studio.
Best Budget Option: FineDine Triple Insulated Stainless Steel Water Bottle
This pair of sleek-looking stainless steel water bottles boasts a sweat-proof body, leak-proof lid, and rave-worthy triple insulation at a fraction of the price of competitors.
 Best Versatile: IRON °FLASK Stainless Steel Insulated Sports Water Bottle
Versatility is the name of the game with this bottle, as you get 3 lid options: a standard stainless steel lid, a flip lid, or a lid with the straw.
1- Best Overall: Kool8 Stainless Steel Water Bottle, 18-ounce
If you're on the hunt for a stainless steel water bottle that looks gorgeous, keeps your water crispy cold for hours & hours, and perfect for on-the-go hydration, look no further. The Kool8 stainless steel water bottle offers all of this and then some. Plus, it will set you back way less than most high-end brands.
This nifty water bottle sports a slick, modern, and eco-friendly design that comes in a trio of gorgeous and outfit-friendly hues: gray, red, and green. And thanks to its double-walled vacuum insulation, this beauty will keep your drinks hot or cold for 12+ hours, pretty much the whole day!
We love how versatile this bottle is, and many owners mention using it for both hot and cold drinks — be it good old H20, iced tea, hot brew, or macchiato— with impressive results. Reviewer Vicki: "I make my own CBD tea mix at home before I go to work and it's still warm at 5 pm." 3/12/2021.
The bottle feels light, gribs nicely, and conveniently slips into the standard car cup holder and the backpack's designated pocket. Many reviewers also rave about its leak-proof lid and sturdy, easy-to-clean design that ensures every sip is smooth and spill-free.
The Kool8 bottle is available in one 18-ounce size, so it won't bog you down and fit snugly in any purse, handbag, or backpack.  It's definitely easy to use one hand to pick it up at the office, gym, or during your commute. Reviewer Matthew James sums up our sentiment well: "Great bottle. I take it to the gym every day. It fits perfectly in the elliptical cup holder. I love the grip and the shape." 3/12/2021.
Pros
Double-walled vacuum insulated

Sleek, eco-friendly design paired with the perfect size for portability

Fits majority of cup holders and bags

Leak-free lid
Cons
No loop or clip for carrying or attaching
2- Best Overall, Runner-Up: S'well Stainless Steel Water Bottle 
Amazon
The S'well water bottle was designed to fit into your daily routine, no matter your lifestyle. It is our second pick because the brand certainly made stainless steel more appealing for everyone with its stylish design and bright, lively hues. Unlike most other brands, S'well opted for the screw-top lid design with a wide mouth that's large enough for modest-sized ice cubes. Yet the mouth isn't so wide that it soaks your clothes when you take a sip.
The stainless bottle comes in three convenient sizes: 9 oz., 17 oz., and 25 oz. You will appreciate the slick, narrow design of these stainless steel bottles; it makes them effortless to fit into any bag and standard cup holders, as well as easy to carry to the work, gym, or wherever you need to hydrate.
Unlike Kool8, the mouth of this bottle is narrower and won't fit large ice cubes. On the upside, the bottle features triple-walled vacuum insulation that could technically keep your hot drink warm for up to 18 hours and cold drinks cold up to 36 hours. The lid is leak-tight and the entire bottle is made from food-grade material.
It is versatile, too. Amazon reviewer neophyte27 says:  "This thing is a necessity. I use it for three things and it is perfect in each way." 3/12/2021
Pros
Triple-layered vacuum insulation

It fits most bags and cup holders

Easy-carry slim design

No BPA
Cons
Not dishwasher safe

Prone to scratches

Quality authenticity has mixed reviews
3- Best for Exercising: Takeya Actives Insulated Water Bottle
Amazon
Just from the name, you can tell that this stainless steel water bottle was designed for exercising. It is hands down the best stainless steel water bottle for the gym – it brings together the spill-free sips thanks to the spout lid and breezy cleaning and refilling because of the wide-mouth design. The wide loop on the lid is a handy tool for carrying the bottle, plus the spout is insulated and leak-proof.
If you're tired of water vapor clouding the lid and your water bottle, you will be glad that both are condensation-free and sport double-walled insulation. Owners note that the bottle works equally well for hot and cold drinks, keeping them in desired condition for more than 12 hours.
If you're looking for a hydration accessory to take to the yoga studio, this is a good find. It features a detachable silicone bumper that keeps dents and scrapes at bay, while allowing you to set it down quietly on the mat or floor. Trust us; you won't disrupt anyone's zen or meditation while doing yoga.
The bottle is pricier than most of our other picks, although it offers a large capacity of 64 fluid ounces. There are 18-ounce, 24-ounce, 30-ounce, and 40-ounce options, as well. The only notable downside is that it feels a little bulkier and may be prone to mold if not allowed to dry out well.
Pros
Wide mouth for easy upkeep and refilling

Both spout lid and bottle double-walled insulated

Leak-free spout lid
Cons
Design susceptible to mold

The design is a bit bulky

Pricier than comparable brands
4- Best Budget Option: FineDine Triple Insulated Stainless Steel Water Bottle
Amazon
Don't be fooled by the price of the FineDine stainless steel water bottle into assuming that the unit is second-rate. This water bottle sure packs a punch, keeping your drinks refreshingly cold for up to 24 hours or hot up to a half a day. That's all thanks to its triple insulation, which helps maintain the temperature of your drinks while preventing any cold injuries or burns.
Amazon reviewer Herman F Richardson Jr gives it a perfect 5 out of 5, commenting: "Well-insulated and leak-proof." 4/12/2021.
What we love about this bottle is that it features a stainless steel construction from inside out, making it durable, lightweight, and exceptionally resistant to rust, odors, and smudges. Best of all, you will get two bottles for a market-beating price (in fact, the pack costs nearly half of the going price of the closest competitor).
Made for grab-and-go drinking, the stainless steel water bottle is ideal for camping, traveling, hiking, and commuting between your home, office, and the gym. It feels like a soda bottle in your hand, and is best for morning java, tea, fruit juices, and, of course, water.
Surprisingly, the mouth of these flasks is wide enough to insert fruit slices and ice cubes into the bottle. The screw-top lid is also fully insulated, but it can be difficult to undo. I guess that's the price you'll pay for a premium level of insulation.
The FineDine stainless steel water bottles come in 17-ounce capacity, which isn't common on the market. Their distinct sleek designs allow them to slide into any bag and fit in any standard cup holder. However, both the bottles and their lids aren't dishwasher safe.
Pros
Drinks stay hot or cold for up to 12+ or 24+ hours

Fits most bags and cup holders

Competitive price for a two-pack (best value of the bunch)
Cons
Entire bottle not dishwasher safe

The lid can be hard to unscrew
5- Best Versatile: IRON °FLASK Stainless Steel Insulated Sports Water Bottle
Amazon
The Iron Flask was a no-brainer choice given its versatility. Although it is almost similar to our other top picks in functionality and overall design, the real differentiator comes in the form of lid options. We were thoroughly impressed by the choice of three different lids: a standard stainless steel lid, a flip lid, or an innovative option with a built-in straw.
As with Kool8 and FineDine bottles, this one also can keep your beverages hot for up to 12 hours and cold drinks cool for up to an entire day. Amazon reviewer Jessica R : "I've put ice water in it and had it still be very cold the next day." But it tends to lag a bit in terms of quality of the stainless steel and finishing touches.
The highlight of the bottle is the lid that comes complete with an in-built straw for easy sipping of your drinks. Of course, you can swap it out for the flip lid or the traditional stainless steel lid. That's definitely something to keep in mind when doing comparable shopping for your next stainless steel water bottle, as most competitors offer additional lids as side upgrades that can hike the price.
You can tell by the name that it's designed for sports but it comes in six different sizes, including 12, 16, 20, 24, 32, and 64 ounces, meaning that there's an option for pretty much any lifestyle. However, the larger sizes are heavy when filled and won't fit in the standard cup holders.
Pros
Three different lids included

Double-walled vacuum-insulated

Comes in 19 fantastic colors
Cons
Larger-capacity options are bulky and heavy

Some parts are hand-wash only
Buying Guide for the Best Stainless Steel Bottles
First Up — Why Opt for a Stainless Steel Water Bottle?
You have probably wondered what the best material for a reusable water bottle is. For many people, the answer to that question is stainless steel, and it's easy to understand why. Let's shed some light on some of the advantages of using a water bottle constructed of this state-of-the-art metal.
– Stainless steel bottles keep drinks cooler or warmer for longer
The strength and malleability of stainless steel allow water bottle manufacturers to create airtight, vacuum-insulated designs. As a result, a well-built stainless steel bottle can keep your beverages and drinks steaming hot or crispy cold for long, unless you leave yours out in the sun.
– Stainless steel is good for you and our planet
Let's get one thing straight right off the bat: the majority of water bottles on the market right now are made from plastic, primarily because it is a cheap material. But it's bad news for pretty much everyone. 
It's bad for you, as some plastic bottles contain BPA and other horrible chemicals that could leach into your drinking water and potentially cause harm to your health.
Plastics aren't ideal for the environment, either. It is no secret that most plastic bottles can take as long as a millennium to biodegrade, and, what's worse, more and more of them are ending up in our oceans, rivers, and lakes. They are literally strangling the life out of our water bodies and marine life, so buying a plastic option is a big no-no for any honest-living eco-warrior like you and me.
With a stainless bottle, that's a thing of the past. It allows you to stay properly hydrated without harming the environment. As such, if you want to limit your use of plastic, save the planet for its devastating effects, and reduce your carbon footprint, you will appreciate stainless steel as a water bottle material.
Stainless steel water bottles are not only highly recyclable but they are also overall more eco-friendly than those made from plastic. Even more encouraging, the metallic material is naturally free of bisphenol-A, meaning that you won't have to worry about BPA leaching into your drinks.
– The material is food-grade and versatile
If you'd like to use your bottle beyond holding drinking water, a stainless steel option is right up your alley. The material is food-grade, non-reactive, and doesn't shed chemicals. For that reason, you can use it to keep any type of food and drinks hot or cold, ranging from hot soups to fruit juices.
– Stainless steel water bottles are stylish, too!
As a fitness enthusiast who cares about the environment, I try my best to drink plenty of fluids and lower my eco-footprint as much as possible. And one of the most effective ways to do so is to invest in a quality, reusable water bottle made from a planet-friendly material.
That's good and all, but a stylish one that I love lugging around with me and will keep my water crisp all day and hot beverages steaming hot for hours? Where can I sign up, right? That is exactly what you get from a stainless steel water bottle.
The majority of these bottles come in a dashing selection of fashionable style and colors, making it easy to pick one that suits your personality and taste in fashion.
– Durability at its best
Stainless steel water bottles are typically solidly-made and quite durable, lasting years and years if you care well for them. That's especially so because they are usually crafted from one unified piece of metal, reducing the chances of cracks, leakages, and other flaws that could threaten their integrity.
What to Look for in a Stainless Steel Water Bottle
If you have the right kind of water bottle, committing to your hydration life becomes so much easier and more hassle-free. You don't want a bottle that'll feel like a chore or inconvenience in your lifestyle. What you need is a stainless steel bottle that matches your needs and personality.
But that isn't all. How do you ensure you are choosing the perfect vessel to keep your good old H2O or beverages? Here are some key considerations we accounted for when zeroing in our top picks.
Consideration #1: Your Style
Staying hydrated doesn't have to come in the way of your lifestyle and sense of style. And considering that stainless steel water bottles come in all sorts of colors, designs, and shapes, it is important to opt for one that will fit perfectly with your personality and style.
For example, if you consider yourself to be trendsetter, you can get several bottles in statement-making hues to help match, compliment, or finish off your outfits in a stylish yet practical manner. Stainless steel in and of itself feels and looks vibrant, fashionable, and versatile sartorially, so you can stay on top of both your styling and hydration game. 
Consideration #2: Mouth Design
Whether you prefer a bottle with a narrow or wide mouth is a matter of personal preference. However, if you want a water bottle that you refill in a jiffy or add ice to your drinks, then you should definitely go for a wide-mouth design.
Meanwhile, if you plan to take sips of water while jogging, running, or walking briskly, you'd want to stick with a narrow-mouth option. That's because water may rush out of the bottle faster if the mouth is wide, leading to embarrassing and inconvenient spills while you're hydrating.
Consideration #3: Filter vs. No Filter
If your city tap water has too much chlorine or does not taste downright great, you'll want to score a bottle fitted with a filtration system. The filter will help clean your drinking water and rid it of silt, sediments, and some toxins, which can come in handy if you tend to refill at water stations, fountains, or natural springs of questionable integrity.
The filtration feature can dramatically improve the quality and taste of your water, so you can hydrate with confidence. On the flip side, stainless steel bottles equipped with filters tend to be pricey. As such, if you're confident in the quality of your refilling stations or you already own a water filtration system at your home or office, it won't hurt to skip this feature.
Also, note that not all filters are created equal. Is it a filter straw, absorption filter, or a mechanical filter? The more advanced the filter system, the more likely you will enjoy the drinking experience.
Consideration #4: Color
Majority of stainless steel water bottles we reviewed — particularly our top recommendations — are sold in a variety of designs, colors, and shades. You can pick anything from classic metallic black to a bold pink design. It's all about your personal preference – snag one in your favorite color to add a dose of elegance, style, and oomph to your lifestyle.
Remember, some colors are more likely to show dirt, sweat marks, and streaks than others. Whatever the case, the last thing you want to choose is a color that you will get tired of quickly. Stick to your classic, evergreen hues, especially those that marry well with your favorite outfits.
Consideration #5: Insulation
There's no point in purchasing a stainless steel bottle without any kind of insulation. Accordingly, all our picks feature a double-walled vacuum insulation as the gold standard. This type of airtight insulation is designed to keep hot drinks hot and cold drinks cold for pretty much the whole day.
If you're into hiking, running, cycling, jogging, or reside in an area with a hot climate, it's a no-brainer to choose a stainless steel bottle with leak-proof insulation. Well, who would want to take a sip of tepid or warm water on a scorching hot day?
Consideration #6: Lifestyle and Intended Use
We're going to reiterate that you should choose a water bottle that goes perfectly well with your lifestyle and everyday hydration needs – all the more so if you've an active lifestyle. For instance, if you are looking for a gym-perfect or biking-friendly bottle, drill down your choice to ones equipped with a sports cap.
Similarly, if you are a hiking enthusiast, a bottle with a clip will help you attach it to a karabiner and power through your hikes without any fuss.
Consideration #7: Capacity and Size
Perhaps the most crucial factor to keep in mind is the capacity of the water bottle. Consider both the internal water-holding capacity and the external size of your candidate bottle.
As for external size, it pays to ensure your potential stainless steel water bottle will fit wherever you need it to. Do you want it to fit inside your car's cup holder? Will you be toting your water bottle in a purse or small tote bag? Be sure to check the overall dimensions to ensure it'll fit properly, and thankfully, most brands include the info about the fit and size on the product description and packaging.
When it comes to internal capacity, your choice is endless, ranging from compact 8-, 9-, or 12-ounce options that can hold roughly a standard glass of water to 64- or 84-ounce giants holding beyond your recommended daily intake of dietary fluid. The trade-off comes in the form of heft, though.
While a high-capacity bottle means less frequent refills, you will be lugging around a bulkier, heavier unit.
Consideration #8: Design and Extra Features
An elegantly-designed bottle is good and all, but it pays to opt for a design that's low maintenance and reasonably easy to clean. Take a closer look at the mouth and nozzle design. The last thing you want is a poorly-designed nozzle that will either spill drinks or harbor unsightly gunk or germs.
Some designs incorporate clever and useful additional features that may appeal to you. For instance, a bottle like Kool8 has a tea infuser, allowing you to make a flavorful brew on the go. Other models feature fruit infusers that allow incorporating fresh fruit into your drinks.
Also, check for bottles with easy-open designs if you plan to sip while working out or exercising. Those that open with a press of a button are ideal for people with a poor range of motion or grip.