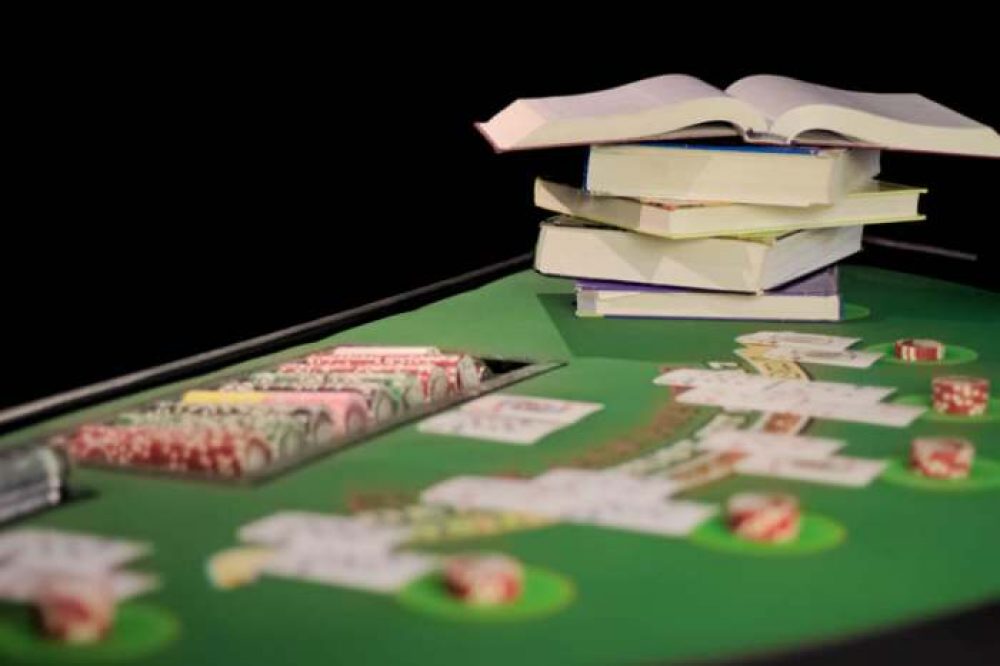 Historically, blackjack has always been considered the more intellectual of casino games, and it makes a great deal of sense mathematically and logically. Not only does blackjack have one of the fairest house edges, but it also boasts a relatively easy-to-understand gameplay and some of the best odds for players.
Not only that, blackjack isn't a game of pure chance—in fact, it's among the only few casino games that can be beaten through sheer strategy, skill, and a little bit of luck. Even more exciting, there's a ton you can do to improve your blackjack skills and take your game to the next level.
Some people reach out to their more skilled colleagues or enroll in an online course, while others take it up a notch by hiring a personal tutor or coach to help them gain an edge over the casino. However, reading blackjack books is a tried-and-true, fun, and affordable way to learn about the beautiful game and find out the latest blackjack tips, strategies, and hacks.
Whether you're interested in a famous blackjack pro's rise to fame, the theory of the game, lifestyle advice, specific strategies, or anything in between, there's a blackjack book out there with your name on it. The best blackjack books are packed with fun, engaging, and helpful content.
The truth is, there are so many different blackjack books to choose from that it can be tricky to sift through the murk to find a good read. To that end, keep reading for our picks for the best blackjack books you absolutely have to read in 2023. Be sure to check out our other choices for the best artificial intelligence books and must-read titles this year.
1- Big Book of Blackjack by Arnold Snyder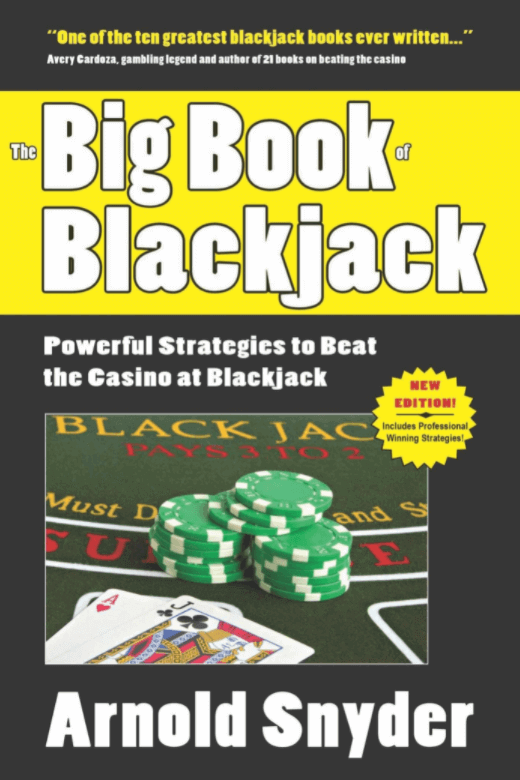 Looking for a great and readable intro blackjack book that you will come back to long after you have turned pro? If so, you can't get a better read than Arnold Snyder's Big Book of Blackjack. As the title clearly suggests, this is a voluminous book with plenty of introductory and comprehensive lessons crafted for beginners and seasoned players alike.
In this book, Arnold Snyder — one of the most recognizable names in the field — teaches the game rules, gameplay, playing styles, and a straightforward intro to the basic blackjack strategy. He explains them all in a compelling and approachable way, so this book will definitely appeal to you if you're a total novice.
Beginners will also appreciate that Snyder offers no-frills, valuable strategies for approaching popular variants of blackjack. These include Blackjack Switch, Spanish 21, Double Exposure, and Super Fun 21. Plus, he gives a firsthand take on what it's like progressing from an amateur to a blackjack guru.
Buy this Big Book of Blackjack by Arnold Snyder on Amazon here .
2- The Theory of Blackjack: The Complete Card Counter's Guide to the Casino Game of 21 by Peter A. Griffin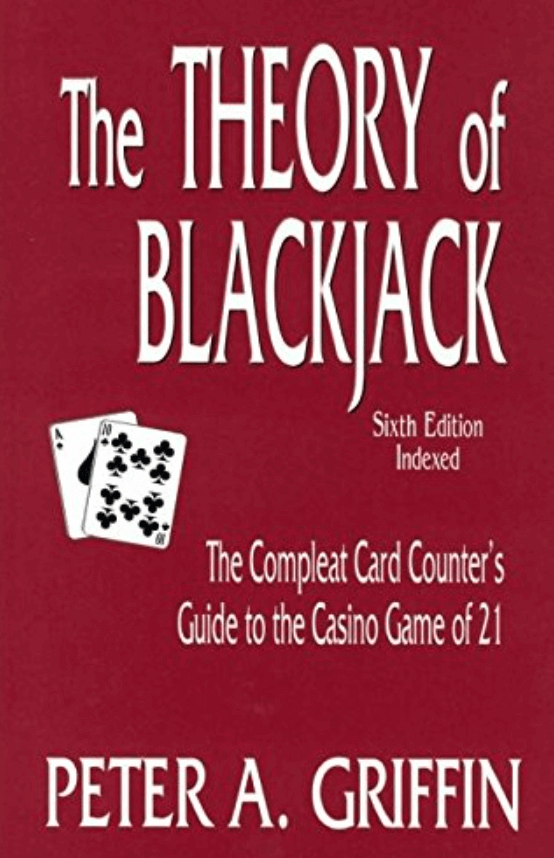 Card counting is often thought of as the only viable way to beat the house in the game of blackjack, and it is easy to see why. The most notable blackjack players who have made away with a killing from the casino tables are apt card counters, such as the MIT team that nearly took Las Vegas casinos to the cleaners. With that in mind, card counting is an essential skill for any player serious about making the big bucks at the blackjack tables.
If that sounds like you, Peter A. Griffin's The Theory of Blackjack is an excellent place to start. It is a superb intro book to card counting that will take you through the math and techniques you need to master in order to become a pro card counter.
This book is often lauded as one of the classics in the subject, and it dwells mainly on the numbers and methods behind effective systems for card counting. Not just that; Griffin also shares actionable insights, tips, and basic strategy, including playing efficiency, when to split, tactics for doubling down, and reading the dealer's up-card.
The Theory of Blackjack is a surprisingly pleasant, fun, and digestible read for a math-intensive book. It is quite practical and well-written, too. Get ready to devour every word in this spectacular read.
Buy The Theory of Blackjack on Amazon here. 
3- Blackjack Secrets by Stanford Wong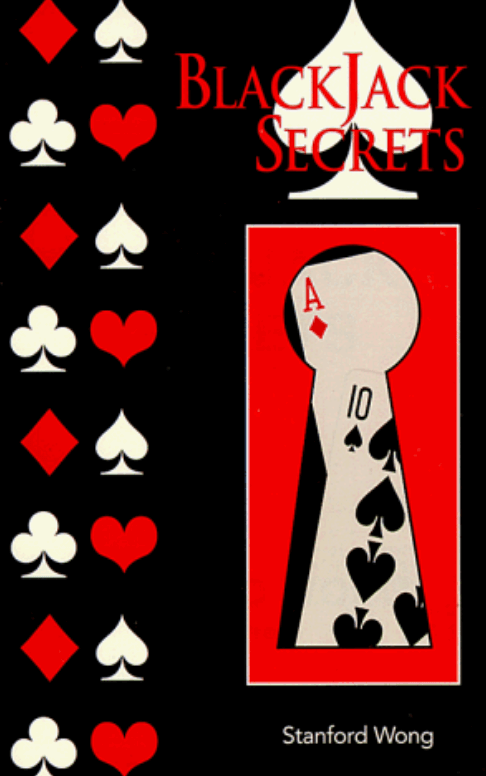 If your goal is to turn blackjack from a pastime to a career, Stanford Wong has you covered with Blackjack Secrets. It is an excellent choice for your formative years, but once you have hit the pro level, you'd be better off focusing on other titles recommended on this list. As with most blackjack books authored in the pre-internet gambling era, some of the info in this one has become obsolete.
However, the big chunk of content is still relevant, practical, and insightful, especially when it comes to the Hi-Lo card counting system. The author also teaches you how to practice effectively and hone your blackjack skills as you move onto the advanced levels of the game. Above all else, it's beautifully written and pleasantly easy to read.
Buy this Blackjack Secrets by Stanford Wong on Amazon here. 
4- Million Dollar Blackjack by Ken Uston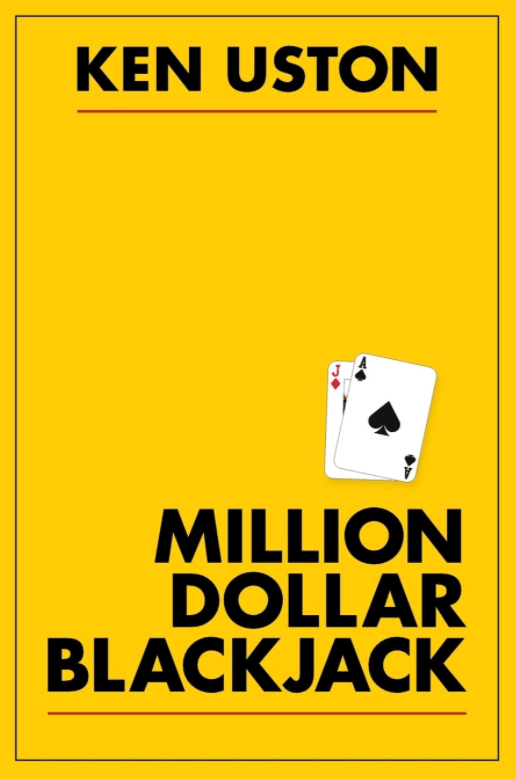 Million Dollar Blackjack may have been authored close to half a century ago, but the insights and information the blackjack legend Ken Uston presented in this title still hold true to date. You may have to settle for a paperback or hardcover version, as this book is no longer in print.
Uston's Million Dollar Blackjack was all the rage when it was first published in the early 1980s thanks to its step-wise approach to teaching people how to play blackjack. You might not be able to rake in a million bucks by simply using the book's strategies, but it still makes for a handy introductory guide to the casino game—definitely, a good buy for any newbie.
The author walks you through simple, easy-to-grasp lessons on how to improve your game, how to start counting cards, and how to master different levels of winning strategies. You will learn how to adjust your betting system based on the dealer's face-up card.
Buy this Million Dollar Blackjack by Ken Uston on Amazon here.
5- Winning Casino Blackjack for the Non-Counter by Avery Cardoza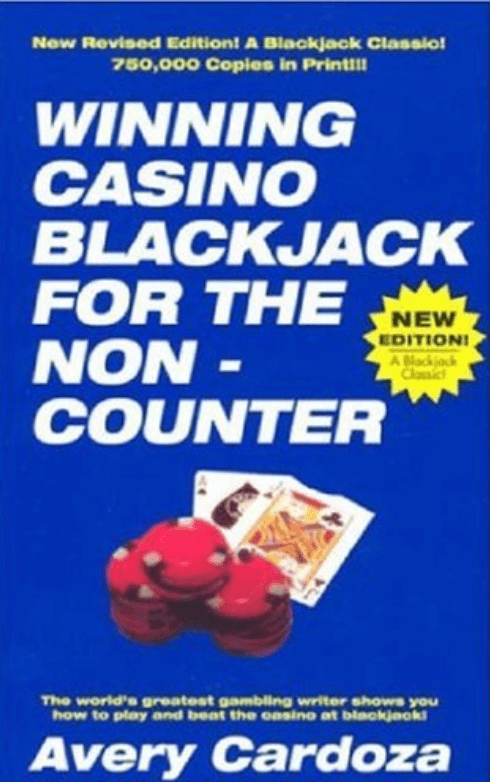 Arguably one of the best books ever written on blackjack, Winning Casino Blackjack for the Non-Counter by Avery Cardoza is an ideal pick for an online casino player. It veers off the path taken by most blackjack authors who typically focus on card counting and other gaming tactics that may not cut the mustard at an online casino.
Winning Casino Blackjack for the Non-Counter covers various topics on the game and strategies you can use to gain an edge over the housing without resorting to card counting. While the advantage you will gain from the method proposed by Avery Cardoza is slight, the wins will undoubtedly rack up in the long term if you stick to it.
Close to a million copies of the book have already been sold, which speaks volumes about its effectiveness. One of the most impressive things about the title, unlike most blackjack books out there, is that it provides practical advice for online casino gambling, including bankroll management tips, online blackjack rules, master charts, and more.
Buy this Winning Casino Blackjack for the Non-Counter by Avery Cardoza on Amazon here.
6- Blackjack: Everything You Need To Know About Blackjack From Beginner To Expert by Ian Dunross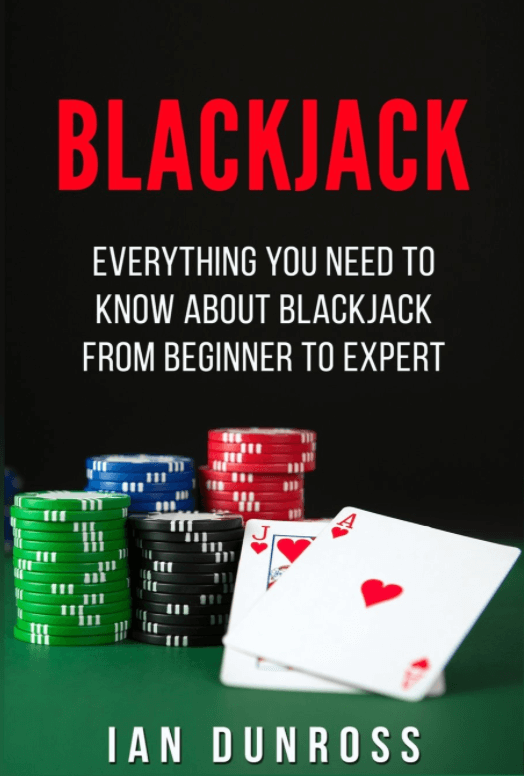 Blackjack is an exciting game with universal rules that don't change much across gambling. Knowing the basic strategy and playing techniques can dramatically improve your chances of walking away with big wins from the casino. If you need a blackjack book that'll faithfully serve you as you morph from a novice to an expert player, this is it.
Written by one of the most respected experts in the world of blackjack, Blackjack: Everything You Need To Know About Blackjack From Beginner To Expert is a must-read for any player in general. 
As the name hints, this book explains every aspect of the game, from the odds and numbers to winning tips and basic strategy, to online blackjack skills and more. It really covers everything you need to completely overhaul your game.
Buy Blackjack: Everything You Need To Know About Blackjack From Beginner To Expert by Ian Dunross on  Amazon here.
7- Play Blackjack Like the Pros by Kevin Blackwood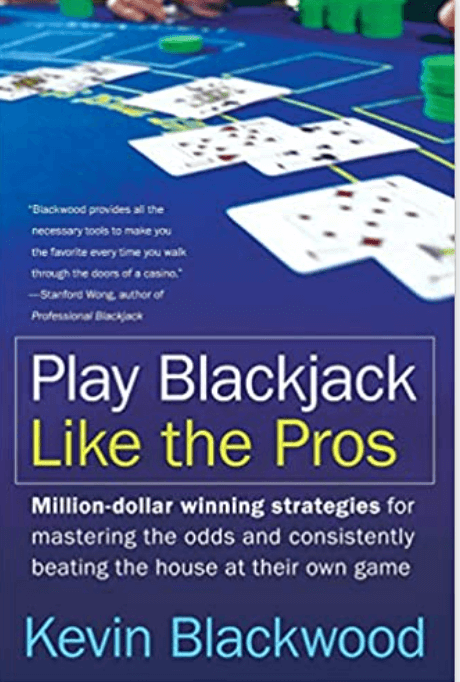 If you are in the market for a starter blackjack book that's written explicitly for learning-hungry beginners, you've just found it. Don't let the title fool you; this is a good read for novices who are still getting their feet wet in the game of blackjack.
In Play Blackjack Like the Pros, Kevin Blackwood teaches us how the game of blackjack is set up and played. He also gives a solid introduction to a basic strategy that will help you win at blackjack right out of the gate and for many years to come.
The only person who can do justice to blackjack for beginners is Kevin Blackwood himself, and he does a bang-up job explaining the rules and how to beat the casino in a fun and entertaining way. The book also discusses many general concepts of blackjack, such as card counting, camouflaging methods, bankroll management, and table minimums.
Buy this Play Blackjack Like the Pros by Kevin Blackwood on Amazon here.
8- Sklansky Talks Blackjack by David Sklansky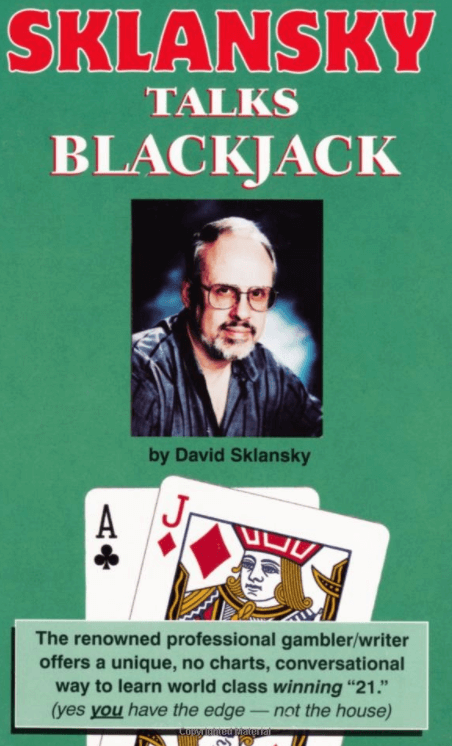 David Sklansky is one of the most iconic blackjack players of all time, and, over the years, he has written proficiently about blackjack (and other casino games like poker). Who better to provide teachings and advice on playing and winning at blackjack than the expert player himself, David Sklansky?
In Sklansky Talks Blackjack, the author explains the nitty-gritty of the game in a pretty entertaining and straightforward manner. This book represents a good read for players of all styles and levels, from the novice to the veteran.
You will be glad to know that there's nothing complicated or unhelpful about the wisdom dished out by the author in Sklansky Talks Blackjack. It is packed with how-tos, hand-playing tips, personal experiences, and much more. 
Perhaps one of the most notable things about Sklansky Talks Blackjack is the detailed and thorough approach in which he explains how to play every possible blackjack hand. Sklansky doesn't just talk about the basic strategy and rules of the game but also explores the odds, logic, and numbers behind them in a manner that appeals to someone who doesn't like math.
The author also introduces the Hi-Lo card counting system and explains how to utilize it, which can be incredibly helpful to newbies looking to learn the art of card counting. While he is often known for his poker strategies, Sklansky's blackjack knowledge and advice are also spot-on. His approach to blackjack gambling is most certainly unique and refreshing, even for the seasoned pros.
Buy this Sklansky Talks Blackjack by David Sklansky on Amazon here.
9- Blackjack for Blood by Bryce Carlson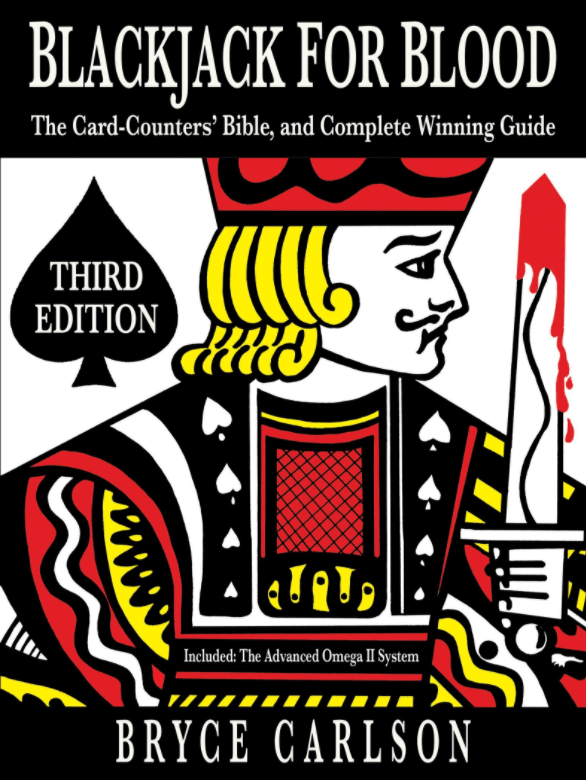 Think of Bryce Carlson's Blackjack for Blood has an upgraded version of Play Blackjack Like the Pros by Kevin Blackwood, but rewritten for everyone, from the beginners to the professional players. It really has everything you want to chisel yourself into a proficient card counter.
It does cover some hot-button topics like disguising your card counting and cheating from the prying eyes of the pit bosses and security personnel. As with most blackjack books covered on this list thus far, this one also tackles the basic strategy, but from a card counter's standpoint.
We love that Bryce offers handy tips on how to stretch your bankroll and turn a profit as a recreational player. Most importantly, Blackjack for Blood addresses the psychological part of the game, including managing your emotions and handling the stress that comes with playing under pressure [and possibly losing] in blackjack.
Buy this Blackjack for Blood by Bryce Carlson on Amazon here.
10- Blackjack: A Winner's Handbook by Jerry L Patterson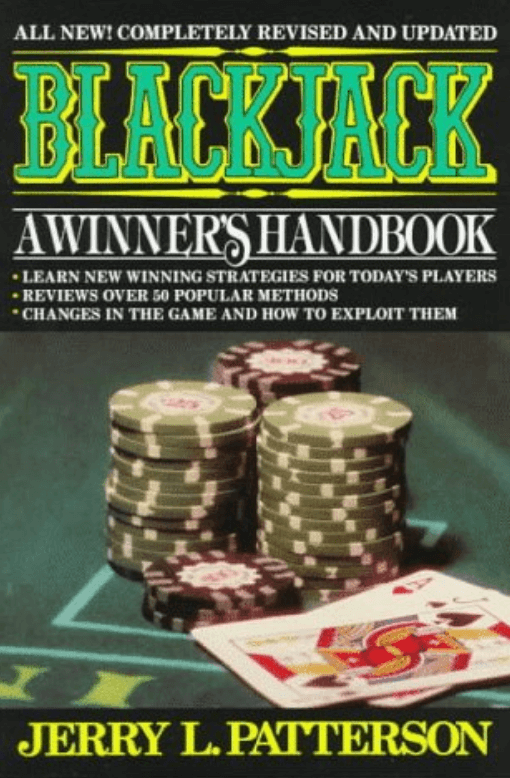 The title says it all. Jerry L Patterson's Blackjack: A Winner's Handbook is a blackjack bible and one of the best resources for anyone looking to improve their blackjack skills and strategies. This book is clearly a winner when it comes to coverage, as it covers critical aspects of the game that most blackjack authors overlook or simply omit from their content.
For one thing, Blackjack: A Winner's Handbook provides an in-depth look at the importance of managing your gambling money properly. He goes ahead and offers tried-and-true tips and hacks for bankroll management, such as setting win & loss limits, as well as knowing when to quit the game.
More excitingly, the book looks at the emotional and psychological drawbacks associated with the game and how to deal with them. The icing on the cake is Patterson's uncomplicated approach to curbing your emotions and dealing with losing streaks while you gamble at blackjack. His ambitious strategy for gaining an over the shoe isn't too shabby, either.
Buy this Blackjack: A Winner's Handbook by Jerry L Patterson on Amazon here.