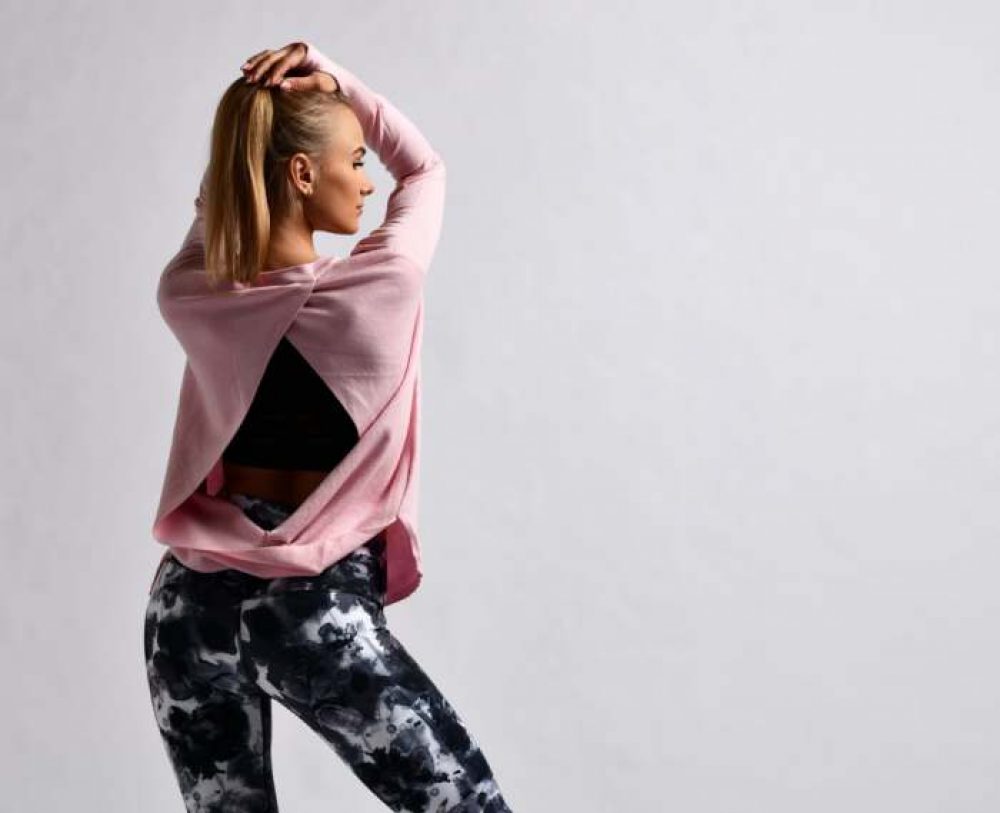 If there's one piece of clothing we ladies need and love, it's a nice pair of leggings. Whether you'll be hitting the gym, finding your zen at the yoga studio, tackling your next trail, or simply walking to/back from work/school/grocery runs, the active-wear staple is a must-have in our wardrobes.
As a staunch believer of fitness and wellness, I've got a whole section of my wardrobe dedicated to leggings. My 8-year-old budding gymnast can't get enough of them. We don these flexible gems for yoga, gym, park strolls, or just lazing around at the house.
Aside from being pocket-friendly, ultra-comfy, and super cute, we love that leggings marry stylishly and functionally well with pretty much any kind of shoes, from trainers to trusty boots. You can wear them as a statement piece, versatile fashion accessory, or a winter warmer.
Even better, leggings come in a whole bunch of sizes, shapes, and styles. Talking of styles, there's one surprisingly hot trend that's continued to dominate the world of leggings: camo. Since Madonna raised eyebrows at the 2017 Met Gala in a full Moschino camo gown, this military-inspired print has found its way into the athleisure department, and camo leggings are right up there.
Well, it's 2023 and camo leggings are now dime a dozen on the market, available from a laundry list of athleisure brands in a dizzying range of designs, patterns, and sizes to match every price point. While you'll certainly be spoilt for choice, picking the right pair for your active lifestyle and fashion needs can be a little tricky.
That's why we've put together this handy shopping guide to help you pick the perfect pair of camo leggings. If you'd rather hit the buy button straight away (don't we all!), be sure to check out our top 9 picks below. We absolutely love them, and each choice is backed by raving user reviews. 
1- Sanctuary Clothing Forest Camo Runway Legging
This drop-dead gorgeous pair of camo leggings from Sanctuary Clothing is our #1 pick. And we're not alone on this: one reviewer Colorist says, "I'll get into these if it's the last thing I do!" 5/24/2021.
The look of these pull-on leggings gets an A++ from us because of the calming yet statement-making forest camo print. We love that they feel comfy, stretchy, and airy, partly thanks to the unique fabric blend of spandex, rayon, and polyester.
As gym frequenters, we like that they stayed snugly in place with a second-skin feel throughout our intense workouts. They also passed our squatting, durability, and sweat tests with flying colors.
WHY WE LOVE IT
Incredibly breathable & sweat-wicking fabric

Machine washable

Stays up and fits snugly without digging into the skin
WHAT COULD IMPROVE
Sizing can be slightly on the smaller side – Not a biggie, though; simply order one size up
2- Colorfulkoala Women's High Waisted Patterned Leggings
Amazon
It's no big secret that camo leggings can be pretty pricey (I've coughed up well over $150 for a high-end pair), but this style from Colorfulkoala comes at a fraction of that price. This Amazon bestseller is our no-brainer second-best pick for its silky soft, comfy and flattering style; perfect for lounging, yoga, and hitting the gym.
They boast over 23,800 five-star ratings from Amazon reviewers who rave about their surprisingly top-notch quality for the cost. Amazon reviewer Birdie Kount says, "They're so festive and fun and cute, and they fit absolutely perfectly." 6/24/2021.
WHY WE LOVE IT
Buttery soft fabric

Hugging fit

Available in other cool patterns, such as animal and floral prints
WHAT COULD IMPROVE
Slight durability issues reported by some users
3- ZOOSIXX High Waisted Leggings for Women
Amazon
The ZOOSIXX high-rise camo leggings are a gorgeous design that's comparable to Colorfulkoala's in terms of the comfy & snug fit but comes a little short of the quality. We love that they feel fantastic both to wear and on the skin, but the icing on the cake is the surprisingly low price tag.
Amazon reviewer Penélope Vargas says the pair "gives a very pretty figure," 6/24/2021. And we agree with her: they hug the body contours so beautifully.
WHY WE LOVE IT
Great give and stretch recovery

Super low price for the quality
WHAT COULD IMPROVE
Size larger than expected
4- Leggings Depot Activeflex Slim-Fit Jogger Black Camouflage
Amazon
Next up in 4th place is the Leggings Depot Activeflex jogger. Just like our top three picks, these leggings offer a comfortable fit, extra-soft feel, and great stretch. However, they've got tapered legs, which may not be everyone's favorite element. Good thing, we liked the roomy pockets that can fit a whole smartphone, not to forget the cuffed hems.
These redesigned leggings have racked up more than 50,000 5-star reviews because of the slim-fit design and "nice suede feel." They come in dozens of camo colors and other pattern options.
WHY WE LOVE IT
WHAT COULD IMPROVE
Users recommend ordering one size up for a better fit
5- Stretch is Comfort Women's Knee-Length Leggings
Amazon
We give these knee-length leggings from Stretch is Comfort a perfect score for opacity. We couldn't see zilch through them even in the brightest light and deep squats. Hands down the best pair of camo leggings in the less favorable knee-length category.
Unlike the previous picks, these don't offer women's sizes below XS, but there's good reason for plus-size girls to rejoice. Amazon reviewer Kathi R says they're "very comfortable" while others add that they're "very soft" and "lightweight."
WHY WE LOVE IT
Cropped fit for warmer weather

Combined lift, flatter, and shape
WHAT COULD IMPROVE
6- SYRINX High Waisted Leggings for Women
Amazon
These SYRINX women's camo leggings are high-waisted, just like ZOOSIXX's at #3, but they're a bit pricey despite coming in a pack of three — blue navy and black leggings are included. Still, as someone who appreciates tummy-scaping, I love that these leggings feature a wide waistband, so they won't fall, slip, or roll during intense workouts.
These leggings are a huge hit with the plus-size crowd because of their tummy control, comfort, and softness. As Amazon reviewer Jennah puts it, "these leggings … are worth every penny." 24/6/2021.
WHY WE LOVE IT
Great for plus-size women

Amazing quality

Also sold in a value pack of 7
WHAT COULD IMPROVE
Fairly thin; not ideal as winter warmers
7- Camo Sport – Women's Stretchy High Waisted Yoga Leggings
Amazon
Though not well-known as the other top picks, Camo Sport's camo leggings tick a lot of the right boxes. They're machine washable, extremely stylish, super-stretchy, and offer excellent tummy control. However, they're the most expensive of the bunch.
Most users, as we do, appreciate the quality construction, as well as the excellent fit and bright design. Most glowing reviews cite the strong, stretchy fabric blend, allowing us to focus on tough workouts without sacrificing comfort.
WHY WE LOVE IT
Excellent fit

Grey camo goes with many outfits
WHAT COULD IMPROVE
Occasionally, users run into sizing inconsistencies
8- Spalding Women's Essential Capri Legging
Amazon
So far, we've not reviewed any product that focuses on the warmth aspect of leggings, and this is where this pair of Capri leggings from Spalding stands out. That's all thanks to its 92% cotton content, but we can't complain about the stretch because 4-way spandex is woven into the design. Yes, they're plush, ultra-soft, and stay cozy during cold weather
But they don't wick away sweat, so a no-go when it comes to working out. Even so, most users rave about its second-skin feel, with Amazon reviewer Pamela Butterfield claiming that they're the "best thing next to wearing nothing". 6/24/2021
WHY WE LOVE IT
Second-skin feel

Nicely slimming
WHAT COULD IMPROVE
Slightly lacking in the tummy control department
9- THE GYM PEOPLE High Waist Leggings for Women
Amazon
As you may have already inferred, we love high-waist leggings, and they score high marks from fans of camo leggings, too. The extra-wide elastic waistband provides an anti-slip advantage and excellent tummy control – both areas where The Gym People leggings score A+. The only reason they're not on top of the list is that they tend to pill.
For some reason, they didn't meet our expectations when it comes to moisture control. Perhaps it's because of the high polyester content. We recommend them for low-intensity activities like yoga, though. In fact, Amazon reviewer Karen Sherman couldn't mince her words, saying they're the "Best. Yoga. Pants. Ever!!!" 6/24/2021.
WHY WE LOVE IT
Thick, comfortable fabric

Roomy, secure pockets
WHAT COULD IMPROVE
Susceptible to pilling after multiple wears
How We Chose Them
This list is the creative labor of many people here at Cool Things Chicago, plus input from multiple activewear and fashion experts. We understand that not all camo leggings are made the same.
To narrow down our choice, we reviewed dozens of camo leggings from many different brands, making sure to evaluate them for a variety of key factors that include but not limited to:
– The fabric
All leggings, especially workout pieces, must be able to stand up to heavy, intense, and frequent use. The last thing we need is a pair of leggings that will give way in the heat of an intense workout, resulting in awkward oops moments.
That's why the first thing we considered is the blend of materials used to weave the leggings. Thankfully, most of them are made from unique fabric blends that include microfiber, polyester, spandex, rayon, nylon, and even cotton.
Cotton is always a crowd-pleaser, as it's plush, extremely absorbent, and feels extra soft to the touch. However, cotton fabrics stretch out and lose their shape quickly. For this reason, we prefer low-cotton leggings featuring some spandex to conceal sweat stains and retain their shape.
Most brands actually use a blend of spandex and synthetic fibers — most prominently polyester, rayon, nylon, and acrylic — and with good reason. These synthetic fabrics are breathable, boast decent stretch, and retain dyes for long, which is what we want in a fade-proof camo fashion piece.
Spandex is the holy grail ingredient here, as it offers incredible stretch and awesome breathability. This breathe-easy material is also quick-drying and figure-hugging for a snug, comfortable fit.
For fashion-forward camo leggings, we wanted something that sports microfiber, a stretchy, comfortable, and extra-soft material. Leggings weaved from this delightfully plush fabric aren't very breathable, making them ideal for wearing as winter warmers.
– Stretch recovery 
We know the sting of forking out top dollar for a pair of leggings that'll lose stretch after a few wears. Accordingly, we used our reliable stretch recovery tester to evaluate each item's recovery, growth, and stretch properties. Of course, we also reviewed their spandex composition.
– The construction
We started with the seams, running the fingers across the seam line on the inside. The goal's to make sure the seams are fairly flat and not raised. This is crucial for comfort and helps minimize friction and irritation caused by movement and sweat/moisture build-up.
The gusset is another important construction feature we examined. It's an additional diamond-shaped or triangular piece of fabric weaved into the crotch area. If you hate when leggings ride up and become uncomfortable, this is one aspect you'd want to pay close attention to.
As avid fitness lovers, we also appreciate the presence of mesh panels in the legging design. Nestled on the sides of the calves or thighs, these panels boost breathability and the look of the leggings by giving them a sporty edge.
Other trendy design elements to look for in women's camo leggings include functional pockets and zippers for that faux denim appeal.
– Sweat/moisture-wicking ability
It pays to take the manufacturer's word with a grain of salt when it comes to the moisture-wicking capacity of the leggings. Luckily, we know a little trick — we put a small drop of water on the legging's inside. It shouldn't bead up, instead, the water drop should spread out wide and get absorbed fast.
And, wouldn't you know it; a small number of the leggings we reviewed failed to pass our simple sweat test. Thankfully, all of our final picks did.
– Opacity of the leggings
We've all been there. Excited to receive a gorgeous pair of leggings only to find out that they are absurdly near-transparent upon wearing them. That's where the squat test came into play.
To check each pair for opacity, we tried them in bright light. If you'd like to do this at home, for best results, make sure to bend over or squat with your knees deep in front of the mirror. Pay particular attention to the seat of the leggings.
We made sure that only the ones that we couldn't see the skin through the legging's fabric made the cut. We did this after three to four uses as the fabric can fade or thin out with every use. Leggings with a lot of sheer are usually not well-constructed and not worth your money.
– Washability 
Not all activewear clothes are machine washable. That's why we picked camo leggings that you can toss in the washing machine. Note, however, that the vast majority call for cold machine-washing to avoid damage to the stretchy spandex material.
– Fleece-lining
Although not all camo leggings are fleece-lined, it's something I'd like to see in my favorite pair. We love that fleece-lined leggings can either be fashion or athletic wear. In workout leggings, the fleece lining provides extra warmth retention for running, walking, jogging, and whatnot in cold weather.
As a fashion piece, we love that you don't have to layer it under other clothes. The pair is bulky, thick, and cozy enough to be worn on its own, or over an oversized sweater.
Women's leggings don't follow the same sizing as women's pants and jeans. To find your correct size, consult the manufacturer's size chart. You'll often need to know your height, weight, inseam, and waist or hip measurements.
– Size and length
In terms of sizing, we recommend camo leggings that are available in standard sizes (i.e., XS through XL). We also included camo leggings that offer options for women on the extreme ends of the sizing spectrum, including women's sizes XXS, extended sizes, and plus sizes 3XL and 4XL.
When it comes to length, you'll be spoilt for choice. We love a nice mix of classic ankle-length cuts and full-length styles. However, there's cropped cuts for those with shorter legs, as well as the Capri, skimmer, mid-calf, and other cuts predominantly targeted at the athletic wear market.
– Waistband
This is one feature we often overlook yet it's incredibly important when choosing a pair of leggings. While regular waistbands have a thin 1-2-inch elastic band, they typically won't withstand high levels of physical activity. With a low, medium, or high rise, these regular waistbands are ideal for fashion camo leggings.
Activewear leggings, however, call for wide waistbands, measuring 3 to 4 inches. We think you'll find them comfortable when working out thanks to a material panel that serves as a tummy control and hugs the torso. Talk about extra comfort and snug fit!
In addition to opacity, moisture management, stretch recovery, size, construction, and fabric, we also evaluated them for colorfastness, pilling resistance, and much more.
Tips for Caring for, Styling, and Wearing Camo Leggings
We're big fans of everything camo fashion, and leggings are pretty much our favorite variation. They're compact, lightweight, and look good as part of most outfits, so they're ready-made for travel. We often turn to leggings when hit by wardrobe panics like short skirts and lengthy tops.
Keep the following tips in mind to care for, style, and wear your camo leggings properly:
Tone it down with classic looks

: Camo leggings can add a lot of pizzazz and elegant drama to your outfit. We recommend pairing them with an adorable pair of heels, boots, or flats. Even if your outfit is plain, you can jazz it up with this military-inspired print.

Wash separately the first time:

Don't you hate it when dyes in your new gym outfits and leggings bleed on other clothes, especially whites. If your pair of camo leggings are dyed, make sure to wash it individually the first time you do so.

Try on before working out:

Wear your leggings around your home before you wear them for your run, jog, or gym. I find that this gives me plenty of opportunities to get a feel for their comfort level, opacity, and fit.

Match the top color:

Camouflage leggings go well with practically any outfit. However, match the color of the top to your print. For example, if your camo legging is in green, wear a green top, preferably a shade lighter or darker. Spruce your outfit up with bolder colors with other accessories.

Socks first wearing rule:

When wearing your camo leggings, be sure to put on the socks first. This is a small secret to making sure your socks won't fall down inside your footwear.

Gentle washing is imperative:

Since they're made from stretchy fabrics, camo leggings require cool water washing. Use bleach-free, gentle detergent, making sure to avoid dryer and fabric softeners. For dying, hang or line drying will do the trick.
As a general rule of thumb, we normally snag at least 2-3 pairs when we find a great, go-to pair of camo leggings. This way, you don't have to constantly wash the same pair, so it lasts longer.
You Might Also Like: